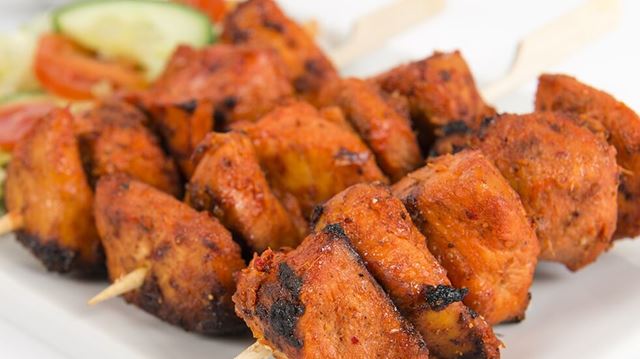 ---

Curried Chicken and Mango Salad
Serves 4
Prep: 10 mins Cook: 20 mins
12 chicken mini fillets
1 tbsp olive oil
1 tbsp curry paste
125g Greek yoghurt
1 lime – juice and zest
1 cucumber, cubed
1 ripe mango, peeled & cubed
4 salad onions, trimmed and sliced
Little Gem lettuce leaves separated
Toasted almonds & warm naan bread to serve
Method
1 Pre-heat oven to 200C/Gas 6. Toss the chicken in the oil and curry paste with a squeeze of lime juice - season and mix well to coat. Put the chicken on a foil-lined baking tray and bake for 20 mins until cooked through - leave to cool and then cut into cubes
2 Season the yoghurt and stir in the grated zest of the lime – add the cucumber, mango, salad onions and chicken and mix gently– serve on the lettuce leaves with the almonds scattered over and the warm naan bread
---

Sticky Ribs with Potato Salad
Serves 4
Prep: 15 mins Cook: 1 hr 10 mins
300ml tomato ketchup
300ml dark soy sauce
125g clear honey
5cm piece fresh ginger, peeled and minced
4 cloves garlic, peeled and crushed
2kg pork spare ribs
1kg new potatoes
3 salad onions, chopped
2 tbsp mixed chopped herbs
200ml mayonnaise
Method
1 Mix the ketchup with the soy sauce, honey, ginger and garlic – add the ribs and coat with the marinade – cover and chill overnight.
2 Take the ribs from the marinade (reserve the marinade) and place in a large, deep pan - add enough water to completely cover them - bring to a simmer, then cook over a medium heat for 45 mins until completely tender – drain. Heat the marinade until it has reduced down to a sticky coating consistency Preheat the grill or BBQ and grill the ribs for 8-10 mins on each side, basting the ribs with the reduced marinade occasionally.
3 Meanwhile boil the potatoes until tender, drain and mix with the onion, herbs and mayonnaise – season well and serve warm with the sticky ribs.
---
Chorizo, Peppers and Chickpeas
Serves 4
Prep: 10 mins Cook: 20 mins
1 tbsp olive oil
1 tsp smoked paprika
2 garlic cloves, peeled and crushed
2 red onions, peeled and cut into wedges
1 red and 1 yellow pepper, trimmed de-seeded and sliced
300g chorizo, sliced
100ml dry sherry or vegetable stock
2 x cans cannellini beans, drained
Flat leaf parsley and crusty bread to serve
Method
1 Heat the oil in a large non-stick frying pan and gently fry the paprika and garlic for 1 min – add the onion and peppers and cook until soft – 8-10 mins.
2 Add the chorizo and fry for 3-4 mins then add the sherry and beans – simmer for 5 mins – season and serve topped with the parsley with the bread.