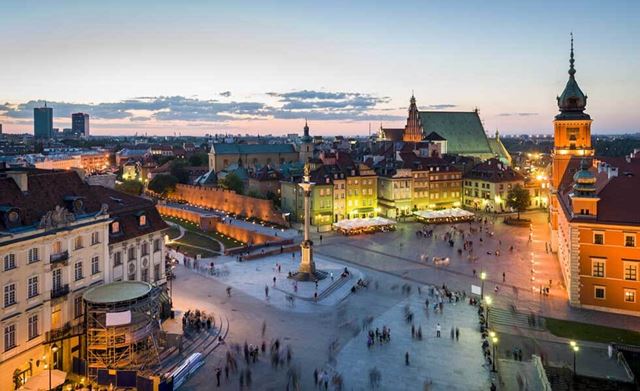 Pictured: Warsaw Old Town at twilight
The cost of European city breaks for British travellers has climbed by as much as 28 per cent over the last year, as the value of sterling has fallen. But new research reveals that while costs in Dublin, Barcelona and Vienna have sky-rocketed, there's still good value to be had if you shop around: Europe's cheapest city break destination, Warsaw, is only a third as expensive as Stockholm, the most expensive.
The Post Office Travel Money City Costs Barometer is based on the costs of 12 typical city break items, including two nights' three-star accommodation, meals, drinks, sightseeing and transport costs. The index shows that costs in Dublin have risen by 28 per cent over the last 12 months, thanks to an increase in hotel prices. Costs in last year's cheapest city, the Lithuanian capital Vilnius, have risen by 15 per cent, though it remains at No 2 in the list of cheapest destinations.
Perhaps not surprisingly, eight of the top 10 cheapest cities are in Eastern Europe. Lisbon, where hotel prices have fallen in the last year, offers the cheapest break in Western Europe: the basket of services and goods there costs £135 (compared to Warsaw's £113 and Stockholm's £325), with a two-night hotel break costing just £55. Athens is the other Western city in the Top 10, where the indexed goods cost a total of £149.
Simply for eating and drinking, Prague remains the cheapest European city break: there, a three-course evening meal for two with a bottle of wine plus individual drinks including coffee, beer, Coca-Cola and a glass of wine, comes to a total of just £32. By comparison, the Nordic cities of Reykjavik (£114) and Oslo (£118) will set visitors back almost four times as much.
Despite its free museums, London ranks as the seventh most expensive of the 35 cities surveyed, but remains cheaper than Dublin, which comes fourth.
Prices for tourist staples varied hugely even within Western Europe: while a 330cl bottle of local beer costs an average of £1.02 in Lisbon, in Oslo it would set you back an eye-watering £7.92.
The research was commissioned by the Post Office, the UK's leading provider of foreign currency.
Top Ten Cheapest European City-Break Destinations
Warsaw, Poland

Vilnius, Lithuania

Budapest, Hungary

Riga, Latvia

Kracow, Poland

Lisbon, Portugal

Dubrovnik, Croatia

Prague, Czech Republic

Moscow, Russia

Athens, Greece

You can see the full breakdown of costs for all 35 destinations below.