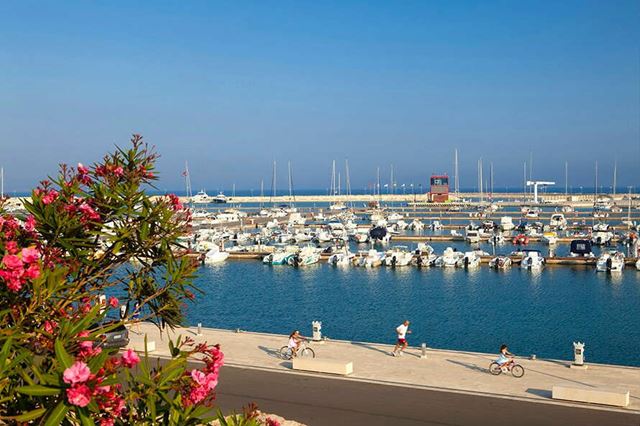 With low-cost airlines flying to new and ever-more exotic places, visiting off-the-beaten-track destinations is no longer the preserve of those with cash to splash
1. Comiso, Sicily
When Ryanair started flying direct to Comiso, in the rugged hills of south-east Sicily, it opened up a chocolate box of goodies previously overlooked by most visitors, unless they were fans of Greek and Roman excavations or Inspector Montalbano.
The former head straight for the rich pickings of Syracuse, while the latter make for locations like the appealing coastal town of Porto Empedocle, with its three kilometres of beaches. The place is so perfectly marketed in the Italian detective series (as the fictional town of Vigata) that, in 2003, the residents renamed it Porto Empedocle Vigata. The detective's fictional seaside home of Marinella is actually the lovely village of Punta Secca, and don't miss gorgeous Ragusa, a UNESCO-listed town that features a wealth of Italian Baroque architecture.
The bravest make a day of it at the home of retired Mafia boss Balduccio Sinagra, Donnafugata Castle, which dates back to the mid-17th century and is as impressive in real life as it appears on screen. But, even if you're not into the shenanigans of Salvo and his bumbling aide, a week exploring this beautiful area, and relaxing on its many unusually free beaches, makes for a perfect holiday in a surprisingly quiet part of the Mediterranean.
Get there: Ryanair flies from Stansted to Comiso from £128.99 one-way, for travel in September/October.
---
2. Pula, Croatia
The hordes head south to Dubrovnik and the Dalmatian islands, but Croatia has many gems to offer along its mainland coastline, which is over 1100 miles long. And northerly Pula, a seafront city on the tip of the Istrian Peninsula, is undoubtedly one of them.
A long, lovely coastline filled with little coves and beaches, backed by vineyards, villages and Roman remains – most notably in Pula's spectacular 1st-century amphitheatre – and beautiful Italian-influenced coastal towns like Porec and Rovinj all combine to create a perfectly rounded holiday destination for those who don't want to just sit on a beach all day. If you do, though, swimming in the clear waters and the occasional dive or snorkel at spots like Rovinj will ensure a nicely rounded beach holiday, too.
And, of course, no Croatian holiday would be complete without a visit to at least one perfect little island, and preferably one that's a national park. Enter the gorgeous Brijuni islands – just 15 minutes by boat from the village of Fazana, these 14 tiny islands are studded with beaches and coves and impressive Roman ruins dating back to the 1st century, and feature a number of enjoyable and unusual activities and attractions – including a 45-minute educational underwater trail that takes in part of a submerged Roman villa swarming with all manner of aquatic life.
Get there: Norwegian flies weekly from London Gatwick to Pula from £29.90 one-way.
---
3. Ponta Delgada, São Miguel
If you love isolated volcanic landscapes and swimming in Atlantic Ocean waves, the Azores – some 1500km west of Portugal – could be just the place you're looking for. Ryanair's new direct route to Ponta Delgada has opened up the Portuguese-owned archipelago of nine islands, so you can now easily discover its picturesque fishing villages, lush green pastures and colourful hedgerows for yourself, in a flight that's just four hours.
Warm temperatures, the Gulf Stream and frequent showers account for the area's lush vegetation and wonderful wildlife – despite their remote location, fans of outdoor activities and natural attractions will find plenty to do, including birdwatching, hiking, whale-watching, canyoning, surfing and diving.
From your landing point of Ponta Delgada on São Miguel, it's easy to access beaches, hot springs, lakes and great crater or highland walks but, to get even further away from the madding crowds, a three-island Blue Sea Pass costs 89 euros, and takes in three islands of your choice plus your return to São Miguel.
We'd recommend three islands: Flores, whose west coast is studded with amazing waterfalls tumbling down cliffs to pools below; Pico, whose majestic peak is the highest point in Portugal and makes for a great hike, and the hugely likeable Terceira, where the cobbled streets of the capital, Angra do Heroísmo, have helped make it a UNESCO World Heritage Site.
Get there: Ryanair has weekly flights from Stansted to Ponta Delgada from £59.99 one-way, for travel in October.
---
4. Essaouira, Morocco
It used to be a desert trek to get to this endearingly bohemian region from Marrakech to the east or Agadir to the south – either via a long taxi drive, or local buses filled with backpackers on a budget and gap-year girls with flowers in their hair. Both are drawn by the miles of glorious windswept beaches and the kind of waves that make surfing birds think they've found paradise, and by a hippie culture that stretches back to the 1960s, when the likes of Jimi Hendrix, Frank Zappa and Cat Stevens hung out here.
The 21st-century version offers sweet boutique hotels and an easy-going ambience which, coupled with the beauty of the UNESCO-listed town, charms everyone who comes here. Essaouira's low-slung buildings and pretty palette of ochres and honey-golds give the town a literally warm appeal, especially when you add in its pretty blue and white medina, a souk that's a long way from the hassle and barter of more popular North African resorts. Cannon-lined ramparts along dramatic cliffs and a lively fishing port offer drama on a daily basis.
Day trips range from a visit to the nature-reserve island of Mogador to horse-riding excursions to Diabat, just south of the town. Eat fresh-fish dishes for around £3 at one of the wooden shacks between the port and Place Moulay Hassan, or dine at a romantic candlelit rooftop restaurant for not much more and you'll see exactly why this ex-hippie haven is as desirable as it is.
Get there: EasyJet has twice-weekly flights from London Luton from £27.49 one-way.
---
5. Preveza, Greece
Does it get any better than this? Greece's north-western province of Preveza is surrounded on three sides by the Ionian Sea and sits in a sheltered position at the southern tip of a narrow peninsula enclosing the Gulf of Arta.
Along the peninsula you'll find 50km of white sandy beaches to sunbathe on, wildlife and natural attractions to discover at the important wetland site of Amvrakikos, and a number of inland lagoons. The ancient site of Nicopolis, founded by Emperor Octavian to commemorate victory in a famous sea battle over Anthony and Cleopatra in 31BC, has some fascinating archaeological artefacts and a fine museum. It makes for a great day's excursion but so, too, does exploring Preveza itself.
Tossed back and forth between Turkish and Venetian rule for two centuries, the town is utterly charming, with three famous Venetian forts and a clock tower from 1752, flower-filled streets and ancient cobbled alleyways, a picturesque harbour and, thanks to those Venetians, more than its fair share of arresting Christian sites. One of these is Agios Charalambos, which houses a number of exquisitely crafted icons and paintings.
Get there: Monarch flies once a week from Birmingham to Preveza from £208.98 return.