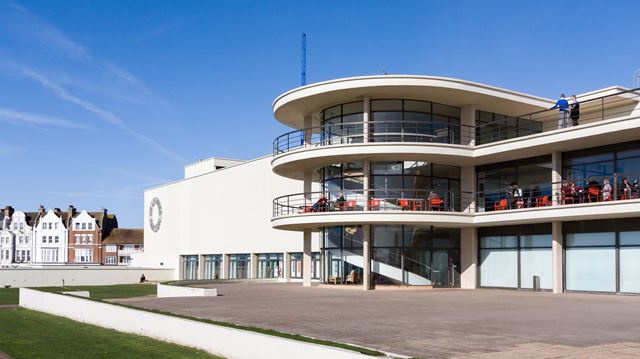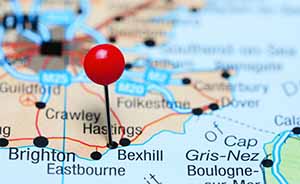 Palm trees, manicured flowerbeds bursting with colour and rows of string lights: three things you may not be expecting to see on the seafront at Eastbourne, the south coast town unfairly lumbered with the nickname, 'God's waiting room'. Yes, there are zimmers on the prom but there are also beardy creative types on skateboards, young families, joggers, a summer series of themed markets and a Belgian bar-restaurant that looks like it belongs somewhere supposedly more chic.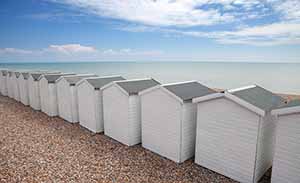 But then, Eastbourne is fast becoming something of a cultural hotspot, thanks to various projects designed to boost tourism and promote culture in the area. The latest of these is the 'Coastal Culture Trail', a 25-mile route linking Eastbourne, Bexhill and Hastings, each home to an impressive art gallery. I was fresh off the train with my bike, ready to cycle the trail, browse some art and have a bit of seaside fun starting at Eastbourne's sleek Towner Gallery, a couple of minutes' ride from the train station. I was covering the trail in a day, with my own bike, but you can take a weekend or a week to do it: local B&Bs and bike shops are coordinating bike and luggage delivery.
There are two levels of galleries at the Towner with excellent exhibitions of painting, photography, sculpture and found objects – I was taken with the Annual Schools Exhibition 2016: Walking the Line (until 5 June), along with a permanent collection of local artist, Eric Ravilious. The centre also houses an internationally renowned collection of around 4,000 works which can be viewed by appointment.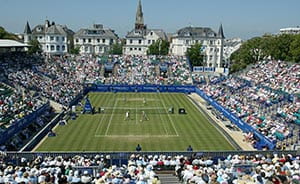 Importantly, the contemporary café overlooking the grassy Devonshire Park Lawn Tennis club (where one of the main pre-Wimbledon women's tennis tournaments takes place every June) is a pleasant place to stock up on caffeine, before a quick browse in the shop, noticing that it sells work by local designers, from jewellery to bags, hand-printed paper and scarves.
Standing on Eastbourne's sunny prom, I can see as far as Hastings 25 miles away, and I wonder if I'll make it. I'm really not a seasoned cyclist, but any doubts soon float away with the breeze as I start pedaling, taking in the view and realise this is actually quite a pleasant thing to do at the weekend. Compared with Brighton, this stretch of coast is surprisingly undeveloped and it's easy to cycle along the seafront, the coastal track lasting for a good few miles before we're forced to join a section of road, but only for a short time until we join the track again.
The shingly beaches are vast, empty and windswept, the sea turquoise and still, landscapes not far off those in parts of Australia, until we hit Normans Bay five miles from Bexhill that is; its pastel-coloured beach huts, popular campsite and the smell of piping hot chips wafting from a café, a firm reminder I'm still in Blighty.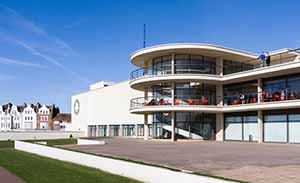 I meander next through Cooden Beach, a little seaside village filled with upmarket houses facing the beach and a couple of campsites, buzzing with activity, but I must admit it's a relief to spot the whitewashed curves of Bexhill's De La Warr Pavilion art gallery in my sights, which means two things: I've broken the back of the trail having cycled almost 20 miles and it's time for lunch.
This impressive Grade 1-listed modernist building on Bexhill seafront was built in 1935 by the Earl De La Warr to lead the culture of the town, which it still does having recently celebrated its 80th anniversary with a series of local events. These are apparently ongoing, an exhibition called The People's Pavilion: Our First 80 Years running to the end of July. From 13 August, there's a free Peter Blake exhibition here.
A seat on the café's terrace is well deserved where I enjoy excellent and hearty portions of food, served with wine and ales on tap if you like, overlooking the pretty bandstands along the seafront.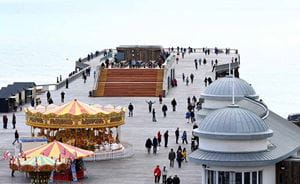 Meanwhile, much I'd like to stand around grazing and/or browsing, I still have a last 40-minute push eastwards to Hastings, my final destination a nice six miles from Bexhill. By the time we hit St Leonard's – the adjoining town to Hastings – we're on the home stretch. This is actually some of the best cycling on the trail, mainly due to the wide and generous cycle lanes along the promenade that take you all the way in to the town, past the remarkably tourist tack-free new pier, all the way to the swanky Jerwood Gallery at an area known as The Stade, where I easily park up my bike.
This place has been going for four years and is an art space as important as any in bigger metropolises. There are temporary exhibitions downstairs – I see 'Coast', full of rich paintings and prints chosen for their connection with the British coastline – and upstairs you'll find a collection of paintings from mid-20th century British artists including Sir Stanley Spencer and LS Lowry, as well as contemporary works by artists including Rose Wylie and Maggi Hambling.
The atmosphere inside the Jerwood is tranquil, almost silent, the gallery spaces with all their polished concrete and white walls warmly lit and inviting. Around a corner upstairs, I'm taken aback by the view of the beach framed by a floor-to-ceiling window. It's an incredible scene. Not palm trees, colourful manicured flower beds and string lights, but a fleet of brightly painted working fishing boats pitched up on the sand: this is Europe's largest beach-based fishing fleet, their flags and tarpaulin flapping around in the wind, to the blue-green glitter backdrop of the sea. A view certainly worth the 25-mile cycle to see.
---
The Coastal Culture Trail
Ellie Seymour took the Coastal Culture Trail in East Sussex and stayed at The Beacon B&B in Hastings (www.beaconhastings.com/b-and-b) where two-night breaks cost from £110.
The Coastal Culture Trail links three award-winning galleries: Towner Art Gallery in Eastbourne, De La Warr Pavilion in Bexhill and Jerwood Gallery in Hastings. For more information about the trail, and the new Coastal Culture Trail Map & Guide for walking and cycling, visit www.coastalculturetrail.com.
To find out more about the three galleries, go to:
De La Warr Pavilion (www.dlwp.com)
Jerwood Gallery (www.jerwoodgallery.org)
Towner Art Gallery (www.townereastbourne.org.uk)
---
Cycling
The new Coastal Culture Trail map makes it easy to explore the area on foot or two wheels. Find out more at www.coastalculturetrail.com/bike
The Bexhill Bicycle Hire Company has a range of adult and child bikes for hire, with prices for adult bikes starting from £5 for one hour, £15 for a full day and £40 for one week. They also arrange guided group tours following the Coastal Culture Trail.
Where to eat:
Rustico, 31 Robertson Street, Hastings. A great new little Italian restaurant. Casual, small and cosy, packed out, candlelit, serving generous portions of delicious homemade Italian food designed to share, as well as pizzas. The meatballs and aubergine parmigiana come highly recommended. Try to resist the cakes and cannoli stacked up by the counter...
---
For general information go to: