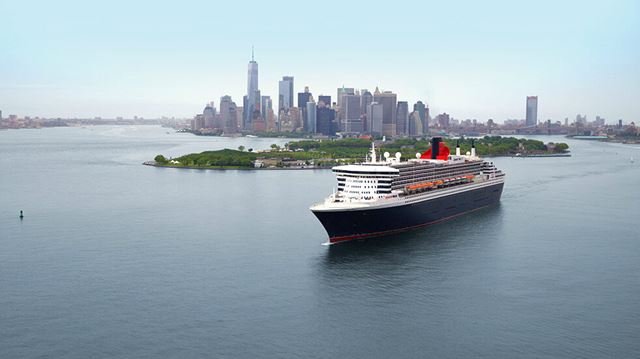 Speed across the ocean on a transatlantic crossing for a travel experience that offers excitement and relaxation, glamour and adventure.
Ship of dreams
Sail aboard Queen Mary 2 across the Atlantic to New York and you join a very special club. Over 170 years ago, in 1847, Sir Samuel Cunard established the first regular crossing on this iconic route, and the White Star service and classic traditions of those early journeys are still very much in evidence. First revel in the space – acres of broad decks and light, open atriums. In your chosen room – whatever its size or cost – comfort, style and service will greet you at every turn: hungry for sustenance, as well as adventure? Don't worry, 15 restaurants and bars are there to feed and water you; meet your need for fitness with five swimming pools and a spa and countless fitness classes; if you're after entertainment, a theatre, cinema, planetarium, casino and dance floor are a few short corridors away. Keep exploring the endless space on this majestic ship and you'll come cross many other amenities and activities.
Sensational experiences
Travelling on the world's only true cruise liner means you can step away from the hustle and bustle of everyday life and enjoy days of relaxation, entertainment or activities, with more than a dash of glamour and sophistication thrown in. If you're looking for a treat for your senses, you name it, and you'll probably find it on board – from learning to tango, or write a novel, to taking on a fencing class or lesson in making the perfect martini, you can stretch yourself, mind and body. With seven days of ocean life to fill, you have plenty of time to be challenged, inspired, educated or cossetted – whatever you want! You can also slow down the pace by booking a spa treatment, taking a yoga class, or visiting the library to browse and put your feet up.
If you're more into contemplating distant vistas and wide-open spaces, take a seat on one of the many lounging decks and watch the world go by – you can never get too much of a good thing! Find your rhythm on this celebrated journey across the sea and you'll go home with a suitcase full of memories.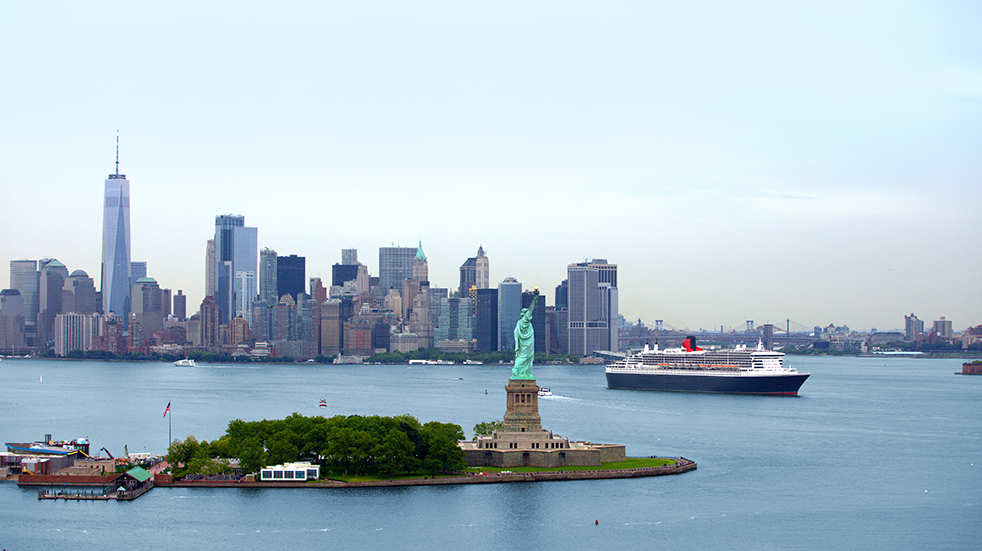 All at sea
Whether you're leaving from Southampton – or the new UK embarkation port of Liverpool* – or coming from New York, it takes very little time to get used to being at on the water as the mighty cruise liner is designed to cut a swathe through all but the most tempestuous of seas. Everyone finds their own routine – taking advantage of the endless facilities or just making up their own agenda. The days fly by as there is so much to tempt you into activity or relaxation. At the end of the voyage, the ship glides past the imposing Statue of Liberty towards the iconic New York skyline and it's great to finish the trip by looking forward to a weekend in the Big Apple.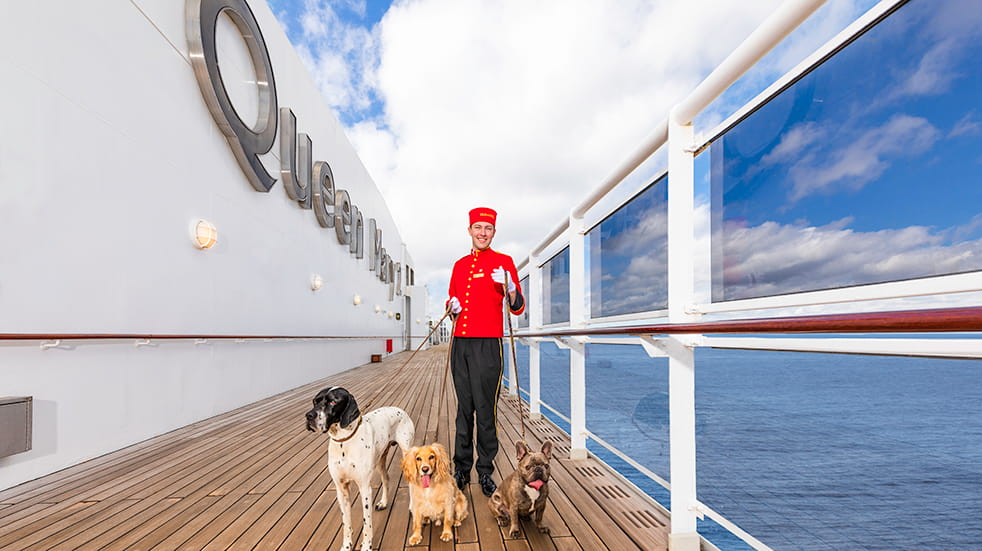 Top dog
If you can't bear to go away without man's best friend, Queen Mary 2 also welcomes well-behaved, devoted dog companions. This is a unique service, and if the canine comforts are as special as the human ones, your pet pooch will want to come back to stretch its legs on deck again and again, as will you! A kennel master oversees the kennels, taking care of the precious pets who are all encouraged to make use of a carefully located lamppost from the UK and the fire hydrant from New York, both located in the dedicated doggie area.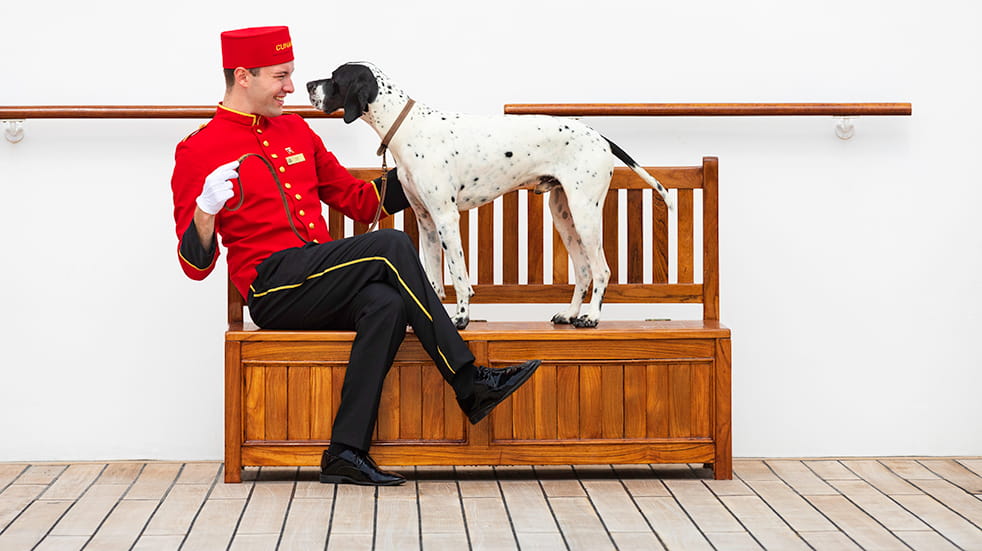 New transatlantic crossing
Queen Mary 2 • 13 May 2020 • 7 nights
Fly from Glasgow
New York • 7 days at sea • Southampton
From £1199pp
$110 onboard credit per stateroom
For more information, visit Cunard Cruises on the Barrhead Travel website or call 0330 094 8364 to speak to the Barrhead Travel cruise specialists.
*Voyage originally started in Southampton but now those local to Liverpool can join the ship from the Merseyside city two days later.
---
Fares shown are per person in £ sterling based on two adults sharing the lowest grade of stateroom available (or single occupancy in a single stateroom), within the applicable stateroom type and are subject to availability. Fares for sole occupancy and supplementary fares are available on request. Fares and other information are correct at the time of publication. Spending money: Book a Cunard Fare holiday and receive additional on board spending money to spend during your voyage in the on board shops, bars, photo and art galleries and on internet packages, restaurants, spa and shore excursions booked on board. On board spending money varies by stateroom grade and duration. Applicable to new Cunard Fare bookings on selected voyages of 7 nights or more departing 2020 booked by 1 August 2019. On board spending money is additional to the Cunard Fare benefit of on board spending money/car parking/return coach travel (choice of benefit dependent on cruise type, duration and time of booking). On board spending money amount shown includes the Cunard Fare benefit of on board spending money plus the additional on board spending money. On board spending money can only be spent whilst on board. Offer is only applicable to Cunard Fare bookings, based on 2 people sharing and cannot be exchanged for a cash alternative.