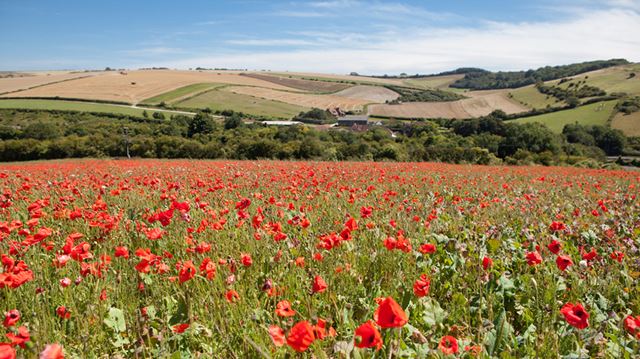 Picasso, Man Ray and Miro all visited the American war photographer's home in East Sussex – now you can too

Lee Miller began her working life as a model for Vogue and was a friend of surrealists including Picasso – but went on to become an acclaimed war photographer, producing harrowing images from World War II, including concentration camps, post-liberation.
The Imperial War Museum's recent exhibition Lee Miller: A Woman's War closes with a portrait of the American-born Miller, standing in the kitchen of her old country house, Farley Farm in Muddles Green, East Sussex, preparing a summer pudding. It's an incongruous portrait in a room full of war photographs celebrating her adventurous career as one of four female photographers accredited as US official war correspondents. Miller had spent several years in a traditionally male environment.
---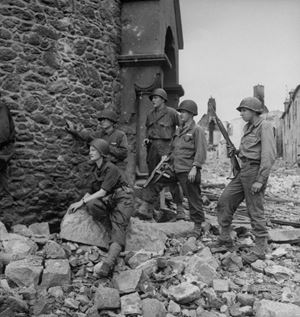 But it turned out that, post-War, growing vegetables and cooking helped Miller manage the legacy of her experience at war, when she married artist Roland Penrose and came to live at Farley.
'Lee loved to entertain and cooking offered a new outlet for her sense of adventure and humour,' says our guide to Farley, on our tour starting in the old kitchen. 'She loved to surprise her guests with her surrealist-style creations, such as pink cauliflowers and blue spaghetti. Dinner parties were never dull in the Penrose household.'
---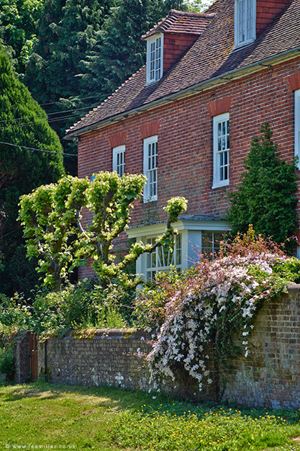 The kitchen, like the rest of the house, remains almost original and full of the things Miller and Penrose once used, in this case – kitchen utensils, cook books from her vast collection, herbs, spices, gadgets of the time, alongside the odd great work of art, including a ceramic tile by their friend Pablo Picasso hanging just above the cooker.
'Conservationists shudder at its position,' says our guide, 'but the fact that it's hanging here highlights the couple's attitude to art, choosing to live with it in daily life.'
Lee and Roland lived at Farley Farm for 35 years, during which time they built up a vast collection of contemporary art treasures, many created by their artist friends, including Pablo Picasso, Man Ray, Max Ernst, Paul Eluard and Joan Miró – all of whom were known to have visited Farley at some point, which led to its reputation as the 'House of the Surrealists'.
Today, the Penrose family manages the house and collection as a privately run photographic archive and museum, including a sculpture garden and gallery, which you can visit on Sundays during a guided tour between April and October.
---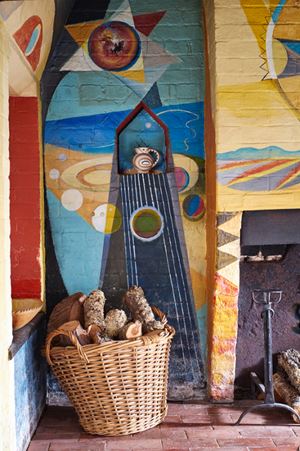 The dining room 'painted in Farmer's Weekly yellow' is hung to remember Roland Penrose, 'a stoic and reserved character by nature who used art as a conduit for expressing his emotions' according to our guide, who shows us paintings that reflect the different stages of his life progression of his style. There are a few other pieces from Lee and Roland's collection here, too, including another Picasso and some pottery by local artist, Joyce Reeve – the couple loved to support local artisans – but it's Roland's cubist-style mural decorating the fireplace that's most striking. Painted in 1950, a year after moving to Farley, it depicts the legend of the Long Man of Wilmington – a chalk figure on the South Downs in Sussex – as a sun god, together with the planets and moon and two cornucopia figures. Although it's not entirely known why he chose this scene, it's thought he loved the idea of an ancient figure looking down over Farley and Sussex in hopes for a successful harvest.
Lee's light-filled study with its views across the South Downs is perhaps the most spectacular room in the house architecturally, built for her in the 1960s for her to work in and house her vast collection of cookbooks – she had over 6000 – many of which have been sold now. Today, it's home to books featuring Lee and Roland's work, as well as some original pieces of furniture, trinkets and a beautiful chest given to Lee by her father inscribed with her name.
But it's the drawing room containing her war memorabilia that's most fascinating. On the wall, there's an original photograph of Miller in Hitler's bathtub taken on the day the war ended, and in a glass cabinet, her original Hermès baby typewriter with a half-typed sheet of captions still in it, a Rolleiflex camera and metal film canisters, a brass knuckle-duster that she kept in her pocket for use during the daytime, and a silver plated version, engraved with her signature and kept on a striped silk ribbon, which she wore around her neck as evening wear – all remarkable items found hidden in a dusty box in the loft years after she died.
'It was 10 minutes that changed my life,' says Anthony, Lee's son. 'Suzanna, my late wife, found the stash and when we began examining it we slowly realised it was a unique collection of work, most of which was entirely unknown to us as a family,' he says.
'But it was the manuscripts that drew me in – the first-hand accounts of the things she witnessed. They made me feel I was there, watching it all unfold. Then the photos; around 60,000 negatives and 20,000 prints. They were all jumbled up. It took us years to make sense of them but the images put a new dimension on the story.'
With a life so colourful, it's hard to imagine Lee enjoying the simplicity of the countryside, but Anthony tells me his mother loved Sussex. 'What she liked most that is was secluded and she could have a big informal space to do her cooking and entertain her friends,' he says. 'It also allowed an abundance of food from the farm and the garden – a wonderful thing in post-war years. And, believe it or not, she loved shopping in Hailsham, particularly at Elphick's, the butcher who made his own spicy sausages, which we all loved, and at the old Post Office Stores in Chiddingly run by the Robinson family, but sadly not a trace remains of these places now.'
You can still see Lee's vegetables patches at Farley in the tranquil garden which is now scattered with sculptures from Lee and Roland's collection, and get a sense of the surrounding area on a wander around Muddles Green and Chiddingly, two chocolate-box villages around Farley whose country lanes are lined with delightful cottages and boast glorious views across Sussex.
To better explore, Anthony suggests a gentle five-and-a-half-mile loop trail starting at Chiddingly Church, known as the Chiddingly Circular, which ends conveniently at the Grade II-listed Six Bells, an eccentric pub serving cheap and cheerful, but great food to a busy weekend crowd of bikers and classic-car enthusiasts, who meet here on their weekend jaunts, as well as locals, hikers and cyclists – and possibly Lee and Roland's high-profile artistic guests, once upon a time.
Farley Farm House is open for tours every Sunday from April to October. Click here for more information about Farley Farm House.