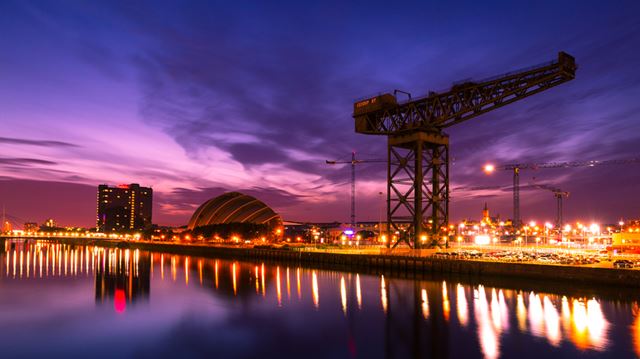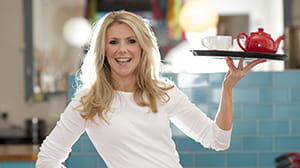 Inspired by travel and a passion for food, Gillian Reith (along with her sisters Nichola and Linsey), gave up the day jobs and started their own cafe and catering business called Three Sisters Bake (www.threesistersbake.co.uk) in Glasgow.
---
How long have you lived in Glasgow?
I was born in Glasgow, 37 years ago, and now live in Bridge of Weir, with my children, aged four and 18 months, which is just beside where our café in Quarriers Village is. We moved here three years ago. I've also done quite a bit of travelling and have lived in Dublin, Australia, America, Belgium and London then back to Scotland. I still have strong links with Glasgow as both of my sisters live there.
---
If you had a free day in the city, where would you go?
Breakfast at Café Zique (www.cafezique.com) in the West End. I used to work there and I think they do the best breakfast in Glasgow. I love the West End of Glasgow, so I would probably wander around there and if the weather was nice, chill out in Kelvingrove Park. I think the city centre has been taken over by chains now, which is a real shame, but the West End still has loads of interesting shops and bars and restaurants.
It's also easy to spend time there with kids in tow because there are so many big parks, so it's child friendly and there's generally lots of parking. In town, I love Princes Square (www.princessquare.co.uk) for people watching; it's got great shops and it's a really nice place to have a glass of prosecco at the end of the day.
If you were mayor for a day, what changes would you make?
I would start an amazing street food/farmer's market, and I would run it some days in George Square and some days in either the Botanic Gardens (www.glasgowbotanicgardens.com) or Kelvingrove Park. I don't think that Glasgow has really started to catch up with London in terms of street food and high-quality farmer's markets, and I think people more and more are getting behind the idea of eating seasonally, shopping locally and supporting small producers.
---
Do you have a piece of advice for tourists?
Look up! The architecture in Glasgow above shop level is absolutely amazing on every street you walk down.
---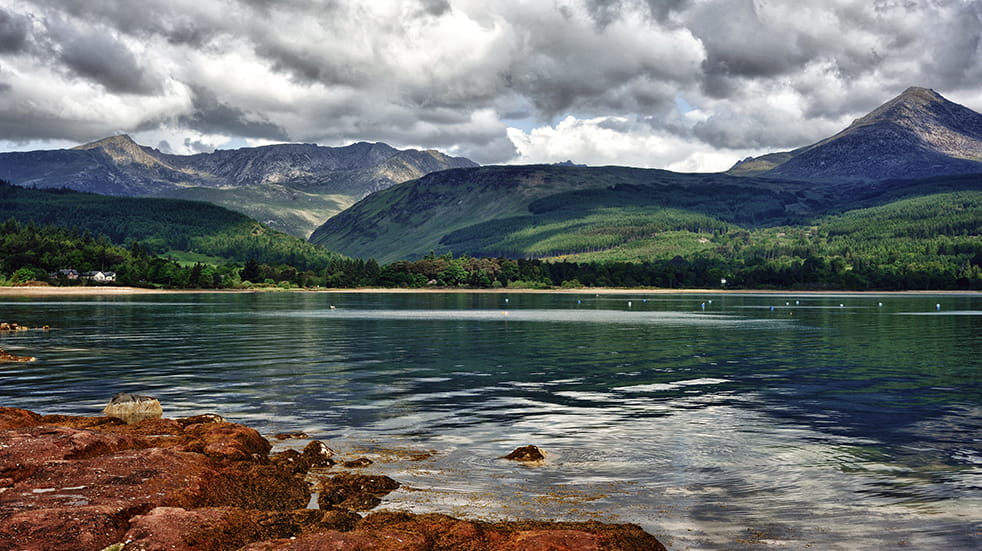 What's your favourite day trip out of the city?
That's hard because there are so many, but I would say a day-trip to Arran (www.visitarran.com). Get the train down to Ardrossan Harbour and then the ferry over to Brodick, and you can either take the car and drive or get a bus around the island, or just have a wander round in Brodick. The ferry only takes 45 minutes.
---
What's your favourite sight in the city?
Glasgow is built on a grid pattern and one of my favourite things to do is, around sunset, just to look up any of the hills and see the skyline showing all of the peaks of the buildings and the architecture against the dusk.
---
Where's the best view in the city?
The top of Queen's Park on the South Side. There's a flagpole in the centre of the park at the top of a hill – it's an easy walk – and you can see out across the whole city; it's just beautiful. In fact, it's where my husband proposed to me.
---
What local drink/dish should every visitor try before they leave?
The gin scene is getting quite exciting around Glasgow. I went to Finnieston recently and had about three different types of gin concoctions and they were all made from Scottish gins. It was an interesting tasting session – I hadn't really appreciated the nuances of gin before then. For a dish to try, come to our café and have a cheddar cheese and black pudding toastie!
---
Where is the best place for dinner?
Café Gandolfi (www.cafegandolfi.com) in the city centre and the Butcher Shop (www.butchershopglasgow.com) in the West End.
---
Best place for lunch/brunch?
I really like Kember & Jones (kemberandjones.co.uk), which is kind of casual café food with lots of nice salads. Café Zique again for brunch.
---
Where would you take a friend from out of town that the tourists wouldn't usually see?
Ashton Lane in the West End. It's got lots of good restaurants and bars, but it's a little off the beaten track. It's off Byers Road, so you wouldn't necessarily come across it unless you knew where you were going.
---
What's your favourite time of year in the city?
Springtime ­– just a nice blue-sky day, wandering around and having a coffee. Glasgow's a great place to sit out and have a coffee – it's got a real café culture now.
---
How has the city changed in the last 10-20 years?
It has changed hugely, the shopping and the eating and drinking scene has been revolutionised. I travelled around Australia 12 years ago and I was completely blown away by the café culture over there, and at the time Glasgow really didn't have anything like that, which prompted us to really want to open our own place. Glasgow used to have a lot of fine dining restaurants, but it didn't have much of a café culture but that's definitely changed.
---
Which child-friendly places would you recommend?
Kelvingrove Park and the science museum (www.glasgowsciencecentre.org) at the Riverside is really popular.
---
Is there a particular site visitors should see that says a lot about the city?
Glasgow School of Art (www.gsa.ac.uk) – that embodies lots about Glasgow's architecture and creativity.
---
What do you like most about living in Glasgow?
I love the people – that's what brought me back – and the architecture. I love all the sandstone tenement buildings in the South Side and the West End. And I love the humour and the banter!
---
Three Sisters Bake run Quarriers Village Café near Bridge of Weir and Killearn Café, Glasgow. [threesistersbake.co.uk]. The sisters also have a cookbook, Three Sisters Bake: Delectable Recipes for Every Day, and offer wedding venue space as well as catering.