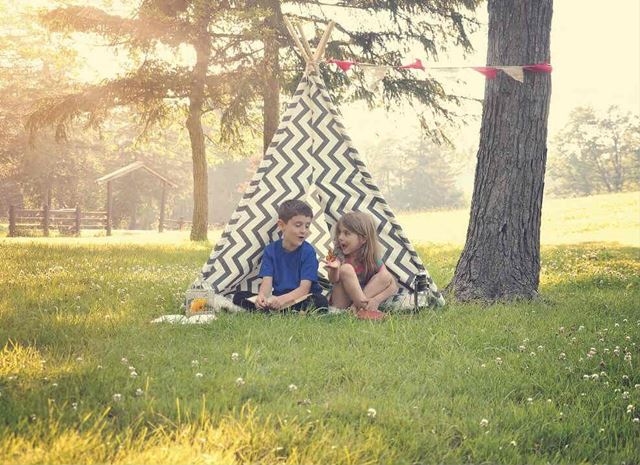 Almost unheard-of a decade ago, glamping was included in the Oxford English Dictionary for the first time this summer. Must-haves include electricity for plugging in mod cons, comfy beds, bunting and fairy lights, a coffee maker, wine cooler, barbecue… and perhaps a wood burning stove.

---
A is for Airstream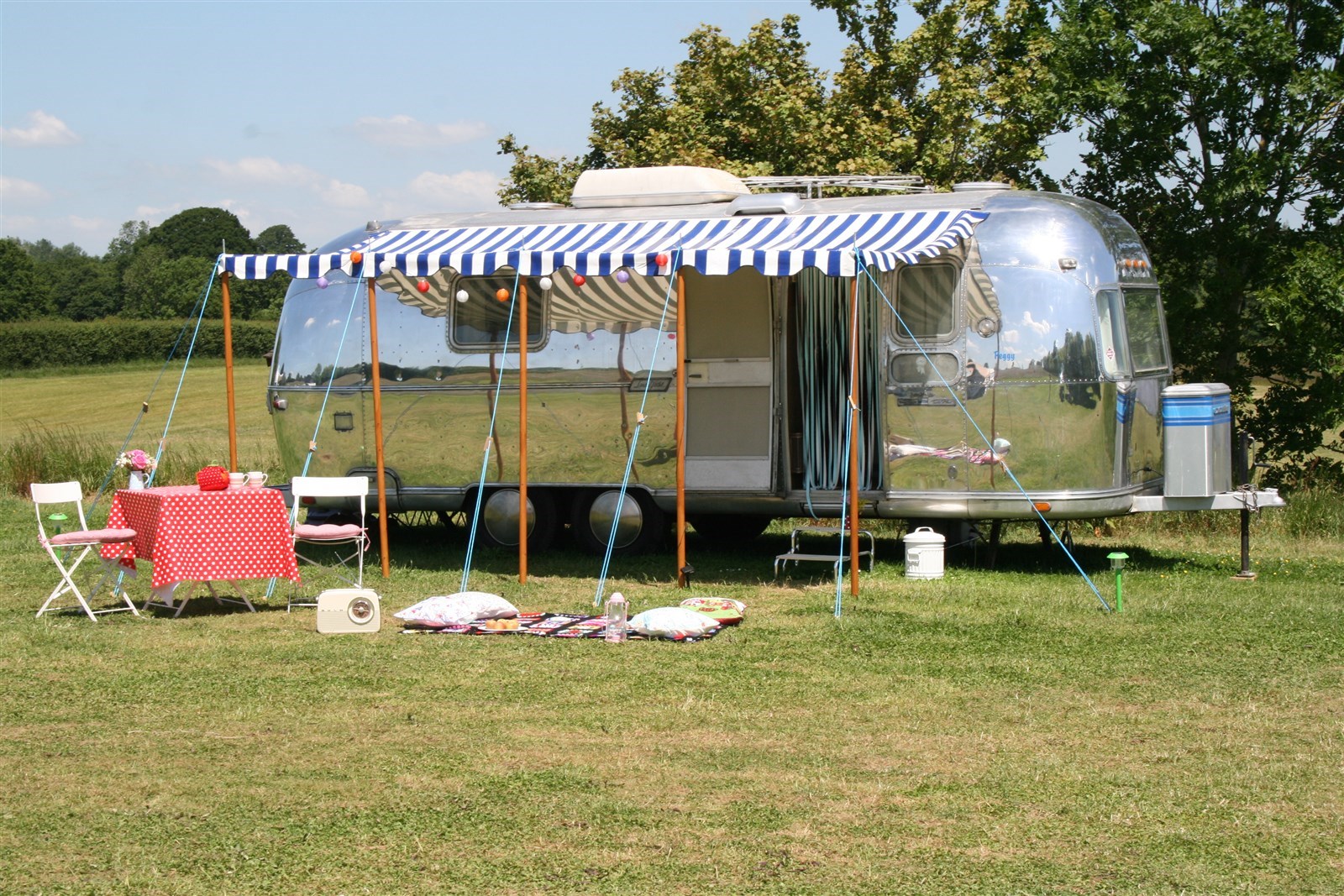 With their sleek, silver exterior, Airstream caravans are retro classics that add swagger to any staycation. For the ultimate in cool kitsch head to Happy Days Retro Vacations in Saxmundham, Suffolk, where there's a stunning line-up of classic tin-can vans.
---
B is for Bell tent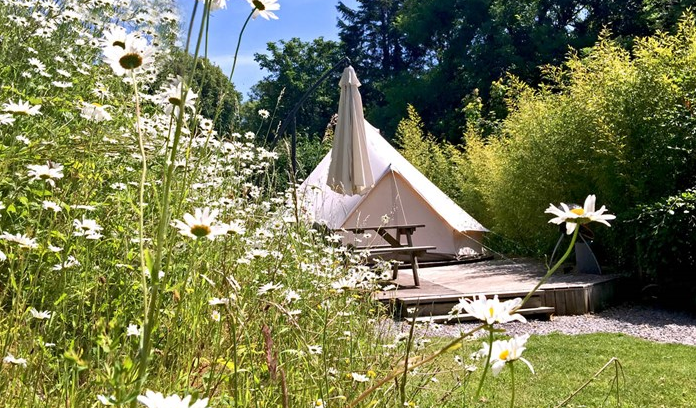 Their history dates back to the Wild West, and Bell Tents have now become one of glamping's most recognisable sights. Luxury Bell Tents will allow even the most reluctant camper a good night's sleep. Many bell tents now have seagrass carpets, rugs and beanbags, with LED fairy lights creating a soft glow.
---
C is for Celebrity
Glamping has many celebrity fans including Gwyneth Paltrow, supermodels Kate Moss and Cara Delevingne and, er, One Direction's Niall Horan.
---
D is for Deluxe
If you want the joys of the great British countryside and the luxuries of a nice hotel, deluxe camping gives you the best of both worlds. Add some va-va-voom to an average camping trip by choosing really comfortable bedding, and a selection of cool gadgets, or go the whole hog and go Deluxe in Devon by booking yourself a luxury tent, tree house or camping pod at at Sunridge, in the Yealm Valley.
---
E is for Eco camping
While the above is popular for lots of reasons, 'Wild Glamping' was invented for those wanting to preserve the environment while they camp – so, no hair dryers or hot tubs, but lovely accommodation deep in nature, often in areas of outstanding beauty.
---
F is for Festivals

---
G is for Geodomes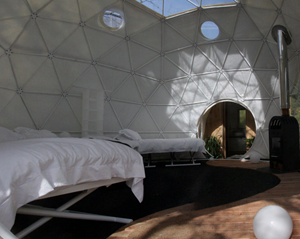 Grand Designs meets camping? Yep, geodomes have a large main dome with attached smaller domes providing extra bedroom space. Trevella Park near Crantock on Cornwall's north coast has three of these Tardis-like tents.
---
H is for Hot Tub
Gazing at the stars from your camping chair is so passé. Well, not really, but if you're going for luxury, why not jump on the latest trend for glamping and have a private hot tub to soak in.
---
I is for Instagram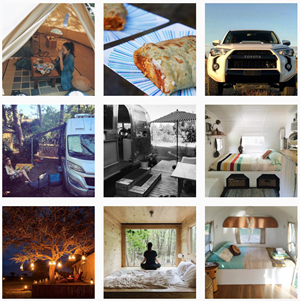 What better way to wow your family and friends on social media than with a stylish snap of your snazzy accommodation – instant Instagram cool.
---
J is for Jollydays
Glamping with friends and family in the middle of a forest in Yorkshire has never looked so appealing.
At jollydaysglamping you get time to unplug and unwind in the green shade of a Saxon wood, in a selection of lodges, large tents and huts. Don't forget your wellies!
---
K is for Kitchens

Properly equipped kitchens, yes.
We're British and we do love a cup of tea with our breakfast (or anytime, really) so the ability to plug in a kettle and toaster is a lifesaver, hence many glamping tents, pods and yurts now have electricity and well-equipped kitchens.
---
L is for Lounging
The must-have accessory this season is the lazy lounger, a blow-up sofa/beanbag that inflates with a couple of mid air swooshes to create an instant settee, which can then be deflated and rolled up into a tiny carry pack.
Some yurts and larger tents even have posh leather sofas or enormous bean bags... there's more than a little luxury in lounging.
---
M is for Music

What's the soundtrack to glamping if not birdsong? Your own playlist, of course. There are any number of portable speakers on the market, but one of the best we've found is the tiny Speedlink Portable Speaker. This clever cube is just 5cm square yet produces a gutsy sound and, with Bluetooth and a rechargeable battery, it plays music from your smartphone, tablet or notebook wirelessly.
---
N is for No Stress
It's great when you can turn up at your camp site and get down to the task of holidaying straight away, without the stresses of putting up your tent. Glamping allows you to unpack your suitcase and open a bottle of wine instead of rooting around for tent pegs and trying to get the kids to help…
---
O is for Off-grid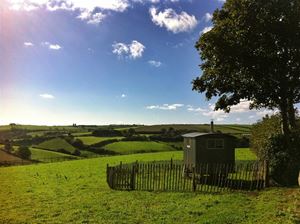 If you want to 'switch off' from the digital world, go off-grid. There are an increasing number of places where getting a phone signal is not just difficult but downright impossible (hooray!).
Rustic Shepherds' Huts are one of glamping's biggest hits. Typically sleeping just two people, most Shepherds' Huts are beautiful, simple, and usually off-grid, making it easy to switch off from life's stresses and strains.
Hideaway Huts at Liskeard in Cornwall, for example, has two shepherds' huts which are half a mile apart and each one is blessed with breathtaking views.
Despite their simplicity the huts are comfortable with a pocket-sprung double bed, and each has a private bathroom hut nearby.
---
P is for Pod
For the cosiest glamping, look out for camping pods that are popping up all over the country – all the fun of camping but with a touch of luxury. For funky camping pods that promise all the benefits of countryside camping but without the hassle of packing away your tent, plus little luxuries including lighting, electricity, heating and decking, try Whitehill Country Park in Paignton on the Devon coast. Or check out the new Coco Suite glamping pods at Ladram Bay in Otterton, south Devon.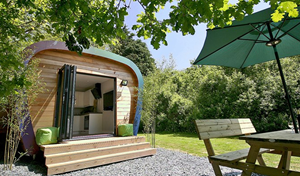 Meanwhile portable pods are also getting more popular, and the Carapod is a new concept in Teardrop Caravan design. The interior is modern and compact, and can be individually customised. It's not caravanning or camping, it's Carapoding.
---
Q is for Quirky
These days you can sleep in converted buses, helicopters, tents in trees, and ambulances (thankfully without the sirens, though).
The amazing Blackberry Wood in Ditchling, East Sussex, has accommodation that includes a bright-red London Double Decker, a chopper, a curvy cabin and a fairy-tale tree house.
---
R is for Retro
Glamping is essentially camping without all the uncomfortable bits... and lots of bunting. We all know the opportunity to have your home comforts around you is not to be sniffed at, and caravans have made a huge comeback among the hipster crowd. But, for those who think retro means Cath Kidston crockery and Orla Kiely cushions, think again. This amazing retro caravan, the 'retropod', is one of a slew of new caravans and trailers being created to appeal to retro hipsters.
---
S is for Safari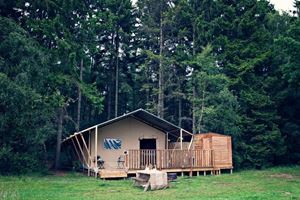 For something a little bigger, Safari Tents have led the charge for glamorous camping.
At Camp Katur, near Ripon in North Yorkshire, there are also activities such as quad bike trekking, segway tours, a giant adventure playground and a tree-top adventure course with a climbing wall, rope bridge and sky-high zip wire.
Presumably there are no lions, though.
---
T is for Tree House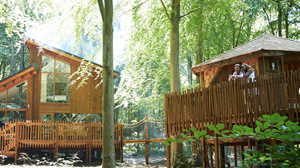 Why not sleep in the leaves as you gaze at the stars? Staying in a tree house gives you a truly memorable camping experience. The tree-top accommodation at West Lexham in Kings Lynn, Norfolk is stunning, or check out forestholidays for more luxury breaks high in the trees.
---
U is for Unwind
Glamping is camping with lots of mod cons and a great way of getting you out into the countryside and away from your always-on lifestyle. The perfect way to unwind.
---
V is for Vintage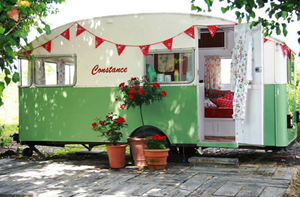 Look out for vintage caravans, which have been lovingly refurbished to make them cosy and welcoming without losing their eye-catching original features.
---
W is for Wood Burner
No self-respecting glamping accommodation, whether it be yurt, bell tent, eco pod or shepherds' hut, turns its back on a wood burner, the ultimate in cosy luxury during the colder months. Add a few woollen throws, some cosy cushions, the smell of coffee and nature all around you and... why would you ever leave?
---
X is for X-factor
If you want to wow your children with a holiday they'll never forget, a tipi, safari tent, wigwam or hobbit hut is just the trick.
---
Y is for Yurt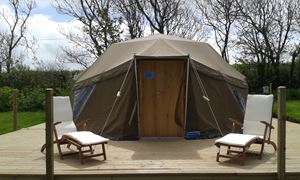 The world's best campers are the nomadic tribes of Mongolia, so it makes sense to adopt their accommodation. Yurts are big, comfortable and can be incredibly stylish.
Larkhill in Carmarthenshire is an eco-friendly site that features yurts from tribes across the world.
---
Z is for Zzzzzz
Let's face it, you're more likely to get a good night's kip when you have all the comforts of glamping.