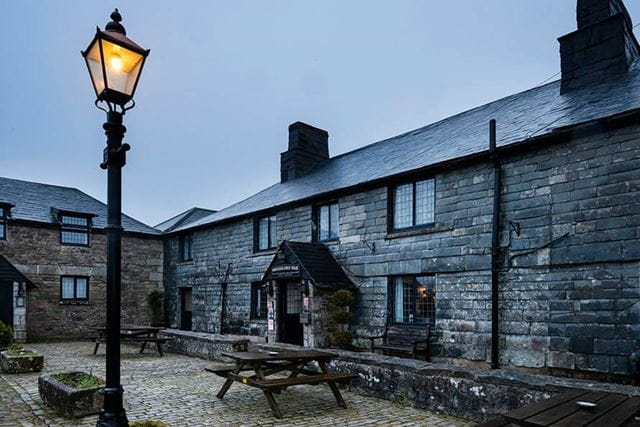 We take a tour of the county which is home to our Treworgie Barton holiday cottages

The Atlantic Highway runs along the North Cornwall coast as far south as Newquay, but take a small country road off its northern stretch, then a tiny farm lane, and you'll find one of Boundless Breaks' holiday destinations, Treworgie Barton. Thoughtfully designed and combining home comforts and great facilities with a beautiful, remote setting, Treworgie was converted from a series of old farm buildings into 11 holiday cottages. It's so relaxing, you may find it hard to tear yourself away but, when you do, you'll find the pleasures of easily accessible sandy beaches and pretty fishing villages beckon.
Cornwall is an ancient place, and anyone visiting this part of the Westcountry will soon sense that there is much to discover about this atmospheric landscape; between the smugglers' harbours and the stone circles on the Moors, Cornwall is full of stories.
Boundless members staying at Treworgie Barton have a chance to get closer to some of those intriguing tales, thanks to a new relationship between the Club and local company Cornish Heritage Safaris, which gives members a discount on their tours. The company, headed by experienced guide, Susan Hockey, brings the magical history of the area to life, taking small groups – just you and your family, if you like – on tours of Cornwall's sights in her Land Rover, showing you places off the beaten track and revealing the area's colourful past. Susan wears her great knowledge lightly and, during our tour, presents her dramatic stories in a chatty and entertaining way. 'We moved down from London six or seven years ago,' she says. 'A couple of my friends came to stay and I showed them round, and they said I should try doing it as a business, so I took the plunge. My dad was a London cabbie and he was interested in history, so maybe that has made me more inclined to do this.'
We start on the cliffs of Tintagel, looking out to Tintagel Castle, perched on its own island and accessed by crossing a narrow footbridge, between the cliff and the island. Tintagel is said to be King Arthur's castle, although the evidence of Arthur even existing is much debated. If he did exist, though, he was probably a fourth- or fifth-century English leader involved with repelling the barbaric European hordes. Arthur's mystique is tied in, too, with Christianity, and Susan outlines the supposed parallels between the 12 Knights of the Round Table and Jesus' Disciples.
Cornwall's importance as a spiritual centre transcends specific faiths; indeed, different traditions intertwine. Tintagel's parish church, St Materiana, on the cliff opposite the castle, sits on the exact location of a pre-Christian holy site. The area continues to draw modern Druids, pagans and paranormal investigators in big numbers. There is a museum devoted to King Arthur on Tintagel's Fore Street, but you can also visit the medieval Old Post Office, an oak-beamed 14th-century house now owned by the National Trust, and there are gift shops run by self-styled witches, full of crystals and charms. Out on the cliffs, walking the moors, or standing on a beach looking out across the Atlantic, it can feel that it is Cornwall's very remoteness that explains its association with supernatural forces. Susan, however, suggests it may have more to do with the fact that the area had so much contact with diverse cultures from around the world.
'Cornwall always had so many connections through trading, not just with Wales and Ireland, but even with the ancient Greeks. They found a beautiful golden cup on Bodmin Moor, dating back to 2500 BC. It's in the British Library now. When the Romans left Britain in 410, a lot of the country reverted to pagan ways but Cornwall didn't, because of those connections. Cornwall has been involved in trading – not just commodities, but also ideas – for thousands of years.'
The clifftops at Tintagel are strewn with the remains of the slate-quarrying industry that finally died out here at the start of the Second World War. As we stand on the cliffs, Susan paints a picture of Cornwall as a hive of Victorian industrial activity. Cornishmen were in demand worldwide for their mining expertise and there was mass emigration. As our day continues, we see that Cornwall's mining heritage could be the subject of a whole tour in itself.
In the 1800s, Cornwall experienced something like a Gold Rush, with tin and copper towns springing up overnight as workers were drawn in from across the country in the hope of getting rich quick. For a time, Gwennap, near Redruth, was known as 'the richest square mile on earth'.
On her tours, Susan also takes groups to the historical village of Minions on Bodmin Moor and recreates its remarkable story. 'It was like the Wild West there,' she says, 'except as a result of copper, rather than gold. It was a dangerous place to be. Tunnels would collapse and there was very poor sanitation. People were sleeping rough and many died. There was lots of prostitution and debauchery, too, and the Methodists sent in missionaries to get it all back on track. In 1831, just a few hundred people lived here, but in the 1870s, when the slump happened, the population was 4000-plus. When you visit the village today, it's hard to believe what went on there – until you start really looking.'
Deeper into Bodmin Moor, we park the Land Rover and take the walk to King Arthur's Hall, one of many stone circles to be found here. In fact, the Hall is a stone rectangle rather than circle and, as with most standing stones, its exact original purpose is a subject of speculation. Some historians suggest it was a pre-Christian place of worship; others argue it was just a medieval cattle pen.
Susan can tailor itineraries to your own particular interests. The King Arthur and Bodmin tours are fun for all the family, with a little mystery thrown in and plenty of opportunity for the kids to run around. Or you could focus on Boscastle, with an exploration of the area's associations with author Thomas Hardy.
As our day continues, Susan links the landscape with the various yarns attached to it over the years including the story of smugglers crossing windswept Bodmin Moor with their booty to Jamaica Inn at Bolventor.
However, for many of Susan's customers, the figure that most interests them is not Mary Yellan, the young heroine of Jamaica Inn, or even King Arthur – but Martin Clunes. And, just as she can bring the ghosts of the ancient landscape back to entertaining life, Susan is also able to offer a tour of locations used in prime-time comedy-drama Doc Martin.
Susan is slightly nonplussed by the fact that I have never seen the show. I ask her to summarise the plot outline. 'It's a show about a grumpy GP who was previously an eminent surgeon and had a phobia about blood. He moves down to Cornwall, to get away from the stress, totally lacking in social skills and comes across all these strange locals who treat him in a very non-reverential way. He's a brilliant doctor, saves people's lives in every episode but makes these huge gaffes along the way. He's gruff but loveable.
'I love it,' says Susan. 'Partly the story. And partly because I recognise all the locations.'
Much of the series is shot in and around Port Isaac, a picturesque fishing village around 20 miles south of Treworgie. But many other scenic North Cornwall locations are also featured, and many locals are connected to the series in different ways.
'Grant in the honey shop in Tintagel is Martin Clunes' personal trainer,' reveals Susan. 'People go in and ask if they can touch him! Doc Martin is huge in Germany and America and Australia: I had a couple of American ladies who wanted to do a Doc Martin tour – I got Grant to get a signature from Martin Clunes before they got there. They cried! They couldn't believe it.'
North of Tintagel, we take a long and windy unmade track in the Land Rover to find one of Cornwall's most magical sites: St Nectan's Glen, a 60ft waterfall that has been a place of pilgrimage for many faiths for at least 1500 years. There are many different facets to the story of St Nectan's Glen: according to local legend, there used to be a monastery here, and some say that at dusk you can hear the ghosts of monks singing. The waterfall would have been seen as a sacred place, even in pre-Christian times, Susan tells us. As for St Nectan himself, he (apparently) lived here as a hermit for many years, before his death in 510AD. Some accounts suggest King Arthur and his Knights came here to get St Nectan's blessing before heading off on the search for the Holy Grail.
Whatever the truth of St Nectan's Glen's past, it is still regarded as a sacred place today, the touristy gift shop at the top of the cliff above it notwithstanding. The trees around the pool at the foot of the waterfall are strewn with tokens of prayer and hope – ribbons, massages, candles – left behind by visitors of all faiths.
'The waterfall is probably the most significant thing in the area,' says Susan. 'In the past, you might come here first before any search for the Holy Grail, but it is a little overlooked now.'
'Cornwall is full of real, genuine stuff - it's not Disney,' she says, trying to explain the ancient county's appeal to visitors. 'Walk round here and you can find Roman milestones; out on Bodmin Moor you can find Bronze Age stone circles right in the middle of nowhere. It's not like Stonehenge, mobbed with thousands of other people.'
Today has felt a little like stepping into the world of an old Saturday-teatime adventure series. A broad sweep of hidden history has been revealed to us, within just a 10-mile radius of Treworgie Barton. The stories are still going round in our heads as we stop off at Widemouth Bay to watch the surfers taking on the giant waves as the sun sets.