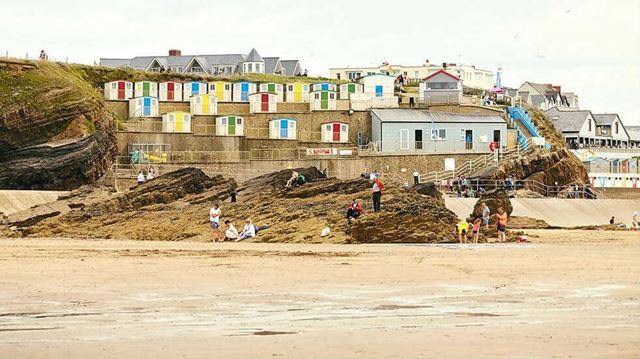 With so much to see and do in the area, we've got the perfect holiday guide – whether you want to hit the waves or enjoy much more besides the sea.
Saturday morning, and Bude has a spring in its step. A swing band is playing in a marquee by the castle. The farmers' market is doing a brisk trade in artisan coffee. The queue for Pengenna pasties snakes down the high street, jostling good-naturedly with wetsuited surfers carrying their boards towards the beach. The air is scented with sea spray and vinegar, and something else besides – optimism.
"Bude's on the up!" grins Matt Stephenson, who runs local surfing company Big Blue – one of the reasons for our visit. "In the last few years, people have put money into accommodation and restaurants here, and it's really raised the town's game."
Matt isn't the only one to think so – in 2018, Bude was voted the UK's Best Seaside Town. Yes, not gourmet Padstow or glam St Ives, nautical Fowey or pretty Porthleven – but Bude, an unsung Victorian resort town so high on the north Cornish coast that you're practically in Devon.
It's not hard to see why Bude is booming. My kids and I have come, like thousands of others, for the sea and the surf. The town's west-facing beach, Summerleaze, is deep and broad, with reliable rollers for beginners and bigger swells offshore. A stone's throw north are the gnarlier breaks of Crooklets beach, and to the south the vast expanses of aptly named Widemouth Bay. If you want to surf, boogie board or just paddle in the shallows, there are few better places to be.
---
---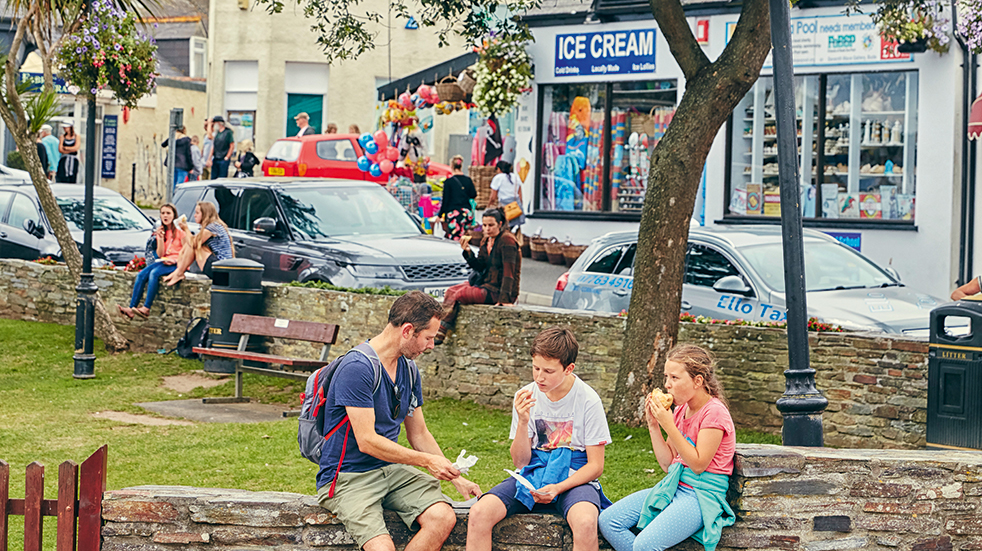 Dan and his kids enjoy pasties in Bude town.
Bude: the perfect holiday location
But there's also a particular reason for Boundless members to visit the area. Just ten minutes' drive from Bude lie Treworgie Barton cottages, a welcoming cluster of 11 beautifully converted farm buildings owned by the club. The Treworgie name dates back to the Domesday Book, and it's in a prime location: the view down the Millook valley to the sea, over butterfly-flitted meadows and sheep-grazed fields, is a humdinger.
One of these slate-roofed, timber-beamed hideaways is our home for the weekend. There is an antique winch in the living room, a resident bat in the eaves, a spotless kitchen and bathroom, and remarkably fast Wi-Fi. As my daughter Suki puts it, "the perfect mixture of cosy and modern".
I could happily settle down here, reading thrillers off the bookshelf and breaking off occasionally for a gentle stroll around the grounds, but as I say, we are here to surf. So, come Saturday morning we find ourselves by the Big Blue surf van in Summerleaze car park, squeezing into wetsuits and sizing up boards. My kids have surfed a couple of times before but, like me, have never really got upright. Our mission is simple: to stand up.
---
---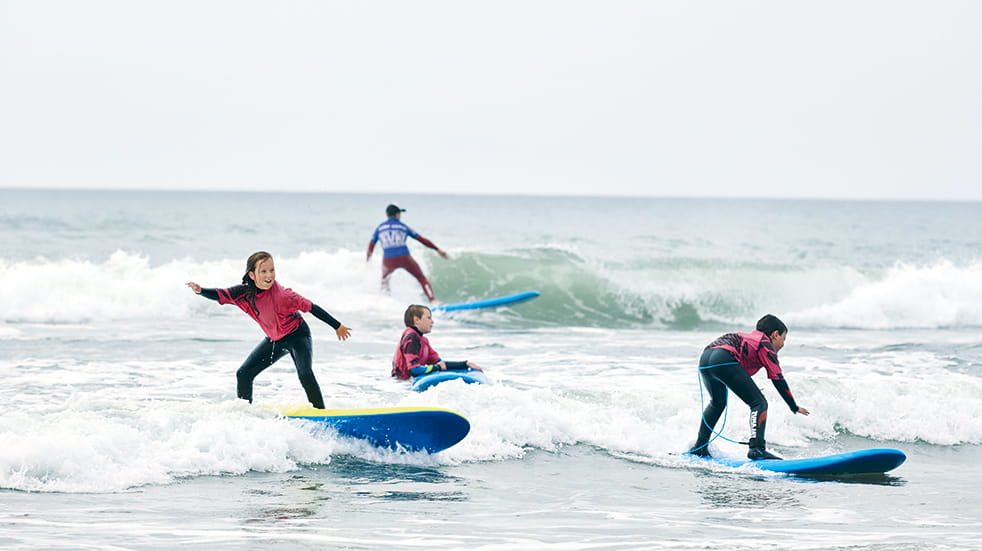 Surfing lessons go well at Big Blue Surf School at Summerleaze beach in Bude.
Learn to surf in Bude
We join a group lesson run by tousle-haired Matt and co-instructor Beth, with fellow learners ranging from junior school age to retirement. "Remember, the wetsuit zips up at the back," Matt is telling them patiently. The kids and I smile indulgently. We have this covered. Full of that Bude sense of optimism, we head to the beach for a dry run.
Now, surfing on sand is a breeze. Just lie belly-down on the board, pull up to your knees, then a little pop-up and swivel and – hey! – you're upright, feeling like Keanu Reeves in Point Break. "Keanu who?" queries Suki. "Never mind," I say, "it's time to hit the waves."
And that's where things get trickier. The group fans out into the waist-high surf, and at the first decent-sized wave, I attempt the old pop-up and swivel. But the board suddenly isn't underneath me anymore, and I'm snorting seawater. At the next attempt, I nosedive the board into the trough of the wave. Then I skew right. Then left. Then topple over backwards. Everything starts to ache.
The kids, of course, are faring much better. With Beth's help, Suki has found her feet and is cruising, wobbly but undeniably upright, into shore. My son Barnaby is springing onto his board with all the athletic advantages of early teenage-hood. I feel thrilled for them, but old.
"How are you getting on?" Beth wades over to ask. "Terribly," I reply. Her response is a masterclass in helpful tuition without being the slightest bit patronising. "First, stick to the white water, not the breakers," she offers. "Make sure you're steady before you pop up. I'll give you a push… now paddle!"
I paddle. I'm straight. I rise to my knees, plant a foot, two feet... and suddenly I'm surfing. Euphoria breaks over me – fractionally before I collapse back into the swell. Mission accomplished, we are soon back on dry sand, congratulating each other on inching just a little towards surfing competence.
"You did great!" says the irrepressible Matt. "Surfing's such a difficult sport; I get real pleasure seeing people get it for the first time. Beth learned to surf here, you know – and she went on to be the British under-18 longboard champion." (I checked – she did. Twice.)
Over the next couple of days, there is more surfing, but also plenty of time to explore more of born-again Bude. We leap off rocks into the town's 1930s sea pool, restored to its former glory by community volunteers having been threatened with closure in 2010. We eat ice creams while strolling along the 19th century canal, with its barnacle-encrusted sea-lock – again restored in recent years, and now a café-lined waterway for pleasure boating. We wander the high street, a-bustle with independent shops selling local wine, quirky gifts and beachwear. Bude is a great place to mooch.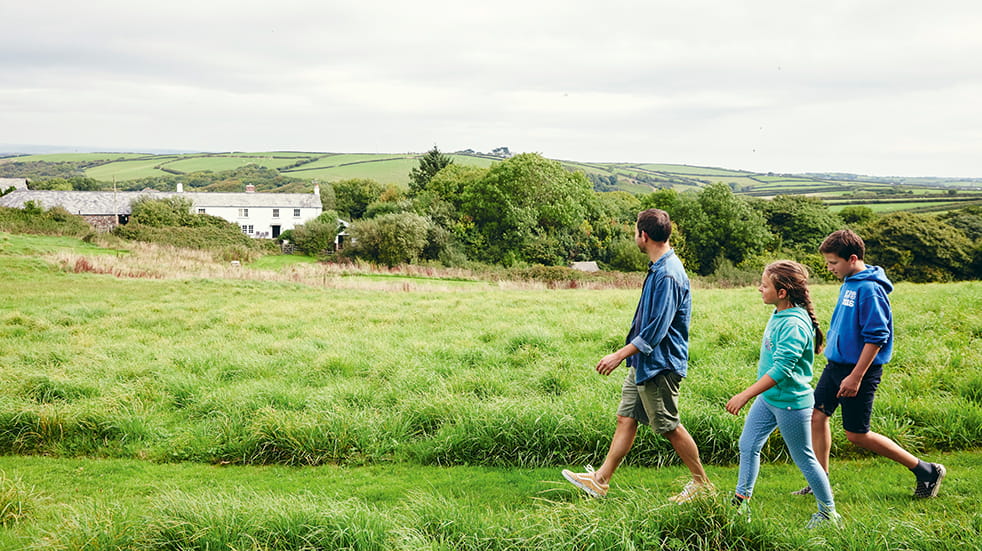 The family explore the countryside around Treworgie Barton.
A great British coast road
Heading back towards Treworgie, we take the coast road. This sinuous stretch of tarmac is one of Britain's most scenic (indeed, it's number 15 of the 50 Greatest British Drives as voted by Boundless members in 2018). It takes you past the grand rollers of Widemouth Bay, through a cliff-backed switchback at Millook Haven, and then winds down to the Poldark-ish hamlet of Crackington Haven, before pushing on to Boscastle and Tintagel.
We stop at Crackington, where the Coombe Barton Inn overlooks the beach and caters to all-comers. Over a plate of sea bass and a pint of Tribute (plus pasta pomodoro for the kids), we watch the sun descend into the Atlantic.
A lone middle-aged surfer is still out there in the dusk, trying to catch a wave. He isn't having much luck, but I salute his spirit. There's something in the air round here.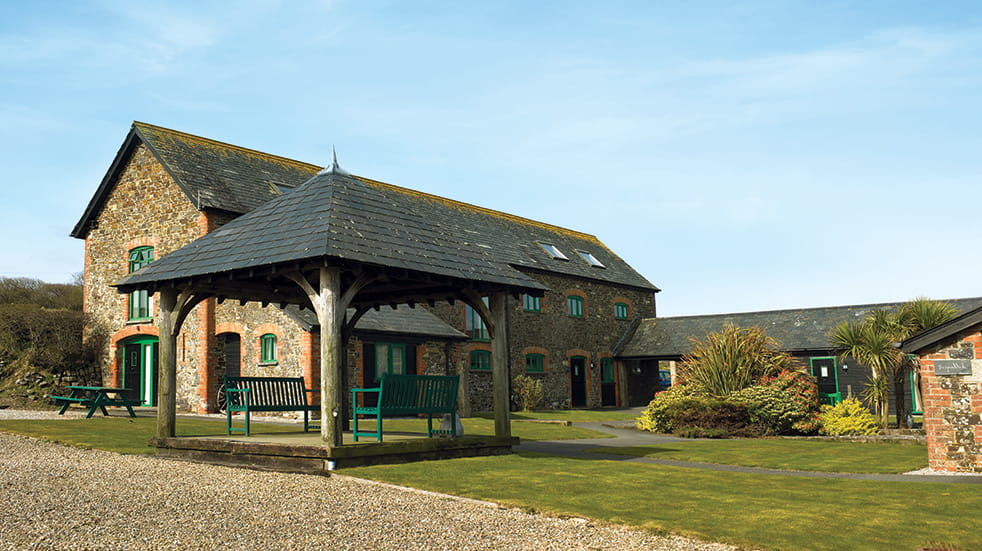 The pretty holiday cottages of Treworgie Barton.
Bude and beyond: where to head first?
Tourist Information
Bude's tourist information centre is a goldmine of activity ideas, with friendly, helpful staff.
Big Blue
One of several surf schools, and highly recommended. Lessons run year-round for all ages and abilities.
Sea Pool
Bude's fabulous, free sea pool is run by volunteers – consider making a donation.
Hire a bike
Bude Bikes has plenty, but it's worth booking in advance before taking one of several easy loops along the coast. Or for an all-terrain tour with a twist, try a Segway.
budebikehire.co.uk; segwaybude.co.uk
Tintagel Castle
20 minutes' drive from Treworgie, Tintagel Castle is a myth-shrouded coastal ruin. Work is under way on a striking new footbridge connecting the headland and mainland.
english-heritage.org.uk/tintagel
The 11 cottages at Treworgie Barton are owned and run by Boundless, and many members (who save up to 20% on public prices) have been coming here for years. The cottages sleep between two and 12, and suit couples, families or larger groups. Summer is understandably popular, but north Cornwall's walks, history and scenery make it a year-round treat. Look out for late availability deals throughout the year, too.