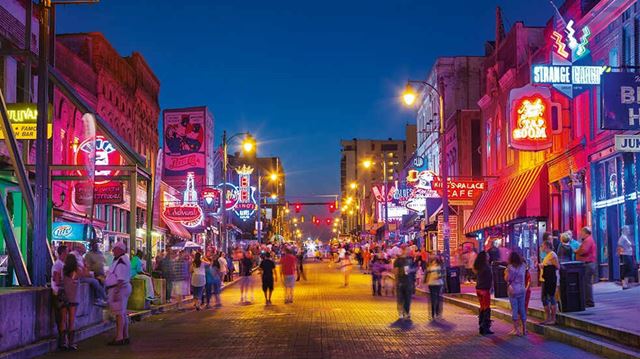 With American Sky you can explore the cities and coastal scenery of California, or immerse yourself in the rich musical history of New Orleans, Memphis and Nashville.
Take a musical pilgrimage in America
Head to America's southern states for a toe-tapping, tub-thumping trip unlike any other and, while you're there, why not walk in the hallowed footsteps of rock 'n' roll royalty?
There is an immediate and disarming familiarity to the US, which often feels like one big film set. That's because it is, essentially: from Manhattan to the Wild West, Hollywood has exported countless versions of this great country to every corner of the world, which is why a visit to America comes with such giddy expectations. However, the US's cultural clout is not limited to the silver screen. Its contribution to music has been extraordinary and one of the greatest pilgrimages that travellers can make in America is to the musical cities of the south.
To explore sultry New Orleans – joining the dots between cosy jazz clubs and bustling bars – is an experience that rightly tops bucket lists. Adding to the romance is the city's colonial architecture, sumptuous soul food and multicultural inhabitants.
Then there's Memphis, the birthplace of blues, soul and rock 'n' roll. It's impossible not to get swept along by the rhythm of the city, which abounds with live music venues, homely restaurants and historic sights (including Graceland, the former home of Elvis).
But the South's crowning glory has to be Nashville, which, despite its reputation for country music, has an urban sophistication, creative energy and independent spirit that makes it one of America's great cities.

Head to Memphis with American Sky, where you'll find Graceland – the former home of rock 'n' roll legend Elvis.
American Sky's recommended holiday
America's Music Cities, 7 Nights Escorted Tour from £1,549pp
Trip highlights
Visit Graceland, the home of Elvis, and enjoy the live-music bars of Beale Street in Memphis
Discover how to cook New Orleans-style during a unique cookery demonstration at the New Orleans School of Cooking
In Nashville enjoy reserved seats at the Grand Ole Opry, the "home of American music," followed by a behind the scenes tour
Price includes international flights, internal coach travel, 7 nights' accommodation, 11 meals and a dedicated tour guide. Transfers to and from the airport are not included
How to book your America Sky holiday
For more information or to see our full range of escorted and self-drive tours visit the American Sky website or call 01342 547005.
---
Hit the road in California
Watching the road disappear over the horizon – wending its way to unknown destinations beyond – there's a palpable sense of adventure; a feeling that anything is possible.
America is the spiritual home of the road trip, which has provided the premise for thousands of films and books: On the Road, Easy Rider, Thelma & Louise are just some of great American stories that have unravelled along the country's highways, particularly those of California, which deliver road-tripping travellers to some of the country's most famous cities. These include San Francisco, San Diego and Los Angeles, where, of course, many road movies have been produced in Hollywood studios. The state's highways, most notably Big Sur, also showcase awe-inspiring coastal scenery; from plunging cliffs to wave-lashed beaches, where bronzed surfers ride the swell with a confidence befitting California.
If you are hitting the coastal roads, don't forget your binoculars: whales and dolphins are regular visitors to these shores, too.
California's quaint towns, rolling vineyards and beautiful parks give further cause for travellers to pull over and stop a while. However, the promise of what lies beyond state lines – Las Vegas, Portland or even Mexico – means some road trippers can't resist keeping the pedal to the metal.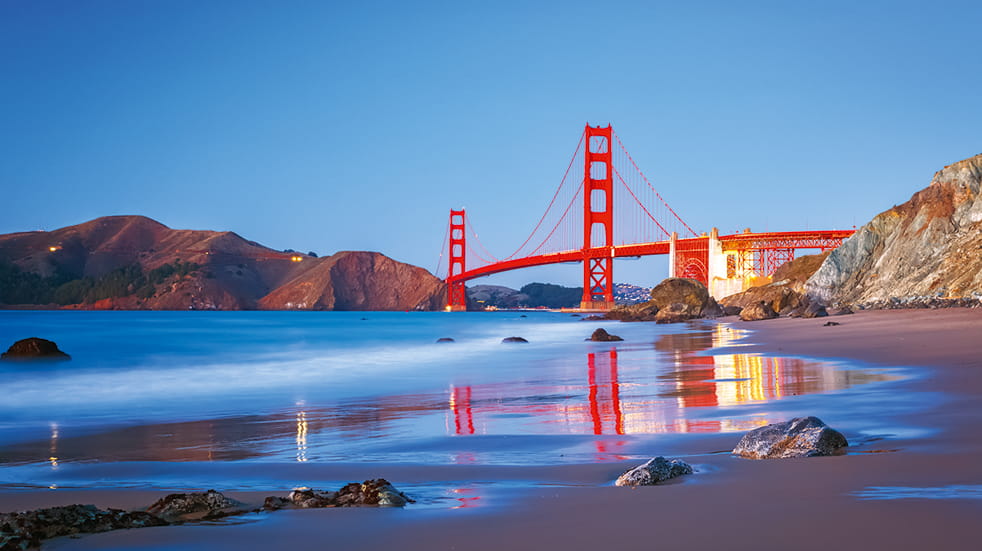 Explore San Francisco, home to California's awe-inspiring Golden Gate bridge.
American Sky's recommended holiday
Explore California & the Pacific Coast, 11 Nights Self-Drive Tour from £1,899pp
Trip highlights
Ride the San Francisco trolley cars, cycle over the Golden Gate Bridge, visit infamous Alcatraz
Drive the Big Sur, pausing to admire the rugged coastline and cliffs
Take a boat trip from San Diego to spot whales and dolphins
Relax in the Spanish colonial town of Santa Barbara
Explore La La Land, take a studio tour or a trip around the homes of film stars
Price includes international flights, car rental with fully inclusive insurance, 11 nights' accommodation (room only) and a personalised roadbook. Attractions and activities can be booked for an extra charge.
How to book your America Sky holiday
For more information or to see our full range of escorted and self-drive tours visit the American Sky website or call 01342 547005.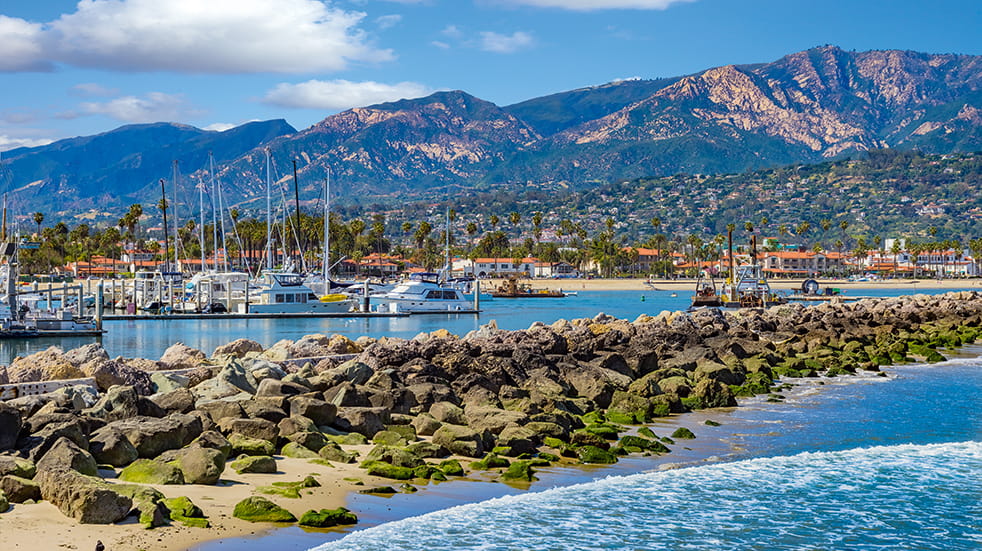 Santa Barbara is the perfect place to pause and unwind on your California adventure.