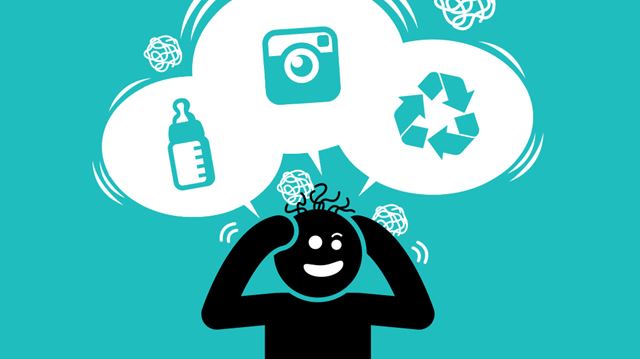 Stop worrying about the pressures of modern life. Avoid the guilt of ethical living and self-criticism; instead you can pick the battles you can win with our expert advice.
What does 'good enough' mean as we enter 2019? Once it might have meant making it to the gym once a week, or re-using a plastic water bottle, or cycling to work instead of driving.

But now it seems like there are infinite ways to be good and that the pressure is on to achieve them all. It's no wonder that in striving to be 'good enough', we are experiencing 'goodness anxiety' – suffering from feeling overwhelmed and exhausted by trying to get everything right all the time.

Inevitably, we are going to come up short when we're trying to prove that we can have a fulfilling day job and an organic-fed, gender-neutral, stereotype-busting family and a side hustle where we turn a favourite hobby into a conveniently lucrative extra business and a gorgeous Pinterest-worthy home filled with vintage furniture picked up at car boot sales and an eclectic circle of friends that we see regularly and never struggle to maintain contact with and an eco-friendly plastic-free lifestyle and time for daily meditation and Pilates and a vegan diet and the BBC's big water-cooler Sunday night drama.
---
Enjoy more of our expert wellbeing advice
---
You don't have to be picture perfect
The pressure to appear perfect is compounded by social media, where almost every aspect of our lives is shared and scrutinised. It encourages an element of competition and performative success, which is even more complicated now that there are so many potential ways to measure that success that it's hard to even keep up with them, let alone be successful.

So how are we possibly supposed to navigate this without giving up entirely? Well, this is a pick-your-battles situation. The key is to work out what matters for you. Whether it involves spending five minutes contemplating things or taking a whole week offline, think about what you consider being successful means, and focus on that. It may be trying to be more conscious of your consumption and aiming to shop fair-trade, cruelty-free and sustainably, or cutting down on your screen time before bed and sleeping more soundly.
Remember that social media is a glossy version of life that crops out the dirty pile of laundry, the hangovers and the hours spent watching Homes Under the Hammer instead of Panorama.
Small steps to a happier life
Setting unrealistic goals is unfair to ourselves. Instead of deciding to run a marathon, aim for a 5km Parkrun. You don't have to go vegan overnight – try being meat-free two days a week to start with. And you don't need to throw out every piece of plastic in your home immediately; start with a reusable coffee cup and electronic bank statements.

It's great to have high standards, but we also have to cut ourselves some slack and give ourselves some credit for the good we're doing, instead of berating ourselves for not having done more. Otherwise, we risk permanent dissatisfaction with our lives.
The expert: Rachel Sigee
Rachel has wrapped her head around all manner of lifestyle and wellness issues for publications including The Pool and Waitrose Weekend.