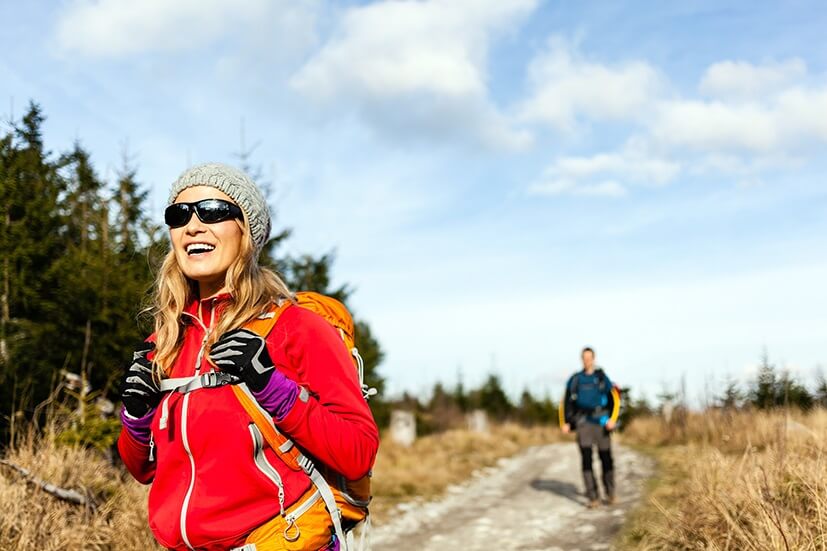 While it sounds more appealing just to stay inside and hide from it all, being proactive about your health makes it more likely you will make it through the colder months cold and flu-free. Boundless takes a look at ten things health professionals advise doing during the colder months so you can boost your health and stay fit and well.
---
1. Stay Active
It's tempting to stay indoors in the winter but keeping physically active is crucial for keeping your immune system strong and your spirits up. Exercise delivers oxygen and nutrients to your tissues and helps your cardiovascular system work more efficiently. It can help you prevent or manage a wide range of health problems including stroke, type 2 diabetes, depression, certain types of cancer, arthritis and falls, as well as controlling your weight.
So instead of hibernating on the sofa, take yourself or your family out for a bracing winter walk or try a new outdoor activity. If it's very cold, wear a scarf over your mouth to warm the air before it enters your lungs.
---
2. Catch up on sleep
On average we sleep six-and-a-half hours a night, much less than the seven to nine hours recommended, according to The Sleep Council, which aims to raise awareness of the importance of a good night's sleep. Winter can give us the opportunity to get some early nights, but it's important to try to keep regular hours.
Create a restful, dark sleeping environment and make sure your bed is comfortable. Eating too much close to bedtime may prevent sleep onset, or cause discomfort, and drinking alcohol interferes with the body's natural sleep patterns.
---
3. Stock up on veg
Make sure you are eating plenty of vitamin-rich foods and at least five portions of fruit and vegetables each day. When it's cold and dark outside it's often tempting to turn to unhealthy comfort food, but a healthy diet is even more important during the winter months to keep you at optimum health. If you find yourself craving a sugary treat, try fruit instead, or make sure you have some dried fruits such as dates or raisins in the larder.
---
4. Wash your hands more
It sounds obvious but it's the number one way to stop the spread of germs. Experts recommend washing your hands every few hours, as well as after using the toilet and before meals. Also give them a wash after touching someone else's phone or keyboard at work, or travelling on public transport.
---
5. Stay hydrated
Drink around eight glasses of water each day, experts advise. If cold water seems unappealing when it's cold outside drink warm water which is great for the digestion, or water with a slice of lemon or cucumber. The moisture will also help make mucous membranes, including those in your sinuses, more resistant to bacteria.
---
6. Have an 'autumn clean'
It's good to get your house in order before the long winter months sap your energy and motivation, so get all the family involved in household chores. Remove any winter mould from your environment as mould can trigger nasal congestion, sneezing, coughing, wheezing, respiratory infections and worsen asthma and allergic conditions.
---
7. Stop smoking
Smokers are far more susceptible to upper respiratory infections, which tend to strike in winter. Even if you're 'only a social smoker', now is a good time to quit and get your lungs working better for the winter months.
---
8. Reach for the 'super foods.'
Green vegetables , specifically cruciferous vegetables such as broccoli, offer the most protection against winter illnesses – as well as cancer, heart disease, arthritis, diabetes, high blood pressure and obesity.
Others include whole grains, nuts and berries.
Most foods high in antioxidants are also high in fibre, low in saturated fat and cholesterol, and a good source of vitamins and minerals. Foods rich in antioxidants such as blueberries will boost your immune system, as will garlic, often dubbed 'nature's penicillin.' Some alternative health practitioners recommend eating at least two cloves of raw garlic a day.
---

9. Drink more tea
Green tea, in particular, contributes many protective phytochemicals. Studies have shown that some polyphenol compounds from green tea possess anticancer activities,partiuclarly epigallocatechin gallate (EGCG), abundant in green tea, which is a particularly potent antioxidant.
---
10. Improve mental well-being
Increasingly, research suggests our mental health can have a huge effect on our physical health. The Mental Health Foundation suggests five steps to improve your happiness and overall well-being:
• Connect with others
• Be active
• Keep on learning new skills
• Give to others – even if it's just a smile – and
• Take notice, becoming more aware of the world around you and your place in it.
---
Terms and Conditions
* New Boundless by CSMA members receive a voucher booklet worth over £170 inside their welcome pack within 30 days of joining. Vouchers include 1. £10 extra off Breakdown Cover. 2. £50 extra off your first Boundless-owned UK break. 3.Free river cruise in London or Paris or ghost walk in York, when booking a two night stay with SuperBreak. 4. £50 off Barrhead Travel's own branded holidays. 5. £20 off when you spend £100 in store at Snow + Rock, Runners Need, Cotswold Outdoor or Cycle Surgery. Terms and conditions apply and will be supplied in full with your welcome pack. We reserve the right to change vouchers at any time.