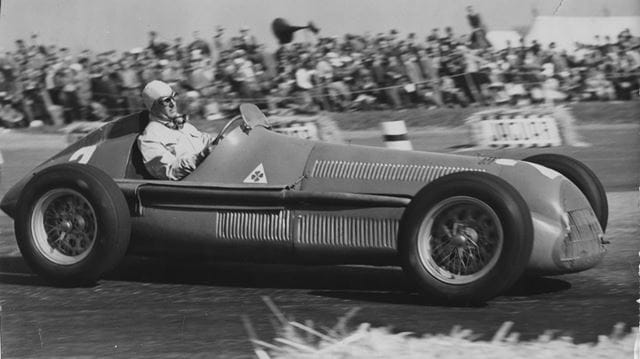 Silverstone Circuit is the home of British motor racing and this July it will once again host the F1 British Grand Prix. Here are ten fast facts about this world famous motorsport venue.
1.
Since 1950 the British Grand Prix at Silverstone has been won 19 times by a British driver. Winners have included Jim Clark, Jackie Stewart, Nigel Mansell, Damon Hill and David Coulthard. The most successful F1 driver at Silverstone is Lewis Hamilton, with four BGP victories.
---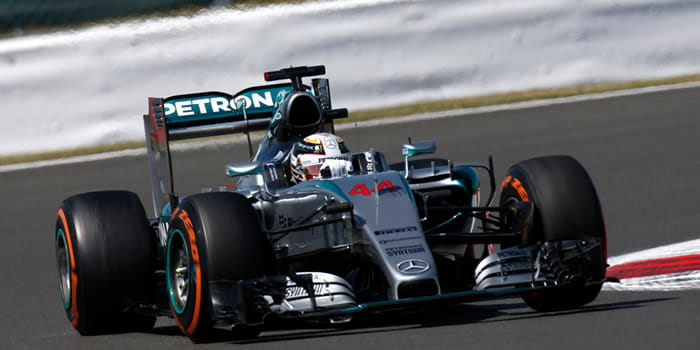 Image: BRDC Archive
2.
Silverstone's Grand Prix Circuit is 3.66 miles (5.89km) in length. The new track is 750m longer than the old GP circuit (previously 3.194 miles/5.14km), adding approximately four seconds to a F1 lap time.
---
3.
Maggotts Corner is still the fastest turn on the GP Circuit at Silverstone, with F1 cars taking this bend at speeds of approximately 188mph while being subjected to a lateral G-force of 4.5.
---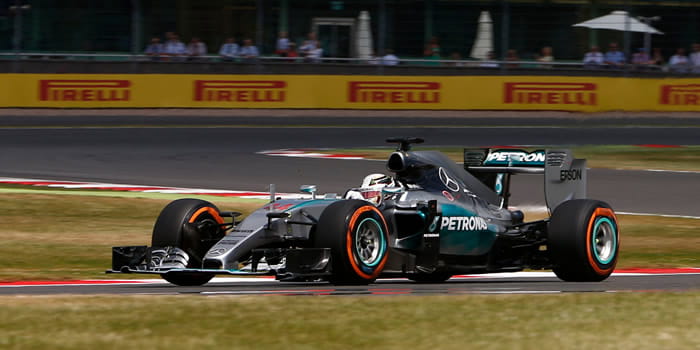 Silverstone Images
4.
Silverstone started life as an airfield in 1943. The section of the circuit formerly known as the National Straight has been renamed the Wellington Straight after the aircraft based at Silverstone during the Second World War. This part of the track is one of the old runways.
---
5.
Aintree Corner is named after the circuit where the British Grand Prix took place in 1955, 1957, 1959, 1961 and 1962. Brooklands Corner is named after the venue of the BGP in 1926 and 1927.
---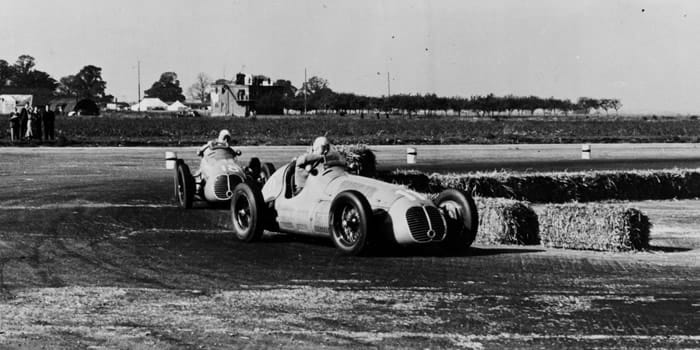 Image: BRDC Archive
6.
The Formula One World Championship is celebrating its 67th anniversary this year. The first ever F1 race took place at Silverstone in 1950 and this is the only circuit to host the British F1 Grand Prix since 1987.
---
7.
If all the sausages eaten over the BGP weekend were to be lined up, they would measure 1.08 miles, the equivalent of a lap around Silverstone's Stowe Circuit. Watching motor racing is evidently thirsty work, with an average of 6000 bottles of Champagne, 10,000 bottles of wine and 20,000 bottles of mineral water consumed over a BGP weekend.
---
8.
The first race at Silverstone took place on 2 October 1948 and it was called the RAC International Grand Prix. It was won by Luigi Villoresi in a Maserati and HM King George VI and Queen Elizabeth were spectators.
---
9.
The last time three Britons were all on the F1 podium together at Silverstone was in 1965 when Jim Clark won, Graham Hill was second and John Surtees came home third. In total, Clark won the BGP three times at Silverstone but Hill and Surtees never tasted F1 victory there.
---
10.
During the British Grand Prix, the drivers will complete 52 laps of Silverstone's circuit, a total distance of 190.32 miles or 306.198km. There are 18 turns in total (10 right, eight left) and the longest straight is Hangar at 770 metres. For information on our exclusive VIP F1 Silverstone experience, hosted by ex-F1 driver John Watson, the Force India F1 Team HQ tours and an exciting F1 British Grand Prix ticket offer, visit boundless.co.uk/F1silverstone
---
For information on our exclusive VIP F1 Silverstone experience, hosted by ex-F1 driver John Watson, the Force India F1 Team HQ tours and an exciting F1 British Grand Prix ticket offer, visit boundless.co.uk/F1silverstone