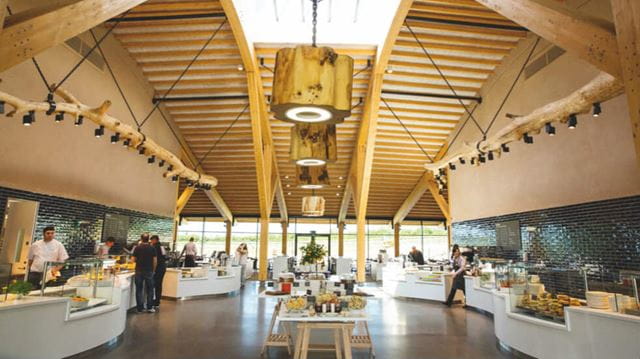 With great food, homely interiors and an eco-friendly ethos, these service stations make us wonder why can't all roadside pit stops be this good?
'Top to toe in tailbacks, Oh I got red lights all around', Chris Rea croons over the car radio. The truth is that driving home for Christmas can be tedious. Tortuous, even. Signs flash by warning 'Tiredness kills'. You realise that you need a break, so you pull over at the next services.
Yet, all too often, motorway service stations are a jarring jamboree of garish, nerve-jangling fruit machines, tacky fast food franchises and strip lighting; functional but far from fabulous. You snatch a coffee and hastily hit the road again. Let's not forget, as well as Driving Home for Christmas, Rea also sang Road to Hell...
---
Read more of our great motoring advice: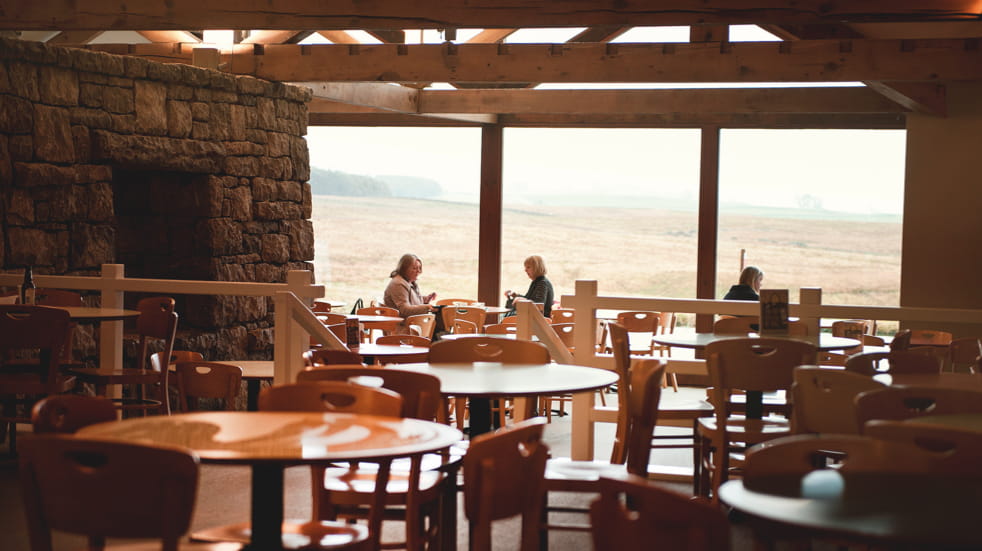 The café at Tebay Services southbound
A survey released this year by Transport Focus named and shamed the worst of our service areas: 9600 motorists were polled about their level of satisfaction regarding 111 services in England. Thurrock, an eyesore on the M25, was at the bottom of the heap, closely followed by Toddington on the M1. Motorway service stations have been around for nearly 60 years and many seem to be trapped in a tired time warp.
There are some beacons in the dark, however. Tebay on the M6 near Penrith in Cumbria received a 99 per cent satisfaction rating (Norton Canes on the M6 toll road came out on top with 100%, in case you're wondering). Tebay is in the Westmorland family's stable along with the foodie's favourite, Gloucester Services on the M5, and is a family-owned, multi-award-winning artisanal breath of fresh air. In fact, you could while away a few hours here, do your weekly shop and enjoy a slap-up meal – and it's not often you can say that about a motorway service area (don't tell the Department of Transport, which states that a service station should not be 'a destination in its own right').
Favourite motorway services
Schlepping north or south to and from the Highlands, Tebay has been my favourite pit stop for years. I tailor my journeys, counting down the miles and hang on as other services flash by without so much as a glance in the rear-view mirror.
Why? Well, there's a pond. Ducks waddle past. Dogs bound over the grass. Welcoming lights twinkle through floor-to-ceiling windows gazing out over Lakeland fells. You could almost forget you were nudging up to one of the busiest carriageways in the country. The setting veers towards the bucolic, there's field-to-fork dining, artisan crafts to browse and a deli bursting with fresh, local produce.
Sandwiched between the Lake District National Park and the Yorkshire Dales, Tebay is a light, bright oasis where food has always been the focus. There are no soggy sandwiches or cardboard burger buns here. In the farm shop there's a huge table piled high with wickedly gooey cakes (many gluten free), you can stock up on crusty artisan breads, home-baked pies, locally grown veg and even buy your Sunday roast at the butcher's counter.
I've lost precious motoring time marvelling at the range of organic and natural wines. I've bought Cumbrian ales for my dad, bundles of heavenly Sedbergh soap (made on a nearby farm) for friends, as well as hand-thrown pottery bowls and a salt pig. If you've a last-minute Christmas shopping crisis, check out the wonky olive wood chopping boards for the cook in the family. There are also plans afoot to add sheepskin rugs and slippers from their flock. It's not just a place to break your journey, it can be hard to drag yourself away. It's – whisper it – a pleasant experience.
Tebay Services on the M6
Tebay's story began back in 1972 when Cumbrian hill farmers John and Barbara Dunning found out that the new M6 was going to cut through their farmland. Clearly a couple with a glass half full mentality and entrepreneurial spirit, they didn't weep and wail; instead they opened a small café serving local home-cooked food to passing motorists. Forty-six years on and the rest is history – or rather a continuing success story.
In 1976 they added the Tebay Services Hotel (more home-cooked food and Lake District views on tap) and, in 2000 they launched the Rheged Centre, a 90,000 sq ft visitor attraction under a grass roof near Penrith with a gallery, café and shop. In 2004, Tebay's farm shops opened along with a butchery selling beef and lamb from the 1000-acre family farm. Then the Gloucestershire Gateway Trust came knocking.
Their reputation had spread. Rooted in the Cumbrian landscape, forerunners of the local food revolution and supporting small producers, Tebay's ethos was what Mark Gale, CEO of the Gloucestershire charity, hoped to emulate in the south. He wanted to create sustainable income and job opportunities for local communities.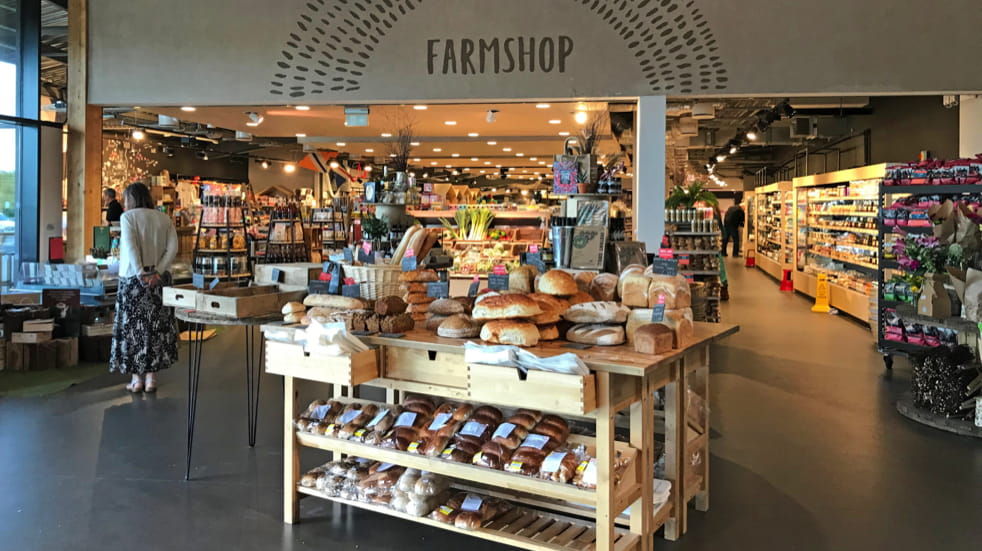 The farm shop at Gloucester Services
The result is an architectural showstopper, blending into the rolling Cotswold countryside, with an admirable ethos and stellar eco-credentials. The first motorway fishmonger? That's thinking outside the box. Gloucester northbound services was launched in May 2014, bedded into the hillside between junctions 11A and 12 and, in May 2015, the southbound side opened, immediately bagging design and food awards. In 2014, Gloucester Services was named Britain's best newcomer by the Observer Food Monthly awards and in 2016 became the first service station to be included in the Good Food Guide.
Designed by Glenn Howells Architects and boasting a domed wildflower-sown roof, the services notched up a RIBA National Award in 2016 for its significant contribution to architecture.
For the 130 local producers within a 30-mile radius (including Bertinet Bakery in Bath and Cinderhill Farm – check out the moreish sausage rolls) it's been a helping hand, allowing them to grow their businesses. Passing trade takes on a whole new meaning when you're talking about tens of thousands of potential customers on the M5.
First motorway service areas
What's surprising is that there are still so few following in their far-sighted footsteps. The UK's first motorway service areas opened (on the M1, of course) in 1959. At Watford Gap you could, famously, bump into the Rolling Stones and Beatles on their way back from gigs, while Newport Pagnell sported an eye-catching modern design. Leicester Forest East boasted a Terence Conran-designed restaurant. The early service stations embraced innovation but now they seem to have lost their way. What's more, they don't seem to have read the 'Tiredness kills' signs...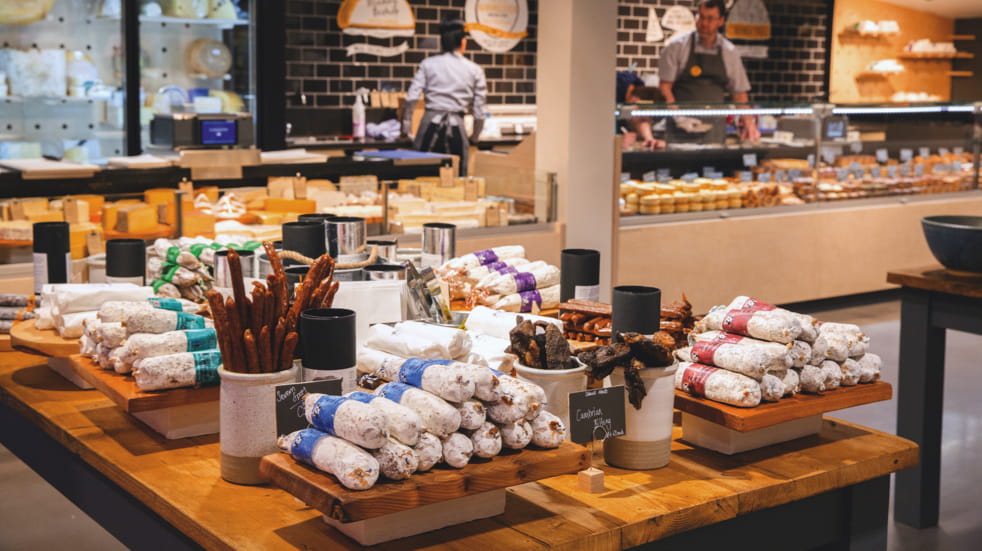 The charcuterie at Gloucester Services
But the Westmorland Family has a clear view ahead. They recently added Cairn Lodge, on the M74 in Scotland, to their portfolio, opening a farm shop and revamping the restaurant – the new kitchen is due open soon. So, next time you need a break, take your reusable coffee cup (that's double points) to one of the new breed of services. Relax, recharge – and stay awhile.