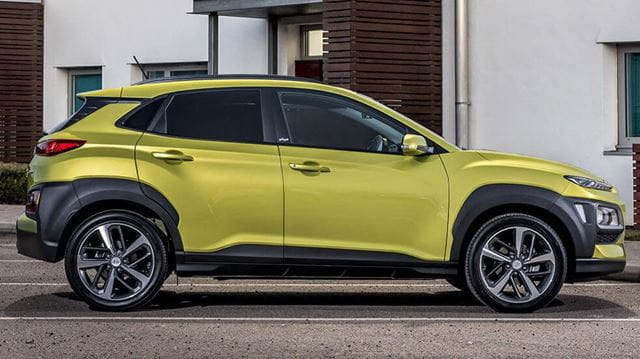 Two Boundless members, Paul and Jim, share their experiences of testing the battery range of electric cars on long journeys.
Paul Browning was loaned a Tesla Model X for a ten-day family road trip around the Lake District of around 500 miles, with five passengers. Currently the family drives a hybrid Toyota Prius and a fully electric Nissan Leaf.
"With an increase in electric vehicles in the UK, we often resist purchasing for fear we will have nowhere to charge and risk being stranded – range anxiety. A valid point as currently most electric cars travel fewer distances than their fossil fuel comparators, and there are fewer charging stations in the UK than petrol stations. However, battery technology has evolved exponentially over the last decade. Are we currently in a position where we need not worry about range anxiety?
"To put this battery challenge to the test, I arranged a family holiday with my wife, our two young children and mother-in-law. Could we travel from Loughborough in the East Midlands to the north coast of Cumbria, and enjoy a holiday around the remote and elevated plateaus of the Lake District – and not worry about being stranded without power?"
The Tesla Model X
"For this challenge, we wanted a vehicle that was currently on the market in the UK, utilised the latest battery technology and was large enough to carry five people and their associated luggage. Tesla Motors UK kindly provided us with a Tesla Model X, with a WLTP range of 315 miles. The six-seat variant has two seats in the front, two in the middle (with a space between), and a further two seats in the rear. The boot was large and deep, and in our case we only needed one rear seat; with the other folded down to increase the boot capacity we had around 1,200 litres of space in total. In addition, as a 100% electric vehicle with no internal combustion engine – in fact, no need for any of the engineering typically used to propel a car –the bonnet (or as Tesla call it, the front trunk or frunk) provided an additional 187-litre space."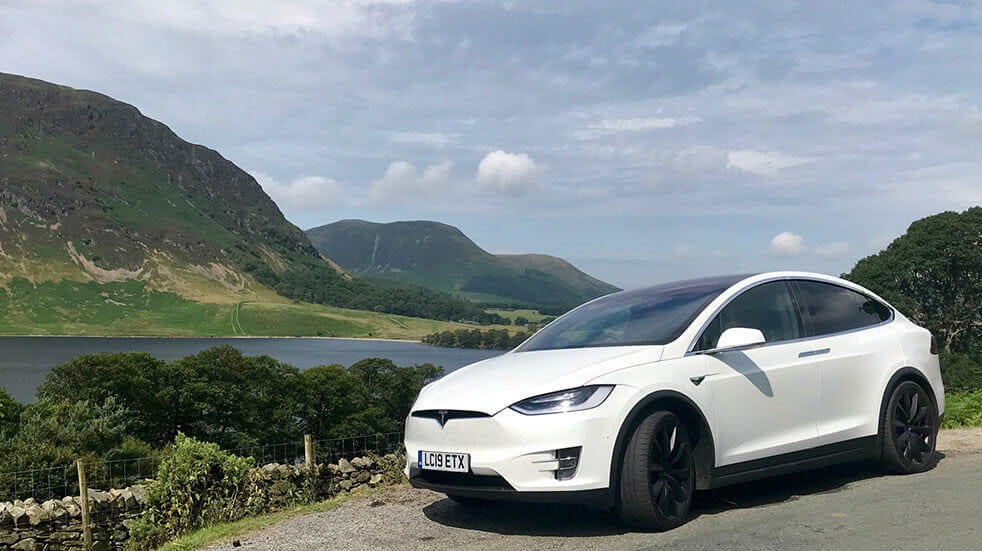 "The next consideration is charging and battery capacity. If allowed to charge to 100% the car was reporting over 300 miles of range. I placed our destination into the built-in sat-nav, which told me I should charge at Charnock Richard Services on the M6, where I would have 12% battery remaining. We currently drive a Nissan Leaf and have learnt not to trust the 'range'; we use the battery percentage as our guide as the onboard computer is so inaccurate. With this experience, we decided that was too much of a 'leap of faith' and opted to charge at Stoke on Trent instead. Here the computer said we would have 35% battery remaining and it would take 17mins to charge back to 100%. To our amazement, we had 39% battery remaining upon arrival. Of course, the miles this vehicle can do for 1% of battery is far more than can be achieved with the Leaf.
"Again due to our range anxiety we stopped again in Gretna Green services to complete a charge before heading to our destination on the Cumbrian coast. However, two days in and the charging capacity and range completely put our mind at ease – we could trust what the car was telling us, and plan accordingly."
Charging your electric car
"Charging the car was effortless, but perhaps took some additional planning consideration. The Tesla superchargers were plentiful and took less than 30mins to completely recharge the car. Plenty of time for a comfort and caffeine break. Whilst there were fewer Tesla Supercharger locations than other charging stations, there are always plenty of spaces. This is in contrast to Ecotricity and Chargemaster who offer rapid charging but seldom offer more than two charging points per station. The built-in SatNav was clearly able to show the best chargers to use en route but did mean a bit of extra planning to our daily trips."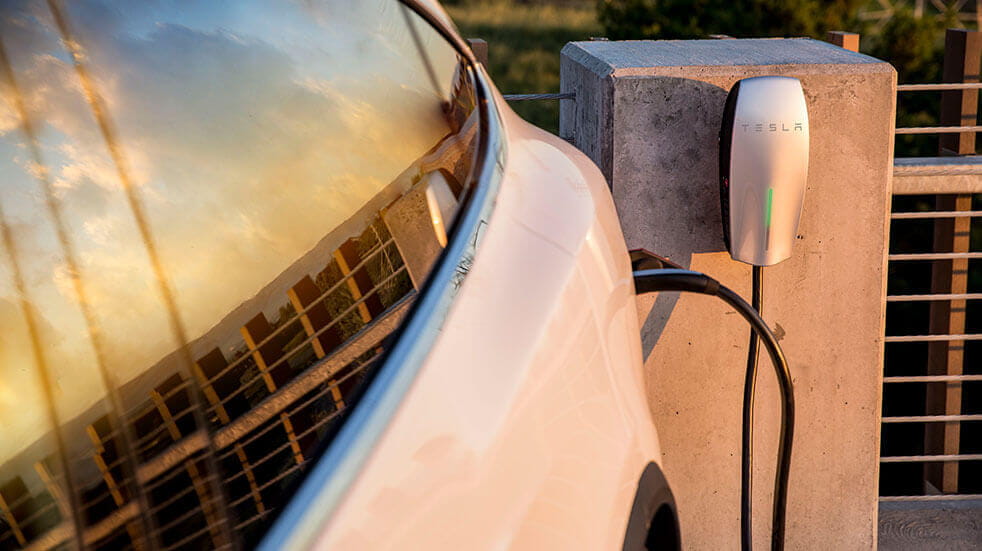 "The Tesla's comfort features also made this long trip more pleasant, most notably its Autopilot feature. This uses a series of cameras and sensors around the vehicle to stay in lane, keep a safe distance from the vehicles all around it, and help steer. In addition, the car was monitoring the speeds way ahead and recommending which lane I should move into to remain at speed. A check of my surroundings, a flick of the indicator and the car would magically accelerate, move into the lane and switch off the indicator. Even a traffic jam was easily wrestled with the car managing the speed and steering. This meant that I was able to arrive at our destination feeling relaxed and refreshed.
"With a strong lack of buttons in the cabin, almost all features are controlled by the striking 17" touchscreen providing quick and intuitive access to all the cars features.
"The largest panoramic windscreen provided great uninterrupted views of the dramatic vistas of the Lake District. The Falcon Wing doors on the side are dramatic and eye-catching, and whilst perhaps elicit a 'marmite' response they actually prove rather practical. Not only allowing easy access to the second and third seats, provide shelter from the rain, open in tight parking spaces and allowed negotiating child seats without any ducking or back strain, nor were any heads 'bumped'."
Driving the Tesla Model X
"In general driving the vehicle itself offered excellent road handling, with the battery pack below the wheel axels resulting in a low centre of gravity. The drive was comfortable, smooth and with 100% electric cars – completely silent – with only wind and tyre noise to be heard. As the electricity generated and used in the car was from renewable sources, it was wonderful to know that as we drove through the dramatic scenery of the English Lake District we had no negative impact on the environment we were enjoying.
"Based in Silloth on the north-west coast, we visited as far south as Kendal, as far north as Gretna, visiting Buttermere, Thirlmere, Grasmere, Tebay, Windermere and Ambleside along the way. All without worries of running out of juice. In fact, most places now have 'destination chargers' meaning we could park up, plugin and add some charge to the car whilst spending the day in and around the town.
"With my previous experience of other electric and hybrid cars, this was the first that offered accurate battery statistics, coupled with the speed and convenience of Tesla Superchargers, but the flexibility to use public and even domestic charging outlets. As a result, my early range of anxiety was dissolved by day two. In fact, I had no qualms about letting the battery estimate depletion into single figures as I was confident that the vehicle was accurate.
"With electric and hybrid vehicles, a common feature is regenerative braking – basically using the wasted energy used to slow the car down to feedback into the battery; on the Tesla this was so effective the brakes were seldom used. Foot off the accelerator, and the car dramatically slowed, and charged the battery.
"There are plenty of options now for the choice of electric vehicle. Many major car manufacturers now have an EV option in their range. Nissan Leaf offers a cost-effective solution for those doing smaller journeys and is the world's best-selling EV. More recently Kia offers an eNiro providing a great range for the money, and Tesla now has their popular Model 3 available in the UK offering the longest range at a more affordable option than the Model X we tested here."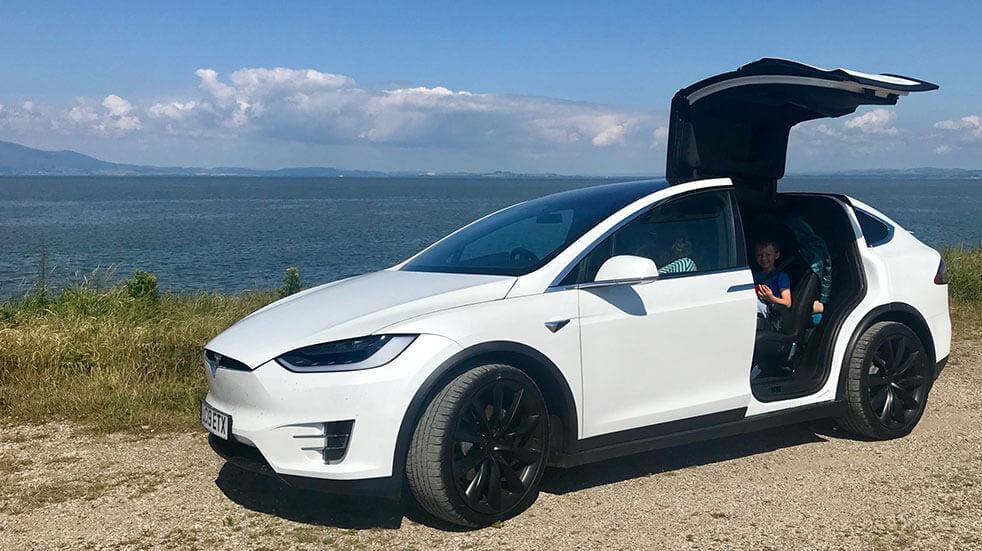 A Tesla Model X as a family car: the verdict
"The range now available on some electric cars means that a long road trip and visits to remote areas of our country are absolutely possible using electric vehicles. As both the UK infrastructure, battery technology increases and battery costs decrease, then demand for 100% electric vehicles will escalate. But right now there are vehicles that suit those who have shorter regular journeys, and those that require a longer range vehicle. With a few good choices, there is always an electric vehicle option for you to consider as your next vehicle.
"It's worth mentioning a common problem faced by electric car drivers. With car parking spaces often at a premium either thoughtless or deliberate non-EV drivers will use parking spaces designated for electric car charging. These selfish drivers disregard that, for them, a five-minute stop for fuel in plentiful multi-pump petrol stations is a breeze, but electric drivers have limited opportunities to charge, and it takes longer – thus not being able to use a service results in significant undue delays.
"As more charging points become available and local enforcement ramps up, EV drivers hope that these days will soon be behind them. But a nod to EV drivers, who should vacate their space once charging is sufficient. Specifically for Tesla drivers, the satnav shows each Tesla Supercharger, and shows you graphically out of how many spaces, how many are currently used. It doesn't show how long they have left, but there was no situation where they were all used (not even close).
"Tesla is certainly leading the way in designing 100% electric vehicles that are practical, comfortable and easy to use. Whilst the Model X used here is their most expensive model, they have now introduced their smaller Model 3 at a more affordable price. However, all manufacturers need to drive down the cost of vehicles to make them more accessible to all.
"My conclusion is that battery technology in electric vehicles is most definitely good enough to support a road trip, and holiday – even in remote areas. Of course one must consider the vehicle choice and their own needs, but the savings made on no longer visiting petrol stations, plus the knowledge that you are not using fossil fuels make electric cars a viable choice when selecting your next car."
Thanks to the staff at Tesla Motors UK, Heathrow for the loan of their Tesla Model X.
---
The Hyundai Kona
Jim Dunlop test-drove a Hyundai Kona Premium SE. Currently he drives an Audi Q2.
"After many months of research and a short test drive in a Kia e-Niro, I decided that if I was serious about converting to electric driving, I needed to live with an EV for a couple of days. Courtesy of West Riding Motors in Colne, Lancashire, I picked up a top-spec Hyundai Kona Premium SE and agreed with the dealer that I could make a trip to Glasgow. I travel there from Burnley on a regular basis for footballing reasons and my daughter also lives there.
"Having discussed the EV situation with my wife and friends, they are all very negative; "not sure, range, cost", but I think all of the negatives can be overcome with a bit of effort. At the outset, the decision to opt for a fully electric car needs plenty of research. The detailed research I undertook certainly paid off and other than a couple of minor hiccups along the way, any major concerns simply did not materialise."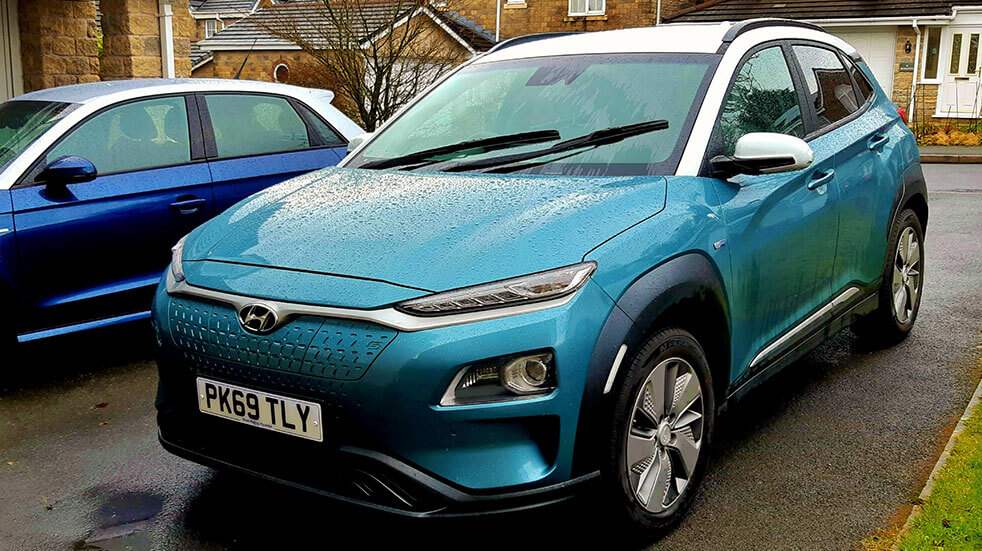 "Prior to setting off for my home city, the dealer had topped the battery up and the dash was reading 258 miles of range. Leaving home after some running around the reading was 252. The satnav was calculating the trip at 207 miles, so, in theory, we had around 45 miles to spare. Had we had a Pod Point at home, we would have topped up before leaving. The claimed range is 278 miles. More of this later.
"I currently drive an Audi Q2 making a comparison with the Kona relatively easy. The basic platform is similar and frankly, I couldn't really see much difference in build quality. Some of the plastic interior features in the Kona were of a lower quality than the Audi, but certainly not a deal breaker. The Kona was very high spec with leather heated and ventilated seats and interior space was similar to the Q2.
"We do a fair bit of UK and European travel and luggage space is important to us. On longer journeys, it tends to be just me and my wife so overall space is judged on that basis. The photograph shows the boot with 2 hold (20kg each) cases and 2 carry-ons (10kg each). In addition there is room below the boot floor for a smaller bag."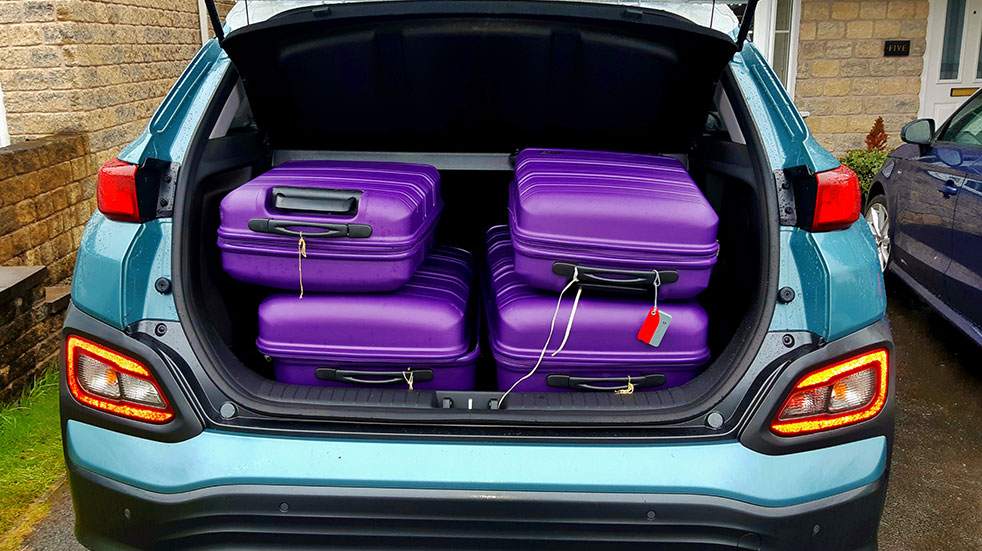 The Hyundai Kona battery range
"Ready to depart, I set the mode to "ECO" rather than comfort or sport to gauge the range. As I reversed off the drive, I'm convinced my wife's range anxiety had already kicked in! Apart from a few miles at home and on arrival in Glasgow, the drive was totally on motorways. First impressions of the car is that it is very comfortable and quiet. On the motorway, it is possible to set a fair level of autonomy with "smart" cruise control and lane keep assist. I tried both out and they work well although after about a minute, it tells you to put your hands back on the steering wheel! I gave the accelerator a bit of a belt leaving Southwaite on the slip road and acceleration is pretty fierce, if that's your thing.
"We stopped for a short break at Southwaite services, (106 miles into the journey), and the range to satnav difference was 101 miles meaning the "comfort zone" had dropped from 45 to 22 miles. Around 50 miles from Glasgow, the dash warned that the journey could not be completed without a fill up. Generally, people are probably unaware of the fact that many of the public charging points in Scotland are free to use. All that is needed is a ChargePlace Scotland card, which costs £20 per annum, and the rapid charger at Abington village is on the scheme. I plugged in for 15 minutes and added 80 miles to the range. My research had helped enormously at this point. A minor detour of a few hundred yards into Abington village saved the day.
"I believe Tesla already shows charge points on its satnavs, and Kia has its UVO system accessed via smartphone, which has charging points on the app. Hyundai don't, and I suspect they are not alone. It would be very useful if all electric cars had something like a "Zap Map overlay" on their navigation screens.
"Based on a rough calculation, I missed out on a non-stop journey by around 12 miles. With a charge point at home, one may have been twitching slightly, but it could have been done non-stop. I think that the range was more around 210 – 220 miles in the real world on that kind of trip."
Charging the Hyundai Kona
"Around 500 metres from my daughter's apartment in Glasgow, the multi-storey car park has a bank of seven chargers, three of which are 50kW. That evening I charged to car to 80%, (189 miles) in 45 minutes for the princely sum of a £2 parking fee.
"The following day, we travelled to Edinburgh and drove around with three adults and a baby in a baby seat. The shorter journeys were a mix of town and motorway driving and in the end we had 50 miles of range left. Another trip to the car park that evening took the range to 183 miles for the trip back. I knew this would not be enough so another fill up at Abington was the order of the day.
"The trip back involved a change of route to see if that made any difference to the range. We left the M6 at J36 and crossed country via Kirkby Lonsdale and on this section of the journey; here the range actually increased by 15 miles due to the type of driving and lower speeds, I suspect. It also gave me the opportunity to use the regenerative braking paddles on the steering wheel, which helped to increase the range.
"There are a couple of issues that may throw a bit of negativity into the equation. I have never owned a car with heated seats/steering wheel before and I really don't know whether or not they are really necessary. The outside temperature was between 5 and 7 degrees during the trip and the aircon wasn't used. I wonder how their use would impact on the claimed range?"
A Hyundai Kona as a family car: the verdict
"In conclusion, would I buy an electric car? The answer is most definitely yes. I accept that they are more expensive to buy, but three years of savings on fuel, RFL and servicing, by my calculation, gets the car down to the ICE equivalent. It's more difficult to give up our second car and embrace the concept of becoming a one car, greener family. And it's good to know we'd be doing a wee bit for the environment to boot."