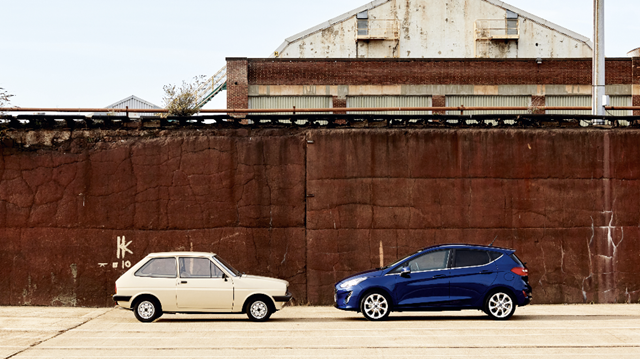 Paul Horrell, who writes for Top Gear, talked to Fiesta fans about the little car's huge appeal and took one for a spin. Scroll down for reviews of the latest range of Fiestas
Two Ford Fiestas stand by the River Thames, at the loading dock of Ford's Dagenham factory in Essex. One is a slight, demure early version in plain beige, the other is a loaded mark eight, the latest of the breed. Now 40 years old, the Fiesta is the most frequently bought car among Boundless members. For the whole of this decade, it has been Britain's best-selling car.
And more than just a car, it has often been a symbol of our national life. For 25 years, it was built at this very factory. And though manufacturing has now moved to Germany, the Fiesta still has British DNA. Ford's Paul Wilson, who worked on the early Fiestas, is here today and as I inspect the 1970s model, he points to the fuel cap.
"You can see it was done in Britain. We put the fuel filler on the left side." That was handy for small roadside garages where you drive on the left side of the road, as opposed to today's big forecourts. Paul grins: "They've never changed it, and the Fiesta is still the opposite of all other Fords."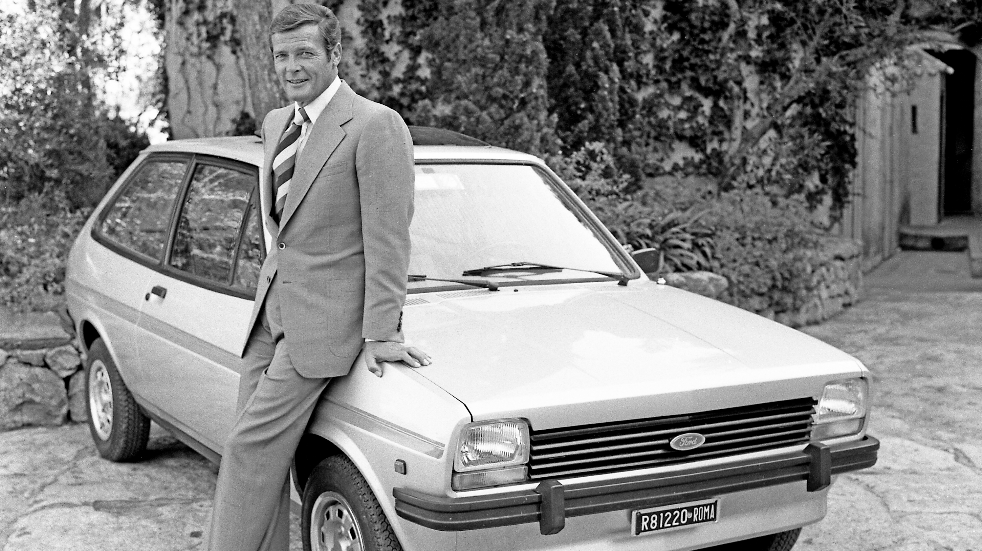 The most British of actors, Roger Moore, strikes a pose with a Fiesta
So what has kept the Fiesta so close to the nation's heart? History famously records that in 1956, when Britain went to war over Egypt's blockade of the Suez Canal to oil tankers, the British Motor Corporation developed the Mini.
And later on, Ford created the Fiesta in response to another oil-related crisis. Its development followed the Yom Kippur war and consequent OPEC embargo in 1973. We had petrol queues, oil price hikes, spiralling inflation and then the three-day week, with the country shivering in candlelit houses, offices and schools.
The first Fiesta was an answer to all that. It was part of a new wave of small cars that were actually rather nice. Superminis, we began to call them. They were made useful by their hatchback boots, and, thanks to their mechanical parts being compacted into a front-wheel drive arrangement, had plenty of room inside. The Renault 5, Fiat 127 and Peugeot 104 were among the first. But those were foreign marques and the British public didn't buy much in the way of foreign cars – or foreign anything – in the mid 1970s.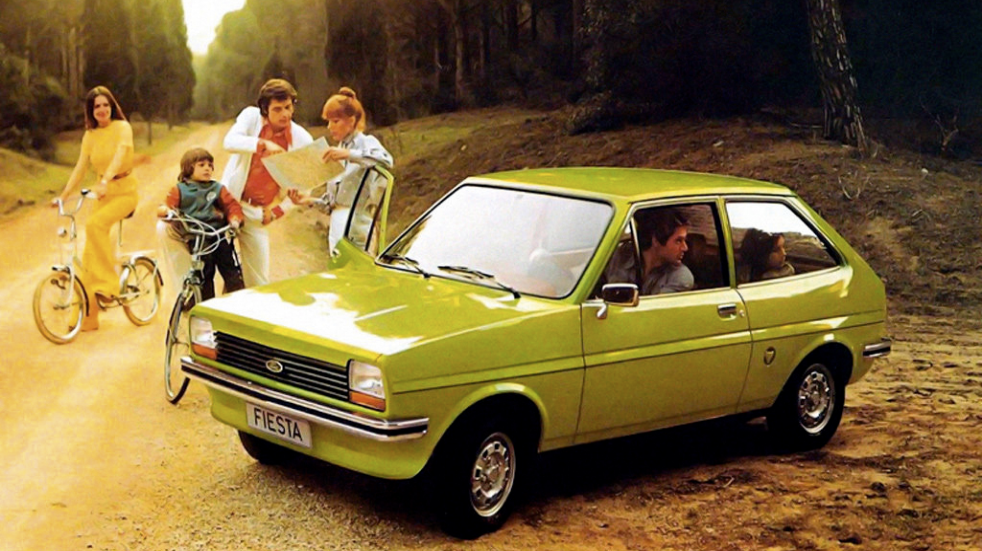 The Fiesta quickly became a popular family car
A warm reception for the Fiesta
By the time the Fiesta was ready for sale in 1976, the economy was creaking slowly back towards health. BA put Concorde into service, making us feel better about our national abilities. BMC was soldiering on with the Mini, which was showing its 16-year seniority. People were ready for a new kind of car from Ford, one of the home team. The Fiesta was kicking at an open goal.
Mind you, there's a limit to the expectations of 1976 drivers. To start our original Fiesta, I have to tug on a choke. To wash its windscreen, there's a rubber bulb to squeeze with my foot, not an electric washer pump. No radio, no head restraints, no central locking, no airbags. Anti-lock brakes? Dream on. The little tyres look like they've come off a wheelbarrow and have tenuous grip on a wet road…
But it was easy to maintain, and tough, so it became part of millions of British lives. James Hathaway remembers his grandfather's first-generation example, new in 1981. "He was the third owner," James tells me down the phone from Oxford. He bought it in 1984, when I was five, and we all used to go to his allotment in it."
That hardy little car kept on going. "In 1996 I learned to drive in it, and ran it for three years. My younger sister learned in it too, and kept it up to 2004." Then in 2006 James took ownership of it and sentiment took over: "It had spent three years in the garage and was looking sorry for itself. Rust was taking hold." So he set about a full restoration of the body and paint. "It was hard getting panels but the Fiesta Club helped, and I got some from Germany because I wanted original parts."
Ready for the off
The Fiesta has always been a straightforward drive: the engine doesn't stutter, the clutch and gear shift are smooth. Learner drivers love this user-friendliness, so it's a popular car for driving schools.
Justin Davis, an AA driving instructor in Newark, remembers his childhood in Cornwall, collecting car brochures and sitting in his parents' parked car pushing the switches and shifting the gear lever.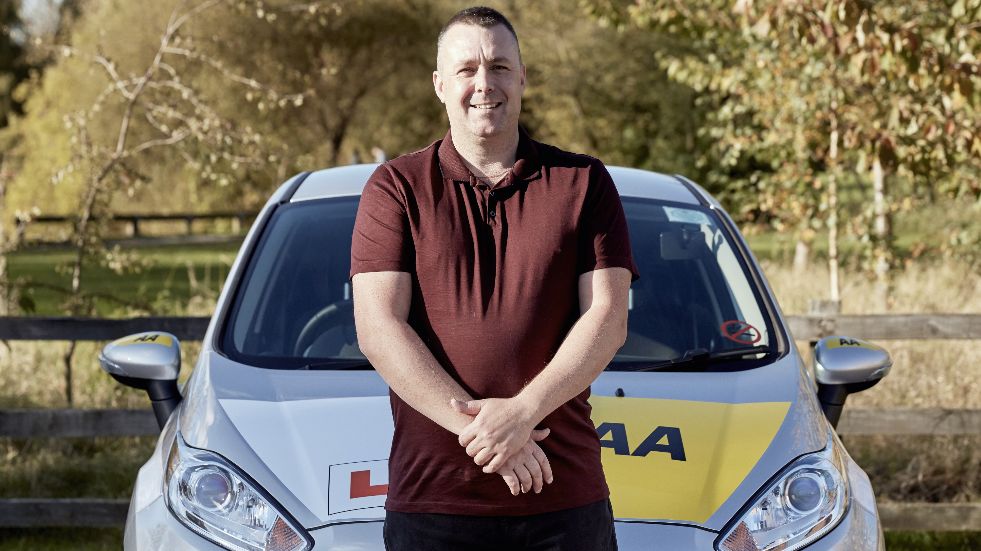 Justin Davis, an AA driving instructor and satisfied Fiesta driver
"Our neighbour worked for a Ford dealership, so I became a Ford fan," he recalls. "Everyone in the village learned to drive with the local instructor, who had a burgundy mark three Fiesta. Then I got my first Fiesta, a mark one."
Now Justin teaches his own pupils in a seventh-generation Fiesta. "It's an easy car to drive and the controls are intuitive. The Ecoboost turbo is a forgiving engine. People learn on them and then they buy them afterwards because it's a good first car, and cheap to insure."
Ford also focused some canny marketing wheezes on young and single drivers. Back in the mid 1990s, it was giving away a free handheld phone with every Fiesta. It was intended for emergencies, rather than just chatting on – which parents loved.
Every time a new generation of Fiesta has appeared, it has brought new features to keep itself relevant: power steering, anti-lock brakes, airbags, connectivity. It's also got much better to drive. From the 1995 Fiesta onward, the steering and suspension were honed in Britain, where our country roads are quite different to smooth German roads. Ours have a lot of camber to help them drain, coarse surfaces and bends that often tighten unexpectedly, with hedges giving blind corners. The Fiesta coped well. "The British motoring press absolutely loved it," says Paul Wilson gleefully, who by that time was working in Ford's PR department.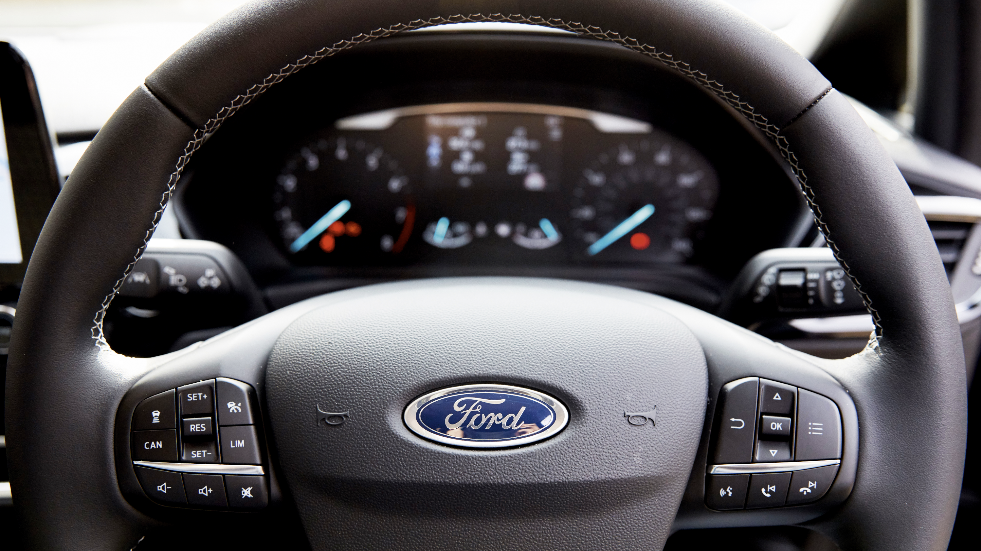 Here at Dagenham, Ford now builds only diesel engines. Car production stopped in 2002, when the Fiesta moved to Cologne. However, in a garage on the edge of the plant, our beige Fiesta is stored and maintained, alongside dozens of significant cars from Ford's past. The collection is managed by Paul Harding, once an assembly line worker here.
"The plant was like a small town all of its own," he remembers. "It had shops, a bank with tellers, and people working on the line also used to bring in things to sell to one another, like home-cooked food. One guy sold potted plants – his corner of the factory was like a jungle."
He describes the job he had, a complex and physically exhausting process of inserting a steering column, grappling with its spring clips and doing up its two sizes of bolt, all within the 40 seconds before the next car came down the line. And repeating all that 700 times per shift.
The work may have been tough, but when car production ended, it was a major blow to the local economy. If the wider public suddenly saw the Fiesta as less of a British car, the sales figures didn't reflect it. Its success kept right on.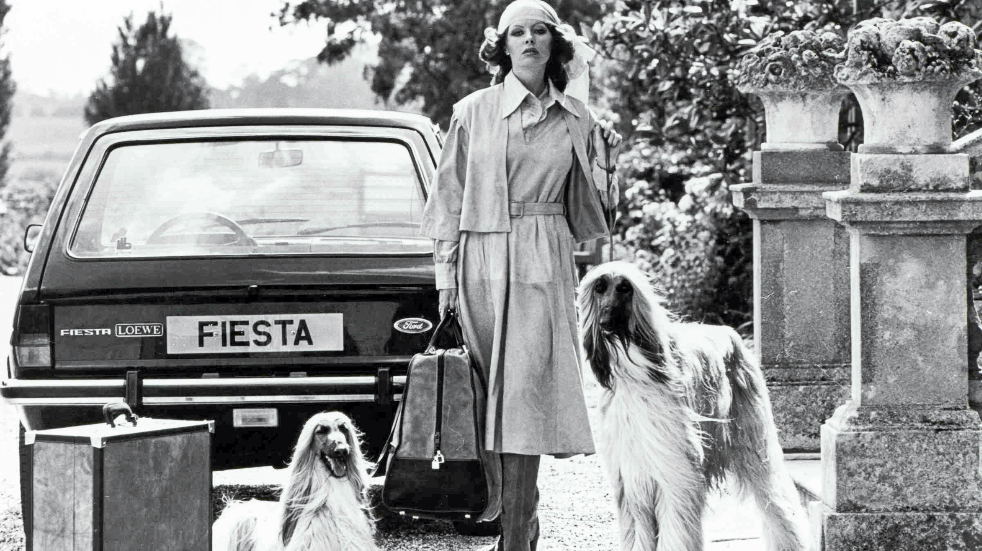 Back to the future
We depart the Dagenham factory in a generation eight Fiesta. It's been obsessively attuned to modern British life. We're straight into a typically potholed section of road, and the Fiesta's suspension soaks it up with equanimity, while the lively steering takes a dodgem attitude to roundabouts.
Then it's the A13, a dual-carriageway punctuated with average-speed cameras. I just set the Fiesta's cruise control, and when I catch up with slower trucks the forward-looking radar automatically adapts my speed to maintain a gap.
Meanwhile, the car's own camera watches for the white lines, and if I let the car steer across them, it nudges me back into the middle of my lane. The Fiesta excels at bringing this sort of tech down from bigger cars.
In the middle of the dash sits a tablet-style screen that can operate an array of apps, and it mirrors my phone via Apple CarPlay. Ford's American parent company operates in native English, so the Fiesta's screen systems and menus are actually a lot easier to fathom than the oddly translated setups in cars of French, German or Japanese parentage.
Forward-looking engineering
When I engage reverse to park, the screen shows the view from a rear-facing camera. That's pretty necessary as the car's swoopy styling blocks the rear visibility. Not like that glassy mark one. Otherwise, though, this is a great town car: nippy and refined.
In the 1970s, small cars weren't much cop on motorways – but in 1995 the Fiesta got a new engine of watch-like silence, and a re-engineering of the car around it that turned it into a perfectly happy motorway cruiser. The new one, motivated by the little turbocharged 1.0-litre engine, thrums away even more peacefully.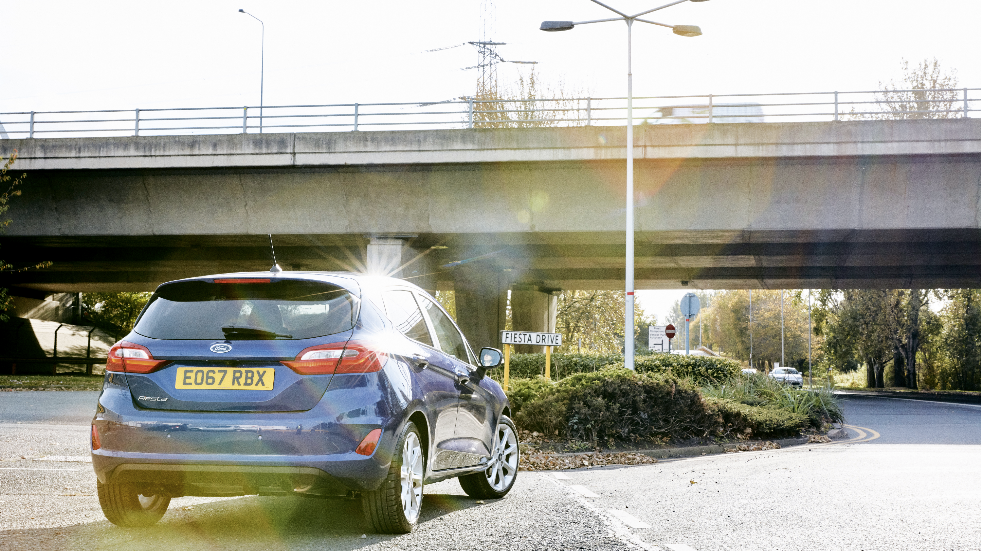 The latest Fiesta 8 at its spiritual home
As we reach the outskirts of Dagenham, we find ourselves in a train of BMWs and Mercedes, premium brands that are now squeezing Ford's once unassailable market dominance. The car-buying landscape is shifting again. Whole auto categories not even dreamed of in 1976 – small SUVs, for example – are competing with old favourites, and the Fiesta has a new generation of rivals for Britain's affections.
But for now, this 40-year-old (sort of) British success story is hanging on at the top spot: the number one people's car. And it's anything but beige.
---
The new Fiesta: A buyer's guide
Price range: £13,165- £19,795

Range overview:
There are two petrol engines to choose from: a 1.1-litre, non-turbo or a 1.0-litre turbocharged EcoBoost with either 100, 125 or 140hp. There's also a 1.5-litre diesel, but the smaller petrol is the one to have – and 100hp is enough for most uses.
There are several trims, from the entry-level Style to the top-of-the-range Vignale. The most popular of these is Zetec, which comes with the Sync3 infotainment system. But even the most affordable versions come with impressive levels of equipment.
AS TESTED
1.0T EcoBoost Titanium 125hp
Price: £17,295
Engine: 1.0-litre, turbocharged, 3cyl, petrol, FWD, 6spd manual
Performance: 0-62mph in 9.9 secs, top speed 121mph
Power: 125hp
Fuel economy: 65.7mpg
Emissions: 98g/km CO2
OUR PICK
1.0T EcoBoost Zetec 100hp
Price: £15,245
Engine: 1.0-litre, turbocharged, 3cyl, petrol, FWD, 6spd manual
Performance: 0-62mph in 10.5 secs, top speed 113mph
Power: 100hp
Fuel economy: 65.7mpg
Emissions: 97g/km CO2
---
Main image: the new Fiesta comes face-to-face with a 1976 original at Dagenham. Photographs by Oliver Edwards