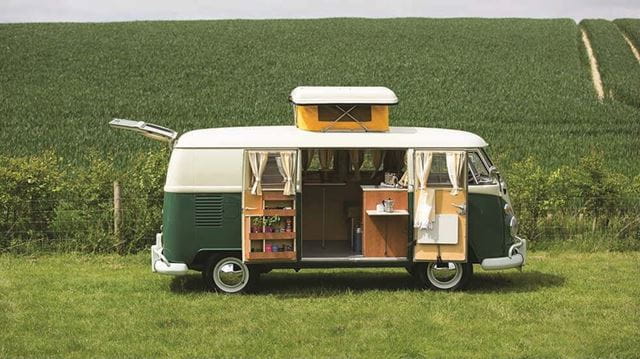 Sun is beginning to stream in around the edges of the blinds; outside, but for birdsong, all is quiet. I have just put the kettle on and soon a steaming mug of tea sits beside me. As I slide open the door and gaze out over the rolling hills, still wrapped in my duvet, I think that life doesn't get much better than this.
Camping can be a love/hate affair for many people, but with a campervan, everything changes. There's more than a little comfort in being able to step out of a muddy field and into a warm, welcoming space with dry seats, running water and somewhere flat to put your mug (or wineglass).
Some years ago, fed up with putting up and taking down tents in the drizzle of an English summer, I purchased a Volkswagen LT45; a mighty beast which had been lovingly converted into a campervan. With my children small enough to sleep on the parcel shelf above the driver's cab, I drove them, various friends and a dog around Spain one summer, getting a taste for life on the open road.
Fast forward 10 years and the LT45 has been replaced with a car more suited to city errands, the kids are bigger than me and opportunities to go camping are fewer and farther between. So it was a delight to be tasked with the 'job' of taking out VW Transporters old and new with one question in mind: if I had to choose between the generations, which one would I opt for and why?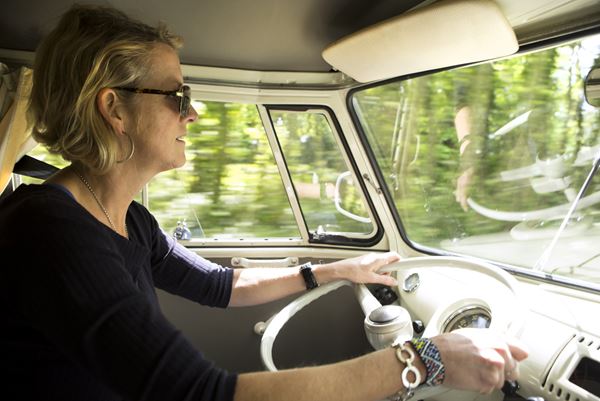 Few vehicles have gained the iconic status of the Volkswagen campervan – and there are none which engender quite such affection.
Many of us have some sort of cultural connection with the classic 'Veedub', whether you hung out in one with some surf dudes in Newquay one summer, or your neighbour had a split-screen sitting on his drive for 10 years.
From post-war austerity to the counter-culture of the Sixties, the VW camper is recognised and celebrated worldwide for its association with the freedom of the open road.
These versatile vehicles have also been used as delivery vans, fire engines, beer wagons - even hearses.
Driving a classic T1 camper, with a picnic hamper in the back, no particular place to go and all the time in the world to get there, is on many a bucket list.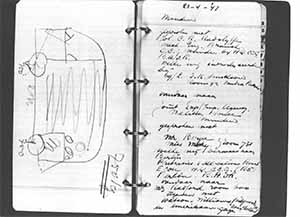 The T1 design, originally sketched by Ben Pon in April 1947, was based on an elongated VW Beetle, and the finished product, launched at the Geneva Motor Show in 1950, was a vehicle with the friendliest 'face' ever.
Nearly every bus is given a name by its owners, and the Veedub continues to inspire the kind of loyalty usually reserved for family members and much-loved pets.
The T1 VW camper remained
in production for 17 years.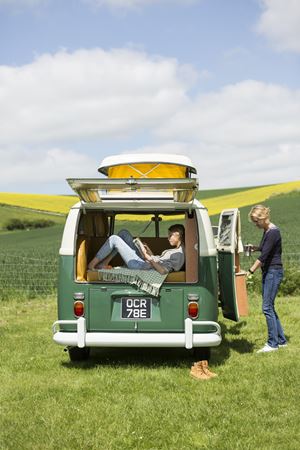 The book Campervan Crazy sums it up perfectly: 'The campervan allows you to meet new friends, sleep in wild places, travel off the beaten track and decide where tomorrow will take you.'
Driving the green and cream split-screen, or 'splitty', a 1967 model, certainly gives me a thrill, and my daughter Alice is equally enamoured.
I'd like to say we whizzed through the countryside, but the winding lanes necessitated a slow pace (thankfully, as the stopping distance is longer than I'd expected).
Of course, retro looks equal antiquated equipment: the 1.5-litre, four-cylinder air-cooled engine means a top speed of 47mph (if you're lucky), and sometimes you find yourself leaning forward when going uphill…
Forget about new-fangled features like power steering and ABS brakes: it's more a case of wrestling her than steering her around bends.
Fellow VW drivers wave (the official Veedub wave is the 'shaka' – thumb and little finger extended, middle three curled in) as we pass.
Although I'm struggling a tad with the long gear stick, which seems to have a mind of its own, I love the steering wheel, which is like a big flat plate practically sitting on my lap, and the endearing chug-chug of the engine.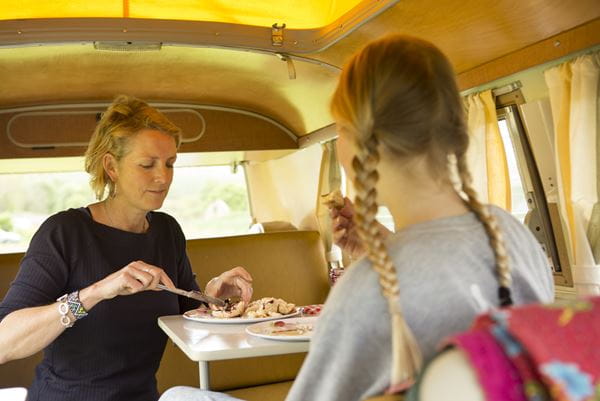 Later, sitting in the back on mustard vinyl seats, eating scones and jam (what else?) at the foldaway table with my daughter, I feel as though I've floated into some sort of romantic dream, where life is simpler.
They say nostalgia ain't what it used to be, but in a Veedub bus you can taste it.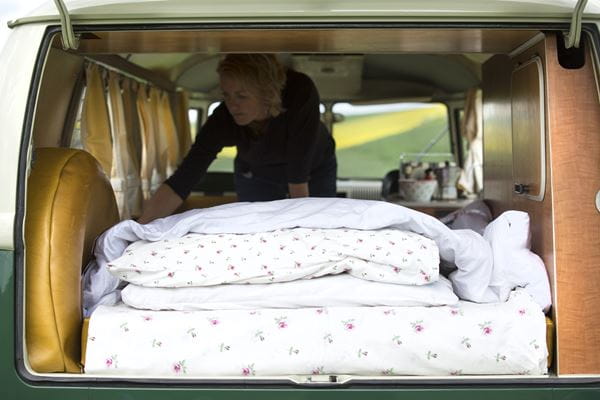 It's not just the camper's retro appeal that makes it so popular; the potential for a good return on your investment is high, too.
The T1 is particularly sought after if properly restored – in fact, a recent survey showed that around 15 per cent of the total market share of classic cars belongs to VW, with most of these being T1 models.
There are scores of businesses converting, doing up, renting and selling T1s, and demand continues to grow.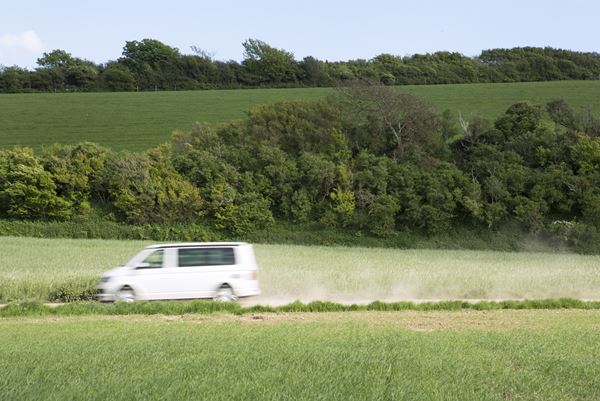 The Transporter has had numerous updates since those early models rolled off the production line, and 12 million units and 67 years later, the modern, boxier, sixth-generation version, the California, has even more improvements.
Of course, this is reflected in a much higher price (upwards of £48K for the Ocean, depending on extras).
But when you go for something a little more reliable, is it possible to retain the free-spirited quality of the classic camper, or is it a case of character versus comfort?
The box on wheels is certainly a world away from the cute, rounded T1, with its two-tone styling and chrome finish.
Volkswagen itself describes the California as a 'hotel on wheels', sleeping up to four adults easily and with a slew of technological advancements, such as automatic emergency braking, an adaptive suspension system and radar cruise control.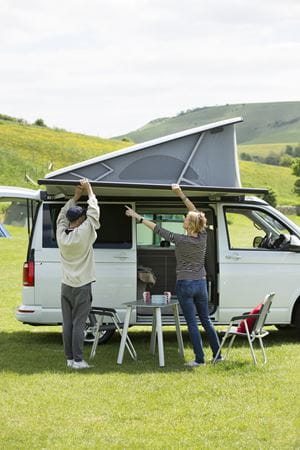 It has an electronically operated pop-up roof, kitchenette with fridge, twin-burner cooker and sink, a (manually operated) awning, lots of ingenious storage and features like 'Climatronic' three-zone automatic air conditioning, heated seats and programmable central heating.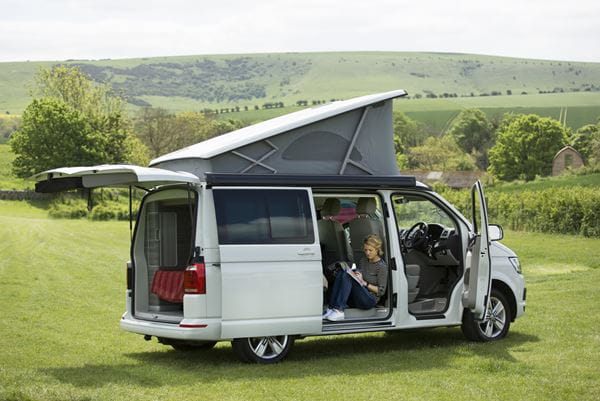 The California is more aeroplane than campervan inside – all grey, utilitarian reinforced plastic and storage.
My immediate thought is that its sleek, modern styling will make the experience of being on the road slightly less colourful, but it doesn't take long for me to prettify it with brightly coloured picnic ware, some candles and a couple of soft throws.
Happily, I am surprised by how quickly the T6 becomes my soul mate. Incredibly responsive and easy to drive, with its two-litre TDI turbo-charged four-cylinder engine, there's plenty of room for Alice, my son Joel, their friend and all their stuff, unlike with the classic T1.
And the T6 has some ingenious touches: a foldaway table is integrated into the side door, with matching chairs stashed in the tailgate; when there's no one 'upstairs' you can push the ceiling up to enjoy full-standing height; integrated blinds on the windows in the living area provide privacy and the requisite amount of darkness to sleep, while LED spotlights set around the interior provide the right amount of light.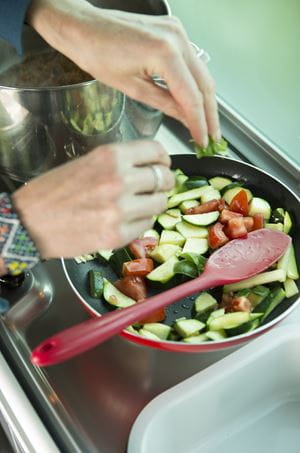 I'm soon chopping veg as the kids get a fire on the go, and we eat outside, watching the sun set.
When the evening has become so cold that we are practically sitting in the fire, I remember the auxiliary heating feature and everyone decamps back into the van. It's a game changer.
For me, this is where the modern version comes into its own.
I'm not stressing about the children freezing in a tent because they're in the comfy double bed above me, and it's so warm that I stay up reading for a while and make myself another hot drink, before sleeping – soundly.
Finding the right campervan is a bit like falling in love.
Spending time in one after a long drive is like coming home after a hard day's work to find someone has run you a deep bath and lit lots of candles; you can't imagine having any other car.
For all its foibles and difficult driving, it's hard not to fall in love with the classic camper.
It will always have legions of fans, from surf dudes and hippies to high-flyers attracted by the lure of a simple, spontaneous way of escaping modern life.
But wrapped in my duvet in the T6 that morning, with the trappings of camping dotted about the cockpit, I get just as strong a sense of the freedom and happiness associated with life on the road as I did in the T1.
For ease of driving, comfort, reliability and practical issues like space, if it came to choosing which one to take the kids on holiday in, I'd have to plump for the California.
Catherine and family stayed at Housedean Farm Campsite (housedean.co.uk) a working farm, within the South Downs National Park between Lewes and Brighton in East Sussex