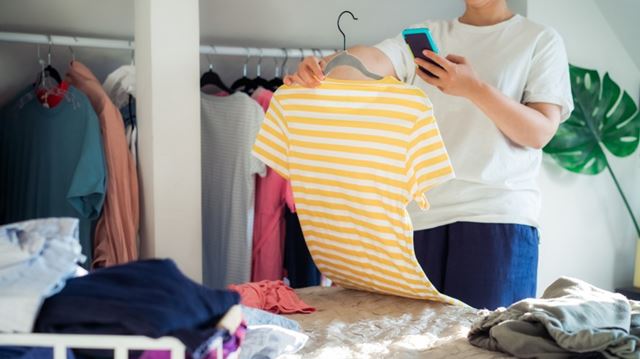 Here are all the pre-loved clothing apps you need to know about and how to use them…
We're all thinking about the environment more these days, and shopping second-hand is a great way to reduce waste and lower your carbon footprint. Plus, it's an opportunity to get your hands on unique and even designer items for a fraction of the price on the high-street.

While you might be used to rifling through charity shop rails for new additions to your wardrobe, you can now shop without stepping out of your front door. But what apps do you need to know, and how do you use them? Here, we dive into all things preloved-clothing apps and our favourite second hand online shops for you to try for free.
---
What are pre-loved clothing apps?
Pre-loved clothing apps list a wide range of second-hand and vintage clothing, accessories, jewellery and shoes. These apps offer both casual and more dressy clothing at a range of price points and sizes through a safe peer-to-peer online shop where people can buy and sell used items. Items can also be uploaded at any time, meaning you might find a great deal on a winter coat in the height of summer.
---
How do they work?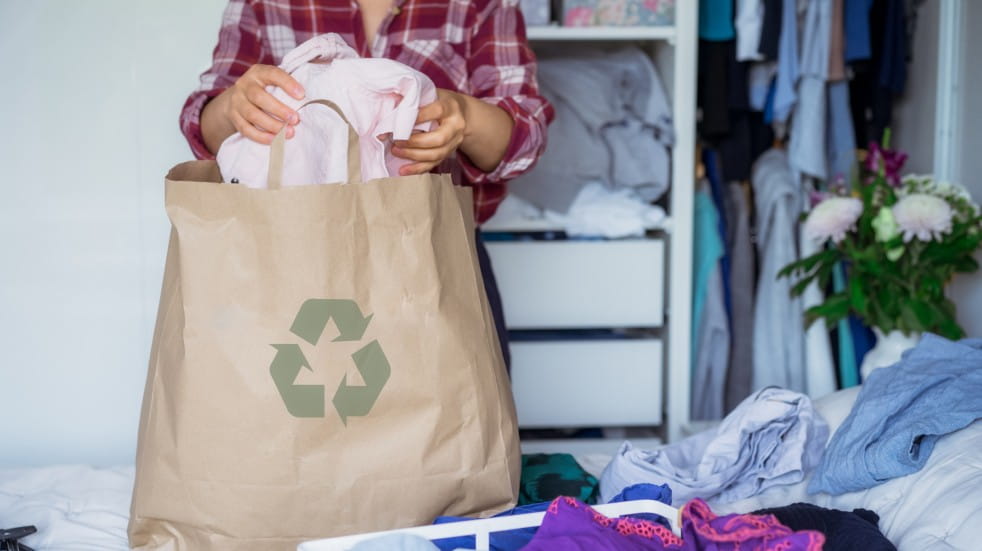 Items for sale will be listed online, with pictures of the piece, details of where it originally came from and how old it is, what size it would fit and if the item has any marks or defects.

As you're scrolling through, you can filter what you see by item type (e.g. tops, trousers, skirts), size, price, colour and more. Most apps will also let you save items to a wishlist, allowing you to keep an eye on your favourite items of clothing in case they get reduced.

On many sites you can buy the item straight away, but on some sites like eBay, the piece will be up for auction, meaning you will bid on it until the time runs out and the highest bidder wins. Some sellers will offer a 'Buy It Now' price which will end the auction early, or be open to offers (similar to on apps like Vinted) which they can accept or reject.
---
What are the benefits of shopping second-hand online?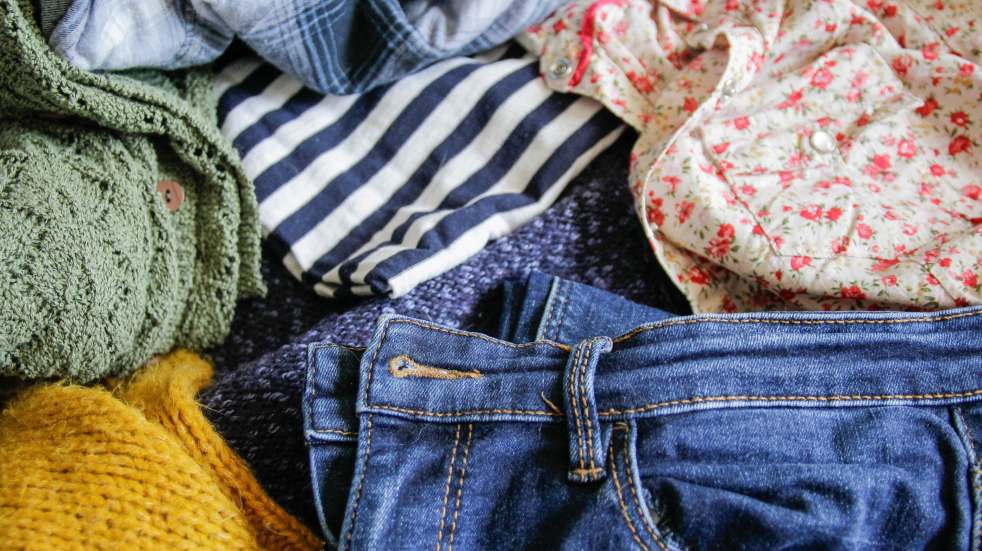 There are plenty of benefits to second-hand shopping. One of the biggest is the impact on the environment – buying pre-loved items interrupts the fast fashion cycle, reduces carbon emissions, saves water and energy and stops old clothes from ending up in incinerators, landfill or being dumped in other countries.
If that's not reason enough, shopping second-hand means that you can find unique pieces, usually at lower prices than what's currently available on the high-street. As mentioned, you can find out of season clothes more easily too – perfect if you've booked a sunshine getaway in January.
While some charity shops can be clearly laid out in sections, others resemble a jumble sale. Online, you can easily filter out the items that won't work for you and quickly get to the good stuff – when it's convenient for you, without having to leave the house.
---
Are there any downsides to buying vintage and pre-owned clothing online?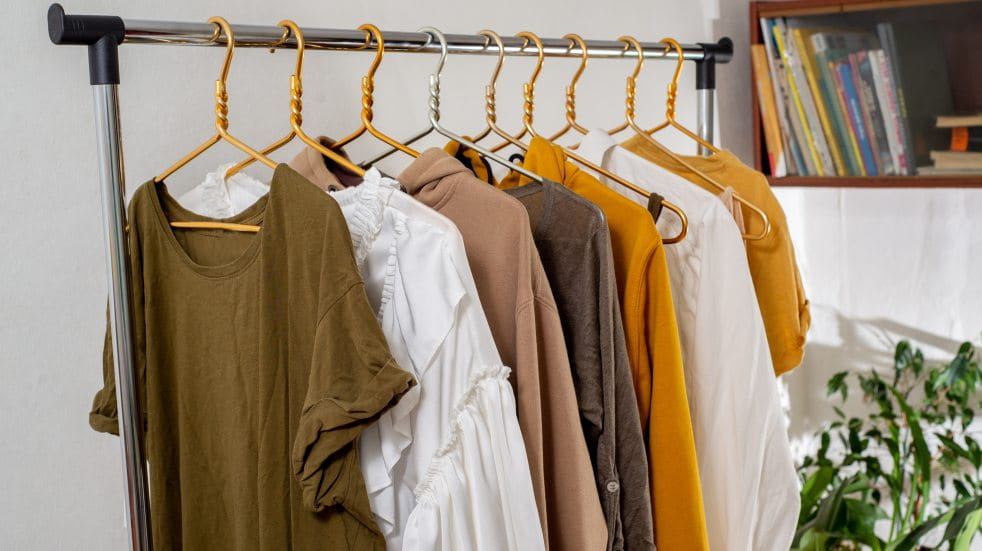 One of the most obvious difficulties with shopping second-hand online is that you can't try items on, so make sure to check if sellers offer returns or exchanges. If it's not clear on the item page, don't hesitate to send the seller a message and ask. People are usually quick to reply.
Some sellers might have multiple items you want to buy, but unlike a typical website, the app might not recognise that and charge you a full postage and packaging cost for each item. This can normally be avoided by messaging the seller and asking for combined postage, which they're often happy to accept.
While sellers are supposed to share details of any tears, marks or missing buttons, there is a risk that when your item arrives it doesn't meet your expectations. You may need to message the seller to organise a return or refund. Most sellers are happy to help and very polite. Like any website, scams are possible and the items you ordered may not arrive. If that's the case, you can ask the app or website's team to step in and help you get a refund or resolution.
---
Now that you know how to shop second-hand online, which sites should you head to? Here's your cheat sheet of the names to know.
Oxfam online shop
Shopping pre-loved clothes online doesn't mean that you can't still support charities; just like their physical stores, the Oxfam online shop offers a range of pieces in every category, including vintage and designer items. The money you spend will help the charity in their work to support families out of poverty.
Shpock
If you want to keep things local, Shpock is a great app to use. Items are offered for collection as well as delivery. There is a range of items available, from high-street brands to designer names, so prices vary.
Thrift+
Thrift+ is a great site to sell with, as well as shop from. Order a free bag, fill it up with unwanted items and return it to Thrift+ for free. The company will then upload them for others to shop. If your items sell, you'll earn Thrift+ credits, which can either go on fashion finds from the site, vouchers for brands like John Lewis and Browns or be donated to charity.
eBay
eBay is probably the best-known second-hand clothing site, and is great for just about everything. Be wary of prices creeping up in the excitement of the auction, as it's easy to spend more than you meant to. If you won't be at your phone when an item ends, you can set a price limit and eBay will bid for you up to the limit you set.
Facebook Marketplace
Another local favourite, Facebook Marketplace is a great place to find cheap (or sometimes free) clothes for men, women and children. There are also some higher end finds, which are priced accordingly.
Depop
Depop is a go-to for trend-led pieces, with some designer finds too. Pricing ranges depending on the brand being sold, but you can make offers. The app is styled like an Instagram feed, so try searching by keyword (e.g. 'cosy') rather than specific items to find pieces you'll love.
Vinted
Vinted is similar to Depop in its pricing, but is less focused on trends. Sellers are often open to offers, so don't hesitate to ask if they'd accept a lower price. Vinted is great for children's clothing, too.
Vestiaire Collective
Vestiaire Collective sells high-end and designer clothing from brands like Gucci, Ralph Lauren, Mulberry and more, with prices reflecting this. The app also offers an authentication service to ensure you're buying verified designer pieces.
---
Do more with Boundless
To benefit from amazing offers, along with dozens of other deals on holidays, motoring services, experiences, shopping and more, join Boundless today. To find out how, visit our dedicated membership page.