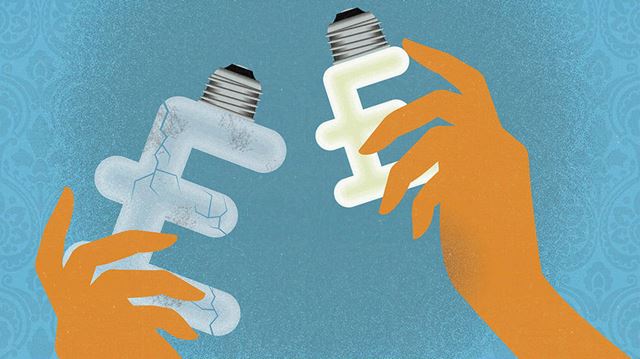 Change your gas and electricity supplier and you could save hundreds of pounds a year. It's not difficult to switch – find out how with our guide to getting the best energy deal.
If you've never switched energy supplier, or haven't done so in the last couple of years, you may well be able to save money by moving to a different provider for your gas and electricity. The process is straightforward: you don't even have to contact your existing supplier to tell them you want to move – the new supplier will do this for you. And with typical household savings of £458 a year to be made*, it's well worth doing...
---
1. How do I get started?
You will need your postcode, the name of your current supplier, the name of the energy deal you are currently on, and an idea of how much gas or electricity you use (this should be shown on your latest bill).
The two main types of deals are standard variable tariffs and fixed-term contracts, which are usually cheaper. You may need a specific tariff, depending on the type of meter you have – for instance, if you have a prepayment or an Economy 7 meter.
The best deals are often part of 'dual fuel' schemes, in which a single company provides both your gas and electricity. The average cost of these from the six main suppliers is £1,254 per year. In comparison, the cheapest fixed-rate deals come in at around £450 less.
---
2. How can I find the best deal?
You can contact your supplier directly and ask if they can give you a better deal. But for more options, use an Ofgem-accredited price comparison website, such as uSwitch, Energy Helpline, Compare The Market or Moneysupermarket. Make sure you select the option to view all available tariffs – this way you won't just see the suppliers with which the comparison site has an agreement.
---
3. Is it a hassle to switch?
There can be hitches but, for most people, changing supplier should be simple. You can either phone your new provider to switch to them or complete an online form on a price comparison website. Your new supplier will set up the switch and inform your old supplier.
On the day of the transfer, take a meter reading to give to your new supplier. Then pay your old supplier's final bill (or receive a refund if you're in credit). Once the switch has started, give the new supplier your meter reference numbers. These are known as MPAN or MPRN numbers and can be found on your bill.
Did you know that your supply doesn't actually change when you switch, just the billing? It's the same gas and electricity coming through your pipes regardless of who you're paying for it – meaning that your service will be uninterrupted if you switch.
---
4. How long does it take?
It can take up to 21 days for the process to be completed. This includes a 14-day cooling off period. Your energy supply won't be cut off at any point during the transition, and no work needs to take place on your property.
---
5. Are there any hidden charges?
If you are currently on a standard variable rate, there are no fees to pay. You may have to pay an exit fee if you are on a fixed-term contract and want to leave before it ends. You won't have to pay a termination fee though, if you are within 49 days of the end of the deal.
---
6. What if I want to go green?
Keen to reduce your carbon footprint? More and more green suppliers are coming onto the market, making it easier than ever to make a commitment to sustainability through your energy consumption.
Picking a green tariff can also be kinder on your wallet as well as the environment, as they're no longer the more expensive option. Challenger energy firms are going green and cheap in order to compete with incumbents.
So how do these firms offer 'green' energy? The terms below will help you get your head around just how green the tariffs on offer are.
Renewable electricity
This is electricity created by hydro, solar, wave or wind power. However, the energy coming into your home won't necessarily all be created in this way. Your supplier will buy enough renewable energy from the network to replace the energy you use – so the overall effect will be the same as getting all your energy from a green source. This method also boosts renewable investment.
Renewable gas
Picking a renewable gas tariff also means that the gas you use will be replaced from gas from 'anaerobic digestion', which involves the breaking down of biodegradable material. Green firms often invest in carbon offsetting initiatives to lessen the impact of burning natural gas.
Carbon offsetting
In this instance, green firms offset the impact of using gas as energy and the emissions burning it causes by protecting rainforests and planting more trees, sponsoring renewable energy projects, and other similar investments
---
7. What else do I need to know?
If you have a smart meter, it's worth checking that your new supplier supports them. And if you receive the Warm Home Discount, find out if your new supplier offers it before you switch.
Energy companies are currently rolling out smart meters across the country. The aim is that every home will have one by 2020. Smart meters record your energy use and provide this information directly to your supplier, through mobile networks.
No one has to read the meter, so it cuts out the need for estimated bills, meaning you'll only pay for the energy you use. If you don't want a smart meter though, your supplier can install one with the communications switched off.