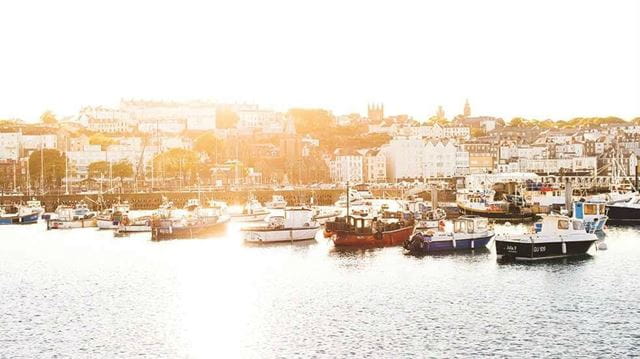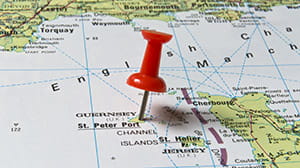 Just a pebble's skim from the Normandy coast, Guernsey, the second largest of the Channel Islands, stretches 12 miles long and seven miles wide and is blissfully easy to explore over a long weekend, or even a week or so.
It has a unique and charming appeal – not quite Britain, not quite the Continent – a rich heritage, some fantastic seafood and, during the summer months, it's often joyously sunny.
And, despite its proximity to France, the Gallic road signs, surnames and Guernésiais patois, there's still something very British about life on the island.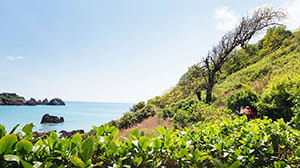 As spring kicks off a good few weeks earlier than on the mainland, I'm delighted by the warm welcome I receive. I'm based in the capital, St Peter Port, which is more a bustling seaside town than an island metropolis.
I spend my first morning pottering around its narrow, cobbled streets lined with quirky shops, delis and boutiques, before strolling down to the waterfront to look back at the tumble of grand, pastel-hued Regency homes facing the harbour. It's easy to see why it's regarded as one of the prettiest ports in Europe.
There's a real seaside atmosphere to the town – the tinny clink of sails in the harbour, the noisy caw of seagulls and a fresh, briny scent blowing in from the sea. I wander along the harbour wall to Castle Cornet, an 800-year old former island defence which still fires a noon-day gun, much to my surprise.
Originally used as a signal to recall soldiers to the barracks, it's now more a ceremonial event performed by the castle gunners dressed in smart scarlet uniforms.
The island is easy to navigate by car, island bus or, if it's a nice day, by bicycle. Roads have a speed limit of 35mph or even 15 along the green-signposted Ruettes Tranquilles – the scenic country lanes which lace the island, where priority is given to walkers, cyclists and horses.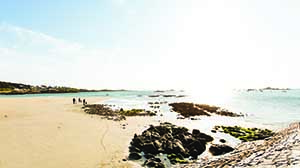 In Guernsey's holiday heyday, before the arrival of cheap flights to the Costas, a holiday to the Channel Islands was as close to abroad as you could get 'without needing a tetanus jab', as my mother would say.
And many do still come here each year to decamp to the beautiful sandy beaches of the north-west coast, go rock-pooling for crabs and cockles or just to walk the miles of rugged cliff paths along the southern 'wedge'.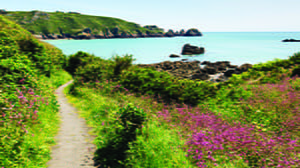 There are 27 beaches and bays dotted around the island, many offering perfect, sugar-white sands and dazzling turquoise waters more familiar to the Caribbean. While I don't make my way around all of them, I do catch a glorious sunset from Cobo Beach on the western coast, accompanied by a sundowner of local cider on the beachfront terrace of the Cobo Bay Hotel.
I'm surprised to find that Guernsey is peppered with curious oddities. One afternoon, I stumble across the Little Chapel in Les Vauxbelets, a tiny shrine decorated with millions of shards of colourful broken china, mother of pearl and sea shells.
Originally built by French monk Brother Déodat in 1914 as a miniature replica of the Sanctuary of Our Lady of Lourdes, this rather gaudy shrine is said to be one of the smallest churches in the world.
One of the most significant times in Guernsey's history was the German occupation during the Second World War, which lasted almost five years between 1940 and 1945. 'Abandoned' by the British government, the Channel Islands were the only British territory to be occupied by Germany during either war.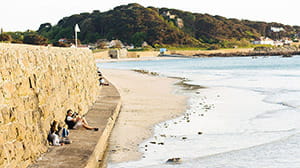 It's well worth spending an hour or two in the German Occupation Museum in Les Houards next to the airport, which is rather like something out of Dad's Army.
Owned and run by Richard Heaume, who started his extensive collection as a lad when he'd gather spent bullets found in a local field, the museum has grown tenfold over the years and features artefacts including a four-wheel enigma machine and an old German tank turret, as well as Occupation Street, the museum's life-size reconstruction of a wartime street in 1940s St Peter Port.
Also nearby and worth a quick peek is the German Military Underground Hospital in La Vassalerie. Some 7000 square metres of subterranean tunnels were hewn out of solid Guernsey rock by men captured by the German army during the war. It's another fascinating and rather eerie insight to what life was like on the island during the years of occupation.
War aside, I also discover Guernsey's extensive literary history and its most famous former resident, Victor Hugo, the eccentric French author who spent almost 15 years here during political exile from France. For an insight into his rather eclectic tastes, visit Hauteville House, where he finished Les Misérables and wrote the epic The Toilers of the Sea, his ode to Guernsey, exactly 150 years ago.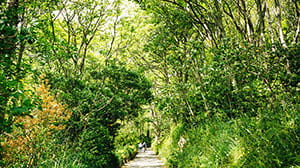 Keen to learn more about Hugo's time on the island, I join a walking tour of St Peter Port led by locals Elizabeth and Julyan Gardener-Wheeler. 'The ocean was very inspiring to Hugo, who would often call it his friend,' Elizabeth informs us as we walk along the harbour wall where he took his daily constitutional.
If time allows, try to explore one or two of the smaller islands like Sark or Herm, both of which are easily reached from St Peter Port. One sunny afternoon, I take a short trip over to Herm, a tiny island which is home to just 60 residents. I visit the tiny church and the Mermaid, an old fisherman's pub which is usually overrun with day trippers during the summer, before climbing the clifftop footpath over to the white-sandy sweep of Shell Beach, regarded as one of the finest beaches in Europe.
On my last day, I head to the Pouquelaie Vinery to meet D'Arcy and Tara from Wild Guernsey, who run foraging tours along the western coast. A mine of foraging knowledge, D'Arcy rummages around the ramshackle garden of their smallholding to find leaves and roots for me to taste, before leading me down to the beach where Tara shows me where to find rock samphire and sea beet.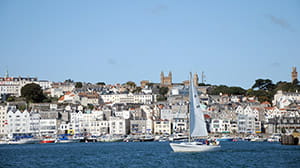 But it's not only on the coast where you'll find Guernsey's tasty home-grown produce. Hedge veg is an island-wide tradition where local residents with vegetable gardens, smallholdings or farms leave out wooden crates filled with local fruit or veg on the side of the road. You can also pick up homemade jams and chutneys, fresh eggs and flowers and leave your payment in the honesty box.
In September, St Peter Port will host the second Guernsey International Food Festival (23 September – 2 October) where, alongside a packed programme of cookery demonstrations, chef competitions and wine and cocktail events, some of the island's best independent producers will set up stalls in Market Square and Crown Pier.
As a kind of sneak preview to the festival, I gather myself a picnic of Guernsey delights – gâche, a fruit bread spread thick with salty butter, rich, creamy Fort Grey blue cheese and some local Rocquette cider – and head to the beach to reflect on the simple, unhurried joys of island life.
---
Five of Guernsey's best places to eat and drink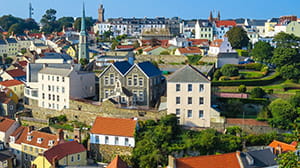 1 The Pavilion, St Pierre Park Hotel, St Peter Port
Championing the very best of Guernsey produce, the swish Pavilion brasserie is run by Tony Leck, one of the island's most celebrated chefs. Try his take on the classic Guernsey bean jar stew or one of his award-winning puds.
2 The Auberge, St Martin
Perched on the cliffs at Jerbourg Point, this chichi seafood bistro boasts a clifftop terrace and a glass-walled dining room both with far-reaching views of the islands.
3 Fermain Beach Café, Fermain Bay
Fringing the blonde sands of Fermain Bay, this much-lauded bistro started out as a simple beach shack flogging fresh crab sandwiches. Now it offers a top-notch seafood menu to match its unrivalled views of the bay.
4 Moulin Huet Tearooms, Moulin Huet Bay
With a terrace overlooking Victor Hugo's favourite beach, Moulin Huet Bay, come for a classic Guernsey cream tea, ice cream or a slice of buttery gâche in the oldest tea room on the island.
5 La Fregate, St Peter Port
Set in an 18th-century manor house with sweeping views of the harbour and Castle Cornet, this award-winning fine dining restaurant is the place to really push the boat out.
---
Vital statistics
Getting there
Guernsey is easily accessible from the UK. Less than an hour's flight from the mainland, local carrier Aurigny flies from nine UK airports, including London Gatwick and Manchester. Or hop on a daily ferry from Poole or Portsmouth with Condor Ferries.
When to go
Guernsey's mild temperatures are more temperate French than drizzly English. Spring starts a few weeks earlier than on the British mainland and the summer months can be positively balmy. June, July and August tend to attract the most visitors so, to experience the island away from the crowds, come in spring or autumn when the weather is still sunny and mild.
Need to know
The Guernsey International Food Festival (23 September – 2 October) celebrates its second year this autumn, when St Peter Port will host ten glorious, gluttonous days of eating, drinking and general island merriment. Live food shows, demonstrations and cooking contests are programmed, as well as many local producers showcasing their wares with pop-up stalls. Or come in spring and witness the six-week Channel Islands Heritage Festival, which celebrates the islands' maritime and literary history (March – May).
---
Three places to stay
A special treat: Bella Luce Hotel and Spa
Set in a 12th-century Norman manor house, the chic Bella Luce hotel – with its gin bar, fine-dining restaurant, spa and swimming pool – is a perfect romantic option.
A modern mid-market choice: Hotel Ziggurat
This modern Moroccan-themed boutique hotel in St Peter Port has a fab Middle Eastern restaurant and a garden terrace with private beach huts and harbour views.
Budget Camping: Le Vaugrat Campsite
Set in the grounds of an 18th-century farmhouse and moments from Port Grat beach, the seasonal Le Vaugrat campsite in St Sampson's is an ideal budget option.
---
Further information/reading
This year celebrates the 150th anniversary of Victor Hugo writing The Toilers of the Sea, the French author's epic ode to his beloved Guernsey. In contrast, The Guernsey Literary and Potato Peel Pie Society, by Mary Ann Shaffer and Annie Barrows – a romantic tale set during the aftermath of the occupation years – offers a different take on the island. Also check out The Book of Ebenezer Le Plage by GB Edwards, a beautifully written and witty chronicle of life on the island during the 20th century.
---
For hints, tips and visitor information, see visitguernsey.com