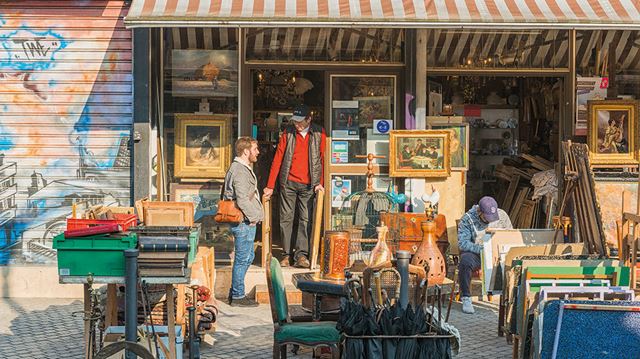 Explore the Grand Réderie in Amiens – 6 October 2019 and April 2020 – and follow our expert haggling tips.
At 7am on any ordinary Sunday morning in the northern French town of Amiens, the streets would be deserted, save perhaps for a café owner or two setting out their tables for the day, or maybe a boulanger making their early morning delivery.
But this is no ordinary Sunday in Amiens. It's the day of the spring Grande Réderie, the gigantic flea market that takes over the town twice a year, in April and October, and the streets are packed with people.
In the shadow of a stately and UNESCO-listed Gothic cathedral, hordes of shoppers scan the pavements, where vendors have laid out their wares on old rugs and picnic tables: among them, candlesticks and coat stands, vintage maps and antique telephones, hunting prints, amplifiers, ornate mirrors, boxes of old records, racks of posters, and piles and piles of leather-bound books.
Carried away by bargains
The savviest shoppers have come prepared, loading up carts with their finds; everyone else makes do with stuffing their treasures into backpacks, satchels, pockets and shopping bags. One man wanders by with a pair of vintage wooden skis strapped to his back; another weaves through the crowds with a table balanced on his head. A woman trundles past, leading a trolley piled up with a kitchen cabinet, a lamp-stand, a gilded picture frame and, rather bizarrely, a stuffed monkey on top; her companion appears to be carrying a gilded rhino over his left shoulder. Nearly everyone seems to have found something – and, judging by the happy smiles on their faces, at a price that was just about right.
Held in spring and autumn, the Grande Réderie d'Amiens draws in around 2,000 sellers and 80,000 shoppers, enough to stake a claim as France's second-largest flea market (the enormous Braderie de Lille is the biggest). But it's far from the only one – in fact, browsing for brocantes (second-hand goods, although the word is sometimes used to describe flea markets themselves) is tantamount to a national pastime in France.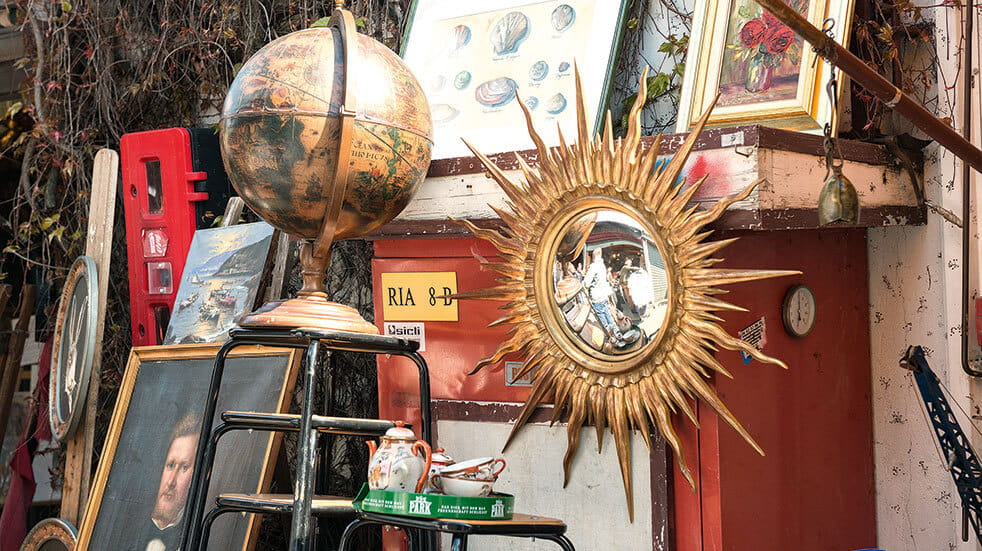 How to get to Amiens
With 13 separate areas to explore, the Marchés aux Puces de Saint-Ouen (marcheauxpuces-saintouen.com) have something to satisfy all tastes, interests and budgets. Most open on Saturday, Sunday and Monday from around 9am to 5pm. Regular Eurostar trains run from London St Pancras to the Gare du Nord; from there, hop onto Metro Line 4, and get out at Porte de Clignancourt. The markets are all located around rue des Rosiers, roughly a ten-minute walk away.
The Grande Réderie d'Amiens makes an ideal day trip from Paris – it's just over an hour away by train from the Gare du Nord. Trading begins around 5am, and bargain-hunters say it's best to get there before 7am. There are two markets a year, usually in mid-April and September.
Shipping goods home
Nearly all traders in the St-Ouen markets will help you ship bulky items by courier, but it can be expensive. Sometimes traders will combine shipping to bring down costs, although this may mean your item takes longer to arrive. Alternatively, the courier company EDET International has a shipping office at 85 rue des Rosiers.
Otherwise, you'll have to bring your items home yourself (beware of baggage weight restrictions) or send them from the local post office. As a rough guide, to send a 1kg parcel back to the UK (edetinternational.com) starts at around £13 at current prices.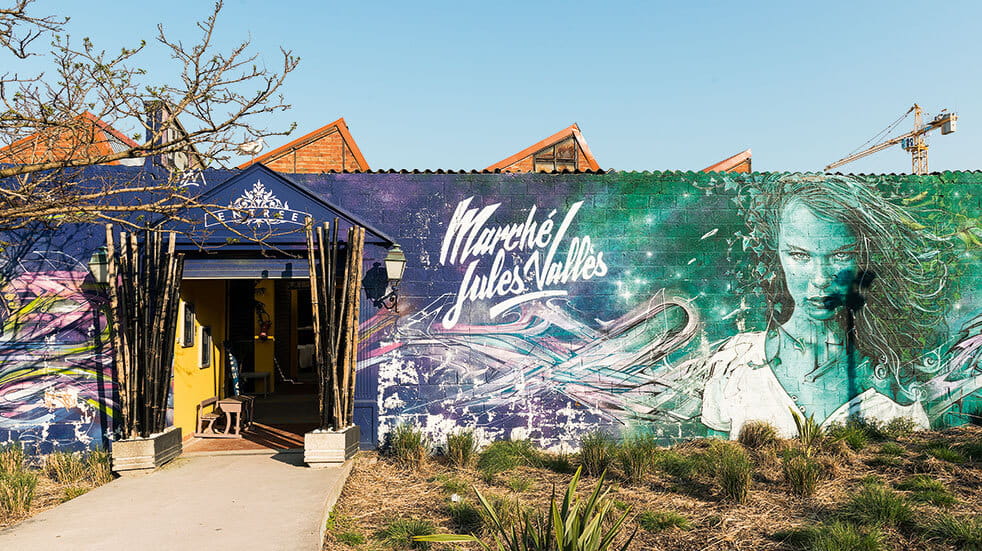 A national love affair
"French people love flea markets," explains Annabelle Cogan, who has travelled up by train for the day from her home in Paris. "We are fascinated by old things, and we love to get a bargain, so a market like this is paradise for us." Dressed in a retro blue boiler suit, her hair contained in a chunky woolly hat, she's an experienced brocantes shopper, but even she seems impressed by the scale of the Grande Réderie. "I'm on the lookout for vintage clothes, but you never quite know what you might find. That's what makes it such fun..."
Just as practically every French town has its weekly food market, so nearly all have a regular marché aux puces – flea market – where sellers professional and amateur flog unwanted goods (another term for these markets, vide-greniers, literally means 'emptying the attic').
But while the Grande Réderie is impressive in terms of scale, it's Paris that's the spiritual home of the French flea market. It was here that the first flea markets appeared in the 19th century, following the city's redevelopment under Baron Haussmann.
As the winding alleys and tightly packed slums of the old city were levelled to make way for broad, open boulevards, many merchants were forced out towards the city's outskirts, especially the villages north of Montmartre, such as Clignancourt and St-Ouen. Though long since swallowed up by the city's urban sprawl, these neighbourhoods have been synonymous with second-hand goods ever since; the term 'flea market' is said to refer to the rather unsavoury fact that the clothes, upholstery and furniture on sale were often infested with the blood-sapping parasites.
Now collectively known as Les Puces de St-Ouen, this massive market is said to be the largest in the world, encompassing seven hectares and 3,000 individual traders. Each market has its own unique character: some, like the upscale Marché Serpette and Marché Paul Bert, specialise in high-end antiques, artworks and furniture; others, such as Marché Dauphine, Marché Jules Valles and Marché Malassis, focus more on collectibles, retro pieces, ceramics and quirky objets d'art.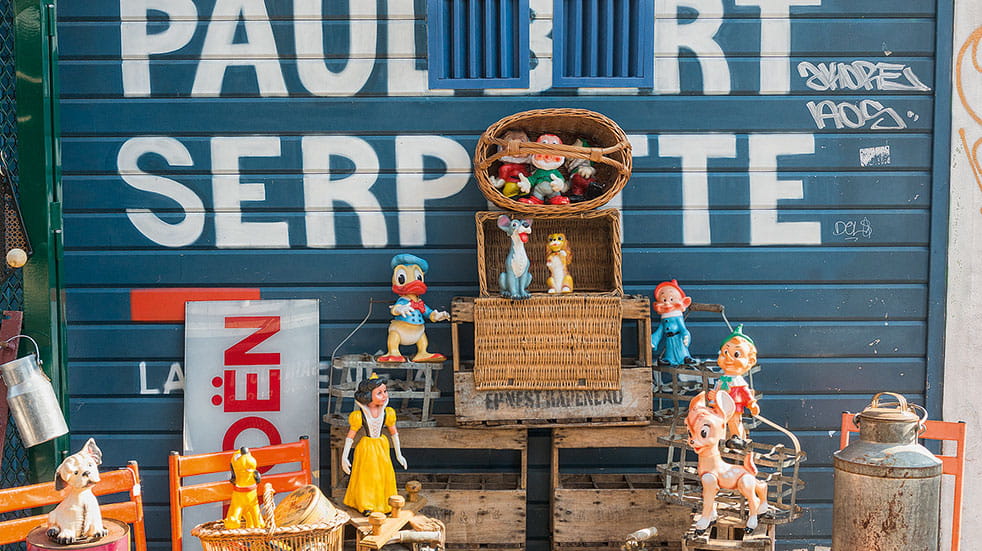 Et voilá: how to negotiate at a flea market
1. Be polite
Good manners work wonders when bargaining. Always begin with saying hello to the seller (in French), smile and strike up a conversation. Compliment their stock (jíadore votre merchandise) and ask questions about the pieces you're interested in.
2. Speak the language
There's no better way to establish a rapport. Most importantly, know your numbers.
Combien? How much?
Qu'est ce que c'est votre dernier prix? What is your final price?
Il est encore trop cher pour moi. It is still too expensive for me.
Combien pour les deux, trois, quatre? How much for two, three, four?
Quel âge a-t-il? How old is it?
Pouvez-vous baisser le prix? Can you go a little lower?
Cent? Ça va? 100? OK?
3. Cash is king
Cards and bank transfers are more accepted at the larger French flea markets but having the cash in your hand will always put you in a strong bargaining position.
4. Buy multiples
This makes it easier to ask for an extra discount to reflect the bulk nature of your purchase.
5. Be realistic
Negotiating is a two-way thing. Expect a 15-20% discount and don't forget the vendor's running a business. That said, some won't negotiate while others may be more generous.
6. Have a price in mind
The best price is the one you're willing to pay. And do bear in mind the exchange rate as well.
7. Timing is key
Arriving early will give you first dibs on the best pieces but turning up shortly before it closes may mean the dealer is more open to dropping prices so they can clear stock and head home. The same applies on a rainy day or if a stand looks quiet.
8. Be wary
If the price seems too good to be true, it probably is.
9. Have fun
Haggling should be fun, so don't take it too seriously – be jovial and friendly.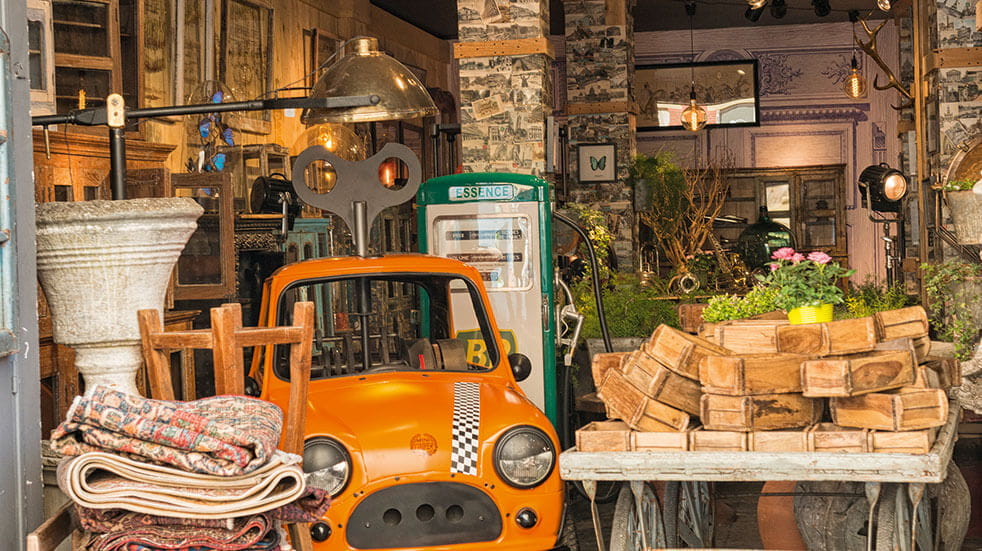 Old fashioned values
Jacques Chesnais runs a stall in one of the area's most eclectic markets, Marché Vernaison. With its narrow alleyways and cluttered shop-fronts spilling their wares out onto the pavement, it's the picture of a Parisian street market – and for Jacques, it's this old-fashioned character that gives it its charm.
"You can feel the difference the minute you walk through the gate in Vernaison," he says. "It still has a flavour of old Paris. It hasn't changed much in the last 50 years; we've tried hard to preserve its character. And most importantly, you can still pick up a bargain here – I sell things for just a couple of euros. And I'm always prepared to haggle – that's within reason of course! That's no longer the case in all of St-Ouen."
Mounir Dobrowolski, who runs a shop in the covered arcades of Marché Jules Vallès, agrees. "Many of the markets have become too expensive now," he says as he shows me around his stall, which specialises in reclaimed and retro items from the '60s and '70s. "But it's important to sell a mix of things to keep the market alive. For me, markets should be places of surprise, where you never quite know what you will discover. If that's not what you want, well, you may as well just go and run a shop on the high street."
By now, it's late afternoon, but along nearby rue Jules Vallès, the pavement traders are still doing a brisk trade. At one stall a young couple are debating the relative design merits of a Scandinavian side-table; at another, a punter is haggling hard over the price of a wrought-iron radiator, receiving a theatrical show of disgust from the stall-holder before finally striking a deal. On their way home from work, commuters pause to browse the day's offerings, picking up an item or two to take home along with the daily baguette. Then, as the flow of shoppers dwindles and the traders pack up their wares, an army of street-sweepers moves in to clear up the sea of cardboard, paper and discarded packaging left behind.
Paris's brocanteurs and brocanteuses have shut up shop for another day, but there's always tomorrow to bag another bargain.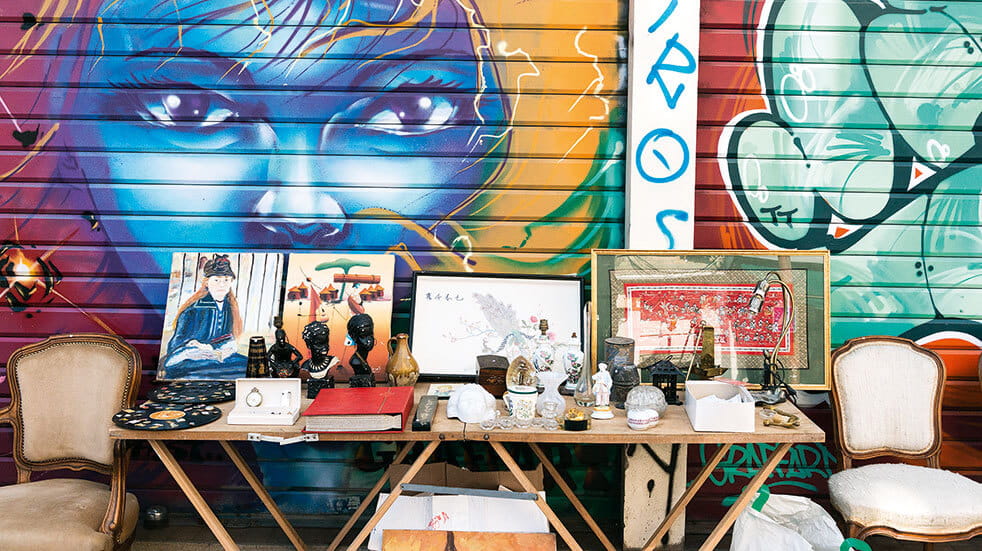 5 more French flea markets
1. Braderie de Lille
Held on the first weekend of September, Braderie de Lille the daddy of all French brocantes markets, with 10,000 sellers and more than a million shoppers. There's said to have been a market of some description here since the 12th century.
2. Marché aux Puces D'Annecy
Browse for bargains as you stroll along the picturesque canals of Annecy. There's at least one market here every month, usually held on the last Saturday.
3. Les Puces du Canal, Lyon
Held in Villeurbanne on the outskirts of Lyon, on the banks of the Jonage Canal, the large, lively Les Puces du Canal flea market is a favourite Sunday haunt for many locals.
4. Brocante Saleya
Every Monday, the attractive square of Cours Saleya fills up with bric-a-bric stalls – although this being the Côte d'Azur, prices are high so bargains can be extremely hard to come by. - nicetourisme.com
5. Marché aux Pauces de St-Aubin, Toulous
In the heart of the rose-red city, a large flea market is held every Saturday morning in front of the Église St-Aubin (although it may move this year). Check brocabrac.fr and agendadesbrocantes.fr for more information on this and other upcoming French flea markets.
---
Save on your crossing to France with P&O
Enjoy a 5%* discount when you book cross-channel travel with P&O Ferries – your holiday starts as soon as you step on board.