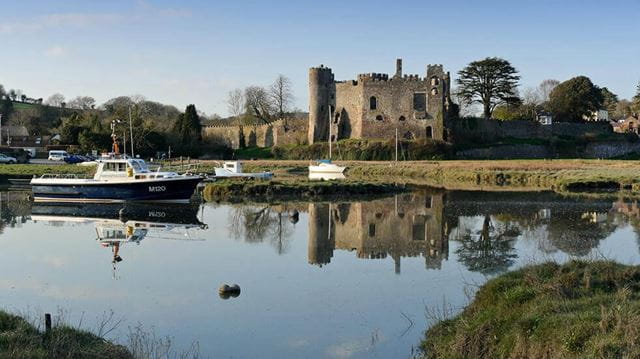 ---

Main photo: Laugharne Castle, by Jason Ingram.
---

At the village shop in Llansteffan, Eiluned Rees, 76, sits behind a pot of tea and says: 'The best friends I had when I was at primary school here are still my best friends now. Which, I think, says something about village life.'
I'm in Carmarthenshire, walking the Wales Coast Path. The Welsh Government hopes the 870-mile path, from Chepstow in the south to the outskirts of Chester in the north, will stimulate tourism and, in particular, rural communities. The section I'm sampling, around the Three Rivers Estuary south of Carmarthen and on into the Pembrokeshire Coast National Park, is only two hours' drive from the English border, but feels like another, more remote world.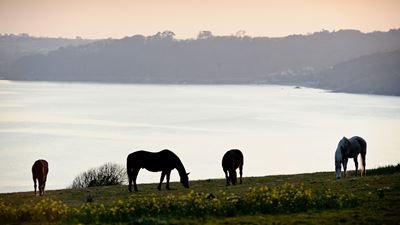 Sixty per cent of the Welsh population live in the south-east of the country, clustered around Cardiff and Swansea. Enter west Wales, and you're into a land of tiny townships nestling in hillsides, sleepy harbours and big views out over wide sandy beaches, towards the ocean; a land with many more hilltop castle ruins than chain hotels. By night: more stars in the black sky than you've ever seen. By day: people say hello to each other when they pass in the street and, pretty soon, you do too.
I only came in for a drink, but the good humour of the ladies in the shop – adjudged the second best village shop in all Wales, they tell me – takes over. They go and fetch Eiluned, who lives down the street, to tell me the story of Llansteffan. Her dad was the village policeman during the war. 'I spend my spare time reading old copies of the Carmarthen Journal,' she says. 'Although you don't get much spare time in a village.'
Until the 1950s, families came from the Valleys to Llansteffan for the 'Miners' Fortnight' at the end of July. They would pack out the village, whole families crammed into a room. 'I've heard the record was 36 people in one house,' says Eiluned.
The village as we see it today, she says, was specifically built for tourism, after the coming of the railway to west Wales in 1852. Llansteffan's not a buzzing resort now, but it's still a beautiful spot, with the Towy Estuary tide ebbing to leave a huge sandy beach. It has one remaining coracle fisherman, two pubs and a restaurant in someone's house – 'Big' Bill Hill's Yr Hen Dafarn – where every huge portion has been hunted or fished for by the host himself. Then there's the shop; a mix of cornershop, café, restaurant, bar and craft fair, the real centre of village life.
It was Dylan Thomas' Under Milk Wood, first broadcast on BBC radio in 1954 after his untimely death at the age of 39, that placed the world of Welsh harbour villages into the public imagination, a backwater universe of chatter and dreams, eccentricity, deadpan comedy – and, simply, life. Thomas had family connections around Llansteffan, but Under Milk Wood was probably inspired by the characters he knew when he lived in Laugharne, six miles round on the Coast Path. [Pictured: The Boathouse in Laugharne, where Thomas used to write]
The Three Mariners pub in Laugharne on a spring Wednesday afternoon boasts two patrons: me and, quite by chance, Ivan Caley, 90, who has spent a lifetime at sea and knew Thomas before he was famous. Ivan tells me he was married to the daughter of the landlord of Browns Hotel on King Street, where Dylan Thomas did most of his drinking. 'He was just 'Dylan' to us,' Ivan says. 'In the evening we'd all be in there, having a sing song, even after the pub was 'closed' at 10 o'clock. The police didn't care. We'd give 'em a ring and invite them to come round! It was a nice gentle way of life. Everybody had their own party piece. Dylan's song was Burlington Bertie from Bow.'
Did he drink a lot?
'No, no, no,' Ivan shakes his head. 'He wasn't classified here as someone who was hammering it. In those days, we had people here who would drink 18 or 20 pints a day.
'He wasn't a big drinker, because he'd pass out before he got to that stage. And we'd leave him there and he'd have a sleep and eventually get up. He didn't entertain or hold court; he just fitted into that group.
'Dylan and Caitlin, his wife [pictured], were a nice couple. OK, they had a bohemian attitude, but there's nothing wrong with that.'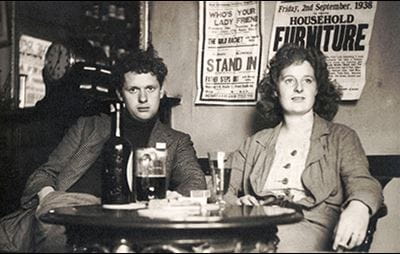 Browns Hotel itself has recently been renovated, with the new design intended to recreate the world of the Forties and Fifties that inspired Thomas.
Laugharne is on the tourist trail, but it's little changed in the last 50 years and still built round one narrow road twisting up from the castle and the town square. A long-weekend stay would be enough to visit most of the restaurants twice.
Characters? Well there's the kindly George Tremlett, 70-something, softly spoken, sat in his secondhand bookshop opposite Browns. He doesn't look like the sort of man who used to go to parties at Keith Moon's house or have chats about poetry with David Bowie. But, in a former life, he was, bizarrely, both a Conservative councillor in London and the prolific biographer of the likes of Bowie, Queen and Slade. A Dylan Thomas aficionado since childhood, Tremlett later befriended the family and worked with Thomas' widow Caitlin on her memoirs.
'So many pop artists – Paul McCartney, John Lennon, David Bowie, Marc Bolan – all grew up on Dylan Thomas, because it was this musical blend of words,' he tells me.
'The village life of Under Milk Wood still exists – it's a vital part of everyday life here. I recognised it when I first came here in 1977. Everyone knew everyone. Among other things, if somebody dies, the whole town goes to the funeral; every house is represented.
'There's a stronger sense of equality here than anywhere I've ever been to. Money doesn't count for much. You're either a good man or a bad man, so if you don't know how to behave or you don't say good morning, you'll be regarded as no good.
'I've never known a place like it. I say good morning to all my neighbours every day and the sea arrives twice a day with fish. And the town has this unusual shape, like being in a cup: the hills shield the town – it has a microclimate. It can be sunny here when it's raining a mile away.'
The Coast Path heads down past Thomas' former home, the Boat House [pictured], and his clifftop writing shed, past Laugharne Castle and over St John's Hill. Local farmer Bob Stevens comes with us on the next stage of the Coast Path on which, at his own expense, he has created the Dylan Thomas Birthday Walk, complete with panels explaining how the views relate to Thomas' Poem in October, written about a walk on this path on his 30th birthday. If you come to Laugharne on your own birthday you can claim free gifts – pints of beer, bags of chips and more – from around the township.
With St John's Hill behind you, the Coast Path takes you close to a glorious, seven-mile sandy beach. There are 15 Blue Flag beaches between here and Pembrokeshire, but this part of the coast carries history, too: Sir Malcolm Campbell broke the world land-speed record at Pendine Sands in Bluebird in 1924 and 1927. There's a museum at Pendine to commemorate its place in motoring history.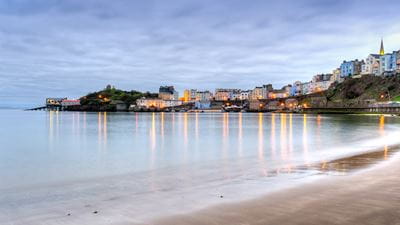 Another day's walk will take you into Pembrokeshire – to Tenby [pictured], a resort blessed with three Blue Flag beaches and a harbour in the centre, lined with pastel-coloured town houses and medieval fortifications. Staying in a hotel overlooking the harbour in 1856, George Eliot was inspired to write her first novel Adam Bede.
In the context of the Coast Path's remote beauty, Tenby, with its art museums and Indian restaurants, feels like something of a metropolis. Well, sort of... It is a pretty little town, traffic-free in the summer, with a population of around 5000, though it is, naturally, a magnet for tourists.
The Carmarthenshire villages are not wholly unchanged by time. The Blue Boar Inn in St Clears was yet another drinking haunt of Dylan Thomas. Now, it is Elaichi, a busy, friendly and rather good Bangladeshi restaurant. And yet traditions persist: 'I lived in Windsor for 10 years and didn't know my neighbours,' Hussain Ahmed, the owner, says. 'In St Clears, I know everyone in the village.'
---
NATIONAL BOTANIC GARDENS OF WALES
The world's largest single-span glasshouse, designed by Norman Foster, is the centrepiece of this 560-acre garden. gardenofwales.org.uk
DYLAN THOMAS BOATHOUSE
Excellent museum of the poet's life, housed in his little clifftop home. His workshed is along the cliff, made to appear exactly as he left it. dylanthomasboathouse.com
MUSEUM OF SPEED
Small, free museum at Pendine, where the land speed record was first broken in 1924 by Malcolm Campbell. The last attempt here was made last year by Campbell's great grandson.
TIN SHED
Re-creation of 1940s Wales in Laugharne, opened by two memorabilia collectors, now expanded this year to include a 1940s cottage and an air-raid shelter. tinshedexperience.co.uk
LAUGHARNE WEEKEND
Annual festival of music and literature held since 2007, with surprisingly big names appearing in church halls and other small local venues. thelaugharneweekend.com