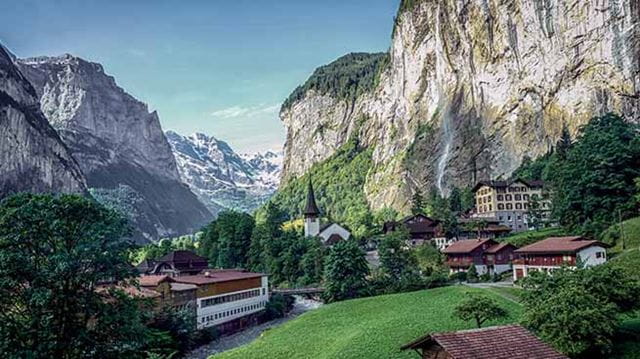 Switzerland is more enticing than ever for an Alpine escape. Its arresting mountain views, fabulous air and beautiful slopes feel like freedom in the wake of the pandemic.
After the past couple of years, this is surely the fantasy we've all been craving: a pocket-sized country that's obscenely beautiful, safe, clean and efficient, easy to reach and a breeze to get around using its public transport.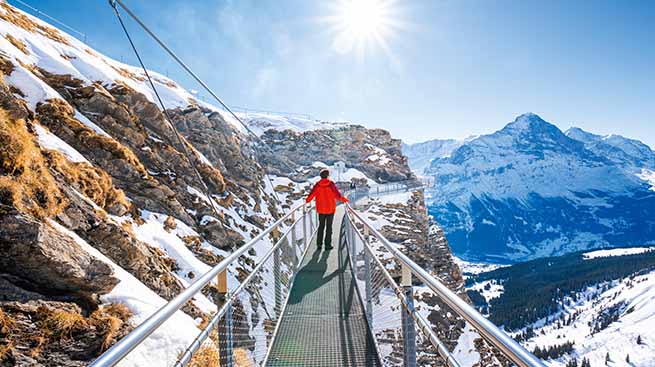 I fell in love with Switzerland many moons ago, but it was the Jungfrau region that stole my heart, with its Christmas-card scenery, sky-high mountains and cliff-hugging villages full of the kind of log chalets where you just pray for the flakes to fall. Here, little red trains ride from pine to peak, waterfalls nosedive over improbably sheer cliffs and glaciers ripple away into the frozen white wilderness. Topped off by the legendary triple act of Eiger (3,970m), Mönch (4,107m) and Jungfrau (4,158m), this region hits the Alpine sweet spot like nowhere else in Switzerland.
While the Jungfrau region is lovely in its thick winter blanket of snow, the area charms all year round. Using Interlaken as a town-to-slopes springboard, you can wrap all of its best bits into one neat little package that can be explored in a long weekend or, even better, a week.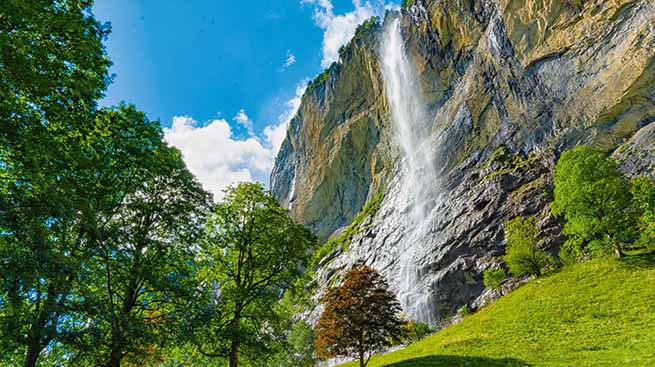 And the clincher is you don't even have to fly: you can take the Eurostar to Paris to connect with highspeed trains that race to the major Swiss cities in just a few hours. Green? You bet. Swiss railways are some of Europe's most environmentally friendly, using 90% hydropower and aiming for carbon neutrality by 2030. Once you reach the region, there's no need to drive either, with trains and cable cars winging you up to even the remotest parts.
---
Alpine highs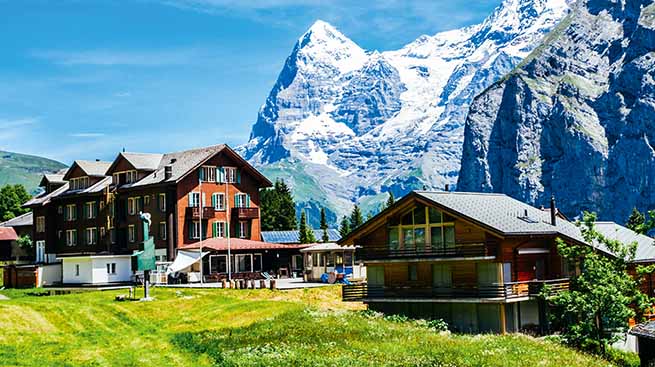 Mother Nature had one of her finest moments in the Jungfrau region and, whichever resort you choose, the 'wow' barely leaves your lips. With grandstand views of peaks punching above the 4,000m mark, hiking and skiing here are dramatic experiences: imagine carving fresh powder on a sunlit red run in view of glacier-frosted Jungfrau, or walking through a flower-freckled meadow to the chime of cowbells as Eiger's fearsome north face peeks over your shoulder.
But if you fancy letting a cable car do the legwork, try Europe's highest train station – 3,454m-high Jungfraujoch, where views unfold of the 14-mile sweep of the Aletsch Glacier, the largest in the Alps, and a parade of snow-bedecked peaks. It's astonishing – but do get a very early train to beat the hordes. And pack thermals, as it's snowy here year round. To properly give the crowds the slip, trudge on through deep powder to reach the Mönchsjochhütte, Switzerland's highest serviced mountain hut, open from spring to autumn, for a hearty bowl of goulash and mountain views that leave you speechless.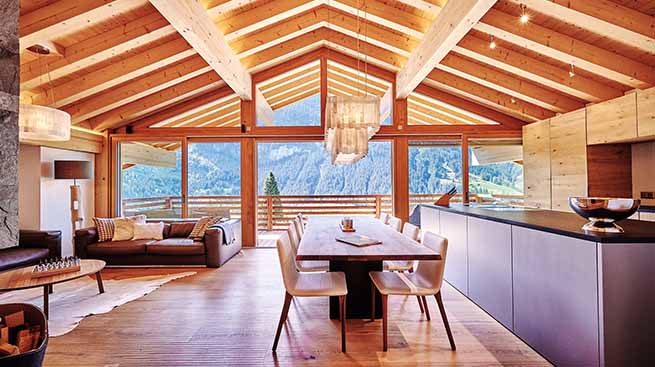 The rival mountain is Schilthorn, otherwise known as the 'Bond mountain' for its starring role in the 1969 film On Her Majesty's Secret Service. This 2,970m crag is topped by a revolving restaurant, Piz Gloria, affording 360° views of the Bernese Alps. The views reach all the way to Mont Blanc and the Black Forest on clear days. For more drama still, stroll the cliff-hanging Thrill Walk at Birg middle station.
---
Choose your resort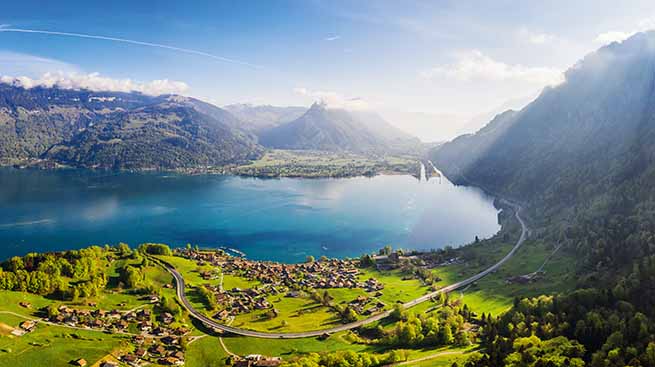 You're likely arrive in Interlaken, which has seduced visitors since the 19th century with its lavish row of grand hotels commanding ringside views of the bighitter peaks. It's nestled between jewel-coloured lakes Thun and Brienz, both beautiful for cruising, and provides a central base – but once you glance at those mountains you'll be itching to go higher. In terms of where to stay, it's a tale of three resorts: Wengen, Grindelwald and, the highest of the lot, Mürren.
Wengen's heaven-on-Earth views have lured Brits to the Jungfrau region since Edwardian times. Reached by a train that curls up the forested mountainside, the car-free resort sits on a natural balcony, peering up to the pearl-white peaks of the Jungfrau massif and down to the steep-sided, waterfall-streaked Lauterbrunnen Valley. It's a view that has moved artists, poets and composers to romantic raptures over the years, among them Lord Byron and Felix Mendelssohn. In summer, the resort is threaded through with mood-lifting hiking trails, while in winter it's home to the ski-it-if-youdare Lauberhorn Run, the longest World Cup downhill course at 4.5km.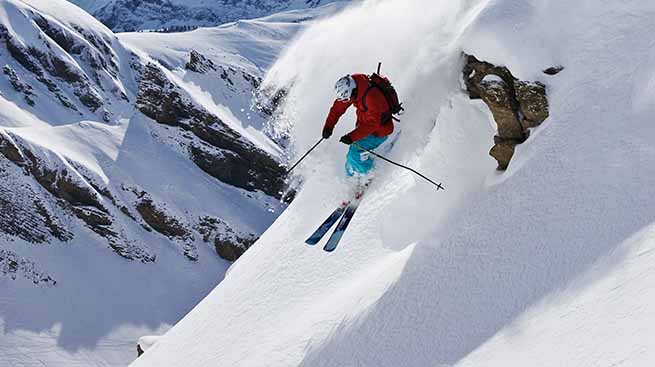 But if you think Wengen is a beauty, wait until you see over-thevalley Mürren. As the train floats along the ridge, you sense a frisson of theatre curtain-lifting anticipation as the mountains are revealed in all their glaciated glory. This clifftop village is quite the Alpine dream, with historic log chalets and front-row views of Eiger ('Ogre'), Mönch ('Monk') and Jungfrau ('Virgin'). Car-free Mürren is the cradle of Alpine ski racing, where Sir Arnold Lunn introduced the first modern slalom in 1922 (celebrating its centenary in 2022). In summer, the village is more serene, with marked walking paths – such as the 7.5km North Face Trail – that get you up close and personal with the Bernese Alps.
Or to flirt with mountaineering, join a guide to tackle the village's cliff-hanging via ferrata, which involves a daring traverse of a suspension bridge, zip line and tightrope.
Right in the shadow of Eiger's mile-high north face, Grindelwald ramps things up a notch in terms of liveliness and action, with hiking, mountain biking and paragliding, plus freeriding for boarders at the snowpark and long, above-the-treeline ski runs to pound. Up at First, you can test your nerves on the First Flyer zip line, picking up speeds of 52mph (84kph) as you whoosh towards Eiger. The resort's hottest newcomer is the Eiger Express tri-cable gondola, whizzing up to Eiger Glacier station in 15 minutes and then onwards to Jungfraujoch.
---
Beyond the slopes in winter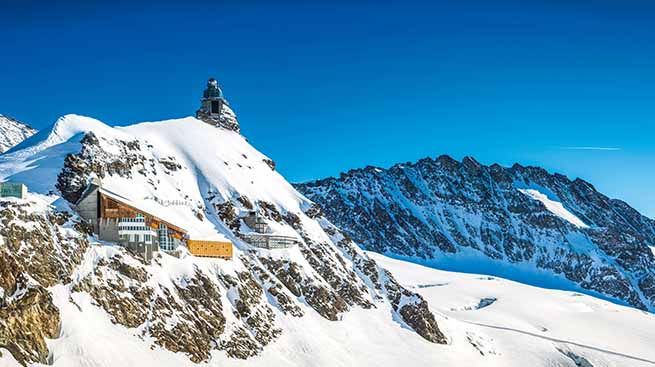 If you're not a skier, there's plenty of snow fun beyond the pistes, with ski schools offering a flurry of activities from the quietly exhilarating (snowshoeing through silent, frosty forests) to the downright intrepid (ice climbing and ski diving from a height of 4,300m in front of Eiger's north face).
Winter hiking is big here and the trails are well prepared and signed. The trail from First to Faulhorn leads you properly into the white, rocky wilderness, and if you haul your sled to the summit you can hook onto 'Big Pintenfritz', Europe's longest toboggan run at 15km. Alternatively, you can dash down to the valley on a velogemel, a bonkers sled-scooter hybrid. Go sledding in the glitter of night and you can break for fondue and mulled wine at Bussalp mountain restaurant.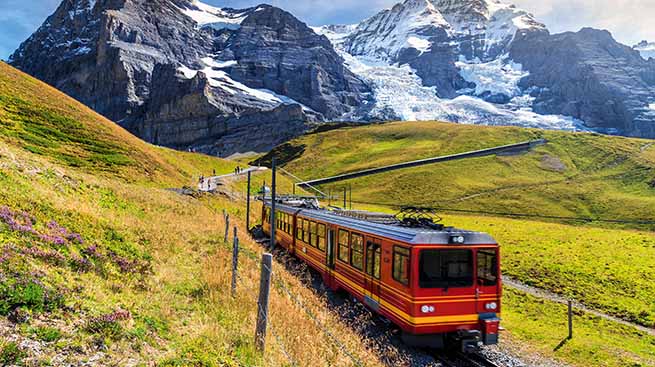 If you long to leap into deep powder without sinking, most sports shops rent out snowshoes. Mürren's two-mile snowshoe trail up to Allmiboden is full-on winter wonderland stuff, taking you through snow-dusted woodlands and pristine white pastures, with staggering mountain views all the way.
---
Travel tips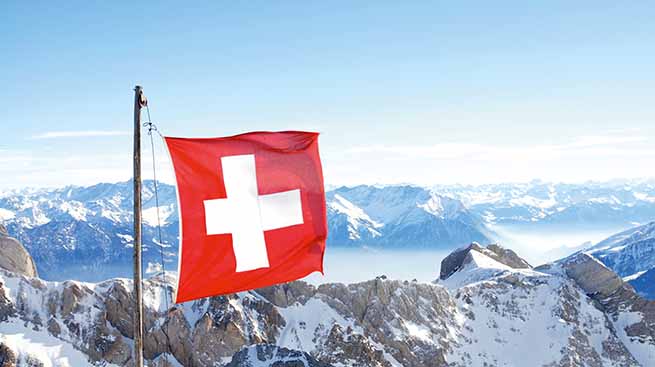 When to go
The seasons are from December to early April (winter) and late June/ July to mid-September (summer). Many places close between seasons.
How to get there
For minimal impact, go by Eurostar (eurostar.com) to Paris, then switch to a TGV train to Zurich (five hours), where there are SBB (sbb.ch) connections to Interlaken (two hours). Alternatively, low-cost airlines like easyJet fly from London to Zurich (easyjet.com).
Getting around
Money-saving passes make getting around the region cheaper and easier, including the Jungfrau Travel Pass (jungfrau.ch), offering unlimited travel for three to eight days, and the Top of Europe Pass, which also includes Jungfraujoch.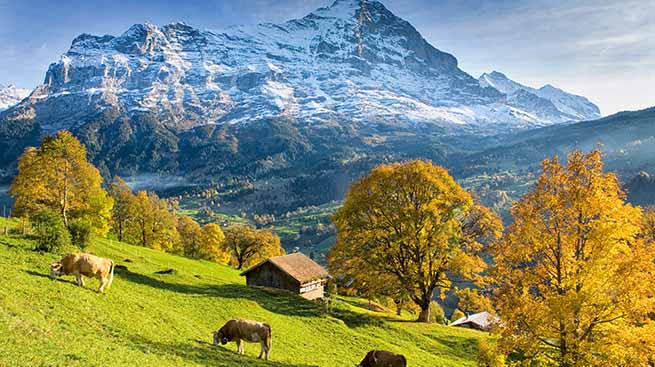 Where to stay, eat & drink
Hotel Glacier (hotel-glacier.ch) is hands-down Grindelwald's chicest boutique bolthole, with its Eiger-facing spa and edgily contemporary interiors capturing the moods and colours of the mountains. The restaurant is outstanding, too, with tasting menus singing of the regions and seasons. In town, warm up over craft beer and live music at Avocado Bar. n Mürren, the born-again cable car Gondel Bar, behind Hotel Jungfrau, delivers the coolest après-ski drinks after a day carving the slopes.
Year round, ramp up the romance with a night at Hotel Eiger (hoteleiger.com), a nouveau-rustic chalet with a pool, hot tub and tremendous Eiger, Mönch and Jungfrau views. The restaurant is thoroughly Swiss, serving fondue and dishes like Bernesestyle sliced veal with rösti.
For good old-fashioned classics like Alpine macaroni and goulash – and big views – try rustic mountain taverns like Bergrestaurant Brandegg (brandegg.ch) and Berggasthaus First (berggasthausfirst.ch).
COVID 19
As boundless goes to press, Switzerland has just introduced a 10-day quarantine requirement for UK visitors. More details are provided on the Federal Office of Public Health website (bag.admin.ch).
Planning ahead
For the inside scoop on regions, experiences, accommodation and more, check out these informative websites: Switzerland Tourism (myswitzerland.com) and Jungfrau (jungfrau.ch).
---
Do more with Boundless
Save up to £50pp * on a Travelsphere Switzerland Tour
Travel through Switzerland's untouched landscapes and stunning scenery on historic railways, discovering elegant towns, romantic castles and delicious local cuisine on the way. To receive your discount, visit boundless.co.uk/travelsphere or call 01858 415509 quoting 'Boundless'.
Exclusive discounts* and single holiday travel with Just You
Just You, the leading tour operator for solo travellers, has a range of incredible holidays to worldwide destinations, including a visit to St Moritz, Switzerland. Book with confidence knowing that your money is 100% protected and your holiday is covered under ABTA or ATOL. To find out more, visit boundless.co.uk/justyou.