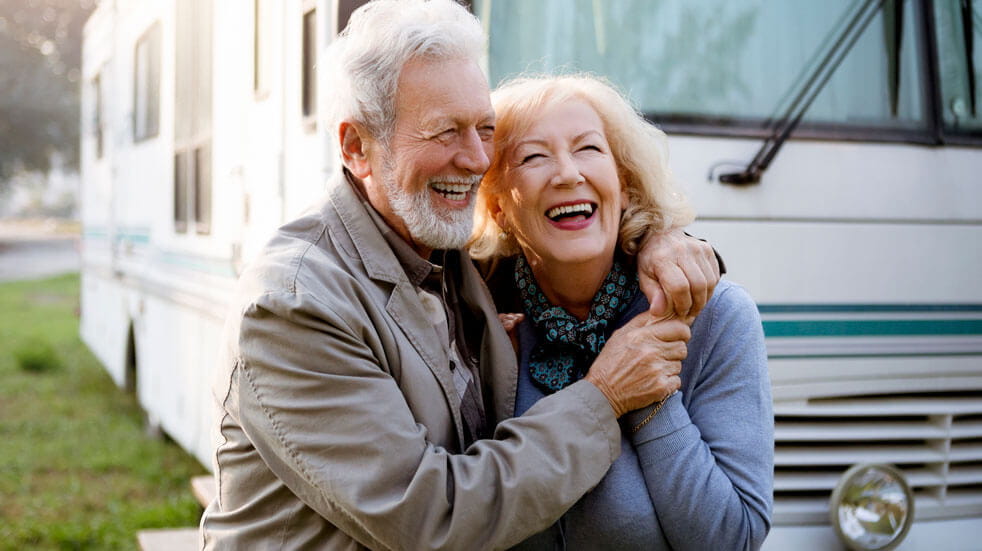 Whether you want to pitch up in an idyllic campsite for the week, or travel to see new places every day, a motorhome or campervan could be the ideal holiday solution.
What's so good about motorhomes?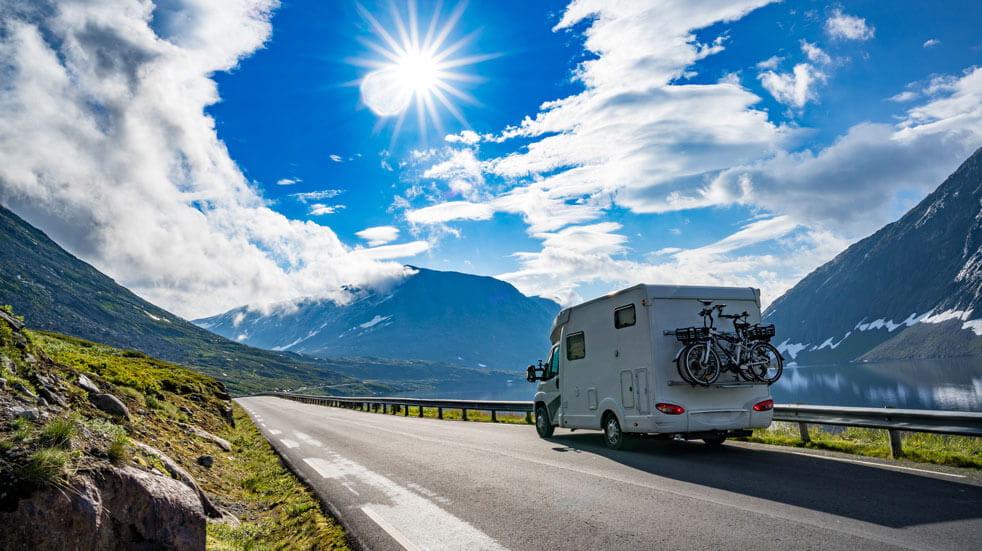 Fun and flexible, motorhomes are becoming very popular among people with a passion for travel.
Easier to drive than a car with a caravan on the back, more practical than checking in and out of new hotels every day, and comfier than a tent, motorhomes and campervans are becoming increasingly popular with people who love holidays in the great outdoors. Ranging in size from 1-2 berths for a couple or solo traveller to 6-8 berths for a family, these mobile holiday homes cater for everything from weekend breaks to summer-long road trips.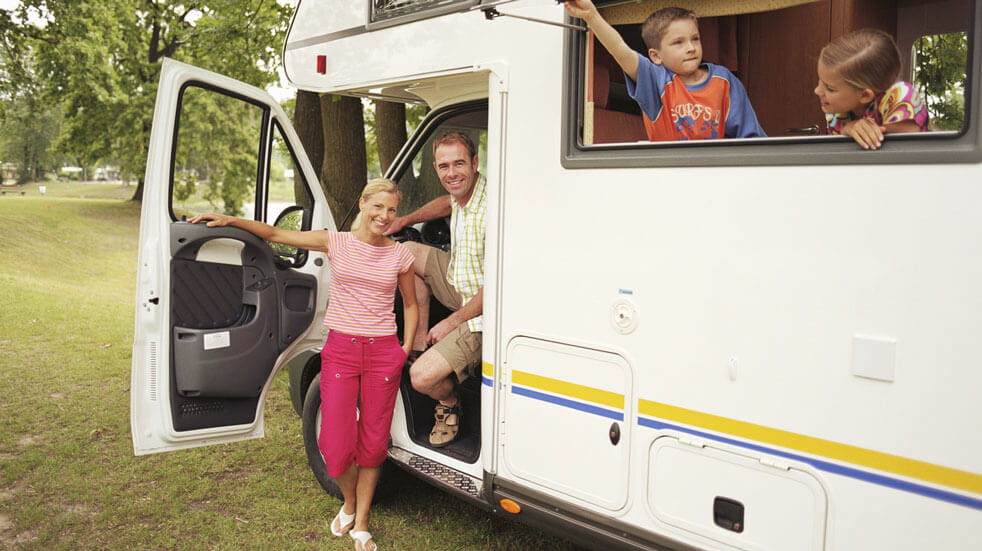 Motorhomes come in various shapes and sizes, catering for couples, families and bigger groups.
New motorhomes can be very expensive, but websites such as Auto Trader, Gumtree and eBay all have second hand motorhomes for sale. If you would prefer to rent, Swift Go offers motorhome and campervan hire at competitive rates. It's your ticket to travelling on your own terms in the UK and Europe, and could even inspire you to embark on a more ambitious motorhome holiday in the likes of North America, Australia or New Zealand.
Where can I try out a motorhome?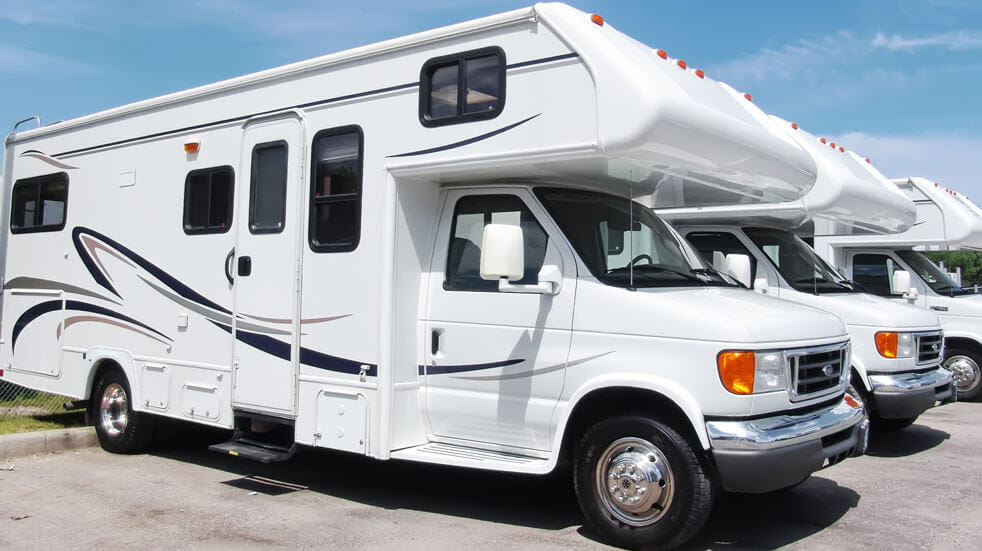 There is plenty of opportunity to try before you buy, ensuring that you get the best motorhome for your needs.
At Swift Go, you can test drive and learn all the basics of living in whatever motorhome you choose, from the practical Swift Escape to the luxurious Swift Bessacarr. The knowledgeable staff will help you to choose the right vehicle for you and your family, enabling you to have the best holiday possible.
What kind of driving licence do I need to drive a motorhome?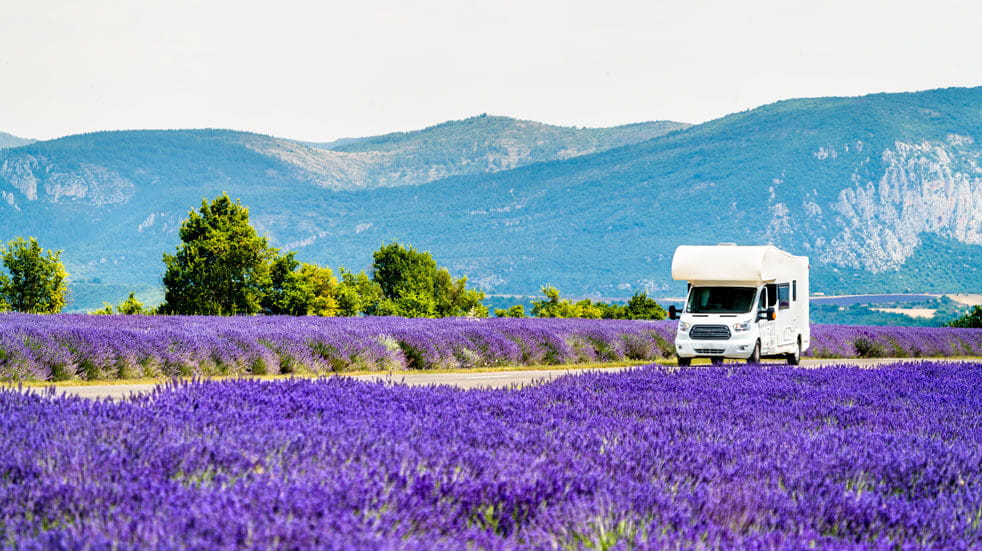 With the exception of very large motorhomes, these holiday homes on wheels do not require you to obtain a new licence.
You can drive a motorhome on your existing driving licence, unless the vehicle exceeds 3,500kg in weight. Most new motorhomes are designed to be lighter than this. If you do find yourself needing an old-fashioned juggernaut, you'll still be fine if you passed your driving test before 1 January 1997. If you didn't, you'll have to take a C1 test before you can drive a larger motorhome.
Do I need to buy special motorhome insurance?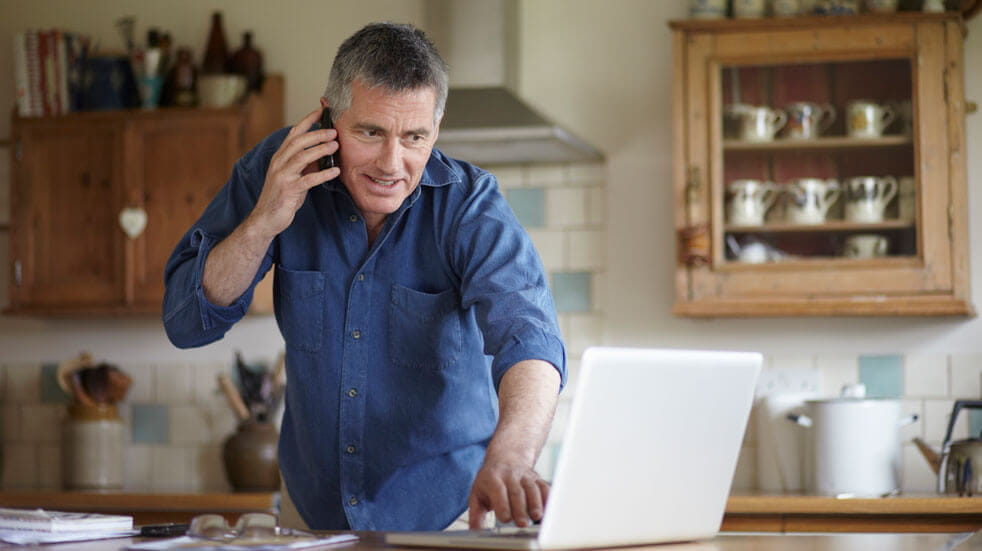 Boundless members can get great deals on dedicated motorhome insurance, giving you peace of mind when you travel.
There are plenty of options to insure the motorhome you're driving. One specialist provider is Caravan Guard, whose motorhome insurance offers complete cover and is ideal for first-timers. Plus, as a Boundless member, you can get a discount on your quote. As with your car, you must make sure you lock everything when you're parked up, from windows to doors, or any insurance claim will be in trouble.
Are motorhomes and campervans difficult to drive?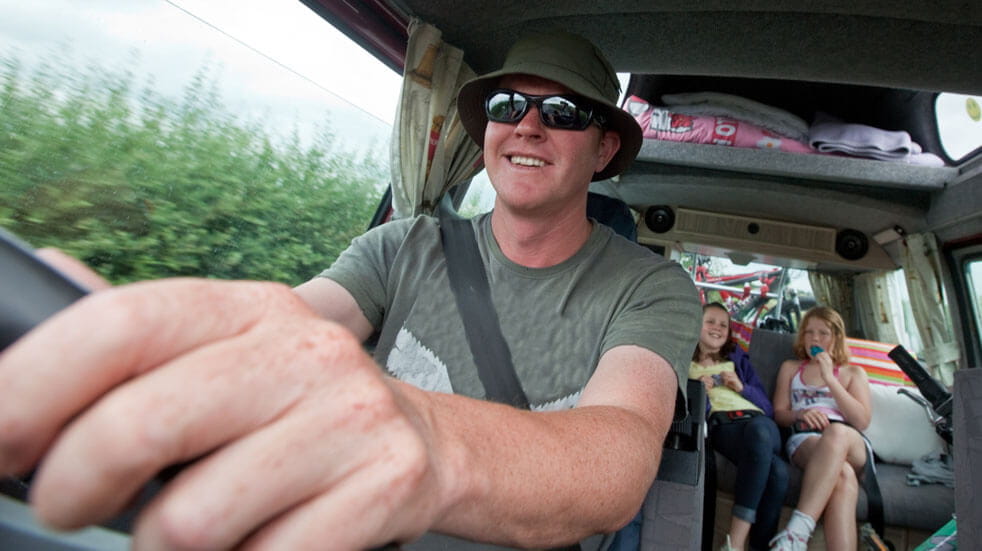 Confident drivers shouldn't have any difficulties taking the wheel of a motorhome – but it's a good idea to take things slowly at first.
Though they may seem different at first if you're only used to driving cars, modern motorhomes should be no problem for a confident driver. Just take it slowly when you get started. And, of course, at Swift Go you'll have an expert to talk you through your test drive. It's important to know the height and width of your motorhome, both when you're parking and when driving down narrow streets and lanes, or under bridges.
You'll have to plan your route in advance so that you don't find yourself stuck before a low bridge – but this is easy to do with Google Maps and other apps and websites. Another thing to bear in mind is that motorhomes are top-heavy, so you'll need to slow right down when going around tight corners.
What will I need to look for at the campsite?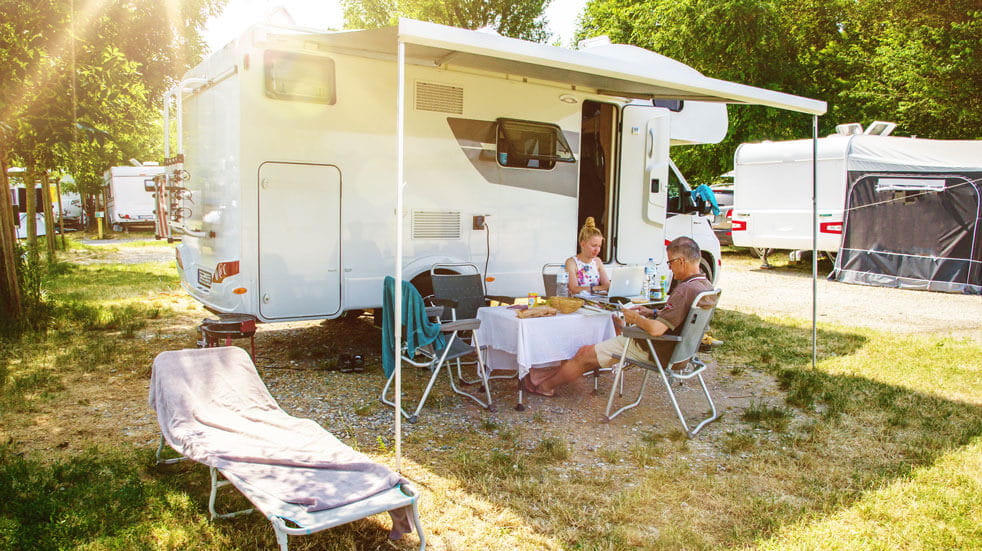 Most good campsites cater for motorhomes, offering electric power supplies and other useful amenities.
Motorhome berths at campsites usually come with an electric power supply in order for you to hook up your vehicle and enjoy the mod-cons. But even if there are no powered spaces available for a night, you can simply pitch up and enjoy the comforts of your vehicle.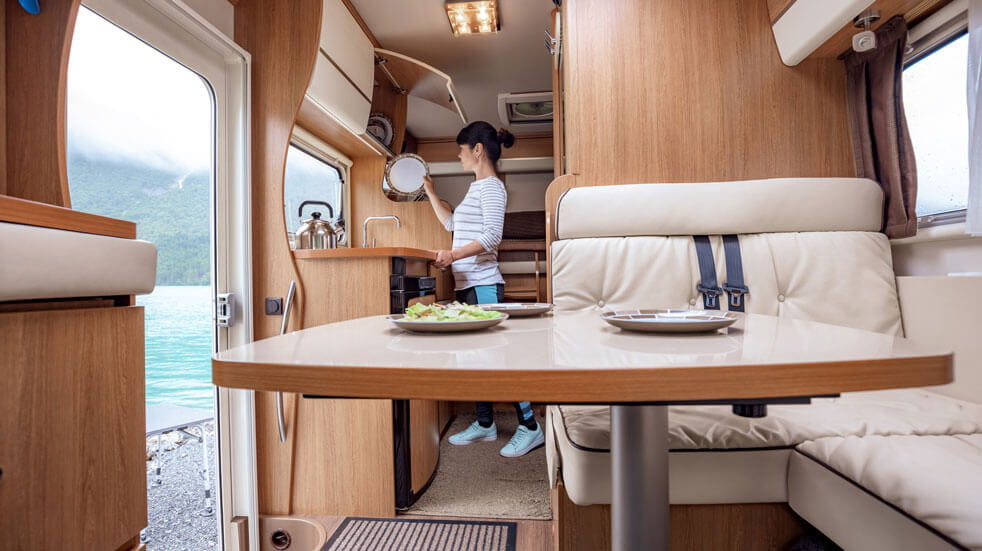 The latest motorhomes come with all the mod-cons you need, meaning you won't miss home too much!
Your motorhome may well have a shower, sink and toilet, but it's always best to use the ones on site where available, to save your onboard water supply and prevent you from having to empty the toilet too often.
To help you make the most of your motorhome experience, Boundless has a dedicated Camping and Caravanning Group. Organising over 40 rallies a year across the UK and Europe, it provides the perfect opportunity to meet likeminded people in a range of fabulous locations.
What if I don't like sleeping in the motorhome?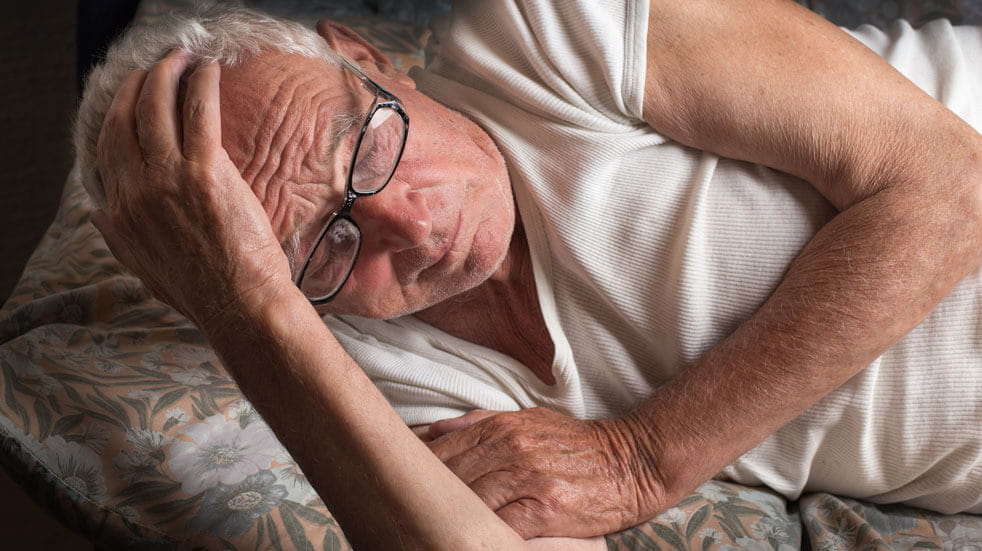 It's always worth spending a night in a motorhome before you take it on holiday, to make sure you'll be able to sleep comfortably in it.
Good question. What if you pick up your motorhome and drive to your holiday destination, only to find you don't like it? Our advice is to rent one for a night before you plan your holiday, and have a sleepover outside your house. That way, your doubts will be put to rest.
Boundless members can get 20% off the price of a holiday at Whitemead Forest Park
If you want to enjoy a motorhome break in a beautiful woodland location, visit Whitemead Forest Park. This tranquil, Boundless-owned resort in the Forest of Dean is perfect for families or couples – and Boundless members can save up to 20% off the usual price when booking.