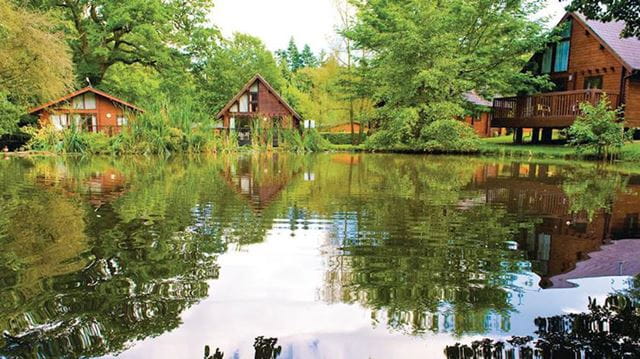 In 1970, Boundless purchased 33 acres of land in the Forest of Dean, and since then the organisation has transformed it into a much-loved member retreat. In the year of its 50th anniversary, we take a look at Whitemead Forest Park and its journey from parkland to popular haven.
Family holidays, spa breaks and so much more
Forest holidays provide an opportunity to recharge your batteries in the company of nature – which might explain why Whitemead Forest Park has become one of Boundless members' favourite locations. Offering everything from log cabin holidays for the whole family to spa breaks for couples – and a regular haunt of the Camping and Caravanning Club – this beautiful resort has something for everyone.

This year marks 50 years since Boundless first purchased this wonderful site in the Forest of Dean, so what better time to take a look at how the destination has evolved through the years…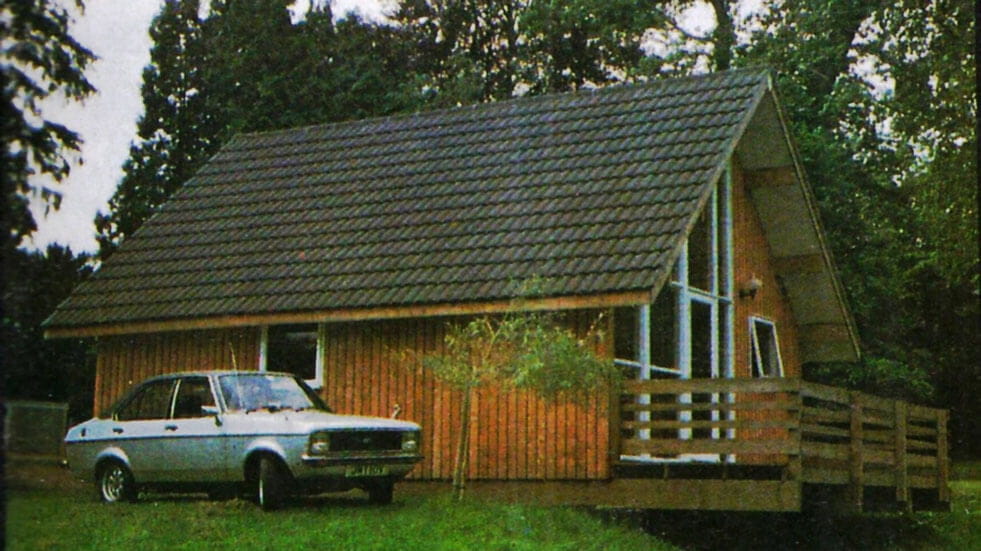 Log cabin holidays have always been popular among the Boundless membership. This picture, taken in the 1970s, highlights the accommodation's close proximity to nature.
The early years of Whitemead Forest Park
From the 1940s, Boundless (or the CSMA as it was then known) harboured dreams of owning a leisure park for its members to enjoy. So there was a great feeling of achievement when, in 1970, it purchased the 33 acres of natural parkland, ornamental trees and rough grazing land in the Forest of Dean that we now know as Whitemead Forest Park – all for a mere £54,000!

The park opened to the public the following year, in April 1971, with a ceremony attended by all the club's important figures at the time, including its president Sir William Granville and first female chairman, Dr Barbara Sabey. For the next 19 years, Whitemead Forest Park was looked after by Mollie and Gordon Gasston, who were the heart and soul of the park during this period – they lived on site all year round with their four sons, and acted as residential wardens.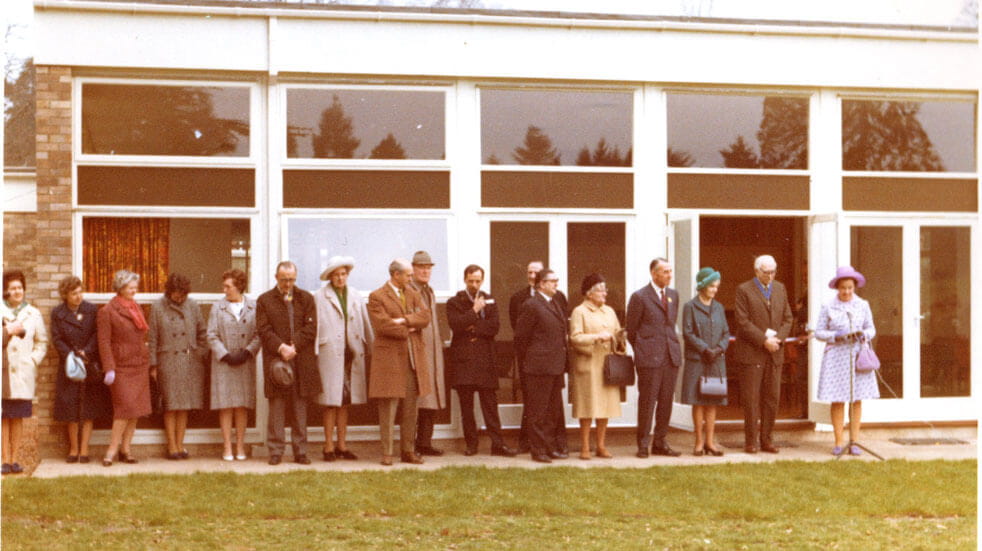 Guests attend the opening ceremony of the new Whitemead Forest Park in April 1971.
"We managed the whole place," explains Mollie, now in her 80s. "We felt so lucky to be able to bring up our boys in such a lovely atmosphere. When we first moved into Whitemead, there were no access roads on the site, so we decided we would build them by hand ourselves, using the rubble from the demolition of the old house."
Christmas celebrations
During their two decades at Whitemead Forest Park, the Gasstons not only provided wonderful camping and caravan holidays for Boundless members, they held regular dances, live music events and fundraising activities. One year, they even catered for Christmas. "We said we'd cook Christmas dinner for everyone," recalls Mollie, "but there was no way we were going to do all that washing up! We agreed to supply the food if everyone brought their own crockery and cutlery, which they'd take back to their caravans to wash. But after we served dinner, the guests told us to go and relax, and they cleaned up the whole kitchen for us."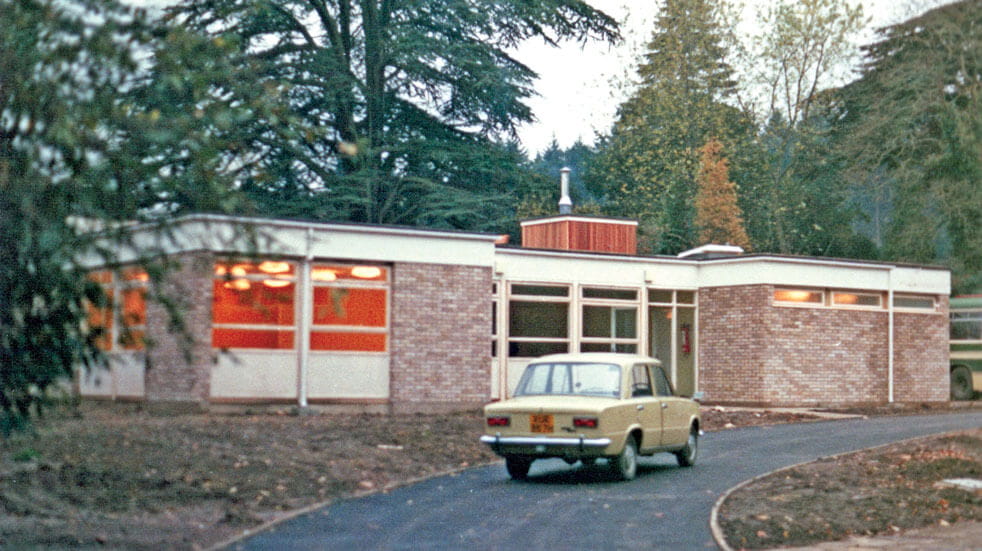 How the Whitemead clubhouse looked during the early days of the holiday park.
Pam Combes, who visited Whitemead Forest Park with her family regularly during this period, remembers it well. "It was Christmas 1974, and Mollie and Gordon decided to host a Christmas break," she says. "The itinerary was set out in advance – carol singing and drinks in the clubhouse on Christmas Eve, followed by midnight mass at the local church; Christmas Day in the clubhouse for dinner, then a sit-down or a nap in preparation for the evening's festivities. On Boxing Day, a coach tour around the Forest of Dean was arranged – then it was party time in the clubhouse again."
Motorsport and fireworks displays
During the 1980s, Boundless was on a mission to "put fun back into motorsport", and so in the summer of 1980 it held the Roy Foster Memorial Autotest at Whitemead Forest Park. With 16 entrants taking part, this extraordinary motorsport event was filled with hilarity and near misses. It was duly reported in the following issue of Civil Service Motoring magazine: "The short grass soon became polished, causing some grip problems. Several contestants decided to take a somewhat different line to avoid the tracks, and found a spot of sharp reversing called for, adding significantly to the interest of the spectators and to their own times!"
As well as motorsport, there were many other events organised at Whitemead Forest Park, including fireworks displays every November. In 1981, £600 was spent on the fireworks – a big budget in its day. Meanwhile, the summer months were full of games and festivities.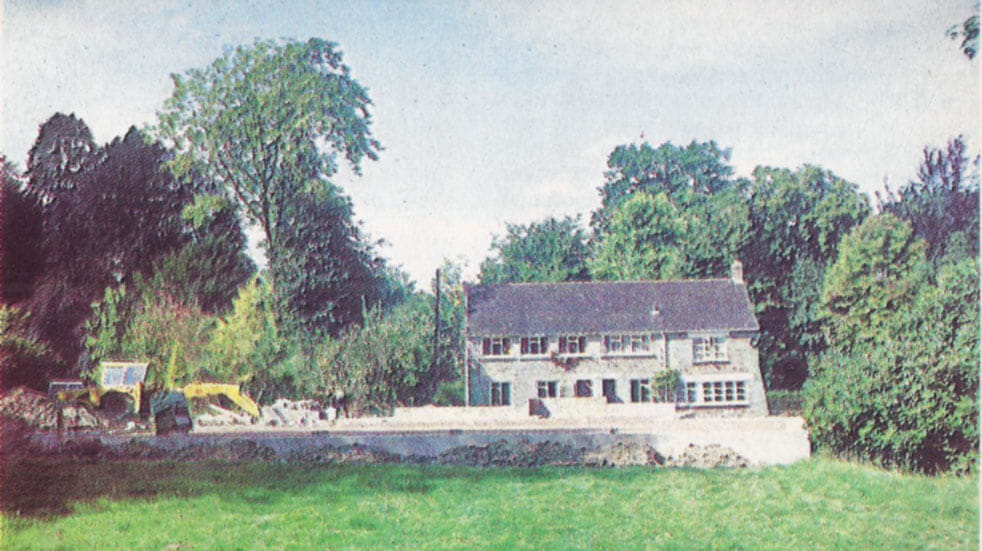 This picture shows building work being carried out on the Whitemead wardens' house in 1970. It was home to the Gasston family for many years.
During the 1990s and early 2000s, Whitemead Forest Park continued to grow as a popular tourist destination, offering log cabin holidays, spa breaks and family caravan holidays. After Mollie and Gordon Gasston moved on from their role as wardens, it took a little while for the park to get back into its rhythm. But gradually, facilities were upgraded and modernised, including the addition of an indoor swimming pool, a spa, glamping pods, log cabins, lodges and apartments, and Whitemead Forest Park had a new lease of life.

Over the past decade, Camping and Caravanning Club rallies, along with various other Boundless events, have been held at the park every year, and in June 2014 a brand-new flagship event was launched: Festival in the Forest. This was a great success, with exhibitors, food producers and live entertainment catering for around 2,000 visitors each day. Whitemead Forest Park never stands still, and its most recent makeover took place in 2017, when the main Forest Point building was beautifully refurbished.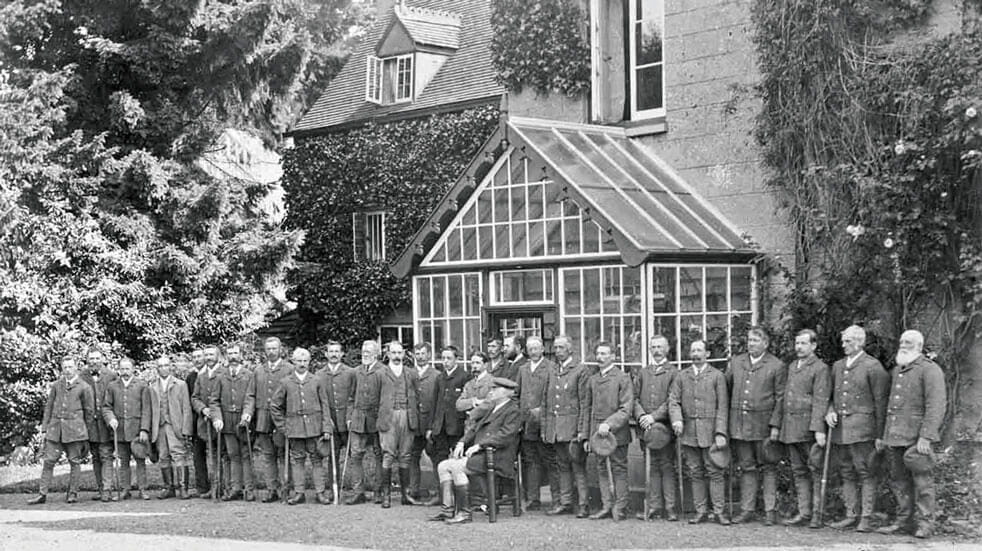 A huge number of people turned out to pay their respects at the 1906 funeral of Satan, the beloved dog of then-deputy surveyor of the forest Philip Baylis.
The future of Whitemead Forest Park
Today, Whitemead Forest Park is a hive of community fun, with members, holidaymakers and locals alike coming back to the park year after year to enjoy the sense of togetherness shared in a beautiful location. As one happy visitor put it: "Friendly staff, safe environment, great accommodation all make for a lovely stay. We have visited every Easter here for the last five years."

The facilities, activities and entertainment laid on are designed to bring people of all generations together, and the staff feel strongly about this, too. "What's nice to see is a mix of families and generations," explains Lauren Kiddy, part of the Whitemead Forest Park team. "We get a lot of families that came here when they were younger and are now bringing their own children and even their grandchildren." This sense of togetherness extends to the team who work at the site. Adds Lauren: "We're one big family who aren't afraid to help each other out and get stuck in."

Whitemead Forest Park has formed a significant part of many Boundless members' lives over the last half a century, and is sure to continue providing memorable Forest of Dean holidays for the foreseeable future.

Visitors can still find a reminder of a former inhabitant of the estate – a Dachshund dog called Satan. When Satan passed away in 1906, his owner Philip Baylis (a deputy surveyor of the forest) held a formal funeral service on the grounds and erected a sundial in his memory – the remains of which can be found on the edge of the parkland behind the new clubhouse.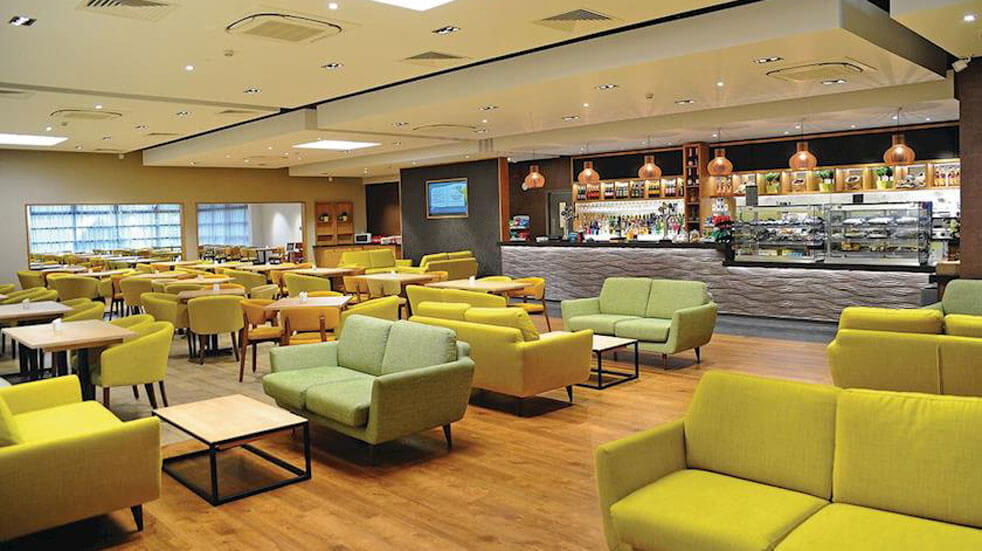 The clubhouse at Whitemead Forest Park has been refurbished to keep up with modern tastes and trends.
Do more with Boundless
Boundless members can save up to 20% on forest holidays at Whitemead, as well as £50 off their next stay. To find out more, click here.