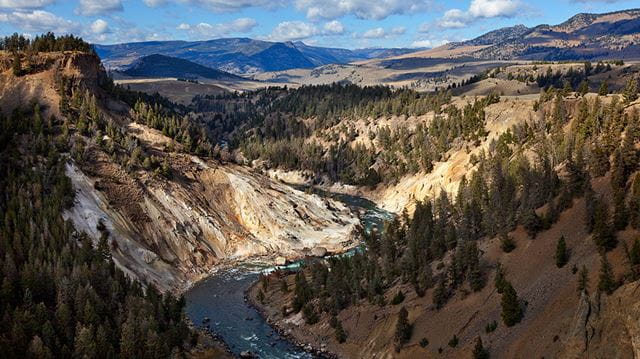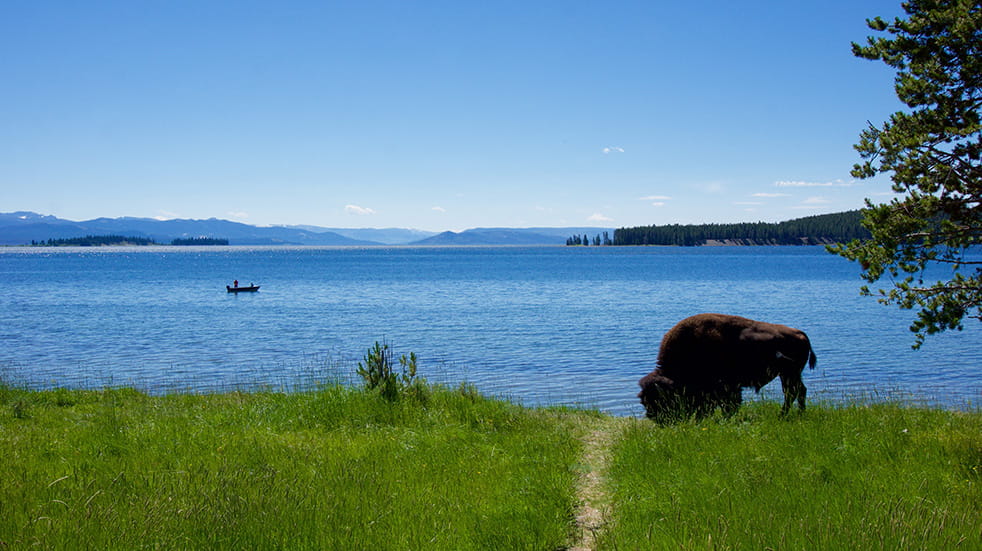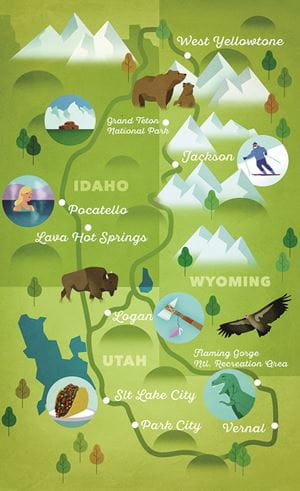 Every year, at least one animal achieves celebrity status at Yellowstone National Park. Stars of previous years include Colonel, a diffident, hulking bison who treated the North American park like a private garden, leaving visitors and rangers in no doubt about who was boss.
When we visited last year, a momma Grizzly and her three cubs had been spotted at Gibbons Falls, in the heart of the tri-state park, which covers 3500 square miles, mainly in Wyoming but overlapping into Montana and Idaho.
Our excitement evaporated when it slowly dawned on us that the little family would have long since scarpered to another part of the park. Hopefully some of the other four million people who visit every year would grab a glimpse.
Yellowstone has a ridiculous wealth of wildlife, including moose, lynx and peregrine falcons, and, while sightings of these aren't guaranteed, you're sure to come across the large herds of magnificent shaggy-coated bison that regularly bring traffic to a halt on the wide highways throughout the park.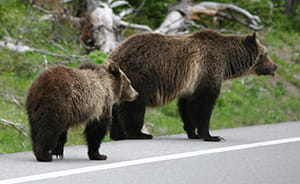 Thankfully, there's the Grizzly and Wolf Discovery Centre (grizzlydiscoveryctr.org) to help get over the disappointment of not seeing the creatures in the wild. Set in the small town of West Yellowstone, this sanctuary is home to a coterie of animals. Among other residents, there are three wolf packs, various regal birds of prey and eight Grizzly bears, including Kobuk and Nakina, who have been here since 1988, when their mother and brother were shot dead by a local landowner.
It's probably the closest you're ever going to get to the latter class of beast without being in mortal danger. They may look cuddly, but these animals – the males on average tip the scales at 42 stone – are capable of delivering a death blow with their paws.
We watched with childish joy as the siblings rootled around for the food hidden by their keepers in the roomy, near-to-nature enclosure, before the pair rolled around play-fighting. We also discovered why Kobuk is affectionately known as 'the Destroyer'. The mangled remains of metal 'bear proof' rubbish bins and skips are pretty impressive.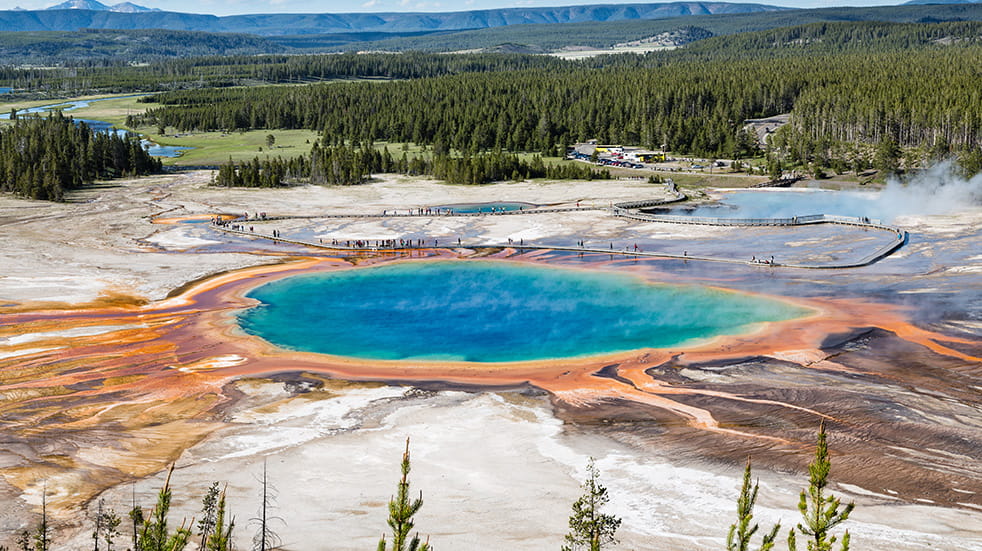 Apart from the wildlife, another reason Yellowstone is America's most visited National Park (nationalparks.org/yellowstone) is for its otherworldly landscape.
It lies on the top of a huge ancient crater, or caldera, the result of a supervolcano that has erupted dozens of times in its 18-million-year history. Today, the landscape still burbles, fizzes and steams.
The headline acts are Old Faithful and Grand Prismatic Spring [pictured above]. As the fine, warm mist clears at Grand Prismatic, your eyes are dazzled by the brilliant blue pool, ringed with vivid gold and russet mineral deposits. With the smell of acrid sulphur in the air, it's like a vision spirited here from another planet.
There's something to be said for visiting in late spring or autumn, when the crowds have dispersed and you can grab a ringside seat at Old Faithful. So called because of her punctual eruptions, there are announcement boards with fairly accurate times to tell you when to gather for the next impressive show.
Many people zip straight to Yellowstone from Salt Lake City, but we took a leisurely trip via the Yellowstone Loop (visitutah.com/road-to-mighty/yellowstone-loop). The route, about 1250 miles long, can be travelled in around seven days (or, like us, you can add destinations; more about those later), with the National Park as the midway point.
The trip offers an insight into the West's pioneering history, a show of natural beauty through the RV window, and a glimpse into the lives of the folk who call this corner of the USA home.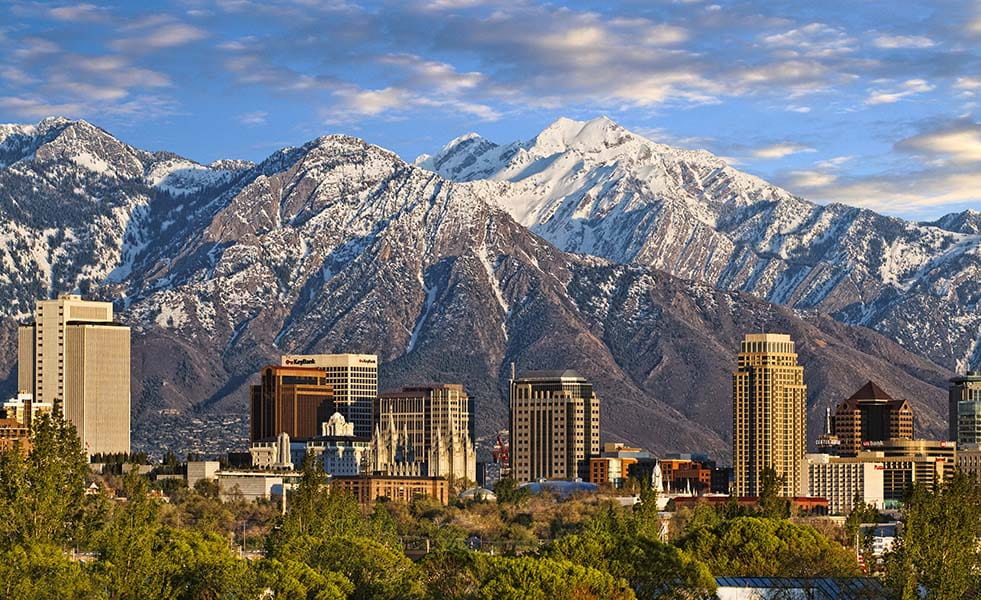 Delta has nonstop flights from the UK to Salt Lake City (SLC), in Utah [pictured], so you can get here in 11 hours. Whatever your religious inclinations, a wander downtown to Temple Square (templesquare.com), the Mormon headquarters, is well worth it before you pick up your RV and head north.
Angie's restaurant, in the town of Logan, around 80 miles away from SLC, makes a great pit stop (angiesrest.com). We joined the locals for breakfast at this much-loved eatery at 8am on a Monday morning and the joint was jumping. We tucked into cinnamon rolls bigger than our heads as our super-attentive waitress kept our coffee cups topped up.
The place is renowned for its Kitchen Sink. Polish off one of these babies, piled high with ice-cream, cookies and cherries, and you'll be able to wear the 'I cleaned up at Angie's Diner' T-shirt with pride (if it will stretch over your tummy!).
Those with a thirst for history will love the American West Heritage Center on Logan's outskirts (awhc.org), an engaging museum set in 160 acres that aims to show what life was like in the Wild West of the 1800s.
Our guide, a 'mountain man' called Wolf Bite (he earned the tongue-in-cheek name after his pet dog gave him a playful nibble) showed us around an original frontier cabin, before we hopped aboard a modern-day tractor trailer to meet the resident herd of bison.
These magnificent beasts were nearly hunted to extinction back in the pioneering age for their fur, meat and skin. Today, the native North American animal's population is back to around half a million: an impressive comeback celebrated by its new status as the USA's national mammal.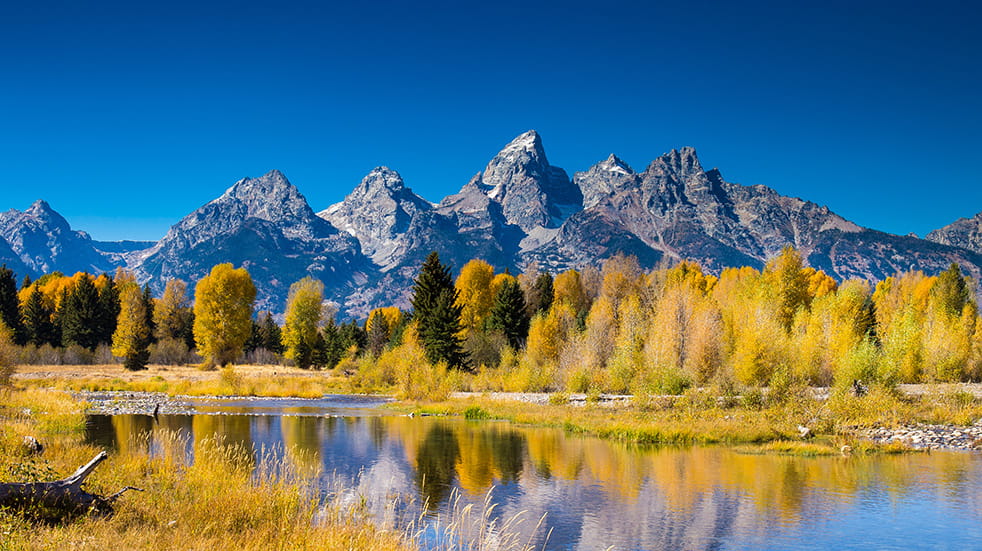 If you do take the Yellowstone Loop, you'll also get two National Parks for the price of one as the route passes briefly through Yellowstone's neighbour, Grand Teton [pictured]. Immortalised by photographer Ansel Adams, this offers a different kind of landscape: a place of jagged, snow-tipped mountains, deep, fathomless lakes and red barns framed by vast blue skies.
One of the extra add-ons mentioned earlier is Pocatello. This town is as cute as it sounds; a pure slice of Americana. We checked into the characterful Home Hotel in the shadow of a rocky mountain, our bedroom windows rattling wildly as freight trains weaved their way from the Midwest to the rest of the country (homehotel.com).
The tiny town is home to the famed Lava Hot Springs (lavahotsprings.com) – a most welcome source of revival for road-trip-weary bodies. We spent around three hours relaxing in the outdoor geothermal springs, which range from lukewarm to pretty darn hot.
Vernal and the Flaming Gorge area (visitutah.com) was our final port of call. It's another add-on, but we were blown away by the cowboy country, with steep, rust-red gorges descending into snaking, wild rivers, and huge, prehistoric-looking condor nests perched imposingly on rock columns; a visual reminder that we humans are merely passing through this most ancient of landscapes.
---
Vital Statistics

---
Getting there
Bon Voyage (bon-voyage.co.uk; 0800 316 0194) has a nine-night fly-drive to Utah, Wyoming, Montana and Idaho from £1895pp, valid for travel in June 2017. Price includes nonstop Delta Air Lines flights from London Heathrow to Salt Lake City, eight nights' accommodation and car hire*.
When to go
Spring, late summer and autumn are great times to experience park life – and to avoid the peak season crowds of high summer.
---
Five must-sees

---
1. Jackson Hole, Wyoming [pictured]
A favourite with the ski crowd. Grab a beer at the Million Dollar Cowboy Bar. It's as kitsch as it sounds, with saddle bar stools and a silver dollar-covered bar.
2. Dinosaur National Monument, Utah
Visit this fascinating riverbed in Vernal, with more than 1500 dinosaur bones embedded in its banks. carnegiequarry.com
3. Bear Lake, Idaho-Utah border
This huge freshwater lake is nicknamed the Caribbean of the Rockies because of its intense turquoise-blue colour. Excellent for boating and water-skiing.
4. Josie Bassett Morris Ranch Complex, Wyoming
Local legend and cattle rustler Josie Bassett Morris (1874-1964) was rumoured to have had a romance with Butch Cassidy. She married five times and divorced four and lived from America's frontier era all the way into the 1960s; you can still go and visit her cabin today. nps.gov
5. Park City, Utah
Home to Robert Redford's Sundance Film Festival, the mountain town is a pretty place to spend the day. visitparkcity.com
---
Where To Eat & Drink
---
Taqueria 27, Salt Lake City
Rub shoulders with the locals at this Latin restaurant. Order some of the fish tacos, served with fresh lime and 'slaw, and the PBLTA – tacos with pork belly, lettuce, tomato and avocado, with jalapeño mayo. taqueria27.com
La Beau's Drive In, Garden City
Raspberry milkshakes are a bit of a 'thing' around Bear Lake, making use of the sweet, juicy fruit grown locally. There's stiff competition for the best shake, but La Beau's Drive In whips up a delicious, dreamy, ice-creamy confection.
The Bluebird Restaurant, Logan
Opened in 1914, this is Utah's longest-running restaurant. Soak up the vintage atmosphere while tucking into original menu items, like a Teddy Bear Sundae. thebluebirdrestaurant.com
Red Canyon Lodge, Flaming Gorge
A cute restaurant offering simple but tasty lunches. Specials include chicken fried steak and the mega Red Canyon Burger. redcanyonlodge.com
Troll Hallen Lounge, Park City
Housed in the five-star Stein Lodge resort, this dining area and bar offers great views of the world-renowned Deer Valley ski resort. For a traditional breakfast, try the buttermilk pancakes with maple syrup. steinlodge.com
---