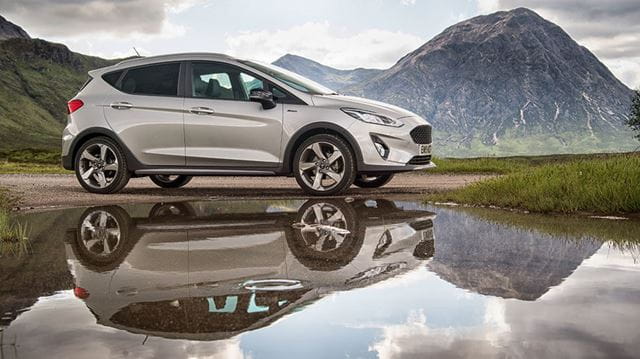 Two years ago, Ford launched the seventh-generation version Fiesta. More than 40 years since the original arrived on the scene, it's still a smash hit with the latest Active X model.
In 2018 there were 2,367,147 new cars sold in the UK. Just over a quarter of a million of those were Fords, including 95,892 Fiestas. That's 262 Fiestas sales per day. Nearly 11 every hour. To put it another way, Ford sold more Fiestas than Kia managed with all of its models put together. And Kia is no minnow – last year it outsold the likes of Skoda, Renault, Citroen and Fiat. You get the picture. People really love Fiestas. It's also the most frequently bought vehicle among Boundless members.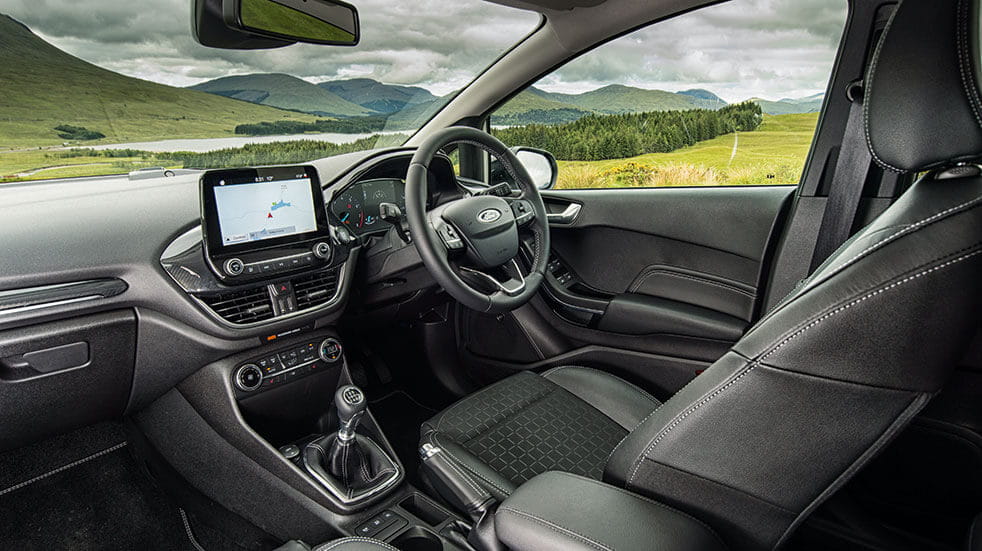 For our road trip in Scotland we've borrowed the new Active version. Slightly taller and tougher than the regular models, Ford says it's "a crossover, made for the city and built for the great outdoors". The crossover bit isn't quite right – crossovers pretend to be SUVs, and the Active is for people who don't want one of those – but the rest makes sense. With more robust suspension and a few extra centimetres of ground clearance, it's definitely sturdier than a regular Fiesta. Think of it as a hatchback in hiking boots.
Our test route was the A82 around Glen Coe in the western Scotland, and traffic moves at motorway speeds up here. The Fiesta motors along keenly and quietly, so much so you'd never guess it makes do with only 998cc and three cylinders. What matters is that it makes a healthy 125hp, or 140hp if you have the quicker one.
---
Discover more of our new car reviews
The Dacia Duster reviewed in Spain's Picos de Europa national park
The Hyundai i30N: a hot hatch for grown-ups
Six of the best new cars in summer 2019
---
Ford Fiesta Active: an SUV-inspired crossover
Is the Active treatment a bit of an illusion? Take the black cladding around the wheel arches. It's hardly a suit of armour, although it might prevent scratches from roadside shrubs. And the scuff plates don't really protect the underbody from rocks like they do on an off-roader. But it does sit a little higher on its springs, meaning there's more fresh air between its belly and the ground – useful on narrow tracks where you're forever dropping over verges to let oncoming cars pass. And the suspension is softer and more forgiving than usual, meaning you can scamper across rough roads without shaking the car to pieces.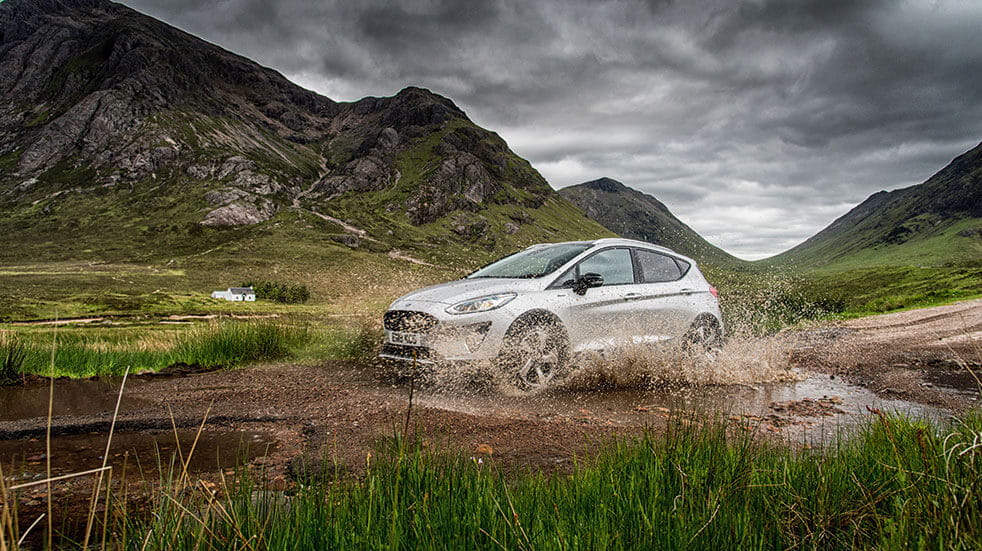 The newfound toughness translates in practical terms to urban use, too. That suspension will soak up speedbumps and cratered tarmac – the flipside being it's a touch less sporty around corners, but you'd have to be going at quite a rate to notice. The raised ride height also means this Fiesta is easier to get in and out of, especially if you jack up the driver's seat a bit. We're only talking about a few centimetres here and there, but they do count.
---
Ford Fiesta Active: the spec
Model: Ford Fiesta Active X, from £18350
Engine: 998cc 3cyl petrol, FWD, 6spd manual
Power & torque: 125hp, 170Nm
0-62mph: 9.2 seconds
Top speed: 121mph
Fuel economy: 46.3–49.6mpg WLTP
CO2 emissions: 113g/km WLTP
Weight: 1241kg
Price: £22,450 (with options)
Fiesta Active styling
It's a Fiesta in waterproofs. It rides a little higher than regular versions and has black/silver cladding around the bumpers and wheel arches. All Actives have five doors and roof rails; some get a contrasting roof too.
Fiesta Active interior
The layout is identical to other Fiestas. It's functional and comfy, feels a bit bigger than it actually is and comes with Ford's SYNC 3 infotainment system – including voice-recognition tech – as standard.
Fiesta Active performance
Fiestas are always fun and so is the Active, despite its softer suspension. The 1.0-litre petrol comes in four flavours from 85hp to 140hp (go for the 125 or 140). There's also a diesel.
Fiesta Active prices
Active prices are comparable to the Titanium and ST-Line models in the regular line-up, starting at £18,350 for the Active 1 and rising to £20,800 for the Active X like ours, which also had premium paint (£500) and B&O sound system (£450, worth it). We'd also add the £100 Comfort Pack for the heated seats and steering wheel.
Ford Fiesta Active X review verdict
The latest addition to the new Fiesta range is a winner. Think of it as the regular car's outdoorsy sibling, the one with muddy boots and an Ordnance Survey obsession. It's not an off-roader – nor even 4WD – but with raised and rugged suspension, it copes fine with rough tracks and shrugs off urban obstacles too. An everyday runabout for a great escape.
---
Alternatives to the Ford Fiesta Active X
Citroen 3 Aircross (from £16,655)
This is either a compact SUV or a beefed-up hatchback, depending on how you look at it. It's roomy, functional, and features all sorts of quirky shapes inside and out. It's no Fiesta to drive, but good value.
Fiat Panda 4x4 (from £14,980)
If it's a genuine, go-anywhere hatchback you want, the legendary little Panda 4x4 is the answer. A real little off-roader, it has loads of character, but outdated tech compared to pretty much all of its competitors.
Dacia Sandero Stepway (from £9195)
If you just need a little extra height to make life easier when loading or getting in and out, Dacia's Stepway could be just the thing for you. It's nowhere near as stylish as the Fiesta but, on the other hand, it's a bargain.
---
Looking for a new car? Save up to £8600 with Griffin
Discover all the latest new car offers from Griffin on a range of popular marques online with EVs, including the Nissan Leaf and Renault Zoe, currently available too.