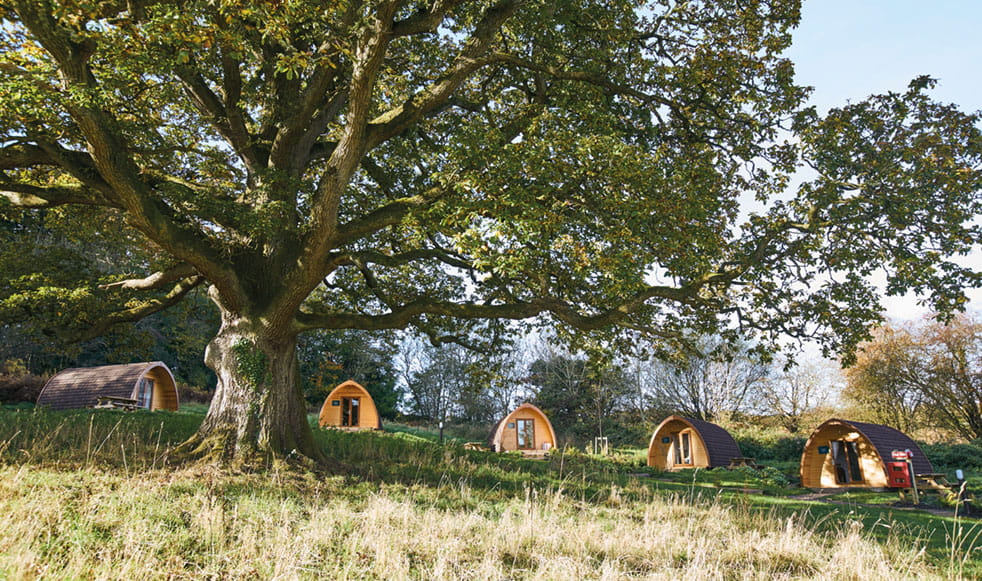 Glamping offers ways to enjoy the outdoors if roughing it isn't your thing – with increasingly varied accommodation options
It started with yurts. Then came bell tents. And now, with eco-pods, tipis, shepherd's huts and treehouses added to the mix, glamping is tempting more Brits than ever. With its unpredictable and often unseasonal weather, Britain is the perfect place to try your first glamping trip.
The appeal is the quirky variety of abodes available, not to mention the countless creature comforts on offer – somewhat out of kilter with the traditional concept of 'roughing it'. Want a woodburner? No problem. How about a fitted kitchen? Consider it done. Cosy double bed, hot running water? All yours! It may be costlier than two nights nestled in a four-man tent, but many glamping sites are tucked away in beautiful parts of hidden Britain. It's a money-can't-buy experience for affordable prices – perfect if you want to experience the freedom of the great outdoors without sacrificing your creature comforts.
Whichever end of the glamping spectrum you're on, there will be something to suit you. Here's a rundown of some of your options.
---
Cabins
Enjoy a UK break in the Loose Reins shepherd's hut.
These can vary from simple modern structures with all mod cons to rustic log structures with every luxury you can imagine, including log burners and Egyptian cotton sheets. They usually have their own internal kitchen, toilet and shower – like a home away from home. For a relaxing, authentic option, stay in a handmade shepherd's hut in the Dorset hills and try your hand at Western horse riding while you're at it.
---
Read more of our expert glamping advice:
Want to try a glamping trip? Follow our handy A-to-Z of all you need to know
The Boundless Camping and Caravanning Group rallies
---
Pods
Glamping in Whitemead Forest Park pods also gives you access to the park's leisure facilities.
Pods offer an eco-friendly (and warmer) alternative to a tent whilst retaining all the ambience of a camping holiday. Don't go without a microwave, fridge and dining table just because you're on holiday. They are great if the weather turns, often providing a TV, DVD player and WiFi. They offer a lodge-style holiday but without the price tag.
There are pods for every occasion at Whitemead Forest Park, starting with B&B pods that sleep two people in a double bed, plus a TV, outdoor picnic table and chairs – and the price includes breakfast in the park's restaurant. For families the Mega Pods sleep four and also have a toilet and washbasin inside the pod, while the Mega Pod XL also includes its own shower. All Whitemead pods except B&B pods also have kitchens and underfloor heating, and command stunning views of the park. And Boundless offers exclusive savings for members of up to 20% off public prices.
---
Gypsy caravans
Pen y Bont gypsy caravan, Bala Lake.
For a taste of the old days, but with a log burner and other comforts, try a restored gypsy caravan. Cooking is al fresco with these wagons, so you need to not be afraid of getting stuck in with a campfire, but a lot of sites offer BBQs, firepits and picnic benches. Often a bit tight on space, these are better for couples than families.
We fancy staying on the shores of Bala Lake in Snowdonia National Park, or perhaps one of the seven opulent Romany-style caravans at Roulotte Retreat. Four miles away from the market town of Melrose, you can even indulge in a private hot tub in the largest of the roulottes.
---
Yurts
The Cotna Eco Retreat yurt on the Roseland Peninsula in Cornwall.
Sort of a glorified tent, but with much more space and comfort, and you don't have to put it up yourself. Yurts vary in levels of luxury, from a basic one with beds and bedding provided, to bells and whistles options that include wood burning stoves, cosy furnishings and power outlets. For a family-friendly adventure with easy access to walking and wild swimming, head to the Orkney Yurt.
Alternatively you can stay at Cotna Eco Retreat in Cornwall. Roam the orchards on the site before bedding down among the trees in one of three spacious yurts named after Cornish apples, complete with double bed, cooking and living space, plus a wood burner for the ultimate cosy retreat.
---
Airstream trailers
The Happy Days airstream trailers are on a park only 10 minutes from the Suffolk coast.
For a bit of Americana without leaving the country, stay in an airstream trailer. Shiny on the outside, cosy and retro on the inside, with a range of luxuries that can stretch to a TV and a hot shower. You might see these converted into mobile coffee shops or ice cream vans, but there is a growing number of them being offered as holiday accommodation. Try the vintage airstream experience in a Happy Days airstream trailer.
---
Treehouses
Escape for a short break in a luxury treehouse.
Sleep among the branches in a luxury treehouse, and relive your childhood dreams of escaping to the skies. Forest Holidays have tempting options at six locations around the UK, including Sherwood Forest and Thorpe Forest.
Canopy & Stars have more than 30 UK treehouses to choose from, including the amazing Sky Den in Northumberland that was featured on George Clarke's Amazing Spaces, complete with a wet room and an opening roof.