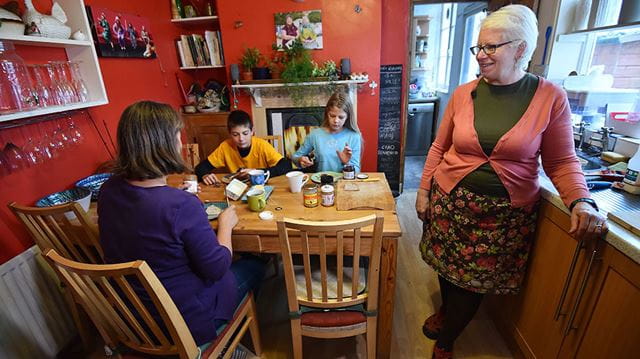 There are more than seven million listings worldwide, but there's always room for one more – here's how to do it.
Back in 2007, Brian Chesky and Joe Gebbia rented out airbeds in their San Francisco apartment to conference delegates because all the nearby hotels were full. Fast forward to 2020 and their home-sharing empire, Airbnb, has over 7 million listings on its website. That's more than the world's top six hotel brands have rooms, combined.
Nearly 250,000 of these listings are in the UK, ranging from city centre apartments to historic castles and pretty much everything in between. Hosts come from all walks of life and do it for a raft of reasons. For some, it's simply a way of making friends or meeting new people, while for others it can cover the cost of a holiday, supplement an income or even become a full-time career.
According to Airbnb, the average UK host earns £3,100 and welcomes guests for 36 nights each year. Some, however, charge more than £3,000 for just one night. Do the maths and it becomes obvious why so many people are jumping on the home-sharing bandwagon.
If you're considering sprucing up your spare room or decluttering your home to become an Airbnb host, our guide will answer some of your questions.
Is my home good enough for Airbnb?
Airbnb accommodation ranges from basic to ultra-luxurious. As long as your price reflects the size, location and quality of your home, and you get consistently positive reviews, the bookings should keep coming.
Cleanliness is an important factor. Airbnb expects hosts to clean every room that guests have access to, especially bedrooms, bathrooms and kitchens, to change bedding and towels after each stay, and to clear food or rubbish from previous guests.
---
Discover different ways to travel
---

What will I be expected to do and provide as an Airbnb host?
Even if you're not welcoming guests in person or staying in the same place, it's important to be available to them throughout their stay. Guests will want recommendations and advice about the local area. It's easiest to put this all in a written guide (see our list of tips, at the bottom of the page). You'll also be expected to supply bed linen, towels, toilet paper and soap as a minimum. Many hosts also provide breakfast and/or a welcome basket, perhaps with tea and coffee, a packet of mints, and sweet or salty snacks.
How much should I charge for an Airbnb stay?
It's completely up to you but Airbnb's pricing guide, based on what's similar nearby, can help you decide. Just like hotels, prices can be adjusted according to the season or whether it's a weekday or weekend, reduced for late offers and can include cleaning charges. Be flexible and see what works.
What will I have to pay to Airbnb?
There's no fee for setting up a listing. Instead most hosts will pay a 3% commission fee on each booking (hosts of premium properties may pay a higher rate). This fee is calculated from the nightly rate plus cleaning fees and additional guest fees, if applicable. Payment will get released to you around 24 hours after your guest's arrival date, and the time it takes to get to you will vary from one to seven business days, depending on your payout method.
Do I have to pay tax on Airbnb income?
Check with HM Revenue & Customs to see what applies to you. As this article was written, it was possible to earn £7,500 tax-free from sharing space in your primary residence, half if you share the income with someone else. You might be eligible for other tax reliefs and allowances. A property let for 140 days or more per year will be regarded a self-catering property and therefore subject to business rates. If you have a mortgage, check with your lender that there aren't restrictions on hosting – and make sure you've got the necessary insurance (see more on this below).
How do guests book with Airbnb?
All bookings will come through the Airbnb website. Once you've confirmed a booking, your Airbnb availability calendar will automatically update and those dates will be blocked. You can also block out any dates you don't want to let – but keep your calendar up to date, as you will be charged a penalty if you cancel a confirmed booking without good reason.

Is it safe to rent my home through Airbnb?
There will always be horror stories, of course, but these are few and far between, particularly when you consider that around 2 million people are staying in an Airbnb on any given night. Unusually, Airbnb encourages reviews from both sides, so you can check out reviews of potential guests before agreeing to host them. You can also require guests to provide verified identification. Airbnb also covers every booking with $1 million in property damage protection and another $1 million in insurance against accidents. This doesn't, however, cover cash, collectibles, rare artwork, jewellery, pets or personal liability.
Tips for boosting your chances of success
Consider imposing a minimum number of nights for a stay, unless you don't mind changing beds, cleaning and washing laundry every day.
Invest in photography. Good pictures of your home will make all the difference to prospective guests.
Be honest in your descriptions. It's much better to exceed someone's expectations than to fall short.
Set 'house rules' and communicate them clearly. These might relate to pets, smoking, off-limit areas, noise or additional visitors.
Research the local area and provide a thorough guide, with contact details and opening times of restaurants or attractions. Otherwise you'll spend the whole time answering questions.
Charge an additional cleaning fee and use it to pay for cleaning supplies or a professional cleaning service. Also leave basic cleaning supplies for guests so they can sort out any spillages.
If you're not able to greet your guests in person, send them a message to make sure they arrived OK and have everything they need.