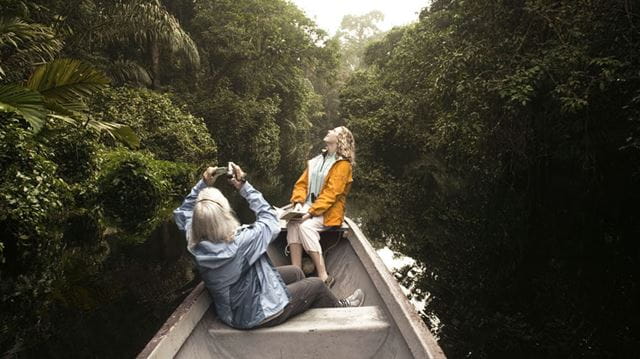 Long-term travels are not just for the young and the retired. With planning, flexibility and calculated risk taking, almost anyone can do it.
Though you may associate backpacking with students and 20-somethings, long-term travel in your later years has many advantages. Typically more financially buoyant than in your youth, hopefully without too many health issues, an inner confidence built from navigating life and any children now grown up (although travelling with children need not be a barrier), your midlife really is a time to travel.
You may be considering a gap year as a singleton, perhaps exploring a new-found freedom or hooking up with a friend or group, or an 'empty nest' couple enjoying time to focus on themselves again (new shared experiences can really re-energise a relationship).
Possibly the most daunting aspect of travel at this age is creating the time for it. Not everybody will be able to, or indeed satisfied by, embarking upon what could be a very long early retirement. Agreeing an unpaid sabbatical, returning to the same employer, might be less easy than earlier in a career.
If you're a contractor you may be best-placed to take time out… Being unavailable for a few months is unlikely to harm your reputation or future ability to get contracts.
You may also be able to combine work and travel and manage to arrange a temporary secondment abroad or move into online-based, location-independent careers, integrating your work into a nomadic lifestyle.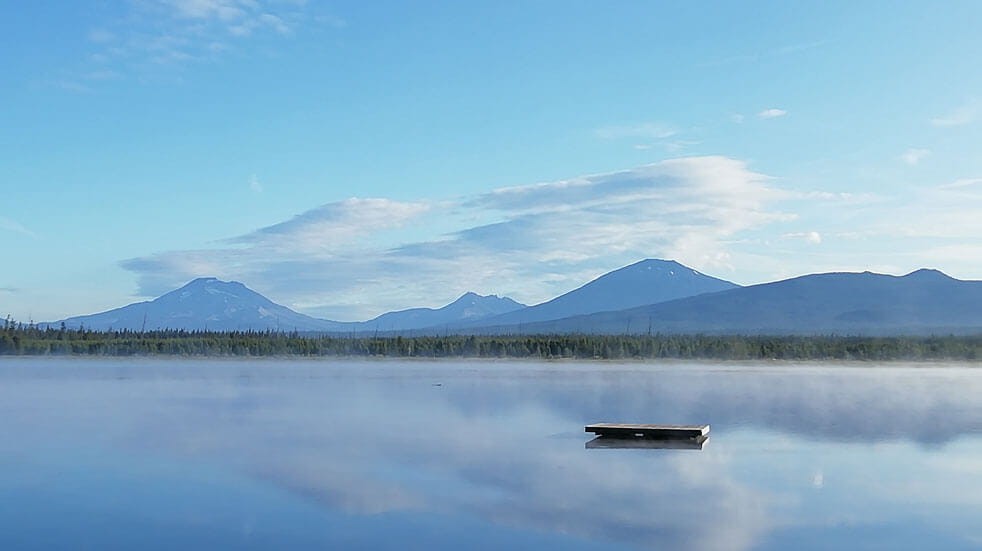 Crane Prairie Reservoir, Three Sisters Wilderness, Oregon, USA © Amanda Spice
Alternatively, you may simply have to risk resigning and stay flexible about your career afterwards. Perhaps it's time for a change? What seems like a risk may actually be an opportunity. How about contracting in your specialism or tutoring or, if you have a house, use that asset to try a B&B?
Working couples may manage on a single income on your return (you can both can look for work, but only one needs to be successful). Really think about it – how much of your spending is habit compared with actually necessary? How little could you live off and still enjoy life? Consider your options for your return, but don't let it be an obstacle.
---
Helping you to book your backpacking trip
The best places to head on your holidays next year
The most inspiring bucket list destinations
How to book your sustainable holiday with the environment in mind
---
Where to go on a midlife gap year
So, you've decided to go. But where? I highly recommend a mix of developing and developed countries: have a loose itinerary for each location but keep the ability to be flexible. As well as lower prices, the cultural differences you'll encounter in developing countries are eye-opening and excite every sense.
When you're travelling independently you may feel nervous at first, but don't be put off. You don't always need a guide. Everyone must eat, everyone needs a place to stay and, if you turn up at the bus station, it's obvious you want to take a bus.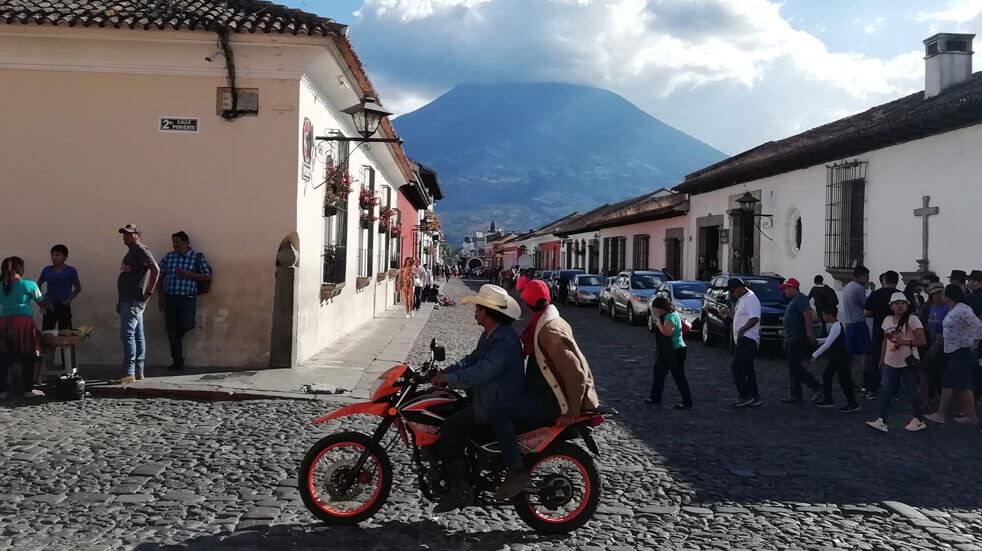 Antigua, Guatemala, backed by the cloud-capped Volcan de Agua © Amanda Spice
Five top tips for your travels
For every person out to trick you (and there are some), there are six complete strangers who will go out of their way to help. Keep your wits about you but don't worry unduly, and see what opportunities present themselves.

Smile, and learn a few local words (write them on a flashcard if pronunciation is difficult).

Bartering can feel uncomfortable (especially when prices seem miniscule compared with home) but, if it's the local custom, it is the responsible thing to do. It gets easier. Just remember that smile!

In developing countries, take some local or long-distance buses, walk in the countryside and head somewhere no-one else visits (staying mindful of your personal safety). You'll get an authentic insight and stories and photos no-one else has.

Cultural overload and constant bargaining can wear you down, so plan in periodic respite in a developed country – either 'chilling out' or perhaps some wilderness camping, long mountain walks and adventure watersports.
Inspiring gap year travels
With my husband, I've taken 'gap years' of between six months and nearly two years, in our 30s, 40s and 50s. Our typical itinerary might be Latin America or Africa, New Zealand or Australia, south-east Asia (Vietnam or South Korea), then Canada or the USA wilderness. We like to spend six to 10 weeks in each country.
We recently undertook three days of hard (cheap) bus travel to reach a rarely-visited Vietnamese mountain village. Untouched by tourism, the welcome was unassuming and genuine. When the evening temperature dropped below 30oC, we walked six miles back to town and saw even more real daily life, up close and personal, than we'd seen from the slow bus out.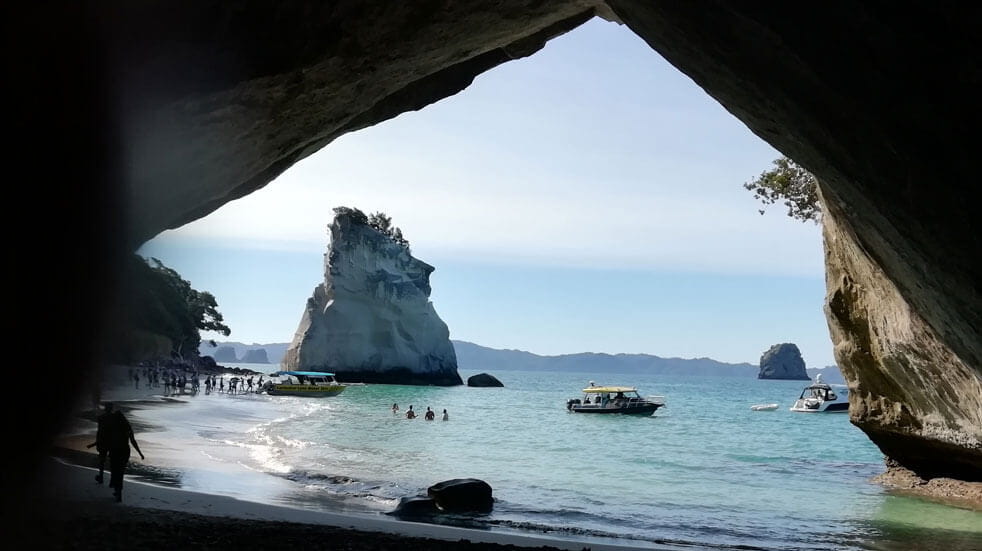 Cathedral Cove on The Coromandel Peninsula, New Zealand © Amanda Spice
When we briefly rejoined the 'tourist circuit' at Halong Bay, we used the money we'd saved to join one of the better tours. So, even here, we got to places other tourists didn't and visited the popular spots before everyone else, leaving just as others arrived.
If you feel the spark to travel, start looking for ways to make it happen. Every breathtaking view, beautiful sunset, native wildlife spot, colourful market, historic building and cultural artefact that you discover will confirm that you made the right decision.
---
You can follow more of Amanda's adventures on her retrospective 'warts and all' adventure travel blog, Travels with Spice, and on Instagram @travelswithspice.
---
Save with your Boundless discount at Cotswold Outdoor
Don't forget, if you're planning some travel, you can stock up on outdoor clothing and equipment at Cotswold Outdoor and save 15% with your Boundless discount either in store or online.