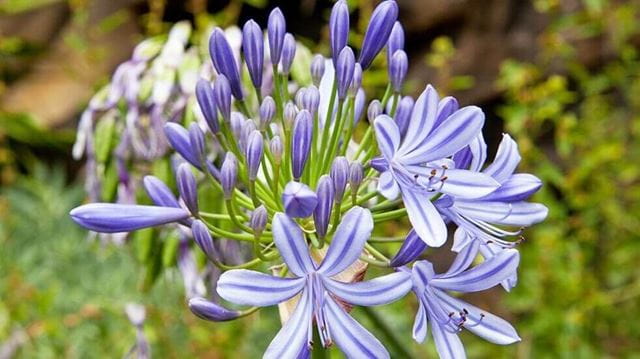 ---

1. Agapanthus africanus (African lily, pictured above))
They're a real star of the late-summer garden, sending up bold green flower spikes, whose fat buds open to deep clear blue globes of trumpet-shaped flowers. They're semi-evergreen, too, so provide colour and interest over winter. 60cm x 45cm in height and spread.
---
2. Anthemis tinctoria 'E C Buxton' (golden marguerite)
A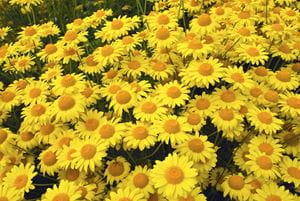 froth of lemon-yellow daisy-like flowers cover this lovely plant from June through to August, while the finely cut aromatic leaves bring a pretty hazy effect. Put in some light support in spring before the plant grows too tall. 70cm x 90cm in height and spread.
---
3. Sedum 'Herbstfreude' (stonecrop)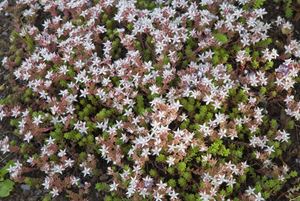 Fleshy leaves are crowned with large pink, flat-topped flowers in late summer and autumn. It's really popular with butterlies and bees, too. Leave the dried flowerheads standing for pretty winter interest. 60cm x 60cm in height and spread.
---
4. Stipa tenuissima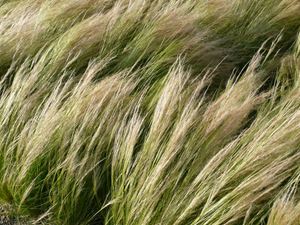 Soft and floaty and turning from a silvery green to a delicate pale buff in autumn, this fabulous grass has loads to offer, and brings wonderful movement threaded through a sunny border. 60cm x 30cm in height and spread.
---
5. Allium sphaerocephalon (round-headed leek)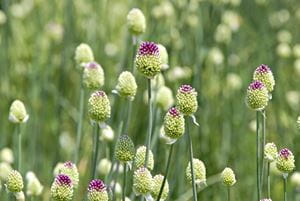 A cousin of the fat globe allium, this slender variety with small oval wine-coloured flowers, has bucketloads of charm. It flowers from July to August and looks fabulous planted in bold swathes among grasses such as Stipa tenuissima (above). 90cm x 10cm in height and spread.
---
6. Lavandula angustifolia 'Melissa Lilac' (lavender)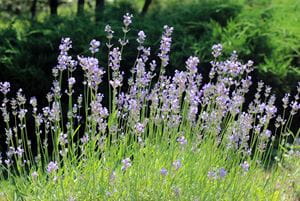 All lavenders will do well on well-drained soil in full sun, but this one is particularly handsome, with its large powdery, pale lilac flowers and great winter structure. It's perfect as an edging to paths and borders and looks fabulous clipped into a dome when it's finished flowering. 60cm x 75cm in height and spread.
---
7. Eryngium giganteum 'Miss Willmott's Ghost' (sea holly)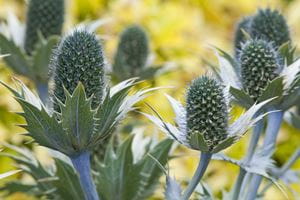 Tall and stately with cone-like flowers surrounded by spiky bracts, this variety in an ethereal silver green. It makes a bold talking point in a sunny border or gravel garden. The leaves are pretty, too, with lovely marbling. 90cm x 30cm in height and spread.
---
8. Erigeron karvanskianus (fleabane)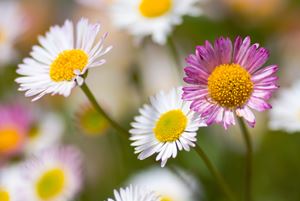 Pretty daisy flowers in two-tone white and pink, with a really long flowering period stretching from June to October, make this a must-have plant. It's happy in semi-shade, too, so extremely versatile. Use it as edging or plant it in cracks in paving. 30cm x 1m in height and spread.
---
9. Kniphofia 'Bees Lemon' (red hot poker)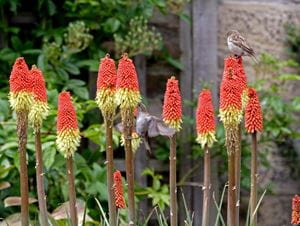 Zingy lime green buds open to bright lemon-yellow spires of flowers from August to September, giving a great display. It looks fabulous planted alongside flowers in contrasting purple. It's also a favourite with bees and butterflies. 1m x 60cm in height and spread.
---
10. Foeniculum vulgare (fennel)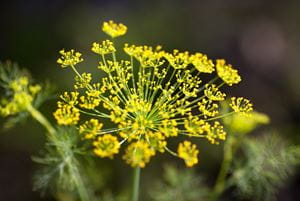 This gorgeous airy plant is perfect in a border or the back of a herb bed. Its feathery bright green leaves have a mild aniseed flavour, while the zingy yellow late-summer flowers make a great contrast to perennials such as deep red or orange heleniums. 1m x 60cm in height and spread.