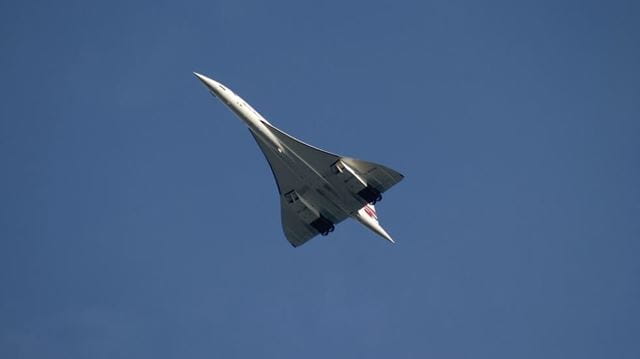 The new museum on the Filton airfield is where all the British Concordes were built. Here's the story so far…
1945-1956: the jet age
The post-war 'jet age' sees a huge growth in commercial aviation and a fascination with supersonic flight. The sound barrier is first breached by a military test plane (the Bell X-1, piloted by Chuck Yeager) in 1947, and by 1954 the US has a supersonic fighter plane in operation, the F-100 Super Sabre.
In 1956, the UK government appoints an expert panel – the wonderfully named Supersonic Transport Advisory Committee (STAC) – to investigate the possibility of a faster-than-sound passenger plane.
1957-1962: developing a dream
Having produced some 400 different reports, STAC recommends design studies on two supersonic planes – one capable of Mach 1.2, and one of Mach 2.0 (twice the speed of sound).
French aviation officials have similar interests, and the cost and complexity of the project leads to a 1962 treaty to design and develop the final plane jointly. Teams are based in Bristol and Toulouse.
1963-1968: what's in a nom?
In 1963, French President Charles de Gaulle makes the first reference to 'Concorde', meaning 'harmony' or 'union'. But in Bristol, journalists are shown an experimental model called 'Concord' (without an 'e').
The first Concorde prototype, 001, is paraded in front of dignitaries at the Aerospatiale plant in Toulouse on 11 December 1967.
UK Minister of Technology, Tony Benn, announces that the British aircraft will use the French 'Concorde' spelling, saying: "Concorde has an 'e' for excellence, England, Europe and entente cordiale." He later admits: "I might have added "E stands for escalation, because, of course, it was very expensive."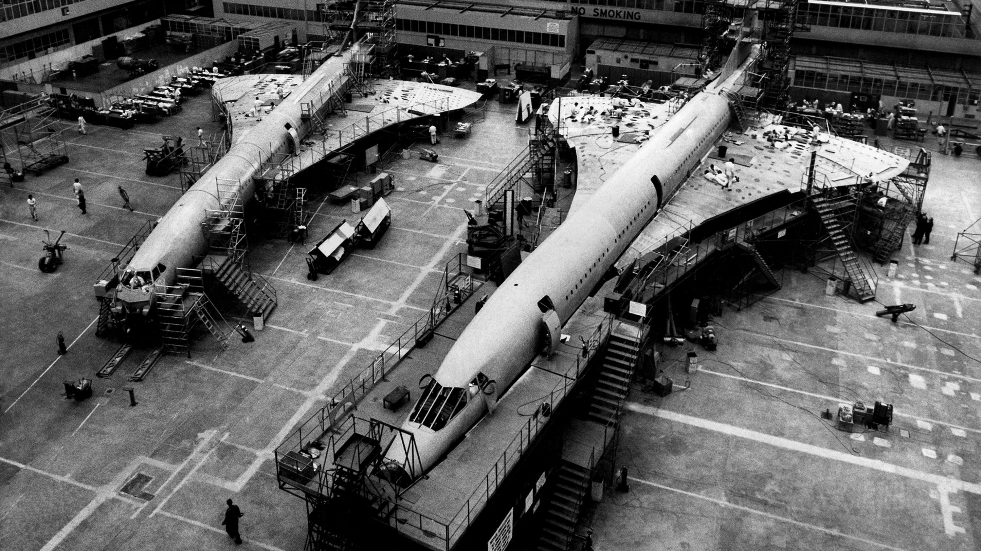 1969: Concorde's first flight
Concorde flies for the first time, with both the French-built 001 and British-built 002 planes commencing test flights. 001 goes supersonic for the first time on 1 October, on its 45th test flight.
1970-1975: testing, testing
Concorde is the most tested plane in history, racking up over 5,000 hours of test flights prior to entering commercial service. In 1970, the first two Concordes successfully reach Mach 2.0.
Numerous discussions take place with international airlines, but concerns over cost and noise pollution mean that British Airways and Air France ultimately emerge as the only buyers. Under mounting financial pressure, the UK and French governments limit production to only sixteen Concordes.
In 1973, the first flight to the US takes place, as a French Concorde flies from Paris to Dallas Fort Worth to mark the opening of that airport.
1976: commercial service begins
The supersonic passenger era finally begins on 21 January, with BA flying from London Heathrow to Bahrain (fare: £356), and Air France flying to Rio de Janeiro via Dakar. After a public hearing, the US approves trial flights to New York and Washington – the Washington route debuts in May.
1977: the first New York flight
BA commences what becomes the classic Concorde route, London to New York, on 22 November. It takes 3.5 hours.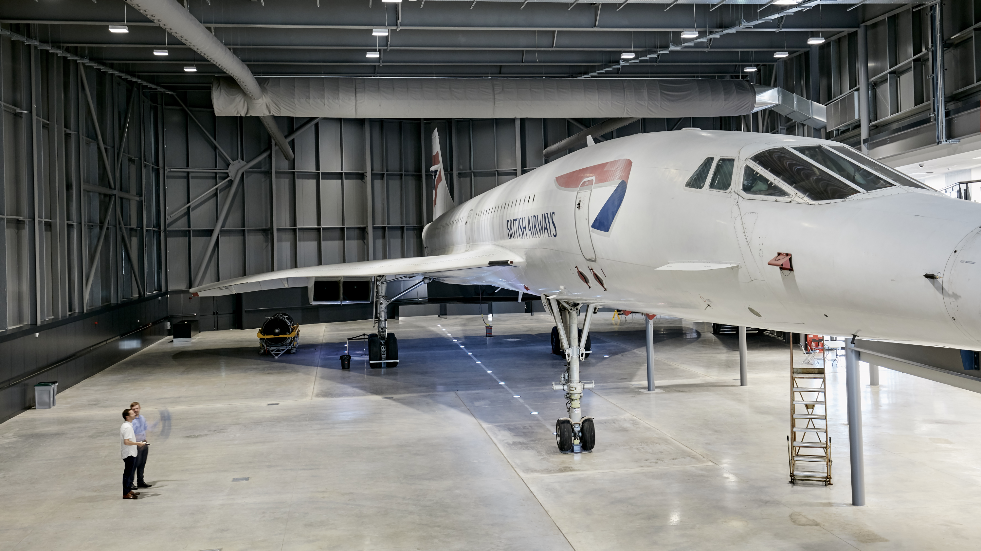 1979: production ends
The French and British governments announce that no more Concordes will be built. The last production Concorde, G-BOAF 216, makes its maiden flight from Filton, Bristol.
1980-1999: winning hearts, breaking records
For two decades, Concorde becomes synonymous with luxury and style. Royals and celebrities rub shoulders with some 2.5 million regular passengers who pay up to £8,292 (London to New York return) to experience supersonic flight.
In 1985, singer Phil Collins uses Concorde to perform at Live Aid in both London and then Philadelphia on the same day, July 13.
In 1986, Concorde makes a full round-the-world charter flight, covering 28,238 miles in a total flying time of 31 hours and 51 minutes.
On 7 February 1996, Concorde G-BOAD sets a new world speed record for the New York – London route, touching down in 2 hours 52 minutes 59 seconds. Passengers and cabin crew are informed of the record by the captain on landing.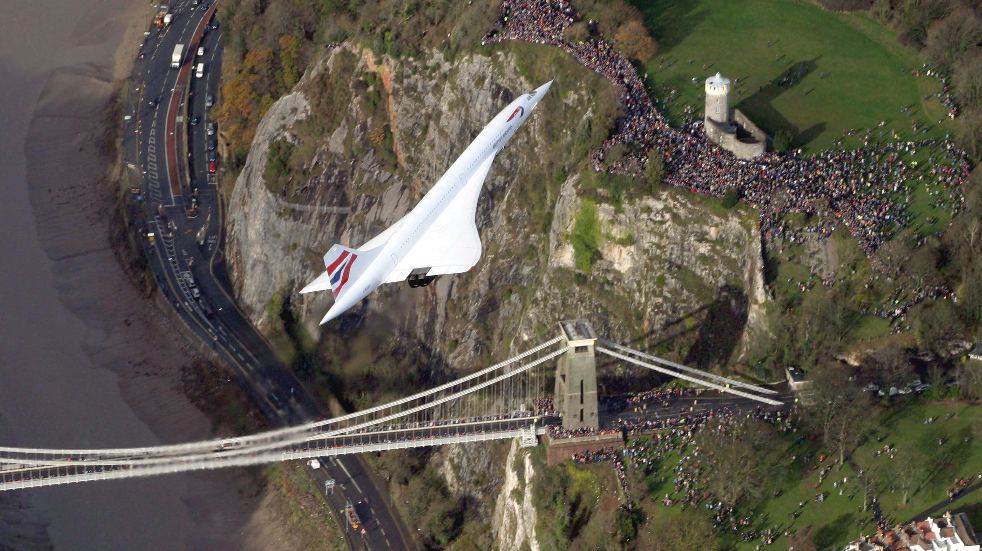 2000 – 2003: the end of an era
Concorde's greatest disaster: on 25 July 2000, Air France Concorde F-BTSC crashes in Paris shortly after take-off. All 109 passengers and crew are killed, as well as four people on the ground. The crash is traced to a piece of metal on the runway, which punctured a tyre and caused a fuel tank explosion. Concorde flights are temporarily suspended, and public confidence is dented.
Following the September 11 attacks on New York's Twin Towers in 2011, Concorde passenger rates fall below 50%. By 2003, Concorde is no longer considered commercially viable, and BA and Air France announce its retirement.
The final commercial flight takes place on 24 October 2003, and the last ever flight, on 26 November, sees G-BOAF 216 flying over Clifton Suspension Bridge back to Filton, Bristol.
2017: back on display
The same Concorde – the last to be built and the last to fly – moves into a purpose-built hangar at the new Aerospace Bristol museum at Filton.
Step aboard Concorde and dine under the wings of the famous aircraft at Aerospace Bristol. After a drinks reception and private tour you'll take your seats for a three-course gala dinner. There will also be a special Q&A session with two former Concorde pilots. To remember the night, take home a signed copy of the official Concorde book The Concorde Story written by guest pilot Christopher Orlebar. Book tickets online here.
16th November, Aerospace Bristol, £198 for two.
Save