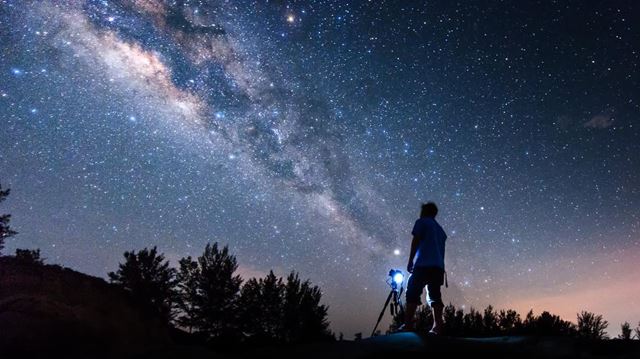 September and October are ideal months to build a closer relationship with the night sky, and you can make a start with nothing more complicated than your eyes and a free app. Read on to find out how to get started.
Your expert: Will Gater, an astronomer, presenter, science journalist and author, includes New Scientist and BBC Sky at Night Magazine among his many credits.
Illustrations by James Pop
On a clear September night, as the last warm breezes of summer slip away with the twilight, there's nothing I love more than standing outside in a dark spot and just looking up. At this time of year, as darkness settles in, the Milky Way – the misty band of light formed by the myriad stars of the galaxy we live in – hangs like a glowing ribbon above the southern horizon; it's a sight that never fails to stir the imagination, as thoughts swirl of the billions of suns on show and the distant worlds they likely harbour.
As the hours move on and the sky turns, the first signs of the winter stars appear over the eastern horizon, too, with constellations such as Taurus and Orion heralding the biting, frost-flecked nights of stargazing to come.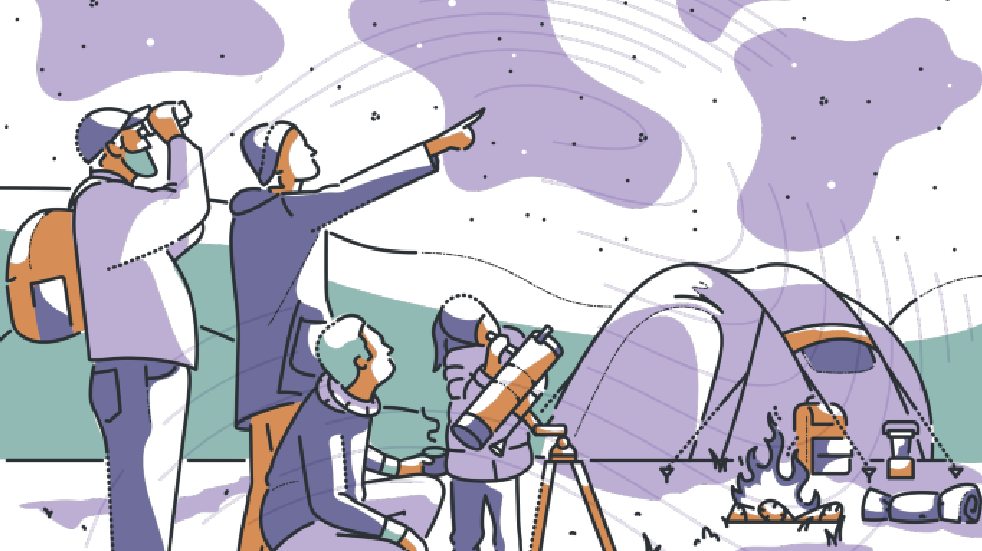 These evenings – caught between the wonders of the summer and winter night skies – are what, to me, make September and October the perfect months to get into astronomy. If you've ever entertained the idea of exploring the night sky more, let me be the one to say, "Do it – you won't regret it!" Whether you want to learn more about the cosmos, meet new friends or simply embrace the mental health boosts that stargazing can bring, it's a hobby that can change your life in many ways.
Perhaps one of the reasons people feel a little nervous about starting out in astronomy is because they have an impression that it's rather complex and that you must have a huge telescope to see anything. This, really, couldn't be further from the truth. There are lots of things that you can see in the night sky without equipment or an expert knowledge of celestial navigation. For example, there's the simple beauty of the glittering constellations from a dark-sky spot; the Milky Way arching across the sky; meteor showers; and even rarer phenomena such as aurorae. In fact, when it comes to kit, some of the things that are actually a good idea to invest in early on aren't fancy optics, but good-quality thermals, a warm coat and a decent pair of boots to keep your feet warm.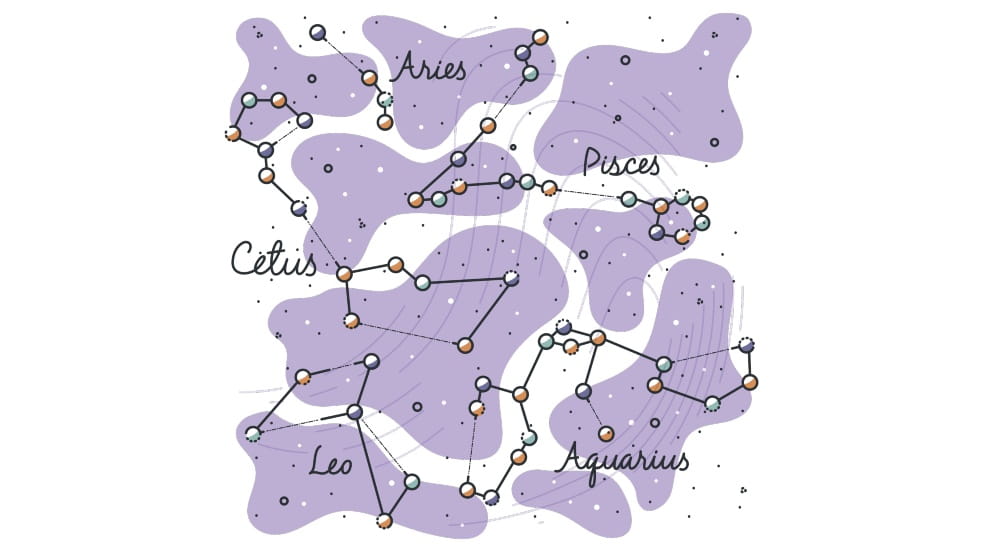 Wrapped up against the cold air and ground, you can stand out looking for longer, giving yourself enough observing time for your eyes to adjust to the darkness. Around 30 to 40 minutes is usually sufficient for most people to get reasonably adapted to the lower light levels of the night, and this will allow you to see more stars – something that's especially important if you're making the effort to travel somewhere dark for stargazing. A head torch with a red filter over it can also be helpful for spotting hazards and looking at star charts as and when you get adapted to the dark, since a dim, red light doesn't spoil your night vision as much as other colours.
And speaking of lights, these are something every astronomer in the UK, unfortunately, must deal with. While there's plenty to see in the night sky with just the naked eye, light pollution – the wasteful glow that reaches into the sky from our towns and cities – often makes glimpsing those things tricky. If you can travel away from brighter areas you'll see much more, but if that's not possible, try to keep nearby lights out of view as much as possible.
---
Getting started…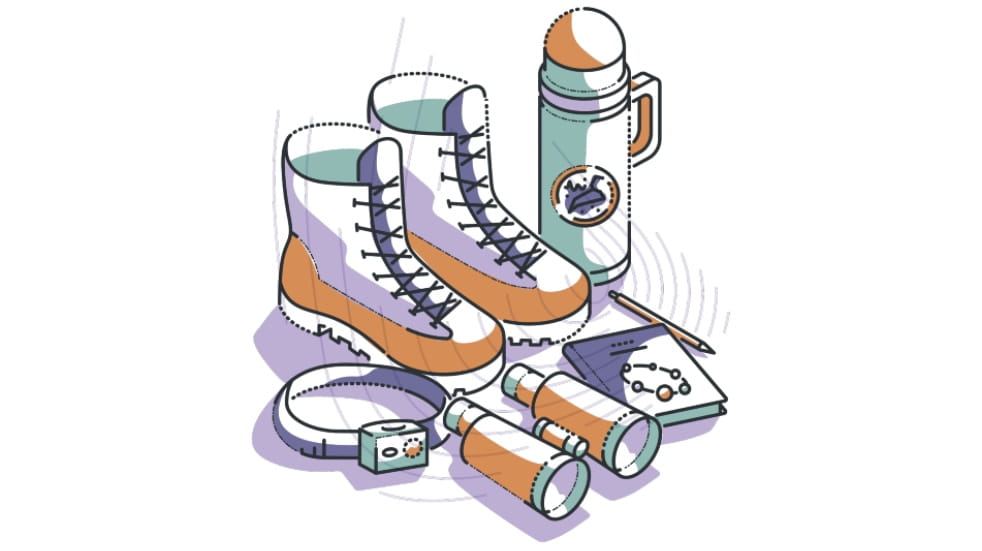 Once you're exploring a clear night sky, you'll naturally want to identify the things that you're seeing. If paper charts appeal, there are many great star atlases available, such as Sky & Telescope magazine's Pocket Sky Atlas as well as Norton's Star Atlas. If apps are more your thing, try the excellent SkySafari Plus for smartphones, which offers the bonus of being able to tell you if any of the planets are on show from your location.
A good way to start learning how to navigate the night sky is to get yourself familiar with bright patterns or shapes made by stars – not necessarily the constellations themselves, as that can come later, as you gain more familiarity with them. A nice example of one of these 'starter' patterns, at this time of year, is the large 'cross' shape made by the brighter stars in the constellation Cygnus. At the top of the cross is a really dazzling star called Deneb – find it and the cross pattern then becomes a jumping off point to other arrangements of stars and fainter constellations.
As you become more familiar with the night sky, you may want to delve a bit deeper. But you needn't jump straight to getting a telescope if that's not something you want to commit to right now. A pair of binoculars – which you may already have – will often be able to show you sparkling smatterings of stars known as star clusters, as well as a few of the brighter galaxies. Objects such as the Orion Nebula – a glowing cloud of gas that exists more than 1,300 light years away – are also within reach of binoculars.
If you make the step up to getting a telescope, a well-built, basic one – with good optics – will be able to show you the cratered highlands of the Moon, the rings of Saturn, the four largest moons of Jupiter and much more besides. In many ways, though, that's a whole new story. Because, with astronomy, there is quite literally a universe of possibilities when it comes to things to look at.
---
How to learn about stars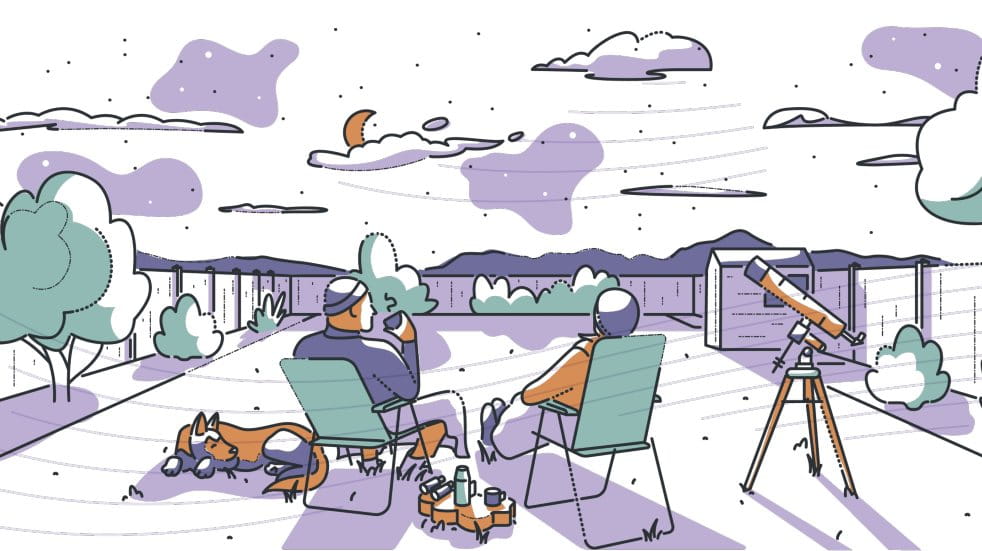 There's plenty of material, both practical and inspirational, across all types of media. Apps can be a very useful aid in identifying astronomical objects and SkySafari Plus is a good one. It provides a simulated view of the night sky – with customisable labels and markings – right on your smartphone. It's ideal if you're stargazing while out and about, and allows you to identify constellations, find out where the planets are and much more. There's even a handy red-light mode, which can help preserve your night vision.
Podcasts
Podcasts offer an easy route to learning around the subject and looking at aspects in greater depth, and the Royal Astronomical Society's monthly Supermassive podcast provides regular updates on cutting-edge astronomical research and the science behind stargazing. Recent episodes have covered diverse topics from radio astronomy to the hunt for Planet 9 and the James Webb Space Telescope.
Magazines
For newcomers to stargazing, the BBC's Sky at Night Magazine is great for keeping up to date with the latest developments in astronomy. Each issue contains a detailed guide to that month's night sky – listing celestial sights and phenomena that'll be on show – as well as in-depth articles on the science of space.
TV series
On TV, the sci-fi series The Expanse (Amazon Prime) has been a hit with astronomers, thanks to its gripping blend of fast-paced drama, planetary exploration and edge-of-your-seat mystery. The show follows the lives of a large cast of solar system inhabitants as their fates are thrown together by a maelstrom of strange events, futuristic geopolitics and deadly stand-offs.
Festivals
For a more social activity, how about a festival? Set in the impressive surroundings of the Jodrell Bank Observatory in Cheshire, the BlueDot music festival (discoverthebluedot.com) brings together a spectacular line-up of acts and a dizzying array of science talks and interactive activities. This year, it took place in July and played host to Groove Armada, Hannah Peel and Paraorchestra, and European Space Agency astronaut Tim Peake.
---
Do more with Boundless
Save £10 on a Dark Sky Wales stargazing experience

Expert astronomers at the Brecon Beacons observatory will help you spot significant celestial sights. Discounted price for two is £40. boundless.co.uk/virginexperiencedays
Free live astronomy event

If this has piqued your interest, find out more with Will Gater as he introduces the fascinating world of astronomy in his third live webinar for Boundless on 17 November. Sign up at boundless.co.uk/stargazinglive.