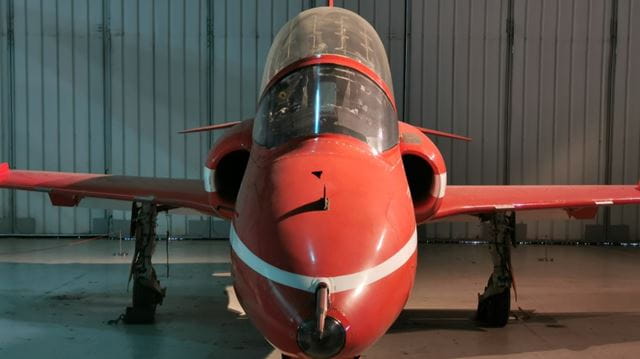 Every year, we see the Red Arrows perform flyovers and jaw-dropping stunts at air days and other special occasions.
This elite group – officially known as the Royal Air Force Aerobatic Team – has been wowing audiences since its formation in 1964. But what exactly does it take to climb into the cockpit of one of these iconic planes and take to the skies? To find out, we asked Boundless members to send in their questions to long-serving Red Arrows pilot Flt Lt David Simmons...
---
Q: What does a typical show day look like for you?
Bet Smith
Flt Lt Simmons: Normally, we transit to a show location the day before and stay somewhere local in a hotel. We usually have breakfast together as a team, then head off to the airport we're flying from. Once there, we all have our own jobs to complete, such as checking the weather and liaising with air traffic control, to get ready for the show.
When we're ready to fly, we brief for the trip and head to the jets. Each trip is typically up to an hour long and may include a display and some flypasts, which is the best part of the day. When we land, we debrief the display to see how we could do it better next time. If we're close to the display site, we'll always try our best to go along and meet the crowd for an hour or two and answer everyone's questions as best we can. Some days we'll have another display to do before heading back to the hotel for some dinner, or we'll head back to our base at Scampton ready for the next event.
---
Q: If you could fly any aircraft, modern or historic, which would you choose and why?
Bryan Hay
Flt Lt Simmons: If I had to choose any aircraft, it would have to be the SR-71 Blackbird. In terms of pure speed for a production aircraft, it's never been matched to this day. I've had a love for that aircraft since the 1980s, when I saw it fly during the Mildenhall Airshows. Others that are worth a mention would be the Spitfire, F22 and the X-15.
That said, I've been incredibly lucky so far in my flying career having flown the Tornado GR4, Harrier (AV-8B), F5 Tiger and now in the Hawk T1 with the Red Arrows so I've been able to tick off a few real greats, which has been an unbelievable privilege.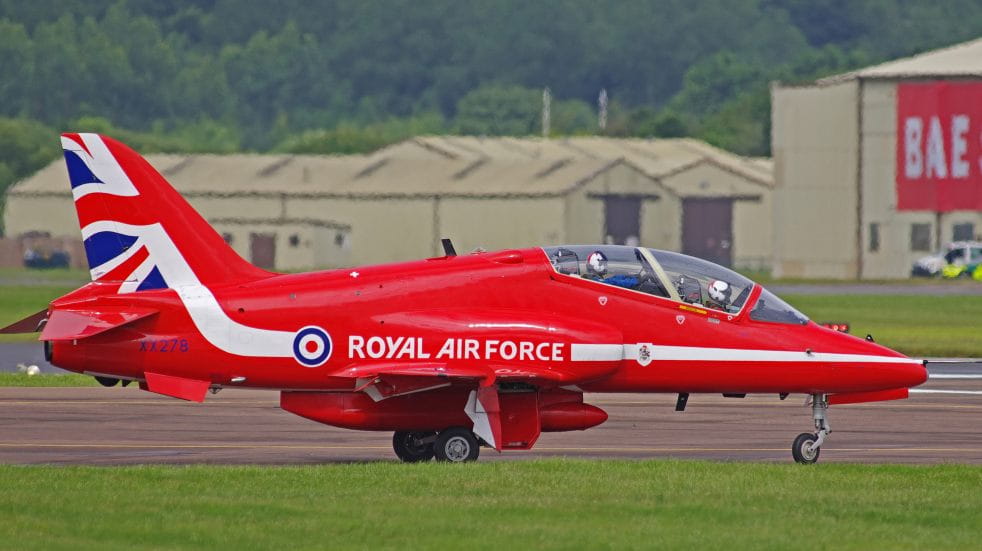 ---
Q: Have or would you ever take a member of the public for a flight?
Darren Green
Flt Lt Simmons: Unfortunately, we very rarely get to fly other people in our displays. We have our own supervisors that come and check that we are displaying safely from time to time and we do carry other fast jet pilots that might be looking to try out for the team – but flying a member of the public is very unusual, I'm afraid.
During the summer display season, we train a select group of engineers called 'the circus' to come and fly with us during the transits between each display. They do the aircrew survival training and pass all the stringent medical exams before flying. Once fully trained, they become an invaluable member of our crew helping with all the engineering requirements of operating a fast jet away from base during the busy display season.
---
Q: What is the most taxing airspace you fly in, regarding airport landing and take-off?
Gerry Voller
Flt Lt Simmons: Often, we are tasked to do some high-profile flypasts in some of the most congested airspace in the world, also requiring us to land at busy international airports.
As you can imagine, this kind of thing requires significant coordination to keep us separated from airliner traffic. We have a great operations team that puts in the hard work and required coordination to allow us to land and operate from the busiest of airports. Since I joined the Reds, we've toured North America and even landed at Boston Logan International Airport. We arrived as an 11 ship [ie all the jets arrived together] into Toronto and flew right through the centres of Washington DC and New York City – so there really isn't anywhere we can't go, it's just that some places take a bit more coordinating than others.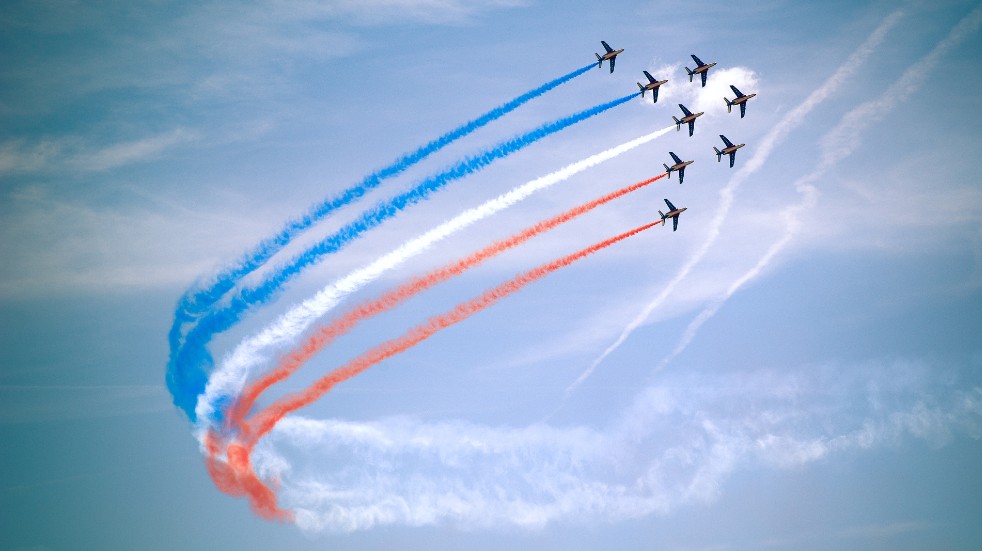 ---
Q: What will the Red Arrows fly when the Hawk T Mk1's get to the end of their service life – they must be getting on a bit now?
Tim Gibb
Flt Lt Simmons: You are absolutely right, the Hawk T1 is as old as me – but it was built by the best at BAE and was made to last. It's also a relatively simple aircraft and very reliable, which is exactly what we need to regularly achieve a flight of nine jets ready for a display.
I believe the out-of-service date for the T1 is somewhere in the early 2030s, which is incredible. So, for the time being, we are more than happy to fly them and will continue to do so for the foreseeable future. As to a replacement – that is beyond the horizon at this stage, and I look forward with excitement to finding out one day what it might be.
---
Q: Does the G-force on manoeuvres affect the fluid in your eyes?
John O'Brien
Flt Lt Simmons: The G-forces that we face when flying affect the body in several different ways, but the most prominent effect is that on your blood flow. When you pull a lot of positive g, the blood wants to drain from your head and pool in your legs and feet. For this reason, we wear trousers that inflate as you pull g, and this helps squeeze the blood back up into your head, where you need it most for the brain. We have a centrifuge in which we can train for this at RAF Cranwell – it's a useful tool to help us learn how to overcome these forces through breathing exercises and straining against the force.
In terms of your eyes, the fluid itself isn't necessarily affected, other than its increased weight, but if less oxygen is delivered to the eye then visual acuity can be degraded (grey out) and if not checked can lead to black out. So, with training and proper equipment we learn how to overcome the G- forces, but regular training is essential. Hence our need to be physically fit to fly every time we step into the cockpit.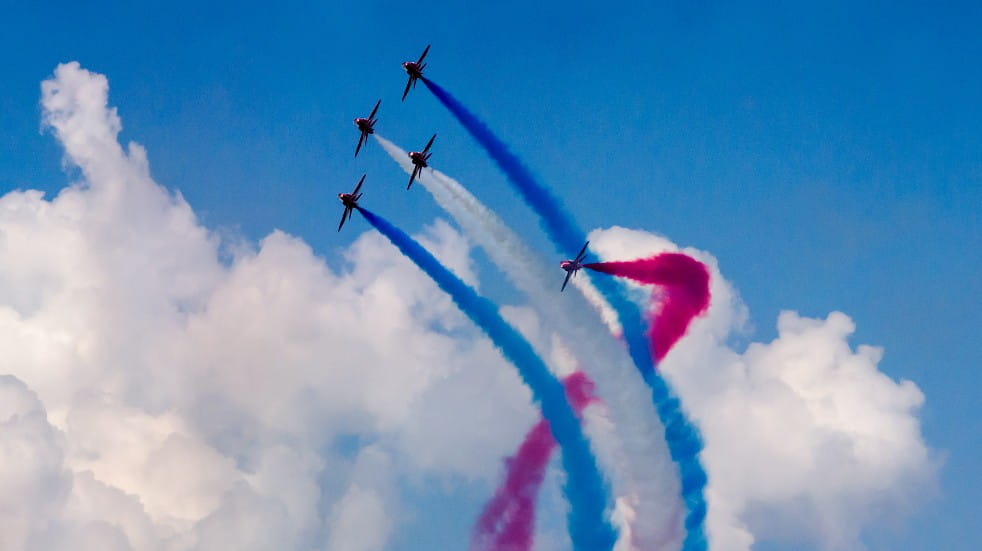 ---
Q: What's your favourite thing about being a Red Arrows pilot?
Aarav Kaur
Flt Lt Simmons: There is very little not to like about being a Red Arrow pilot and to be one of the few people who can wear the Red suit and display in front of the public. I count myself extremely lucky to be in this privileged position. The flying is amazing, and I can't recommend a career in aviation highly enough if you are at all interested in this field.
The job, however, is much more than just flying. We get to meet some amazing people, travel all over the world, and to be part of the amazing wider Red Arrow team/family that has the unique job of promoting Britain and trailing the iconic Red, White and Blue smoke wherever we represent our country.
---
Live event: the Red Arrows
Join Flt Lt Simmonds for a free live online event in November, when he'll share stories of the demanding training, inimitable teamwork and jaw-dropping manoeuvres that create the Red Arrows displays and reveal what it's like to be part of one of the world's most famous aerobatic teams. The event is free to Boundless members – just sign up here.
Photos: Getty Images