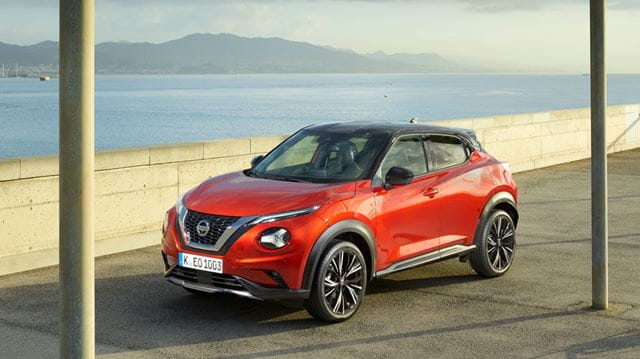 Discover six of the best new cars on sale now, reviewed on performance, ride, handling and emissions by our motoring expert, Paul Horrell from Top Gear.
Crossover: Nissan Juke
Nissan's British-made Juke doesn't hook buyers via dreary rationality. It's the looks, darling. Its face is lit by bulging eyes with sharp brows. Its panels are pressed with jagged creases and arcs, painted two-tone. Wheels are big, proportions tall but not boxy.
The old Juke sold in huge numbers for similar reasons. The new one adds some rationality. It's roughly competitive with small-crossover rivals for cabin space and boot (this was super-cramped before) and has smart interior decor materials and connected systems. All models are motivated by an economical, fairly plucky and civilised little turbo. The suspension is a bit disturbed by bumpy roads, but you can live with that because it handles twisty roads pretty keenly but calms down on motorways.
The spec: Nissan Juke Tekna+
Engine: 999cc 3cyl petrol, FWD, six-speed manual
Power & torque: 117hp, 200Nm
0-62mph: 10.4 seconds
Top speed: 112mph
Fuel economy: 45.6-47.9mpg (WLTP)
CO2: 112-118g/km (NEDC)
Price: £23,895 (range starts at £17,395)
---
New vehicles to jump start your 2020
The best new electric cars on the market
Is the new Ford Fiesta still Britain's favourite car?
Our review of the highly anticipated Tesla Model 3
---
Hatchback: Skoda Scala
Skoda has been busy with crossovers lately, but this is a return to its heartland. It's just a regular hatchback, shorn of any airs 'n' graces, obsessively focused on value and real-world practicality. The squared-off body encloses a lot of passenger and boot room. Equipment provides all the basics, plus uniquely practical touches – an umbrella is telescoped into the door.
Driving at normal speed, the suspension is comfy even over rough roads and the engine is quiet and economical. But pelt along and it gets a little noisy and flustered. So you're not paying for sophisticated sportiness, flash gadgetry or fancy brand marketing. You could sneer it's a car for non-car-enthusiasts. But there are a lot of those and this one's very well executed.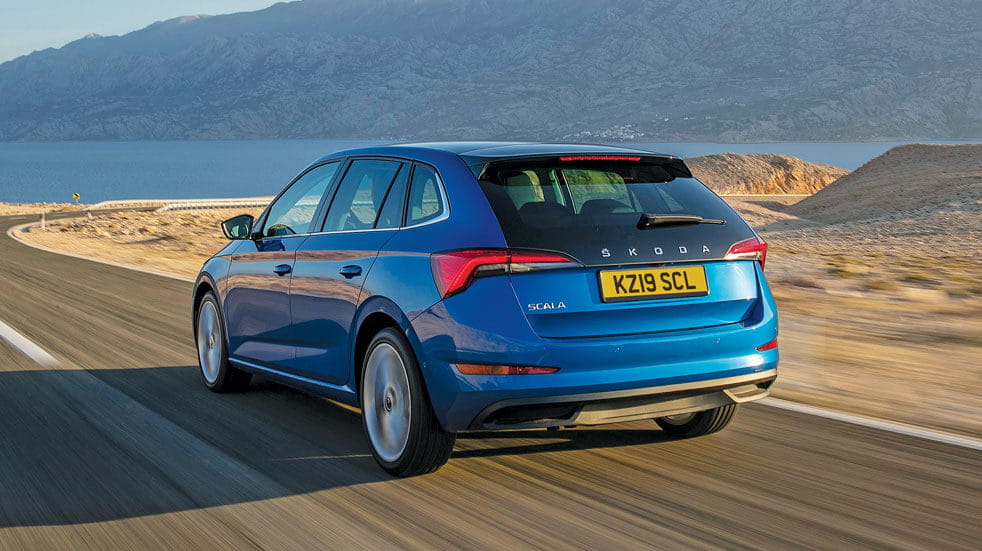 The spec: Skoda Scala SE 1.0 TSi 115
Engine: 999cc 3cyl petrol, FWD, six-speed manual
Power & torque: 115hp, 200Nm
0-62mph: 9.8 seconds
Top speed: 125mph
Fuel economy: 43.5-49.6mpg (WLTP)
CO2: 113g/km
Price: £18,585 (range starts at £16,595)
Hatchback: Kia XCeed
XCeed is a clever name. This car is derived from the Ceed hatch, but it's slightly taller, moving it towards (but not arriving at) a crossover's height. The XCeed looks pointy and assertive, thanks to different body panels than its twin. Inside it's pretty much the same, which is no bad thing at all.
Real crossovers can be ungainly to drive and thirsty. The XCeed feels agile through corners, and is economical yet has decent acceleration even with the smallest engine, a 1.0 litre. Its suspension is stiff and jiggly, mind, over even slightly bumpy roads, but at least the basic model tested here is better than the top-spec, which has less squidge in its tyres. In the end, the XCeed's main job is to avoid looking like everyone else's hatchback.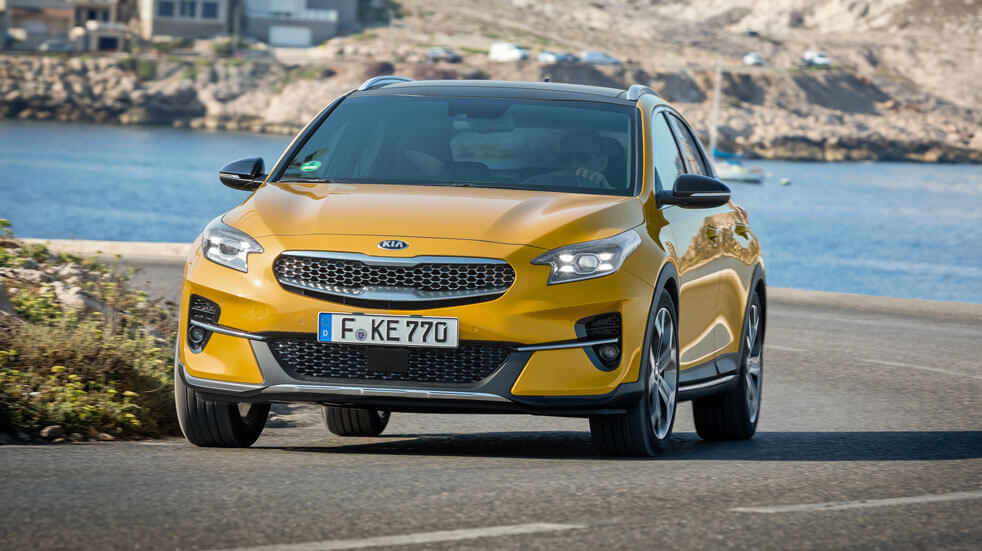 The spec: Kia XCeed '2' 1.0-TGI with ADAP
Engine: 998cc 3cyl petrol, FWD, six-speed manual
Power & torque: 118hp, 172Nm
0-62mph: 10.9 seconds
Top speed: 115mph
Fuel economy: 45.6mpg (WLTP)
CO2: 124g/km
Price: £21,045 (range starts at £20,795)


Compact hatch: BMW 1-series
The old 1-series, being the last compact hatch using traditional rear-wheel drive, was cramped inside. The new one, like its rivals, has a transverse engine driving the front wheels (or optionally all four). Sure enough, it has fully competitive space in the back seat and boot.
Has it lost the traditional 'pure' steering and handling? Not really; BMW owns Mini so is well placed to make FWD cars fun. The 1-series steers precisely and with involvement. It has a refined ride and engines that are terrific for both poke and parsimony. It's nicely trimmed and well-equipped as standard, so the prices and lease rates look reasonable. Meanwhile, the options list offers the entire gamut of fancy communication and driver-assistance gadgetry from BMW's £100k-plus pinnacle models.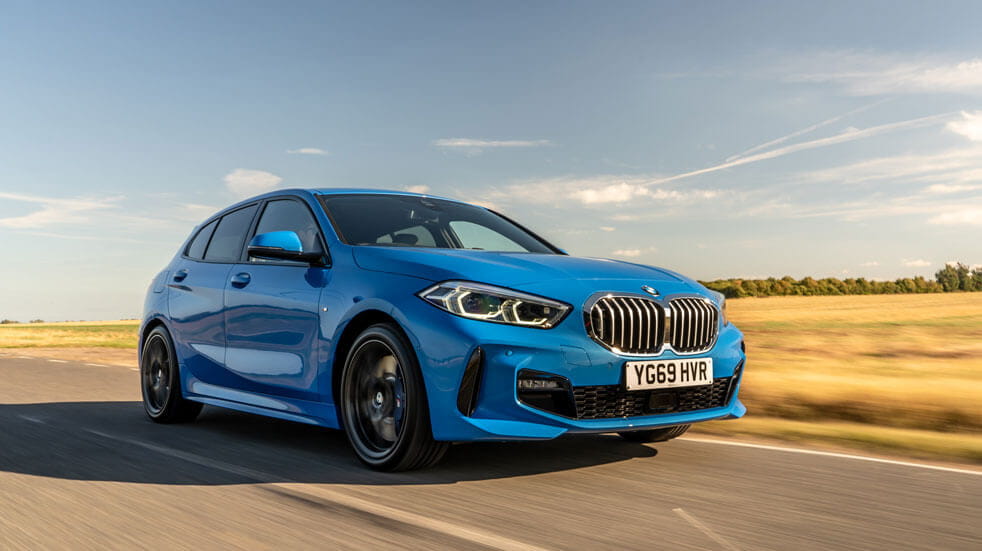 The spec: BMW 1-series 118d M Sport
Engine: 1995cc 4cyl diesel, FWD, six-speed manual
Power & torque: 150hp, 350Nm
0-62mph: 8.5 seconds
Top speed: 135mph
Fuel economy: 54.3-58.9mpg (WLTP)
CO2: 108g/km
Price: £29,440 (range starts at £24,430)


Sports saloon: Jaguar XE
The XE's midlife update adds modern feline grace through subtle changes. More obviously, it's had the interior decorators in – improving style and material quality.
Among its German rivals, tech is paramount. So the XE's centre-dash touchscreen and head-up display are up to scratch, and it adds an optional lower-dash screen for climate control. They're neat, easy to fathom and well connected, including to your phone. But, crucially, it doesn't entirely do away with physical controls. A new diesel engine is clean and tax-efficient. We tested the petrol, which is fairly quick if a little gritty-sounding. The best part, as before, is the combination of fluent accurate steering with cushioning progress over bumps.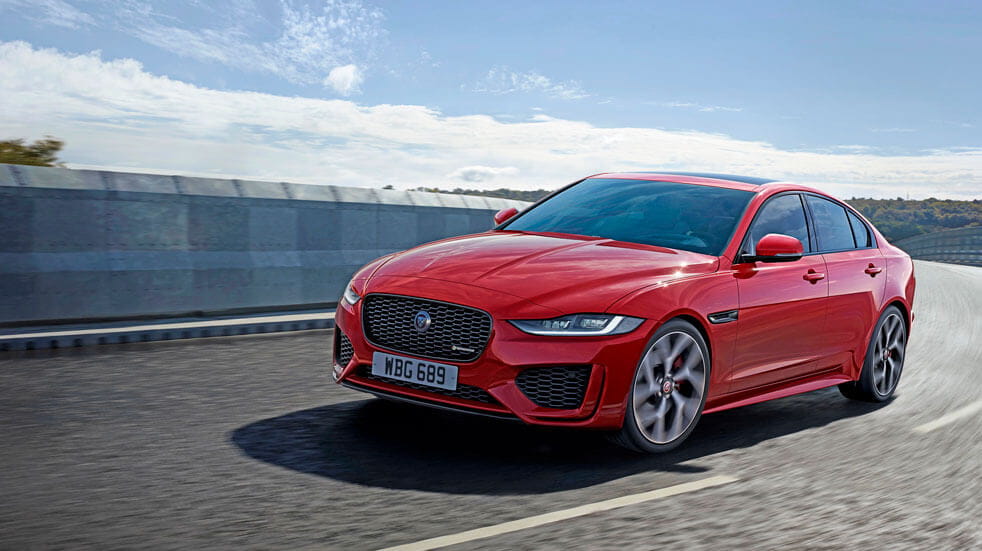 The spec: Jaguar XE P250 R-Dynamic SE
Engine: 1997cc 4cyl petrol, RWD, eight-speed auto
Power & torque: 250hp, 365Nm
0-62mph: 6.5 seconds
Top speed: 155mph
Fuel economy: 33.3-36.2mpg (WLTP)
CO2: 159g/km
Price: £36,975 (range starts at £33.915)


Supermini: Renault Clio
People always bought Clios in huge numbers because of the way it looks. So this new one hardly departs from the pretty shape that went before. The transformation awaits for when you get in. Most small-car cabins are trimmed like a service-station café; the Clio's decor and materials are more coffee-house. The technology is on point, too, with reassuring safety systems. And it's roomy for a tiddler.
On the road, the steering is almost too agile (you have to acclimatise) and the springing quite firm. This invigorating setup contrasts with the soft, loping French-car feel of older Clios. It best suits the bigger TCe 130 engine, but we've listed the TCe 100 as it's terrific value and still has enough quiet performance for most driving.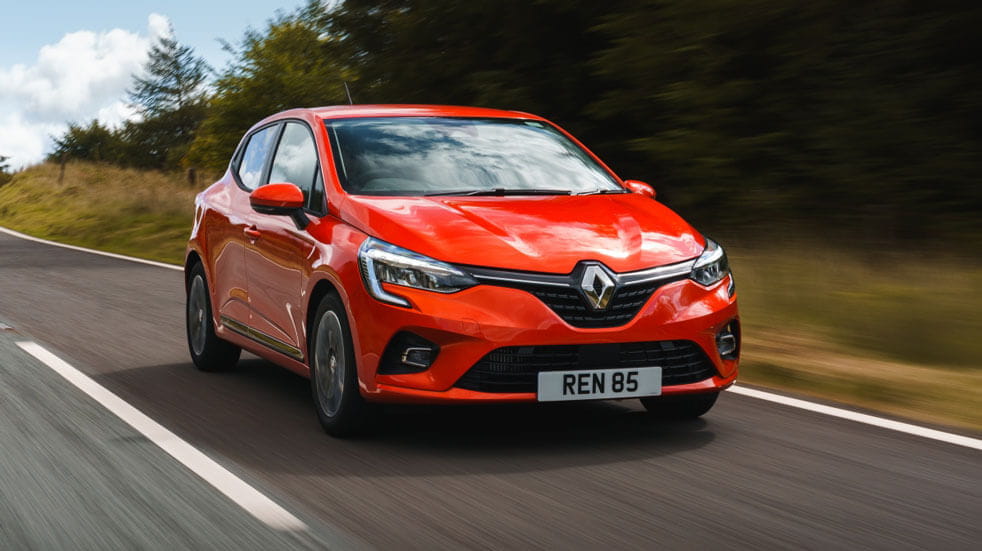 The spec: Renault Clio Iconic TCe 100
Engine: 999cc 3cyl petrol, FWD, five-speed manual
Power & torque: 100hp, 160Nm
0-62mph: 11.8 seconds
Top speed: 116mph
Fuel economy: 54.3mpg (WLTP)
CO2: 99g/km
Price: £16,295 (range starts at £14,295)