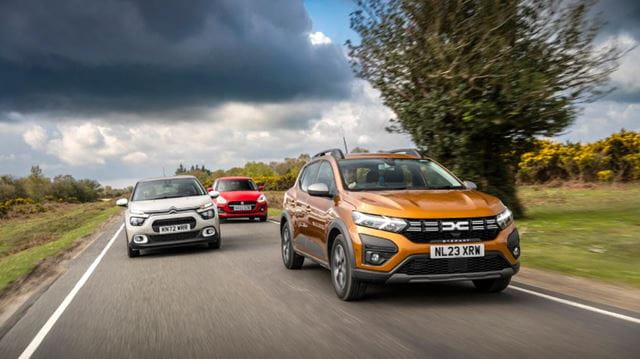 Your expert: Freelance motoring journalist and Car of the Year juror and presenter Vicky Parrott contributes to publications like Telegraph Cars, Electrica.Live, CarGurus, and more.
Do you know what the 'average' new car costs these days? According to data from Auto Trader, in January 2023 UK motorists were paying £39,038 for a brand-new car. Up from an average figure of £27,305 in January 2018. Ouch… So, is the affordable new car dead? Well, actually no. You'd be forgiven for thinking so given the doom and gloom that tends to surround the car market these days, but there's a surprising number of choices around the £15,000 mark.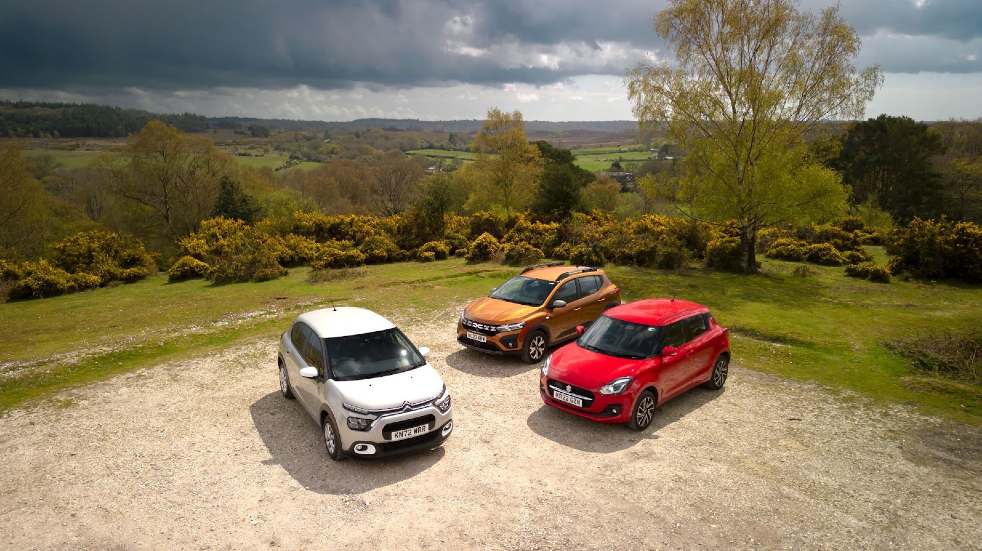 For a start, Citroen launched the rather cute C3 You! from £13,995 last year, making it one of the lowest priced options on sale despite being an economical and functional small family car. Then there's the Suzuki Swift Hybrid, complete with a super-efficient mild hybrid engine and pricing from £16,599 – or just over £13,000 if you check out the Griffin deals through Boundless. And there's the Dacia Sandero Stepway. You can, of course, forego the rugged Stepway upgrades for a cheaper Sandero hatchback, but with its micro-SUV ruggedness from £15,295, the Stepway is a great contender for maximum functionality at minimum cost.

Critically, all can be had from close to £200 per month on PCP finance after a £2,000 deposit, and all will do over 50mpg by official WLTP standards. So, how effective are they at the routine treadmill of daily life? We headed to the New Forest to find out.
Citroen C3 You!
From £13,995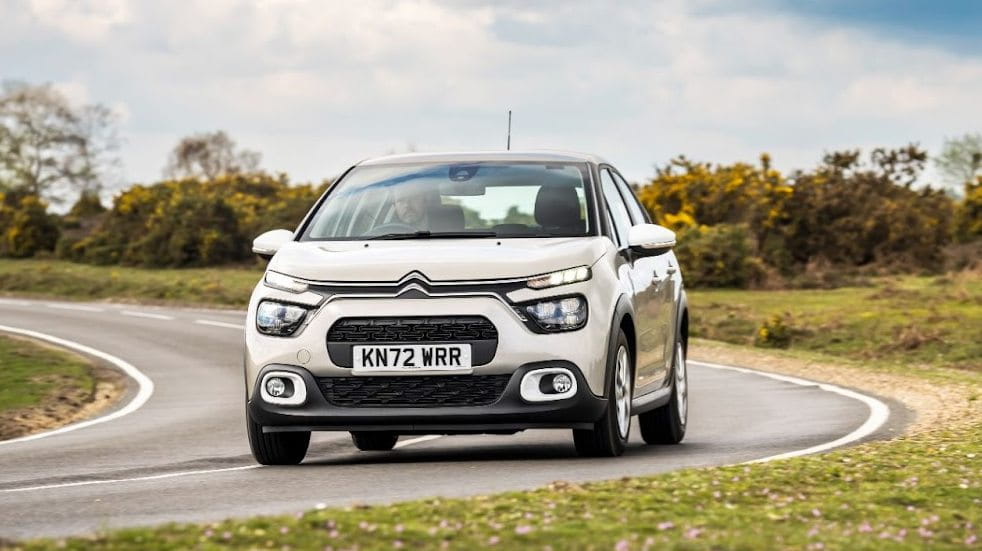 The Citroën C3 You! doesn't look like an austerity buy, does it? It's all funky bubbly bits, and the pale grey of our car is rather Farrow & Ball. Not cheap looking at all, and the most stylish of our lot.
The C3 itself isn't new, of course; it's been around since 2016 in this third generation, but Citroën wanted to offer a low-budget car despite the C1 city car going off sale, and this is it, complete with smart-looking interior and a thrummy little 1.2-litre, three-cylinder petrol engine. I'm even a fan of the hub caps. They're underrated, hub caps. Steel wheels are light, and hub caps are cheap to replace. All good points on a refreshingly sensible, low-budget car.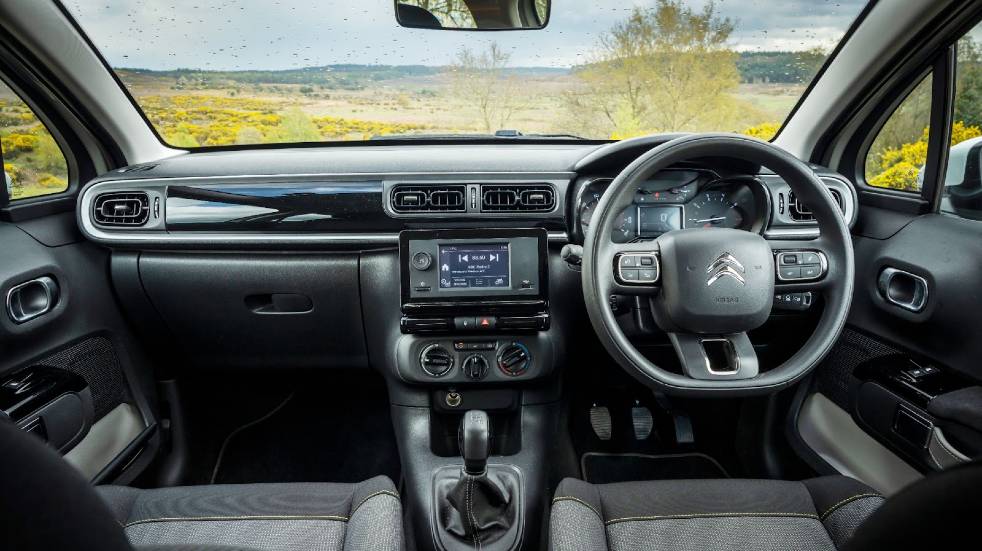 It doesn't feel poverty-spec on the inside, either. Sure, the blanking plate around the monochrome touchscreen looks tacky but it's hardly a deal-breaker, and you get Bluetooth connectivity and audio streaming. I would, however, like a fixed phone holder built into the dash – as the Dacia has.

As with all these contenders, the Citroën has rake-and-reach steering wheel adjustment, as well as driver's seat height adjustment, so most drivers will be able find a natural-feeling driving position.

As I potter into the New Forest's rolling roads and big skies, I can't help but feel rather fond of the C3's cheerful thrum, cushy suspension and airy cabin. A very vague, high clutch biting point is by far the worst aspect, but otherwise it's a doddle to drive smoothly through narrow village streets. It's not fast, but it's willing enough even for a comfortable motorway jaunt, so you're not going to feel the occasional long trip in the C3 is a terrible hardship – nor in either of our other cars, to be honest.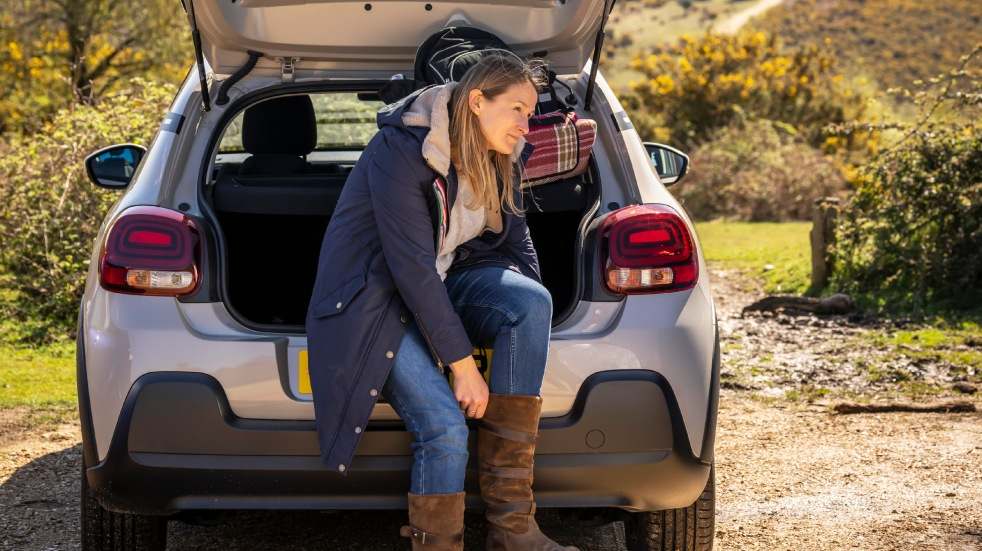 So far, so good. But what of practicality? Well, the Citroën isn't as spacious in the rear seats as the Sandero or Swift, but you can still get a couple of average-sized adults in the back just fine, and the 300-litre boot will take a medium dog, a chunky single buggy or all your picnic and walking paraphernalia. You can also optionally add a spacesaver tyre for a mere £20, which will sit neatly under the boot floor – and we'd always advise that you do, if possible. Other neat safety features include the button next to the steering wheel that allows you to activate or deactivate the child locks on the rear doors. So basic, but so useful for family motorists.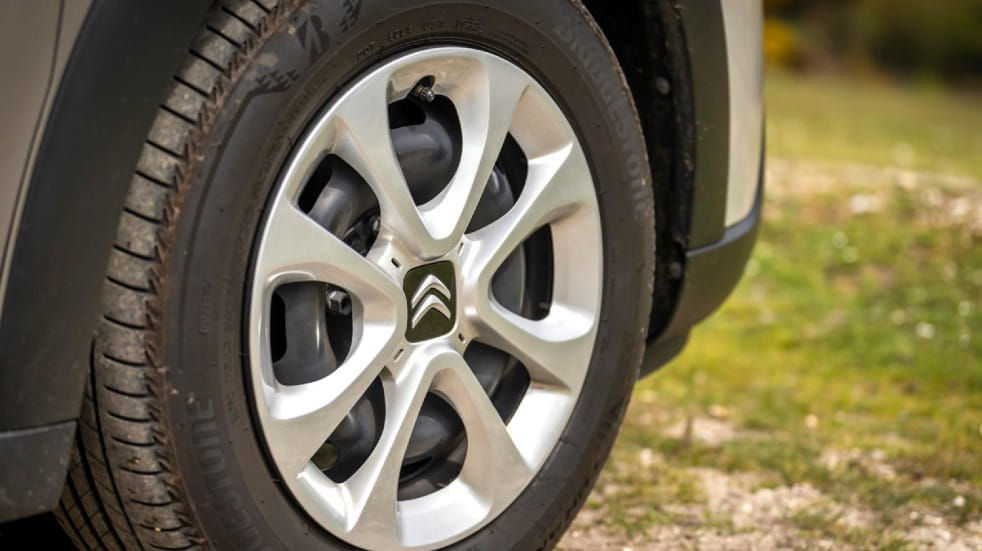 It showed an indicated 50.3mpg after puttering around mostly rural and town roads all day, and while the five-speed gearbox is about as precise and satisfying as stirring cold porridge, it's long geared so you'll better that figure on the motorway. Basically, whether it's a child-ferrying taxi, your means of escape to the countryside or your daily commuter, the C3 You! is cheerful and undemanding.
Spec:
Model reviewed: Citroën C3 You! Puretech
Engine: 1199cc, 3cyl in-line, petrol, 5spd
Power & torque: 83hp, 118Nm
0–62mph: 12.5 seconds
Top speed: 103mph
Fuel economy: 54.3mpg
CO2: 123g/km
Price: From £13,995
Dacia Sandero Stepway
From £15,295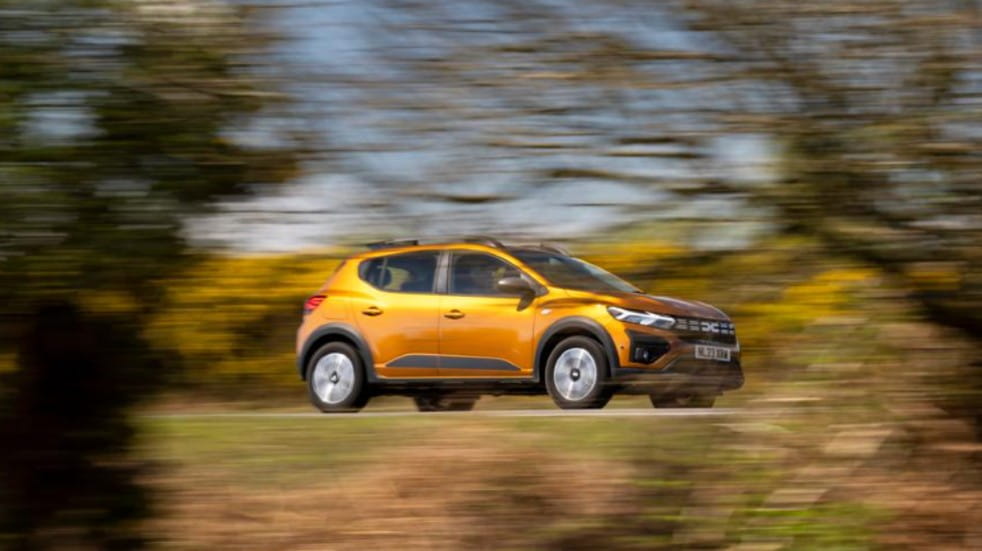 The Dacia Sandero is no newbie to the affordable car market. In fact, despite Dacia – Renault's budget brand – having only arrived in the UK in 2013, it's already a staple sight on our roads – never mind in Europe, where the Sandero is consistently one of the biggest-selling new cars. It shifted more than 200,000 units across mainland Europe in 2022.

We deliberately chose the Sandero Stepway here, which gets a raised ride height, rugged plastic body kit and even some clever roof rails that, with a twizzle of the included hex key, will swing across to create 'proper' roof bars onto which you can directly fix your bike rack, surfboard, roof box or other outdoorsy accoutrements. It's such a devastatingly convenient trick that I cannot fathom why every SUV and estate doesn't have them already.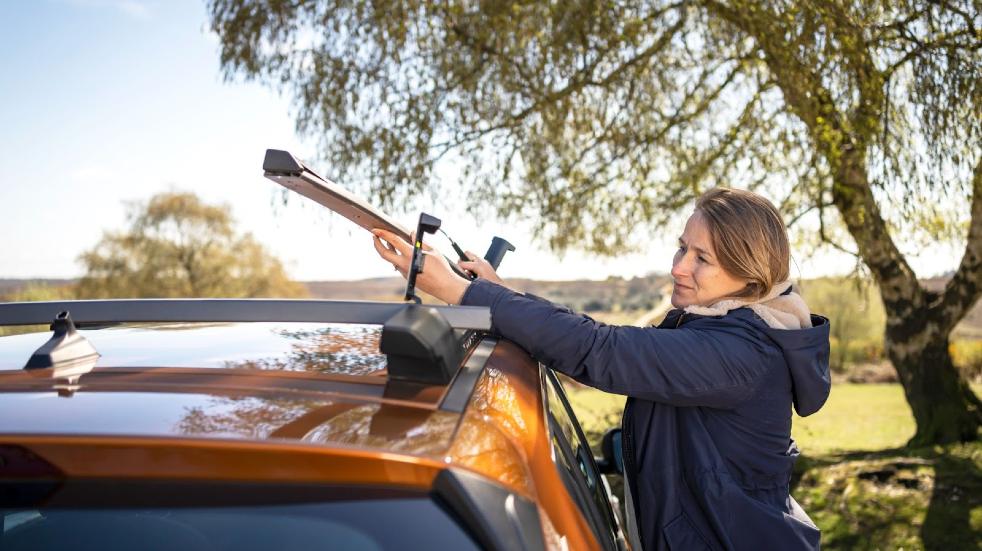 It's also a great example of how this dinky car really delivers a taste of proper SUV utility despite being a compact, front-wheel-drive car. And efficient, too. The 0.9-litre turbocharged three-pot petrol engine and six-speed manual gearbox make progress quiet and punchy enough, yet still achieved 54 mpg over our varied route.

It's got the biggest boot here, too. Big enough for my oversized dog, although she wasn't a fan of the high boot lip and long drop to the boot floor (beneath which is a standard space-saver tyre).

Our tiniest car testers were also impressed with the Sandero. It's got enough leg room that their feet aren't touching the front seats even with a chunky car seat in place and a tall driver up front. Access is good, too – the roof and seat bases are noticeably higher than the others, which makes all the difference for easy access when you're hoovering the crisps out, and it makes life easier for anyone who's a bit less dexterous since the hip point allows most people to slide easily onto the seat without having to drop down, as the lower cars here require.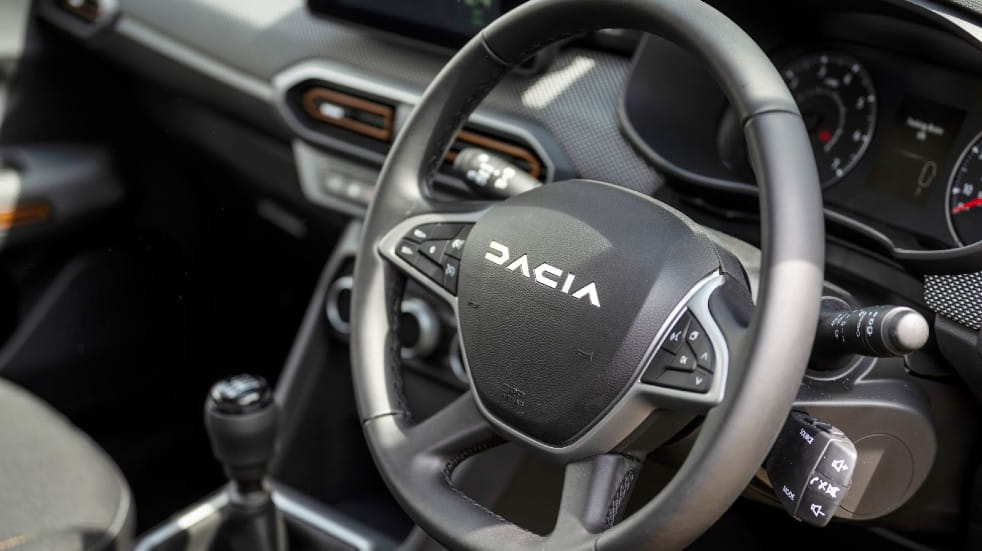 It doesn't feel much higher than the others in terms of the driving position, though; maybe there's a whiff of SUV superiority, but the way the Sandero tucks and dives easily down congested streets gives it all the small car niftiness that you want and expect. The raised height really does help with clearing the cavernous potholes that we negotiate in our rural car parks, too, and the softer ride pays off over any scruffy bit of road. We'd like faster steering, but generally the Sandero really is ideal in town, just as it's scrappy and intrepid out of it.

The Stepway upgrade does come with a price premium of some £1,500 over the hatchback, but many will consider that additional usefulness well worth it. Certainly, on our meandering trials through life's chores, from garden centre to dog walk, and overenthusiastic kids, that versatility paid off in numerous small ways. As with our other cars here, the Stepway gets air-conditioning and cruise control, but the Expression spec is the sweet spot for the Stepway as it gets keyless entry, a touchscreen with Apple CarPlay and Android Auto, auto lights and wipers, and parking sensors, yet costs from £16,295.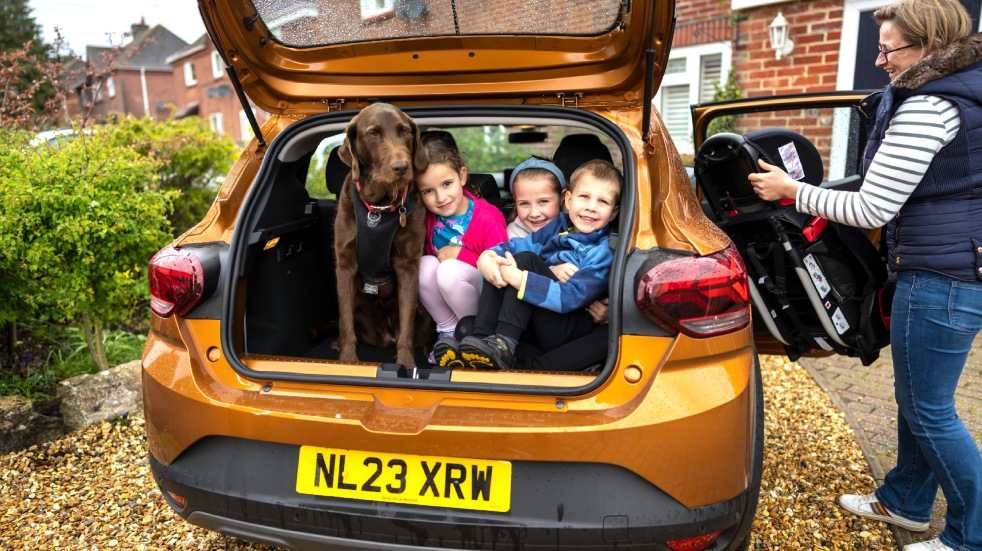 While we're talking about equipment, we should mention safety, since the Dacia received a worrying two-star Euro NCAP rating in 2022. This actually breaks down into four-star adult and child occupant protection ratings, three-star pedestrian safety rating and two stars for safety assistance systems, largely because it doesn't have active lane-keep assist, while the radar-only autonomous braking system can't detect pedestrians or cyclists. It does still have six airbags, two Isofix fittings in the back, lane departure warning, ABS and traction control, which is a very similar safety-kit count to the others here. Under far less stringent 2017 Euro NCAP test parameters, the Citroen achieved four stars and the Swift got three stars, although Suzuki has introduced an autonomous emergency braking system on higher-spec models since then.
Spec:
Model reviewed: Dacia Stepway TC E 90
Engine: 999cc, 3cyl in-line, turbocharged petrol, 6spd
Power & torque: 91hp, 160Nm
0–62mph: 12 seconds
Top speed: 107mph
Fuel economy: 50.4mpg
CO2: 127g/km
Price: From £15,295
Suzuki Swift Hybrid
From £13,416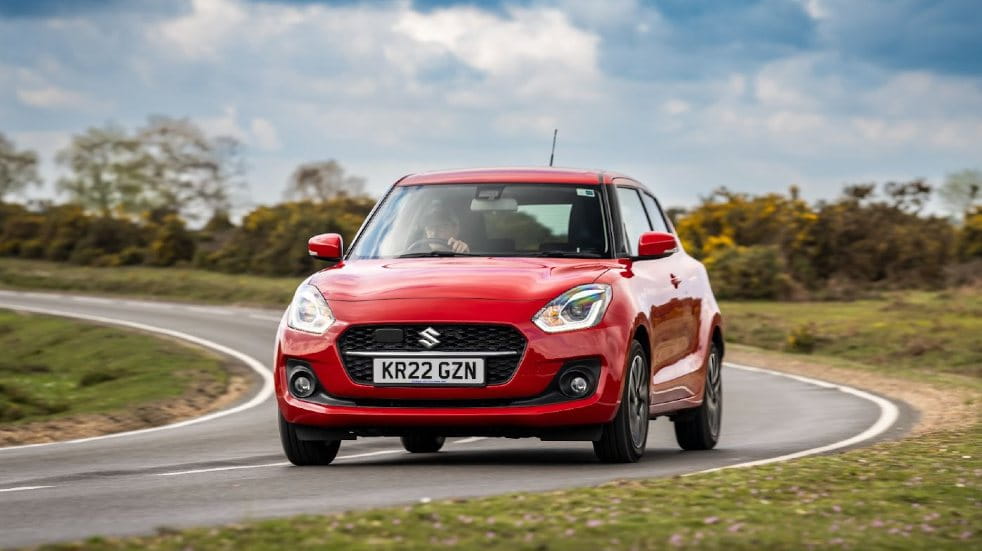 What constitutes a real-world test for a car's practicality? Which everyday purchase might challenge a small car? That'll be found at the garden centre, obviously. And so the Suzuki finds itself be-fuchsia'd, dripping with blooms and with colour in every crevice. We specifically chose this car for this test, as it has the smallest boot at 265 litres, most of which is found in the depth of the short boot space.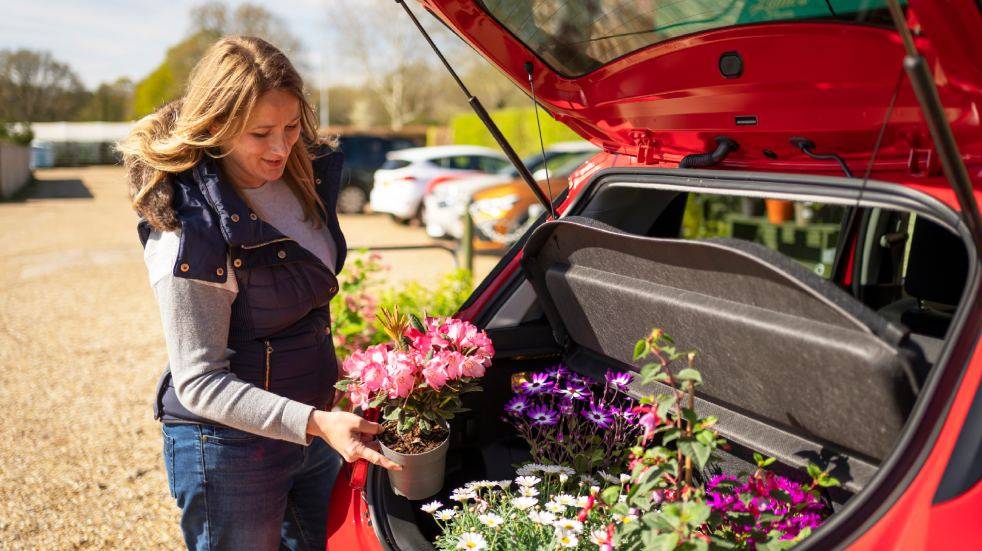 In fact, the Suzuki is also the smallest car here, treading a line between a city car and small family car at 3.89m long compared with the 4.1m-long Dacia and Citroen, but it's also something of a Tardis – as our garden centre test proved. It'll fit two tall adults quite comfortably in the back seats, and – as with all these cars – the rear seats will seat three (bagsy not sitting in the middle, though), and will split and fold in a 60/40 divide.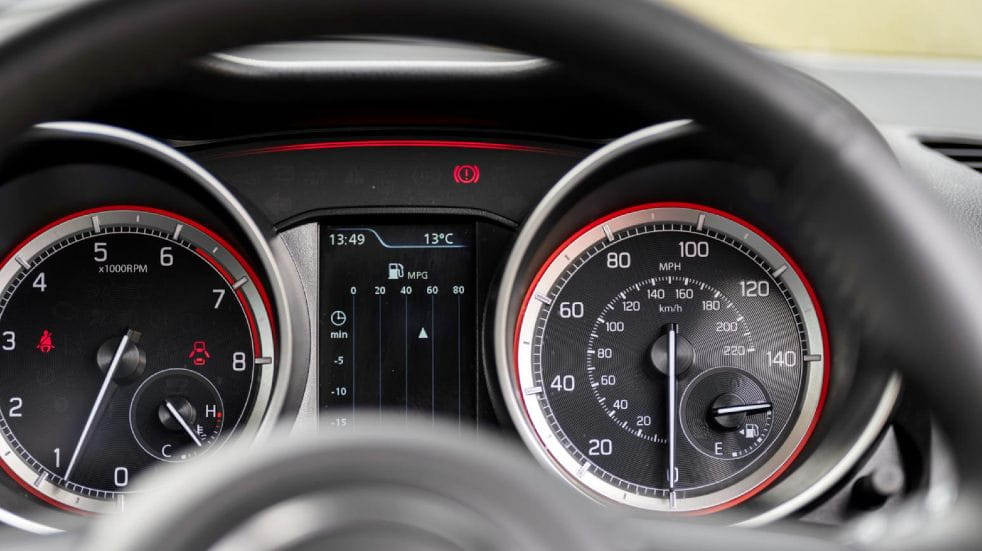 We didn't have a bevy of six-footers with us to prove the Suzuki's surprising spaciousness, so you'll have to settle for evidence in the form of our tall, beautiful flowering currant shrub that we slid easily beneath the boxy roofline.

It'll ferry your flora, then, but how does the Suzuki do on the road? Brilliantly, actually. It's a bit of an undercover hot hatch, this, with a sweet-revving 1.2-litre, four-cylinder engine buzzing willingly around the rev counter, while the five-speed gearbox snicks sweetly between ratios, leaving the Swift feeling light and nimble. You don't notice that mild hybrid system boosting performance, but you do see the results since the Swift returned nearly 56mpg despite fairly sprightly use. It even rides nicely. It's a bit lumpy over bigger bumps, with plenty of body roll, and generally easygoing yet also an unlikely riot if you make the effort to use all of its potential. Short gearing does mean that it's doing 2000rpm at only 45mph, though, and the tinny sound system won't drown out those revs.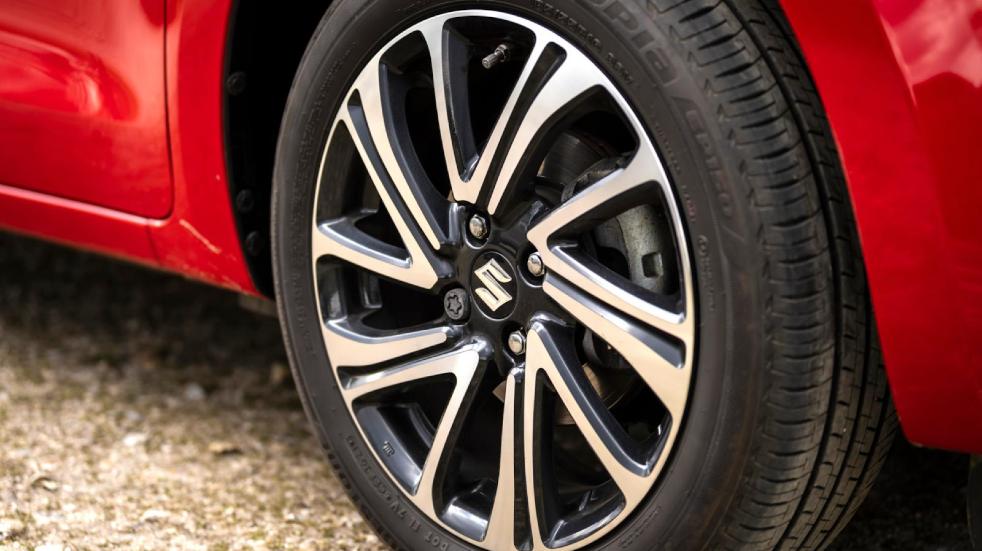 Our test car is the four-wheel drive Suzuki Swift AllGrip, but sadly Suzuki isn't currently offering these dinky all-wheel drives due to a parts supply issue. You'll have to settle for a standard front-wheel drive for now, although we know from experience that these are just as much fun.

It's a shame, then, that the Swift's rather drab cabin does feel the cheapest of the lot. Durable, yes, and there's a colour touchscreen infotainment set-up that sports a reversing camera even on the cheapest SZ-L Suzuki Swift, which is always a welcome feature. Auto lights and wipers, as well as heated door mirrors, are all included, too. Even so, the Swift feels dated – but it's the fizziest drive by far of our trio and remains a stand-out example of how a cheap new car needn't be a bad one.
Spec
Model reviewed: Suzuki Swift 1.2 Hybrid
Engine: 1197cc, 4cyl in-line, petrol, 5spd
Power & torque: 83hp, 107Nm
0–62mph: 13.1 seconds
Top speed: 112mph
Fuel economy: 59.7mpg CO₂ 106g/km
Price: From £13,416
And the winner is…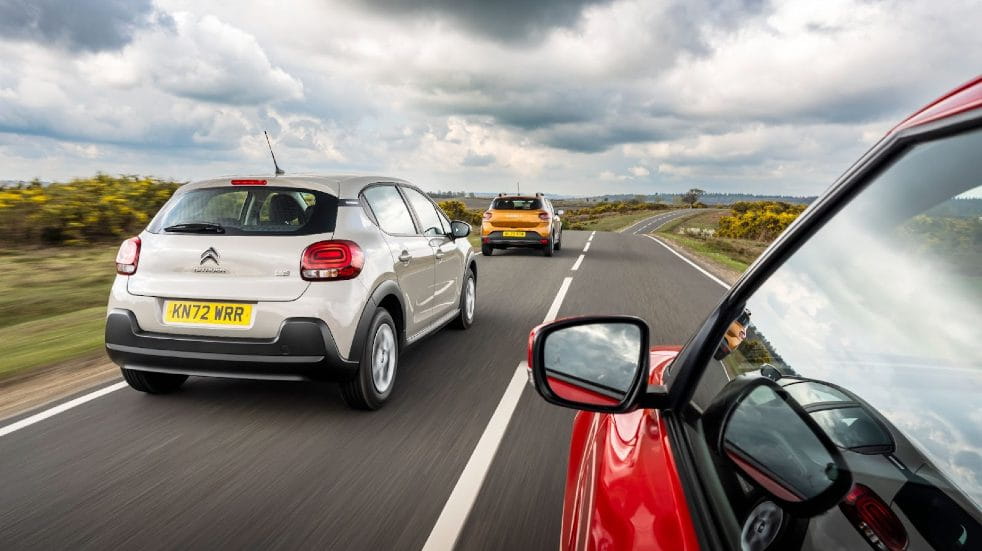 I was wondering which of these cars should 'win'. After all, that's the point of these tests, right? Well, perhaps not here. The point of this test was to find out what's available if you want a cheap new car, and the real takeaway is that there's charm and talent to spare – and a car to suit most lifestyles. If versatility and space is your priority, the Dacia is the one for you. If it's style and comfort, the Citroen's chic little about-towner is your match. And if a truly fun yet remarkably efficient car sounds more like what you're after, Suzuki has the answer.

So yes, these are all winners. All small, refreshingly no-nonsense little cars that are nonetheless brimming with ability and delightfully disparate characters. This exercise just goes to prove that, even at the cheaper end of the new car market, there are top class cars for the taking.
Do more with Boundless
New cars for less from Griffin
This Boundless partner offers a wide range of new cars, including EVs, at heavily discounted prices. Cars available at any given time will vary but include models from Ford, VW, Renault, Mazda, Volvo, Seat and many more, so visit the Griffin website to see the special offers currently available. boundless.co.uk/griffin