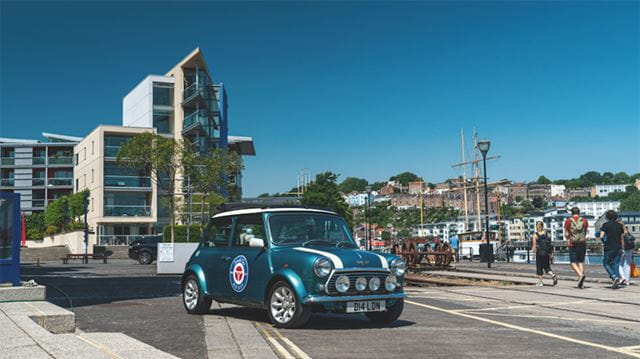 It's a West Country wonder: a three-mile-long, 137-metre-deep groove, carved out by ice-age meltwater a million years ago. Cheddar Gorge – England's Grand Canyon!
That's what the sign should say (along with something about tangy, cave-aged cheeses). Of course, if you've ever seen the actual Grand Canyon, you'll know it could swallow Somerset's version about 50 times over. But from where I'm sitting – in the driver's seat of an old-style Mini – Britain's largest gorge is doing a pretty good impression of its American counterpart.
Driving an original Mini – recently named as one of Boundless members' top five most iconic British cars of all time – is a guaranteed way to supersize your surroundings. And there's never been a better time to get behind the wheel of a British classic on its home turf. The COVID-19 crisis has pretty much halted long-haul, fly-drive adventures for the foreseeable. Even European road trips are looking less likely. But you don't need to jump on a jet plane or drive a million miles to find your dream drive. Natural wonders, man-made marvels, coast roads, curvy lanes, jaw-dropping views... look hard enough and you'll find them almost on your doorstep.
• Read our list of the 50 greatest UK drives
So, to steal a well-worn advertising slogan, we're going on a Mini Adventure: all the best bits of a bucket-list road trip, with a somewhat American flavour, only much closer to home. In my case that's Somerset, plus a bit of Bristol and a short stretch of Devon – and, at around 100 miles, do-able in a day. Even in a Mini. Ours is a 1998 Cooper in kingfisher blue, borrowed from a company called Small Car Big City, whose fleet of immaculate Minis are available to hire for self-drive sightseeing tours of London, Oxford and beyond (scroll down for more information).
We begin in Bristol with a trip over the Clifton Suspension Bridge. About 75 metres above the muddy waters of the River Avon – a junior Mississippi, you could say – it took over 30 years to build before finally opening to horse-drawn traffic and pedestrians in 1864. A century-and-a-half later it's still going strong, carrying upwards of 10,000 cars each day – a monument to the iron-clad engineering of Isambard Kingdom Brunel (you don't mind paying a pound to cross when you think about that).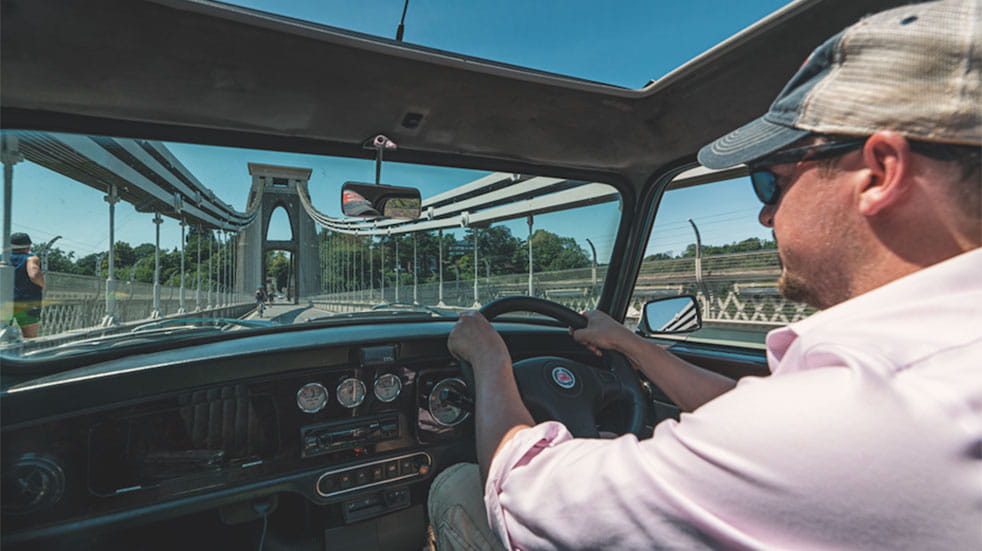 Driving the Mini across the iconic Clifton Suspension Bridge
On the North Somerset side, the city quickly blends into midsummer countryside, with bottle-green hedgerows and bushy treetops, occasionally punctuated by a chimneypot or church spire – perhaps even a hot-air balloon rising for the annual fiesta (back next year, hopefully). Before long, we're swept southwards on the A38, past the airport and up on to the Mendips.
The Mini bombs along, happily keeping up with 21st-century traffic. A seventh-generation Cooper with flared arches and trombone exhaust, it's the last of the old-style Minis, a bit chunkier than earlier Morris and Austin models famed for their Italian Job escapades. Under the striped bonnet is a 1275cc Rover engine making 70bhp – plenty for a car weighing just over half a tonne. And the rolltop roof is a genius addition, giving your head somewhere to go as you bounce down the road.
Lamborghinis, Porsches and Kawasakis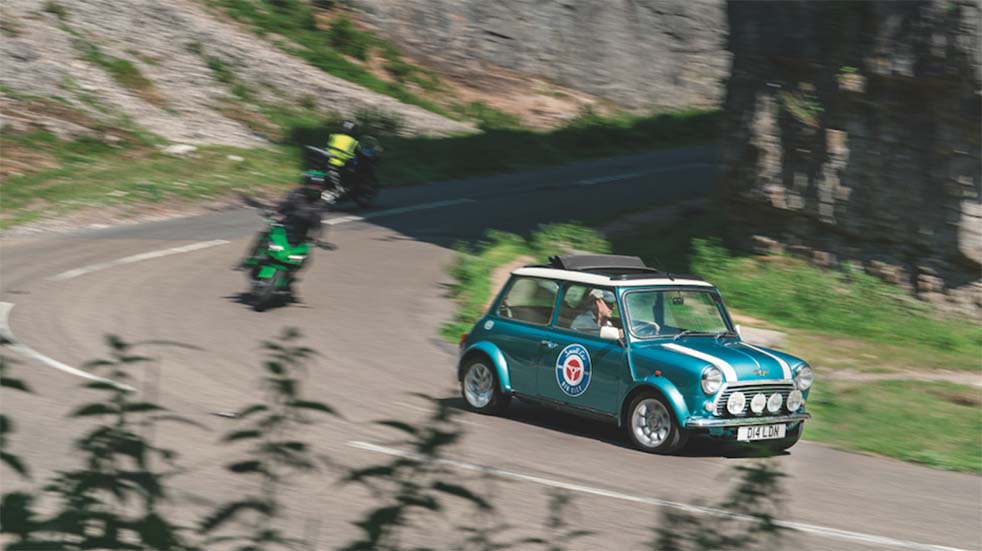 Navigating the tricky roads around Cheddar, with a motorcycle in hot pursuit
After half an hour, we bobble through Cheddar itself to the mouth of the gorge, which is filled with the sound of screaming Kawasakis and other assorted superbikes, here for the rollercoaster twists and turns. We join in the fun, along with several Porsches, the odd Lotus and a lime-green Lamborghini. Beneath all this, potholers explore the ancient cave networks. On the cliffs are climbers, abseilers, mountain goats, even peregrine falcons, dive-bombing from the limestone pinnacles.
But it's the Mini fetching all the attention. Wherever we park, people wander over – ignoring the lime-green Lambo – for a chat. One chap insists on seeing the engine, mutters something about part numbers and fuel injection before concluding that, yes, this one is the real deal (is Mini fakery a thing?). Others recall taking their driving test in one, or going on a family road trip in one, or rolling one into a field. Everyone, it seems, has a Mini memory of some sort – not least Boundless members, as you can read in the anecdotes below.
• Watch: Dan Read answers your motoring questions
Groundbreaking design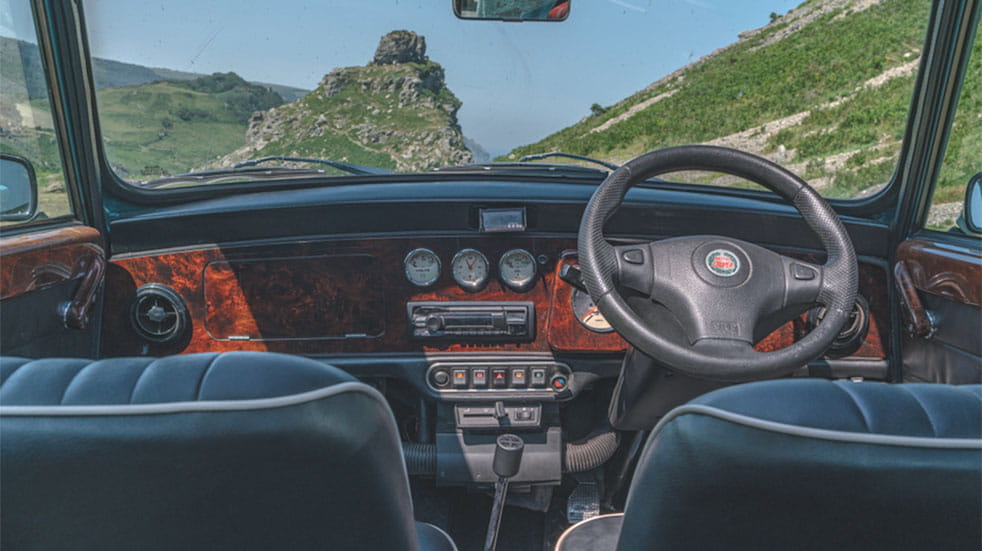 Like the TARDIS, the Mini's interior looks larger than expected
After a while it's time to leave the madness behind – being tailgated by slightly unhinged bikers gets a bit tiresome – and head off, picking up the M5 motorway, feeling a bit vulnerable as SUVs thunder past. But, back on country lanes across Exmoor, the Mini feels right at home again as it darts through Exford in the old-world, picture-perfect heart of the national park.
The magic of the Mini is that it actually feels quite maxi inside. You wonder where they put all the basic things required to make it a functioning car – engine, gearbox, suspension, they're all crammed in there somehow. First launched in 1959, the groundbreaking design endured for 40 years before BMW rebooted things in 2001 with the modern-day Mini.
At Simonsbath we turn north on to the B3223, which rises on to open moorland and wiggles off into the distance. Beside the road, horses roam free, giving it the feel of some distant cowboy country. Welcome to the wild west. We've even got the weather for it, with dazzling sunshine in the midst of a two-day heatwave. With no air-con, no power steering and surprisingly weighty, spring-loaded pedals, it actually takes a bit of effort to drive the Mini on roads like this. I've burned fewer calories in the gym (that one time I went there).
Don't look down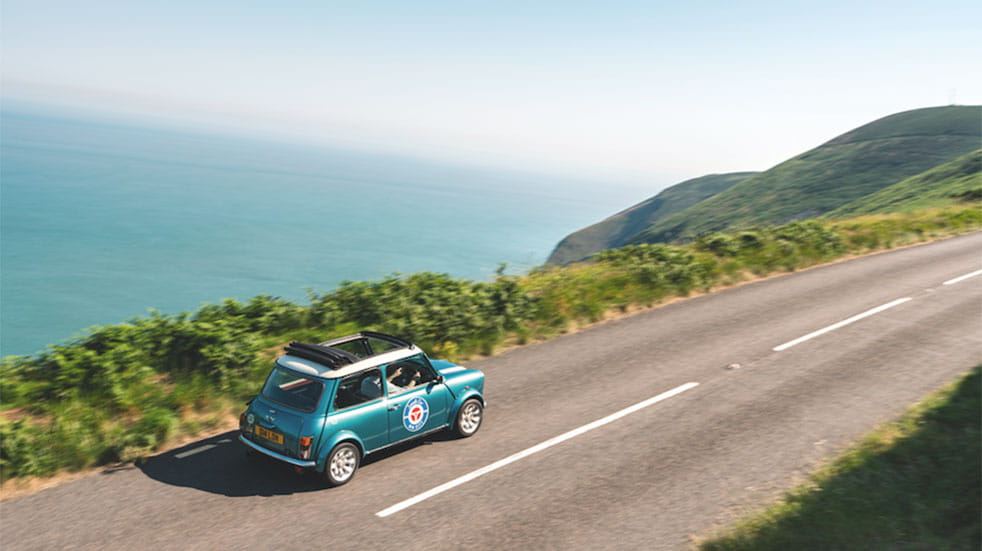 Top-down, the North Somerset coast road was an absolute pleasure to drive
As we approach the coast, relief comes first from a sea breeze, fanned up the cliffs and over the moor, then from the shaded woodland as the road plunges through a wooded combe to Lynmouth via Watersmeet. On the other side it soon rises again, for the grinding climb up Countisbury Hill with its one-in-four gradient.
After a mile or so the trees and stone walls disappear, giving way to an almost sheer drop to the sun-spangled ocean below. There are no crash barriers to interrupt the view – just fresh air between you, the view and an unplanned dip in the sea. It's like California's Pacific Coast Highway, in a quiet corner of North Devon. The trip back down is just as exhilarating and a good test of the Mini's brakes, which still have plenty of stopping power.
Back in Lynmouth, we stop for a crab sandwich at the Harbourside Café, run by former film location scout Nicky Thompson, who reels off about 10 other movie-worthy places we could have taken photos of in the area. It's eerily quiet for the height of tourist season, with lockdown rules having only just eased. Sadly that means the almost-vertical funicular railway up to Lynton, 500 feet above, is temporarily out of action – its tracks instead looking like a giant ladder propped against the sky-high cliff.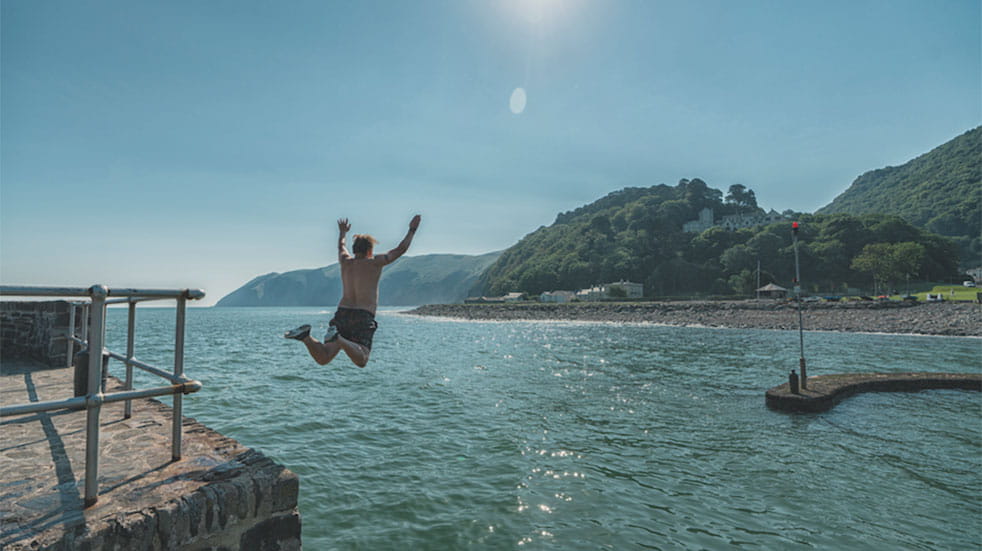 Time for a dip in the cool waters of Lynmouth harbour
So we get back in the car and take the steep side road to the top, via the mossy Glen Lyn Gorge with its hydroelectric station powered by cascading, fast-flowing streams – squint, and these could be white-water rapids. Or maybe the heat's just getting to me. Onwards, the gutsy Mini gives it everything up the hill, causing quite a commotion as it goes. It might have four gears, but only the first two are needed right now.
At the top, driving through the village and out the other side (and at this point the road converges with the South West Coast Path), we arrive a few minutes later at the end of our journey, in the Valley of Rocks. Running parallel to the coast along the jagged clifftop, the valley is full of giant stone stacks, like enormous natural cairns. Mystical rock formations in Devon – who'd have guessed? And yet another thing ticked off the road trip wishlist.
Looking up at the precariously balanced rocks from the Mini, and using a little imagination, you can see a vague resemblance to the big buttes of Monument Valley. I admit, this little part of England – setting for the romantic novel Lorna Doone, and inspiration to poets – isn't often compared to the Arizona desert. It's grassier for a start, with a cricket pitch and picnic benches. And, if you're lucky, at least one Mr Whippy van. A 99 with a flake? Now, there's something you won't find on Route 66, no matter how hard you look.
• Find out how to join the Boundless Classic Vehicle Group
West Country route highlights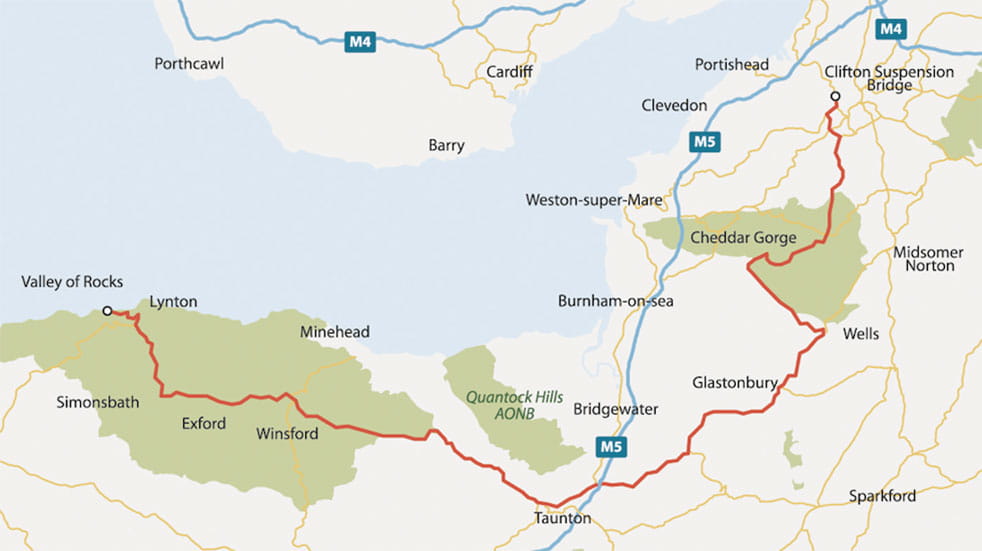 A Victorian engineering marvel, joining the upmarket Clifton village to leafy North Somerset across the Avon Gorge.
A great drive, but be sure to explore the spectacular clifftop walks and subterranean, illuminated show caves.
3. Wells and Wookey Hole
Home of the impressive Cathedral Chamber, Witch's Parlour and many more family-friendly lighted show caves and attractions.
History of the Mini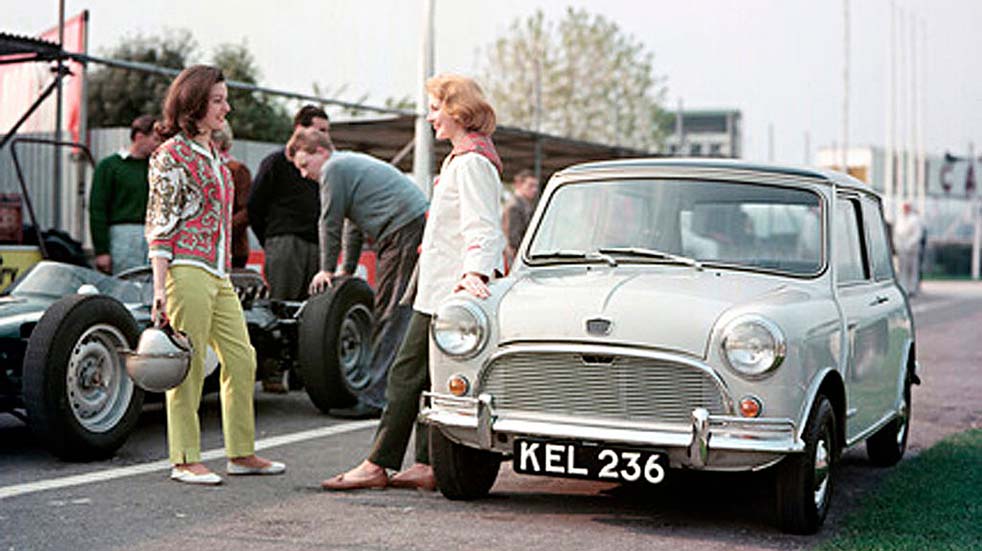 A Mini Cooper parked trackside at Goodwood, 1961
Dreamed up in the mid-1950s during the Suez Crisis and fuel rationing, the Mini was to be the future-proof antidote to heavy gas-guzzlers – a smaller, leaner, more efficient kind of car.The job of designing it fell to Alec Issigonis of the British Motor Company. His solution – revolutionary at the time – was to mount the engine across the bonnet and have it drive the front wheels, creating more room in the car for people. It was masterful packaging: a spacious four-seater with the smallest possible footprint – just 10 feet from bumper to bumper.
And out of these pragmatic solutions came a cultural superstar, a smash-hit among celebs, not just in the Swinging Sixties but for four whole decades. More than five million were sold from 1959–2000. It even became a motorsport veteran, winning the Monte Carlo Rally three times. For his efforts, Issigonis would later be knighted.
Your Mini memories
Still smiling
I learnt to drive in a yellow Mini Clubman estate. My first car was a Rover Mini Cooper that I took to Silverstone for 'Mini 40' – I got a really great picture of us on the track, and we were positioned at the top of an 'i' when 'Mini 40' was spelt out in Minis. When he went to rust heaven I bought a Rover Mini Sidewalk in kingfisher blue. She's still with me, in my garage. It seems Minis 'breed' and I also had a charcoal grey Sidewalk and a 1971 Mark 3 auto in need of restoration. The smile from driving my Mini is as good today as the first time.
Jackie Davis
Keeping Mum happy
My mother bought a Mini Mayfair automatic after I left home. Annoyingly. Mainly because it was the best thing ever! And neither of us had any money to fix it up properly. Mum never drove much throughout my upbringing and when I left home I was pleased she decided to be a bit more independent, and in such a fun car. It was effectively a road-legal go kart. Due to the low centre of gravity (and a fearless daughter) the Norfolk back roads were not safe. Sadly, excessive rust and the welding required meant mum had to sell it after only two years.
Sarah Wells
Long-distance explorer
We travel to the international meetings in ours. So far we have been to Sweden, Germany, Italy, Belgium, Southern Ireland, Portugal and Switzerland, plus England's venues. This year it should have been Germany again but unfortunately it was cancelled. We have been married for 47 years and only spent six months without a Mini. They are our passion. We have a British Open Classic and also a Mark 2 Cooper on the road, a van under restoration and a Mark 1 awaiting restoration.
Lynne Shepherd
Fancy getting behind the wheel of a classic Mini?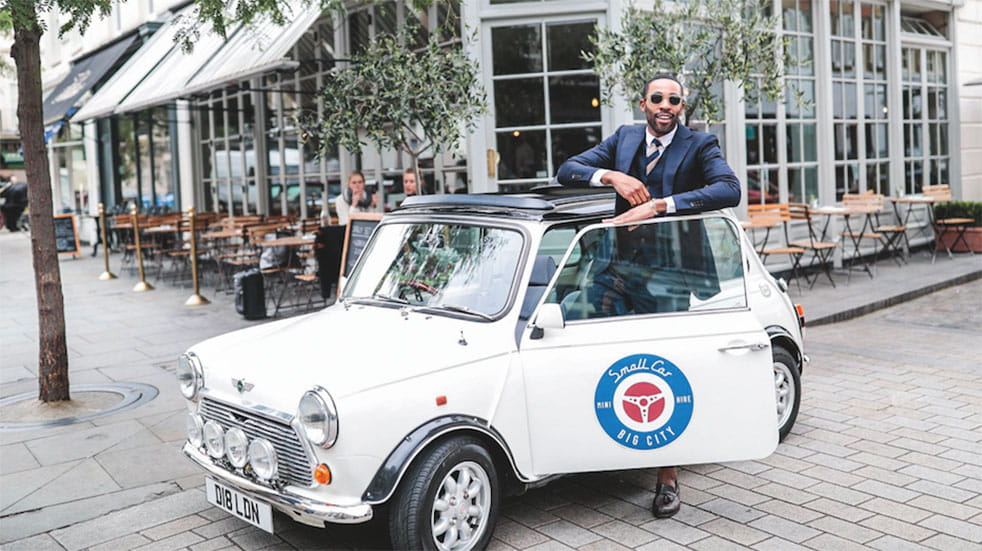 Your carriage awaits…
Based in London with a fleet of over 10 classic Minis – including 'Lulu', the kingfisher blue Cooper in our story – Small Car Big City offers self-drive hire as well as guided sightseeing tours, including Mini Safaris in convoys of up to three cars if your group can't fit into just one.
Other road-going experiences in the capital include London by Night, a Harry Potter adventure and a Rock'n'roll Beatles Tour – all with COVID-19 compliant measures in place, including deep cleaning.
There are self-drive tours and itineraries further afield too, including picnics in the Cotswolds, wine tours of the south of England and rounds of golf – either as day trips or long weekends.
Small Car Big City has also partnered with Classic Car Tours London to offer self-drive packages in a selection of other classic cars, including the Triumph Stag, Rover P5 and Jaguar E-Type (currently departing from London only).
Prices start from £189. COVID-19 restrictions mean that, while self-drive options are currently available, chauffeur-driven outings won't begin again until 1 October.
Small Car Big City is currently offering a 10% discount to Boundless members. Simply use the code 'Boundless10' when booking, either online or by calling 020 7839 6737.
Other ways you can drive a Mini

The Historic and Classic Car Hirers' Guild's website is easy to navigate
Use a classic portal
The Historic and Classic Car Hirers Guild is a sort of online portal for classic car hire companies throughout the UK, from the Isle of Wight to central Scotland, offering all sorts of adventures from self-drive hire to package tours and themed excursions, plus weddings and events. The menu of machines could fill your dream garage 10 times over, with everything from AC Cobras and Aston Martins to DeLoreans, Ford Mustangs, Ferraris, Land Rovers, Rolls Royces, TVRs and VW Beetles.
Budget classics
While regular car rental is often as cheap as chips, classic car hire will use up a little more of the rainy-day fund – unsurprising, when you consider the value of the cars, insurance costs and the maintenance bills. But it's still possible to drive one on a budget, if you're prepared to have a slightly briefer experience. Some companies, such as Great Driving Days, offer taster drives and short experiences from just £39. So you can finally drive that E-Type without breaking the bank.
Do more with Boundless – save 20%* on an awesome driving experience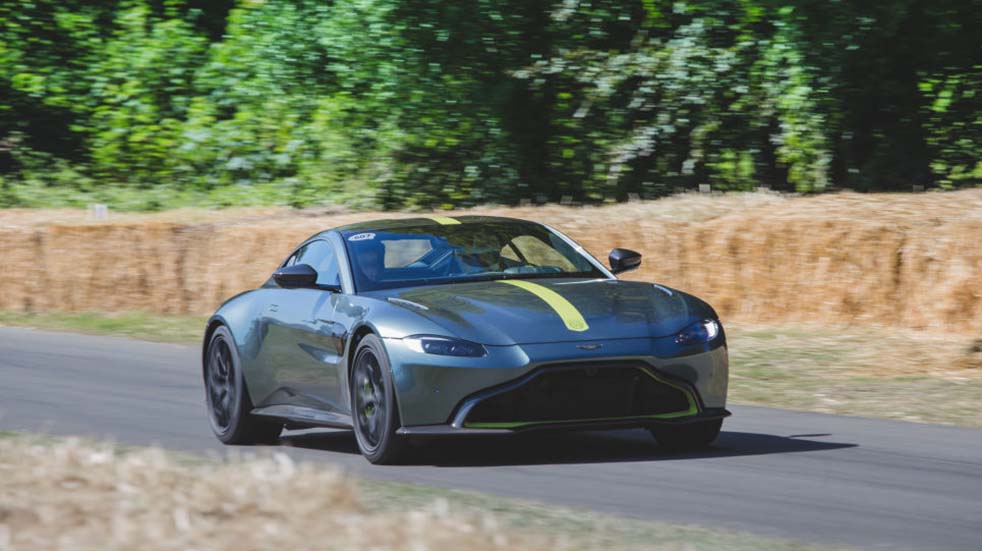 Experience the thrill of an Aston Martin Vantage at full throttle
Whether you're looking for a high-speed experience at Silverstone or fancy driving a classic Mini Cooper, you'll be spoilt for choice with Virgin Experience Days. You could revisit the heyday of British motoring by driving three classics or take to the track in some of the most famous British cars in history, including the classic Aston Martin Vantage, MK1 Escort, E-Type Jaguar and more. And as a Boundless member, you'll get a generous 20% discount on the usual price. *Terms and conditions apply.
Have you got a memory of the classic Mini that you'd like to share? Leave us a comment on Facebook or Twitter.
Photos: Justin Leighton / Getty Images