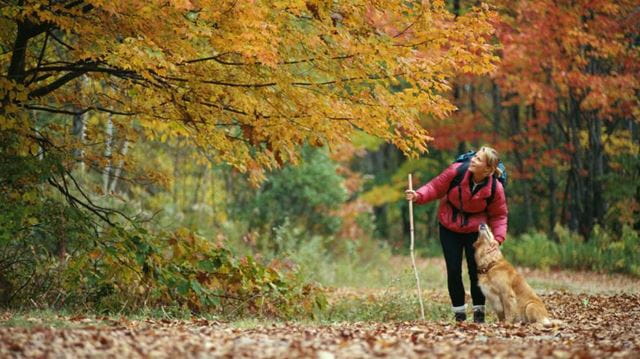 From secluded cottage escapes and camping holidays to beachside boltholes and city-centre hideaways there's a break to suit every taste this autumn, and room for your furry friend too. With the changing season in mind, we've scoured the UK for the very best dog-friendly escapes ideal for an autumn getaway.
The beachside pub getaway – The Hoste, North Norfolk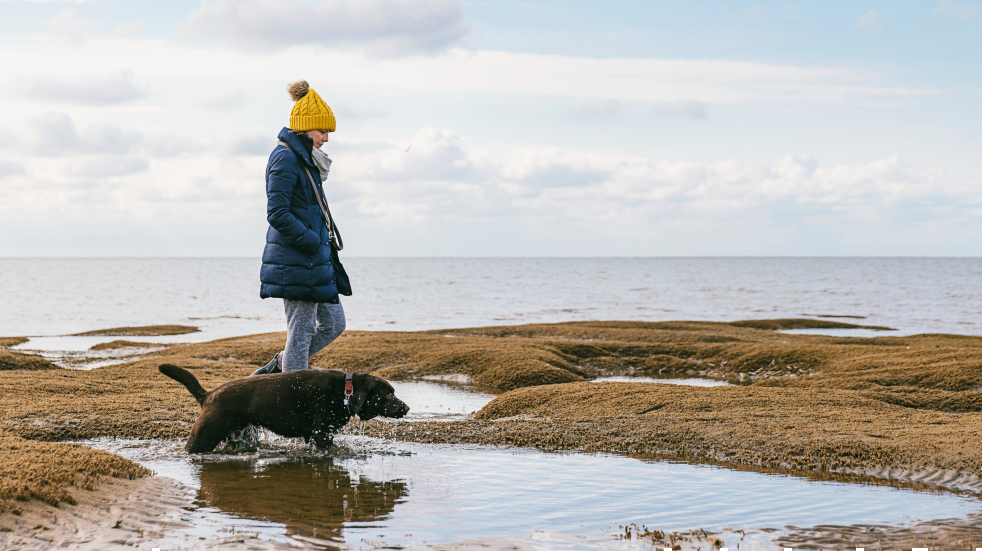 Located in the pretty village of Burnham Market, The Hoste represents the very best of pet-friendly North Norfolk Hospitality. A pub, hotel, restaurant, spa and historic site all rolled into one, The Hoste offers exceptional hospitality, great food and a warm Norfolk welcome. Comfortable and cosy, this coastal refuge is the ideal spot for a seasonal escape for you and your canine companion.
And there's no better reason to visit The Hoste than its proximity to one of the UK's best dog-friendly beaches. Broadly considered one of Norfolk's most beautiful, Holkham bay and beach is comprised of sweeping sandy vistas, wind-swept dunes, saltwater marshes and the famous Holkham pine trees. At a mile deep (at low tide), there's more than enough space for both you and your furry friend to run around and explore. Plus, visitors can experience a variety of wildlife at this stunning spot including sea birds and seals.
Click here for more information on The Hoste and Holkham Beach
---
The woodland log cabin getaway – Whitemead Forest Park, Gloucestershire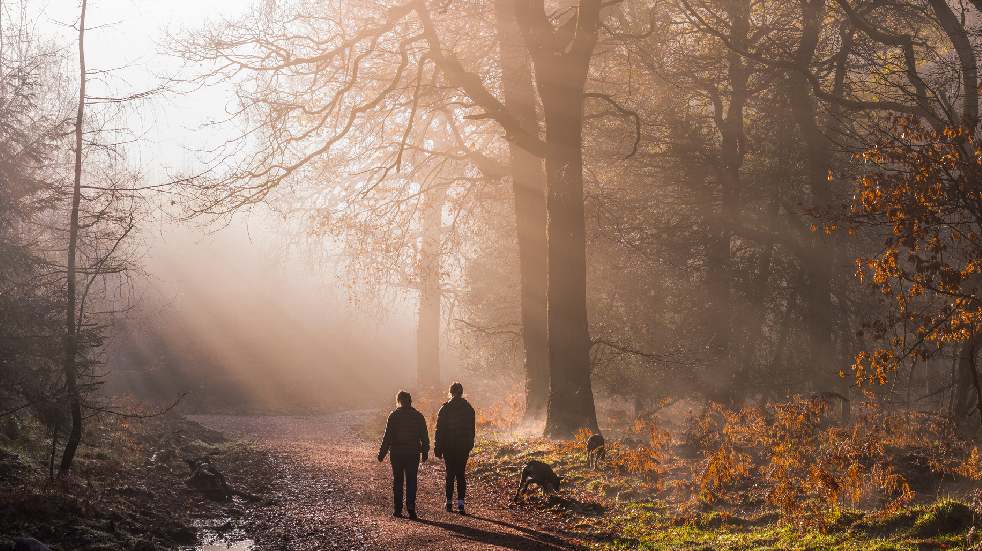 For a fully equipped family getaway in the enchanting Forest of Dean, Whitemead Forest Park is hard to beat. Sleeping up to six people, the log cabins at Whitemead Forest Park are ideally appointed for a family escape with room for the dog. Offering self-catering accommodation, the Cabins include everything you might need for a dog-friendly escape including your own veranda, outside furniture and a fully equipped kitchen.
With over 200 square miles of forest incorporating over 20 million beech, oak and larch trees, the Forest of Dean really can't be beaten for autumnal foliage, making it ideal for a walk with man (or woman's) best friend. Unchanged since Tudor times, this primeval patchwork of autumn colours is relaxing and inspiring in equal measure. Plus, lovers of adventure are well-served here, with canoeing, kayaking, cycling and hiking all on offer for the intrepid visitor (and his/her furry companion).
Click here for more information on Whitemead Forest Park
---
The city break getaway – Town Hall Hotel & Apartments, London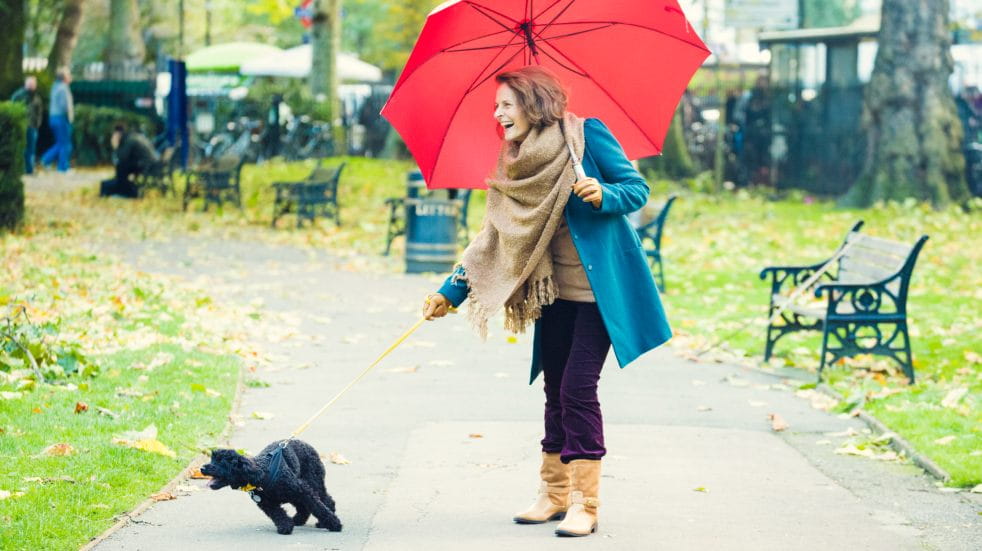 Affordable, comfortable, central and (most importantly) dog-friendly, Town Hall Hotel & Apartments offers a canine compatible escape within easy reach of the centre of London. Located in Bethnal Green, Town Hall Hotel boasts a variety of perks tailored specifically for your dog including a dog bed, bowls, a breakfast sausage plus a map of the best local dog walks. And human guests are equally well catered for with facilities including loft-style bedrooms and a heated indoor pool.
At just two minutes' walk from the tube station, visitors and their pets are also perfectly positioned to explore all the dog-friendly delights the capital has to offer. From dog-friendly rooftop bars, cafés and attractions (including the Tower Bridge exhibition, the Emirates Air Line and Hampton Court Palace) to wonderful walks around Hyde and Regent's Park, there's something to suit every preference (and breed) on an autumnal London getaway.
Click here for more information about Town Hall Hotel & Apartments
---
The cosy cottage getaway – Cotswold Cottages, Bourton-on-the-Water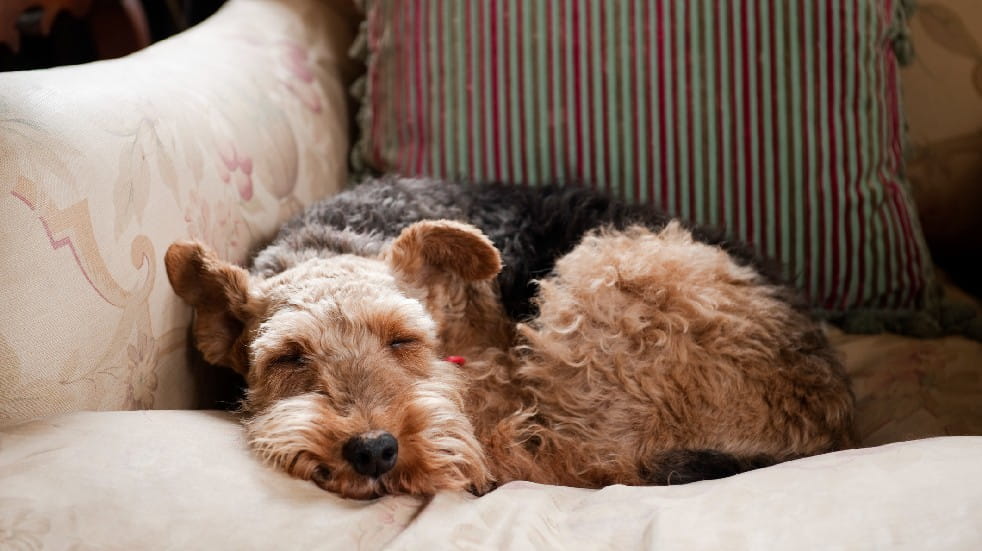 Occupying a choice spot in one of the most picturesque villages in the whole of the UK, Cotswold Cottages are a fantastic spot for a cosy autumn escape for you and your pooch. Comprising four charming cottages within a converted mill, the Cotswold Cottages are bursting with character and comfort. Built from beautiful honey coloured Cotswold stone, each features rustic interiors, well equipped kitchens and cosy lounges ideal for cosying up beside the fire in. Individually decorated and highly sought after, these cottages make for a wonderfully relaxing stay in Bourton-on-the-Water.
Being situated in a village this beautiful undoubtedly calls for a truly beautiful English country walk taking in some of the best the Cotswolds have to offer. Amble along the River Eye through pretty pastures, meadows and past imposing stately homes. And of course, no Sunday-afternoon stroll would be complete without a visit to some top-notch dog-friendly country pubs. Walking through the Slaughters make sure to stop off at the Coach and Horses pub and The Slaughters Country Inn for a well-earned tipple after a hard-day's wander.
Click here for more information about Cotswold Cottages
---
The motorhome and caravan getaway – Highlands End Holiday Park, Dorset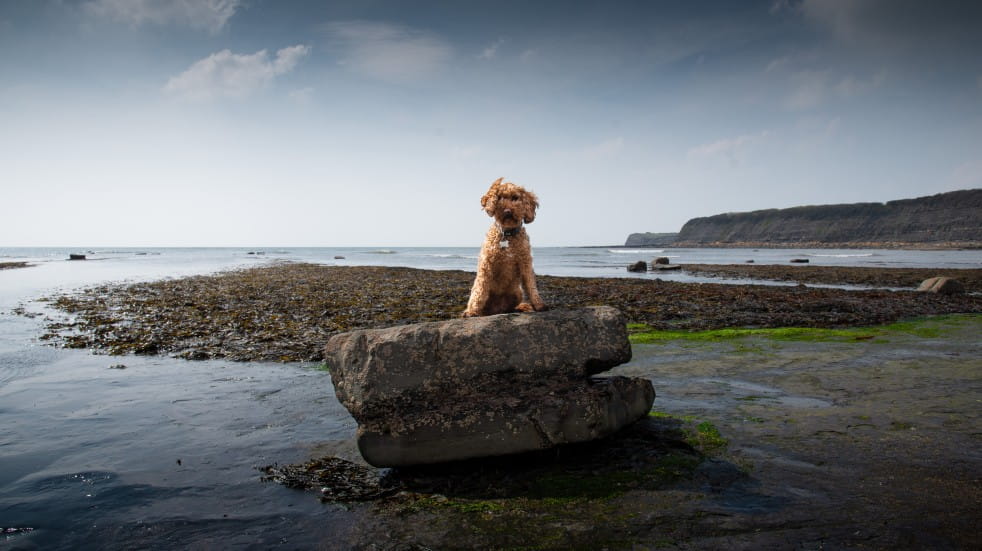 Family run and always dog-friendly, Highlands End Holiday Park in Dorset is a perennial favourite with the motorhome and caravan community and it's easy to see why. A five-star park in superb location, this spot is ideal for those looking to get away with motorhomes, touring caravans, campervans or even tents offering electric hard-base, gravel and grass pitches. And with dedicated dog-friendly facilities including an enclosed off-lead dog exercising field and a doggy shower your canine companion will have a relaxing break too.
With so much of the Jurassic coast to explore on your doorstep you won't be short of things to do. From Durdle Door and Lulworth Cove to Kimmeridge Bay and Swanage, you'll be spoilt for choice. Plus, the closest beach to Highlands End is dog-friendly, so all-day beach exploring is on the menu for both you and your furry friend.
Click here for more information about Highlands End Holiday Park
---
The eco-friendly away-from-it-all campsite getaway – Wheems Organic Farm, Orkney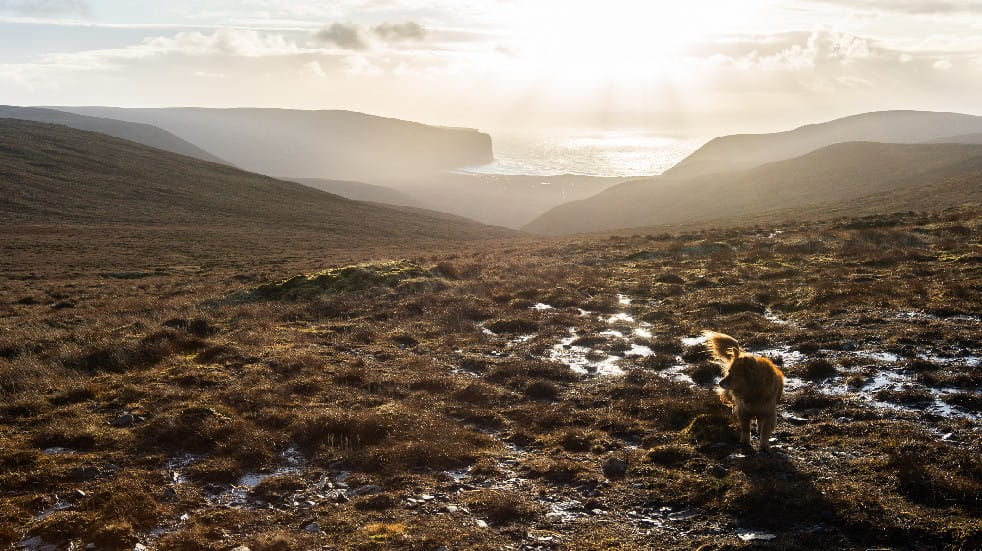 For something a little more far-flung, you can't get much further than the Orkney Islands in northern Scotland. Those willing to venture out to this remote 70-island archipelago with their pooch will be rewarded with spectacular vistas and a friendly local welcome. And Wheems Organic Farm is the perfect base from which to experience them. Consisting of a series of wooden bothies, as well as spaces in the meadow for tents and campervans to pitch, Wheems Organic farm welcomes every guest (two legged or four).
Reachable via a short ferry journey from Gills Bay, between Thurso and John O'Groats, Wheems Organic Farm provides guests with an otherworldly locale and a superb location for exploring with a canine companion. Occupied as far back as prehistoric times, little has changed on Orkney since then, making it a unique spot that must be seen to be believed.
Click here for more information about Wheems Organic Farm
---
Save on Boundless Breaks
While staycation properties remain in demand this year, Boundless members can save up to 20% on public prices at our collection of Boundless Breaks holiday properties. Take advantage of last-minute availability or book now to make sure you don't miss out. To find out more, click here.