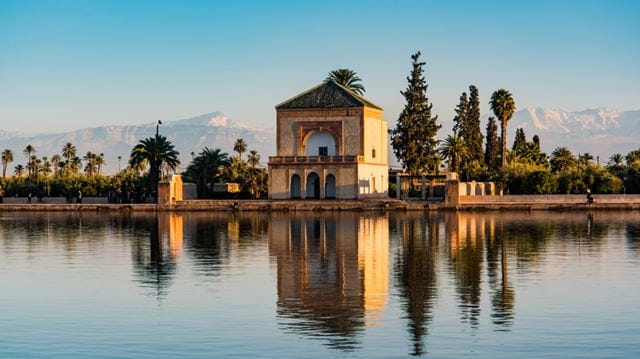 With temperatures that rarely dip below 20 degrees (even in the coldest months of the year), fascinating Moorish architecture and beautiful natural wonders to explore, a winter stay in Morocco is well worth the journey. Travel expert Yolanda Zapaterra reveals the best places to visit in Morocco and more.
However much I enjoy the turning of the seasons and the many pleasures of winter – those clear, sunny mornings with an azure sky that shines crisper and cleaner than at any other time of year, for example – there's no denying there are short, cold days and long, dark nights ahead. All of which makes jumping on a long-haul flight for a fortnight of warmth, light and sunshine very tempting. But long-haul trips are more expensive than ever, anxiety-inducing from an environmental viewpoint, and – as I was lucky enough to discover in the dog days of last winter – unnecessary.
Just a three-hour flight from London, and at a fraction of the cost of a long-haul holiday, I explored North Africa's Morocco – a bright winter destination filled with light, warmth and colour, along with the kind of activities and attractions that make the best kind of holiday memories.
---
Why travel to Morocco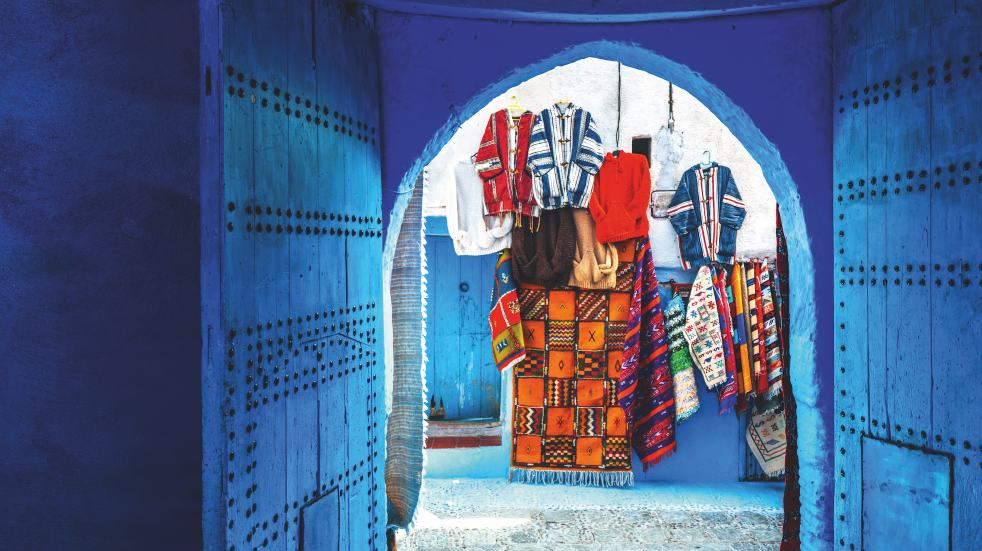 Clothes for sale in a Chefchaouen alleyway
In this welcoming, liberal Muslim country, evocative names such as Marrakech, Fes, Chefchaouen and Casablanca offer unforgettable cultural and historical experiences, while the UNESCO World Heritage site of Aït Ben Haddou and nearby Ouarzazate are truly spectacular. They're a must for film buffs who enjoy location spotting, too: Gladiator, Lawrence of Arabia and The Mummy feature among their credits. The beaches of sophisticated Rabat and boho Essaouira ensure plenty of opportunity for R&R, and there's lots to occupy more active travellers, too. Scaling (or four-wheel driving) the desert dunes of Erfoud and hiking in the southern foothills of the High Atlas Mountains are unforgettable experiences, while the cliffs and crags of the Dades Valley and Todra Gorge will tempt budding Edmund Hillarys.
---
Places to visit in Morocco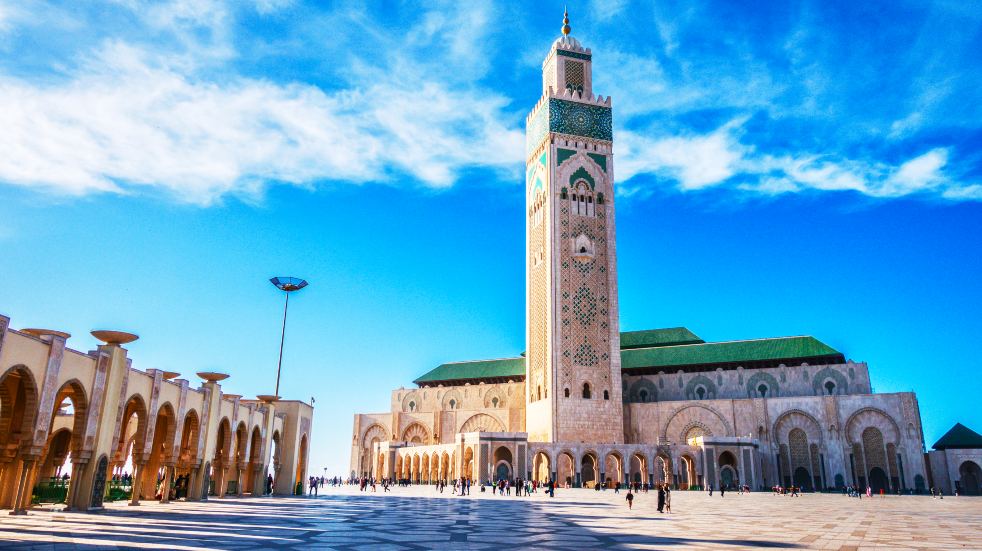 Hassan II Mosque, Casablanca
For most travellers, a trip to Morocco is likely to start in Marrakech, but I opt instead to begin in cosmopolitan Casablanca. In the low winter light, its bustling streets and alluringly crumbling art deco buildings evoke the eponymous movie (despite it having been filmed in California), and provide an arresting contrast with the city's older architectural and cultural heritage – a mix of Berber, Arab and European influences.
It's an alluring mishmash that takes in French Inspired sites like the Sacre Coeur and Notre Dame along with futurist Islamic in the shape of the stunning Hassan II Mosque, and more traditional bougainvillea-filled alleyways lined with brightly coloured tiles and whitewashed houses.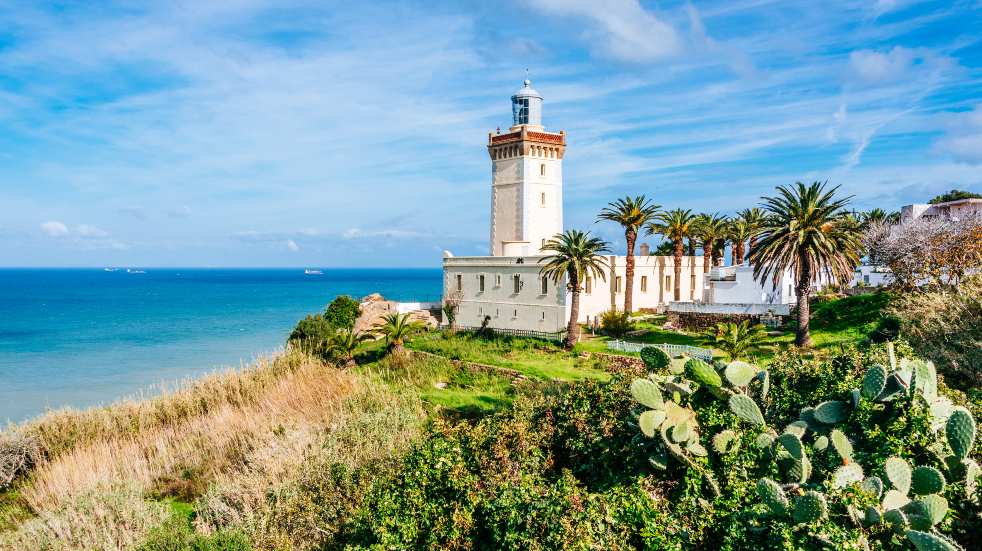 Cap Spartel Lighthouse
As Morocco's capital, Casablanca's neighbour Rabat is home to a clutch of whizzy, forward- thinking developments including the über-futuristic Grand Theatre and a developing waterfront/ seaside area that offers an intriguing 21st-century counterpoint to the historic city. Here, landmarks like the Kasbah des Oudaias, the Royal Palace and the Mausoleum of Mohammed V elegantly illustrate the city's Islamic and French-colonial heritage and are essential sights.
So too is quietly charming Meknes, less than a two-hour drive east, which offers a medina whose carts are piled high with mouthwatering produce for local shoppers. Two hours further east, you'll find brass lamps aplenty in the 9,000-odd alleyways of Fes's medina, where centuries-old tanneries, weavers' houses, potters' studios and hundreds of mosques lie waiting to be discovered – with the help of a guide, which is an absolute must in this city.
---
Extraordinary movies sets and landscapes of Morocco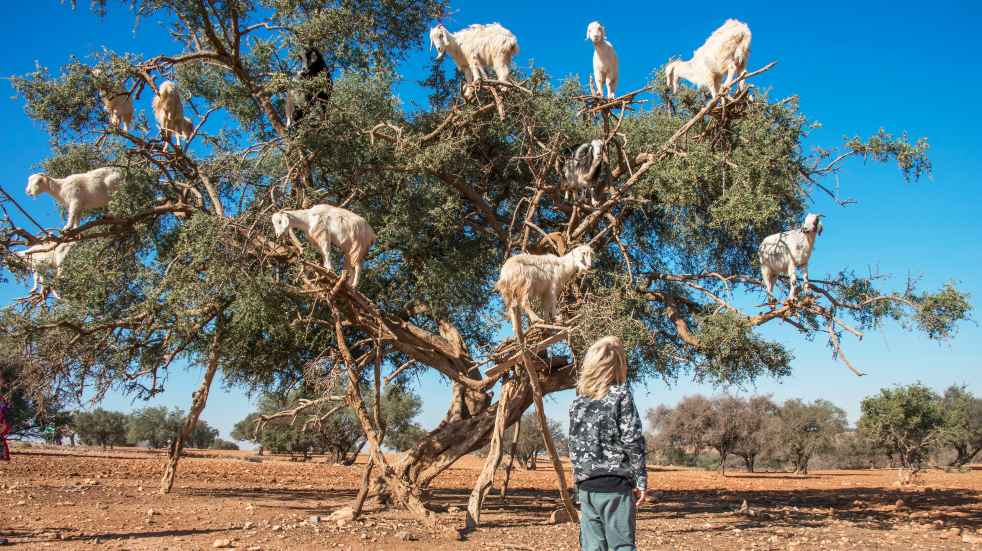 Argan tree with goats near Marrakesh
Back on the road the next day, we take a break at the Berber-Roman archaeological site of Volubilis, where mosaic floors and exquisite artefacts in the museum turn a short stop into a half-day treat, then we're southbound for the High Atlas Mountains.
The journey's long but the landscapes are ever changing, from cedar forests and snow-capped peaks to craggy gorges, and the miles pass quickly. Descending to the desertscape of Erfoud is indescribable, as is the journey west through the Todra Gorge and colourful Dades Valley, where orchards of figs and olive trees among red mud houses are such a stark contrast to the soaring peaks rising away from them that you feel like you're on a film set.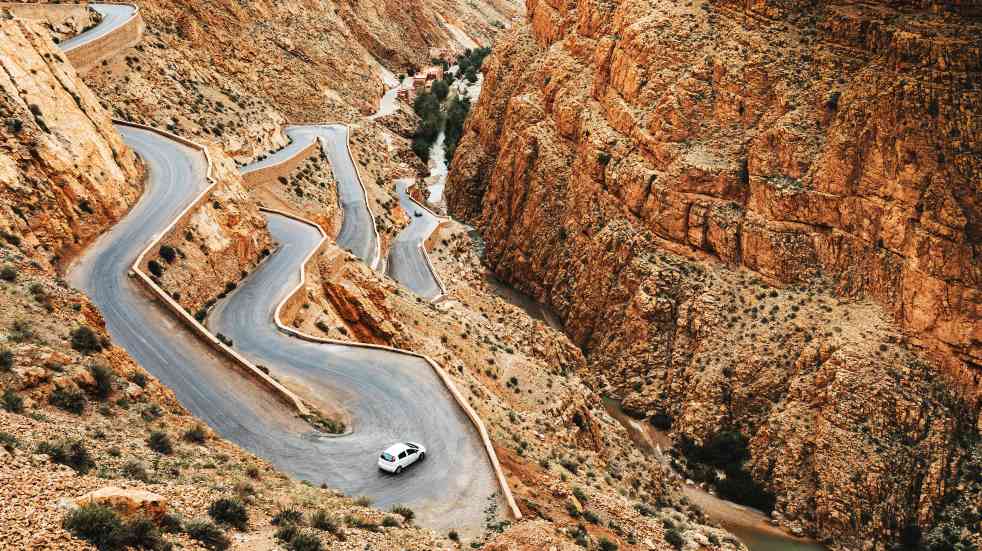 Winding road through Dades Gorge
It's no surprise, then, to learn our next stop, UNESCO-listed Aït Ben Haddou, has starred in Lawrence of Arabia, Time Bandits, The Mummy and many more films. Its red-clay architecture is spectacular, but along the 'Road of a Thousand Kasbahs', taking in some of southern Morocco's finest kasbahs and oases, we're getting used to spectacular views.
As a movie buff, I'm in heaven when we arrive at Ouarzazate, the film capital of Morocco. I explore the town's Cinema Museum, the sets at the Atlas Film Studio, the Taourirt Kasbah, which served as a backdrop for a Star Wars scene, and – a few miles away along a rocky road – the lush Oasis of Fint, which has had its fair share of film roles, too.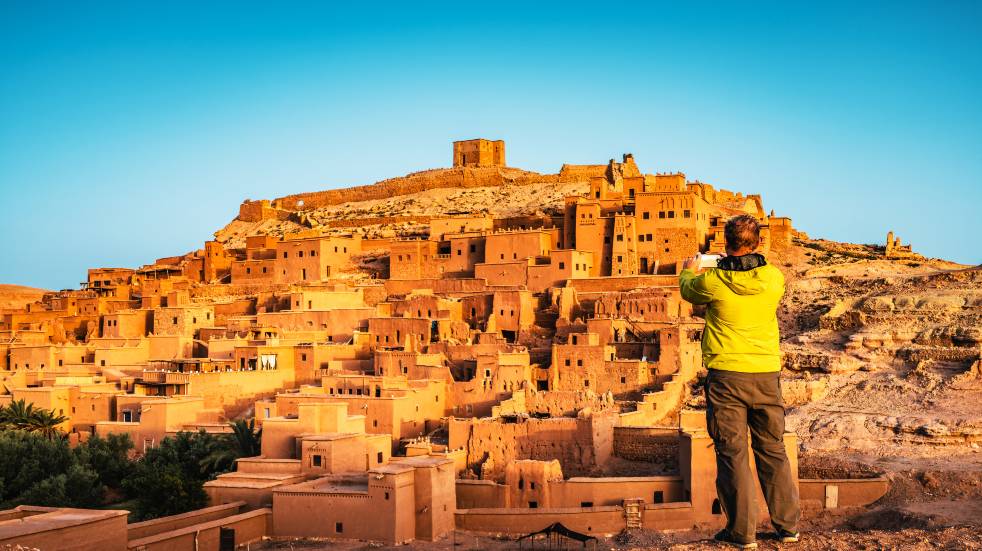 Aït Benhaddou Village
From here the road leads away from the desert and through picturesque mountain villages to the city made famous by Crosby, Stills & Nash in their song 'Marrakech Express'. As we travel, I hum it, thinking that next time, I'll take that train journey from Tangier to the eponymous city and its always vivid square, Djemaa El Fna, where stalls producing mouthwatering smells sit cheek by jowl with snakecharmers, storytellers and money changers.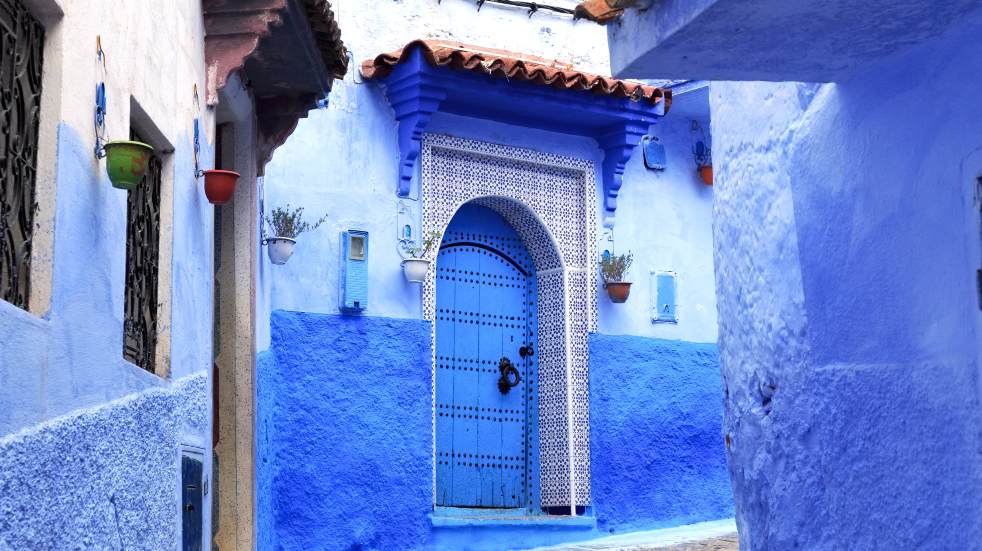 Street in Chefchaouen
But for now, this journey, with its star-filled skies, stunning landscapes and seemingly simpler way of life, has happily arrested many of my 21st-century concerns in these literally dark days. There's a good chance I'll be considering a winter warmth booster alongside my next Covid booster.
---
Do more with Boundless
Save 10% with Hotels.com
You can save 10% on hotels and holiday lets in Morocco when you book through leading online accommodation company Hotels.com. Click here to find out more information on how to access this offer.
Save 5% with Brittany Ferries

For a unique way to visit Morocco, why not book a Brittany Ferries crossing to Spain and take your car, caravan or motorhome? Brittany Ferries operates the only UK passenger ferry service to Spain, along with routes connecting the UK to France. Take your time as you travel down through Spain, taking in the stunning sights before you catch another ferry* to Morocco. boundless.co.uk/brittanyferries
*Brittany Ferries doesn't operate between Spain and Morocco