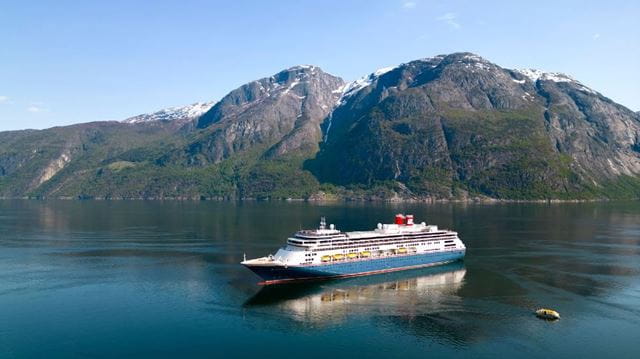 With over 175 years' experience of cruising the world, Fred. Olsen has a rich heritage to draw upon. And this experience runs throughout its 21st-century cruises, ensuring that every day on board is special. It's the cruise line to choose if you want to take advantage of smaller ships, handcrafted itineraries and the warmest welcome at sea.
---
Small is beautiful
Sometimes less is more, and this is definitely the case when it comes to a Fred. Olsen cruise. Its fleet of three ships – Borealis, Bolette and Balmoral – are smaller than most ocean-going cruise ships, giving guests a warm, uncrowded experience. With fewer guests on board, you can appreciate a truly personal service and take advantage of more space to truly relax at sea.
Another fantastic benefit of smaller ships is their ability to take you to more interesting places – to the furthest reaches of Norway's lesser-known fjords, for example, or through narrow waterways and canals to the very heart of some of the world's most beautiful cities, such as Bordeaux.
---
So much to see and do
But while the ships may be smaller than most other cruise lines, life on board certainly isn't lacking in opportunity! There are plenty of activities to get stuck into while at sea, whether it's taking to the dancefloor, enjoying a dip in the pool or trying on-deck games such as quoits and shuffleboard. For those looking for more leisurely pastimes, all three ships have a beautiful spa – with floor-to-ceiling windows providing stunning and ever-changing views during your treatments. You can learn something new as well, such as playing the ukulele or block printing in the art studios on board Borealis and Bolette.

You'll also find many activities specifically tailored to the regions you're cruising through. Cooking demonstrations and informative talks will help you gain an understanding and appreciation of areas before you even arrive in port, while on-deck stargazing talks will give a rich insight into the wider universe we live in.
---
A family affair
Fred. Olsen is proud that the Olsen family is still at the helm of the company, and that family values remain at the heart of the Fred. Olsen experience. As Mr Olsen himself says: "It's all about the people. All of it, everything." Many crew members have been with the company for decades, and love welcoming guests on board year after year. Many are repeat customers who love being a part of the wider Fred. Olsen family.
While Fred. Olsen cruises provide a wonderful chance to enjoy a holiday as a couple or in a group, they're also a fantastic option for solo travellers. Sometimes it can feel daunting going on holiday by yourself, but with specific social occasions such as mixed dining tables and welcome drinks, there are plenty of opportunities for single travellers to mingle and meet like-minded travellers. This is why Fred. Olsen was named 'Best for Solo Travellers' at the 2022 Cruise Critic Awards.
To find out more about Fred. Olsen cruises, and to plan your dream holiday, visit the Fred. Olsen website.
---
Do more with Boundless
Boundless members get access to year-round deals on holidays and travel services, including insurance, car hire and taxi rides. If you're working or retired from the public sector or civil service and not yet a member, discover more about Boundless membership here.