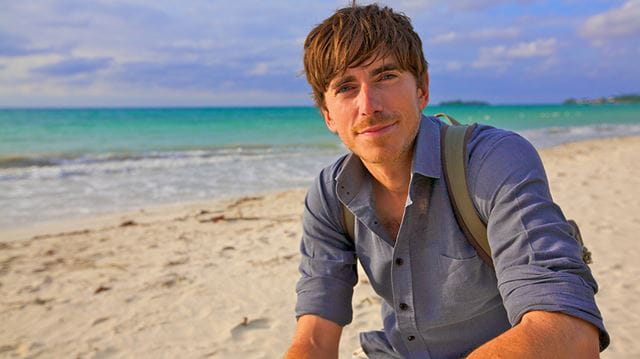 The adventurous travel writer and TV presenter reveals what inspired his autobiography, and how his experiences as a teenager have affected his love of travel.
Why did you decide to write your new book, Step by Step?
"My publisher had been encouraging me to write a different type of book, more of a memoir, based on my previous life. Now I've got a seven-year-old son, it was my chance to write something for him to have a legacy. And I wanted to be honest about my earlier life before TV and the difficulties I had starting out in life.
"There's a lot of talk about the mental health of young men and epidemic of suicide among that generation. I had some very difficult experiences during my teens and I got to a very low state; I wanted to be open and honest about it, if in some tiny way it might help others who are in the same situation to know there can be a future and hope. I was a lost lad, I'd walked out of school with nothing and saw no future. I was very depressed and could see no future, I had no qualifications, no girlfriend, and no hope."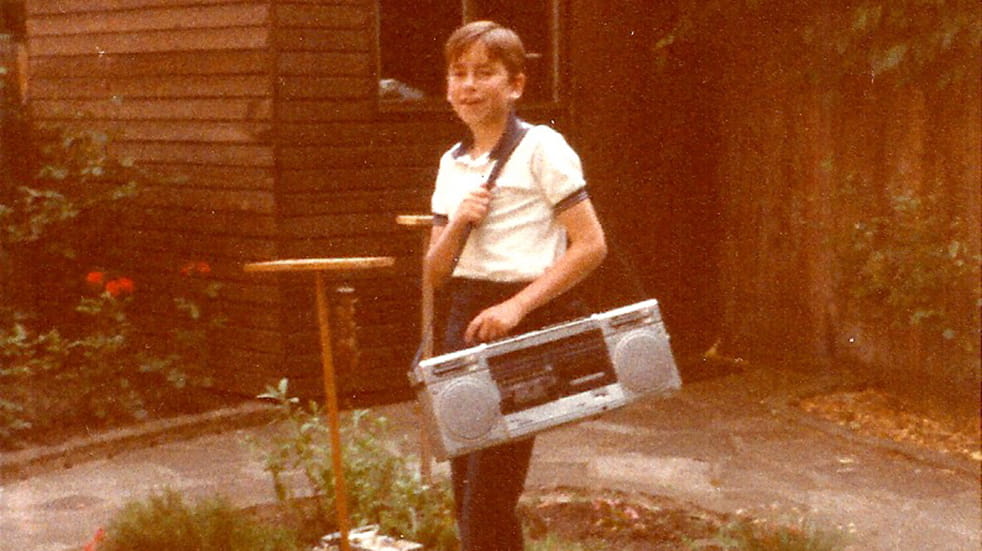 Simon as a young boy, growing up in London.
---
Enjoy more of our expert travel advice:
---
Do you think your mental health issues made you more of a risktaker?
"It's made me more accepting of risk because I've been in some very tricky situations and that's made me more conscious and aware of risk, but also more trusting and accepting of where the line is. Some people's comfort zone is quite close to them and I would say mine is perhaps larger. I know where the line of terminal danger can be."
What led to your love of travel?
"At 17 I realised I needed to test and challenge myself, as we'd been overseas on a camping holiday to Calais as a family but I'd never been on a plane. I left London on my own for the first time and went on a bit of a journey. It wasn't an epic quest but I went to Scotland on my own and climbed a mountain and that was the physical making of me. I caught the train to Scotland and headed to Glencoe, and organically started walking and then scrambling up a mountain at the end of the day. Everyone else was coming down and saying I should turn round as I was an unprepared urban muppet. But I made it to the top of this mountain ridge in darkness. By all rights I should have broken an ankle or leg but I made it to the top and felt an incredible sense of achievement.
"I've never really since felt that power of the journey to move and change me. It was so intense and life-affirming and transformative. I came back down completely renewed, I felt rebooted, restarted.
"Then I started applying for jobs and my whole little world began to open up. I got a job working as a postboy on a newspaper and started going on little missions for the paper. The first time I flew was up to Newcastle, I was working on an investigation into nuclear smuggling. I was 18, it was my first time on a plane, and it was very exciting."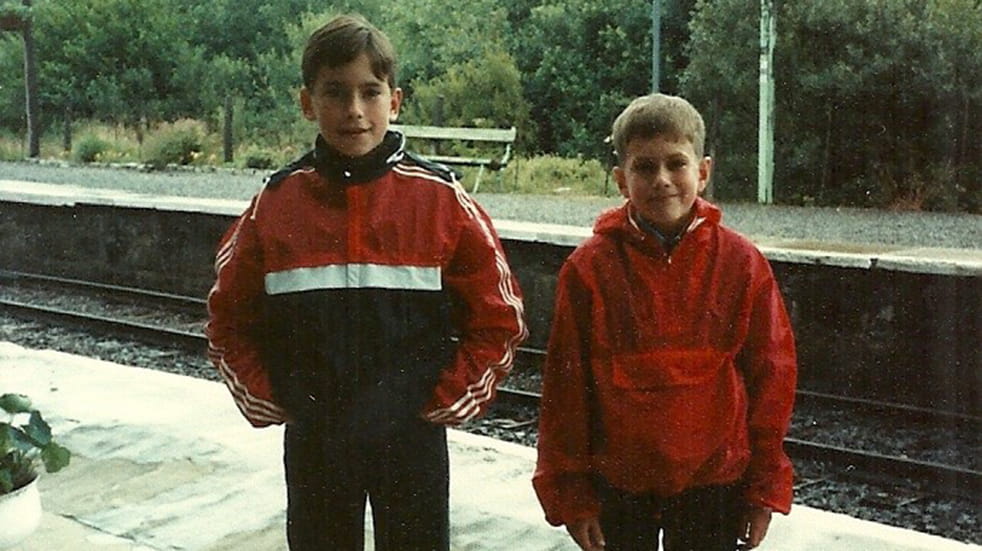 Simon with his younger brother, James, on a childhood trip.
Which place would you like to visit next?
"I've never been to Japan, and I'd love to go to New Zealand, Senegal and central America; I'd also like to explore West Africa, and in the Middle East there's still so much to see and discover there. I'm not putting away my passport just yet, as there's loads of places I'd still like to go.
"I've got some secret plans but superstition means I can't mention them yet in case I jinx it but I'm hoping to do another big fairly epic journey. I've just finished a TV series of a journey around the coast of the Mediterranean, clockwise from the northern shores of the Med, to the Middle East and North Africa, and it was a fairly extreme part of the world. I was quite taken aback by some of the sights and experiences we had around there."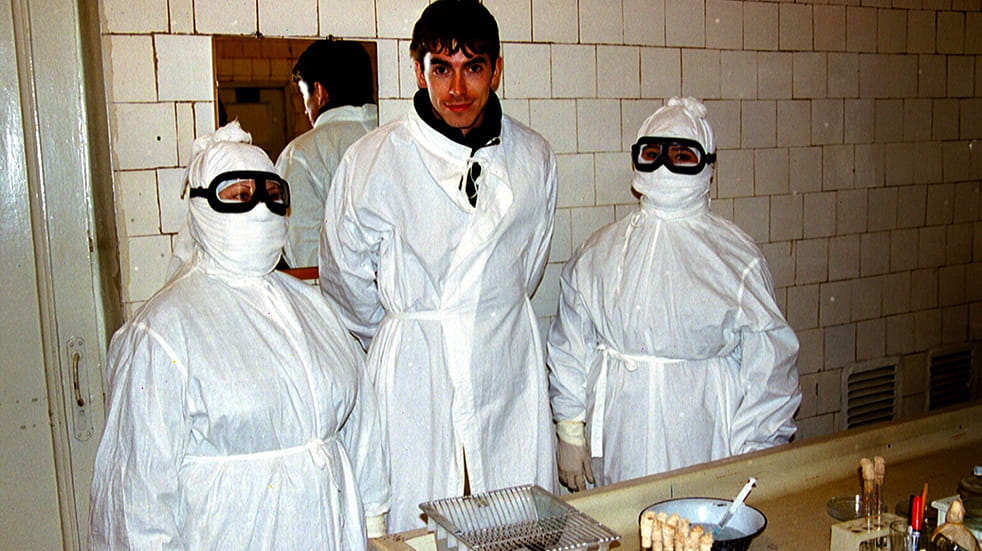 Simon with researchers from the plague research institute in Kazakhstan, who work with deadly biological agents.
Which destination has surprised you most?
"I've been to around 120 countries and I've been unbelievably lucky with my adventures and experiences. I've been astonished by a lot of places: Bangladesh, the Maldives, Greece; they've all astonished me. But most of all, Madagascar. It's an incredible place, so much better than I expected: it's like the Galapagos islands as it's been cut off from the rest of the planet for an age, but much, much bigger. So life has evolved there and humans have been there on their own for a long time, and human culture there is different and shocking in many ways.
"It's a place where you see sights you won't encounter anywhere else on the planet; you can go over a hill to a forest of spiny cactus, then over another hill to an open plain with cowboys moving enormous horned cattle. I've never seen anywhere like it and it's blissful and bizarre and very beautiful.
"It was shocking at the same time, as it's also been heavily affected by mankind and deforestation, and has environmental challenges. The people have developed some strange customs, as when people are left on their own for too long they often come up with weird and wacky ideas – things like they wouldn't wear red on a Tuesday, or eat food while talking to someone called Nigel. They also some dark customs, such as in one area if twins are born one of them is left in the forest to see if they survive, and quite often they're taken away by wild animals. So it can be quite horrific. As an island and culture it's wild and beautiful, and very different."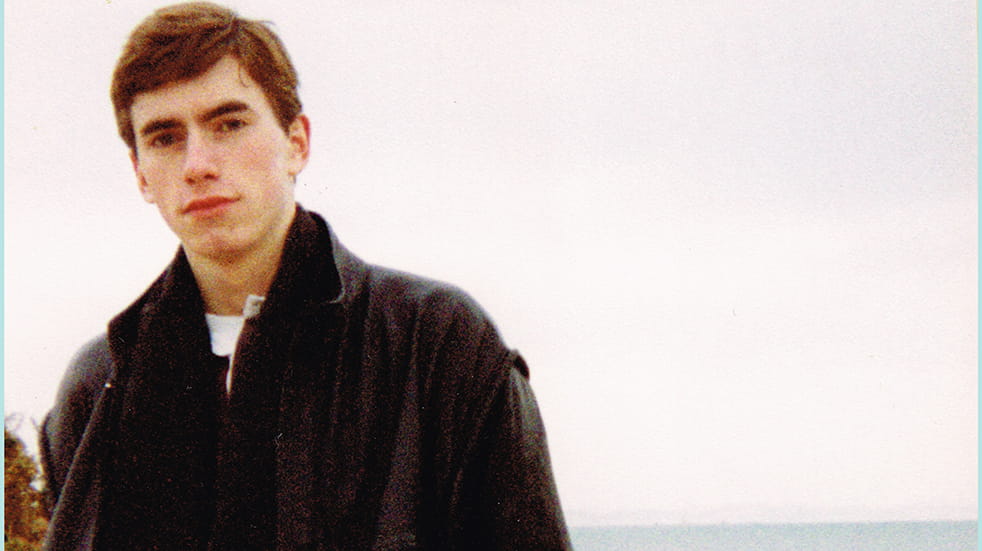 Simon in his late teens, in 1991.
In the UK, Samaritans can be contacted on 116 123 or email jo@samaritans.org