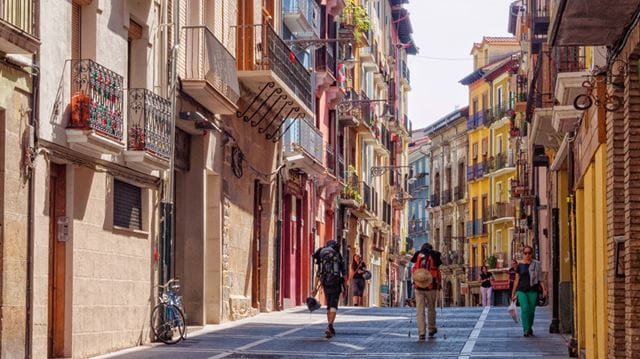 Follow in the footsteps of ancient pilgrims as you follow a well-trodden route from France to Spain.
It's like any other morning as I walk into Bristol city centre – except I'm not going to work. I'm catching a bus to the airport and carrying a backpack that holds everything I'll need for the next six days, while I walk all 68 miles of the Camino del Baztán. A keen hiker, but complete walking-holiday novice, I usually opt for city breaks, with all their comforts and culture. But this trip offers the best of both worlds – traversing remote valleys and mountain passes, with a city-break shaped reward at the end.
The appeal of walking a pilgrimage lies in its sense of purpose: getting from one place to another under your own steam. The well-known Camino de Santiago is a criss-cross of ancient pilgrim routes starting from all over Europe and ending at the shrine of St James in Santiago de Compostela. Its most popular route is the busy Camino Frances – at around 500 miles, this takes about a month.
That seemed a bit much for a beginner, but then my aunt Gill said she wanted to walk the Baztán – a lesser-known stretch of the Camino that crosses the Pyrenees from Bayonne, France, to Pamplona in Spain. I thought I could probably manage that. Her friends Jen and Caroline would join us, so we'd be a merry band of four, with plenty of moral support. Not used to walking long distances day after day, after booking my flight I started breaking in my new walking shoes and hoped that what I lacked in experience I'd make up for with enthusiasm.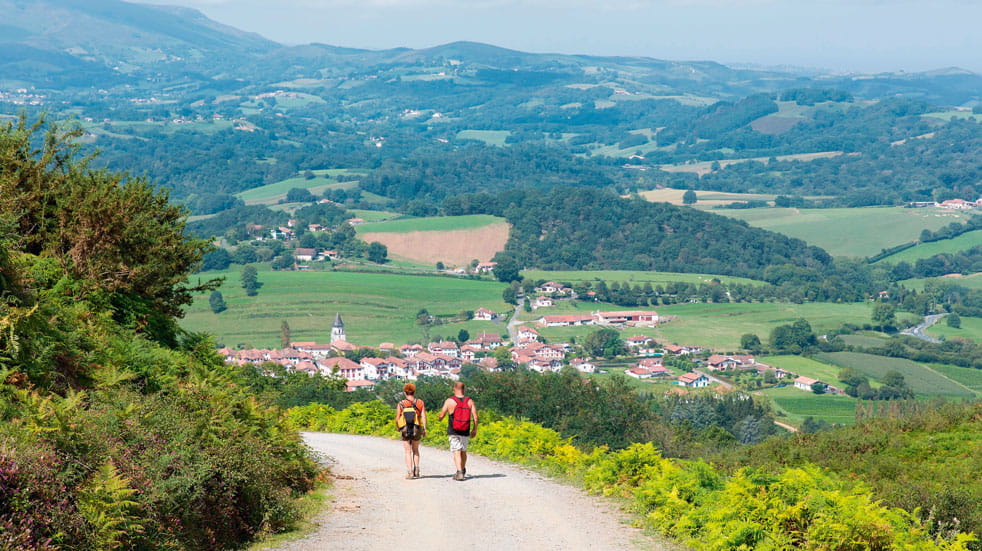 A pair of pilgrims descend towards Ainhoa, France.
---
Discover more great walks in the UK
---
The origins of pilgrimages
For thousands of years, people have been making pilgrimages to places of religious significance, such as Mecca or the Vatican. But, these days, most have different reasons: a milestone, loss, divorce, because it's there, or simply because they're driven by the impulse, shared by many of us, to put one foot in front of the other. The benefits of exploring the great outdoors to both body and soul are widely accepted. Walking is a meditative process that offers time to think and clear your head, away from real life. It's just you, the weather and the scenery.
According to Will Parsons, co-founder of the British Pilgrimage Trust, pilgrimages are set apart from mere walks by three things: intention, journey and destination. "It's a conscious endeavour," he said during a short pilgrimage along the Old Way in East Sussex, recorded for BBC Radio 4. "You're often asking a question, or seeking a wholeness that you think you lack." The pilgrims I meet talk passionately about their motives, but mine are not especially weighted – simply, to explore somewhere new on a limited budget, spend some quality time with family and find out what all the fuss is about.
As we set off from Bayonne, Gill tells me it was the sense of achievement that drove her to walk the Camino Frances, which she and Caroline completed over four years. "I wanted to finish it before I turned 70," she says, adding: "Now I'm addicted" – something I'll hear again from other pilgrims along the way.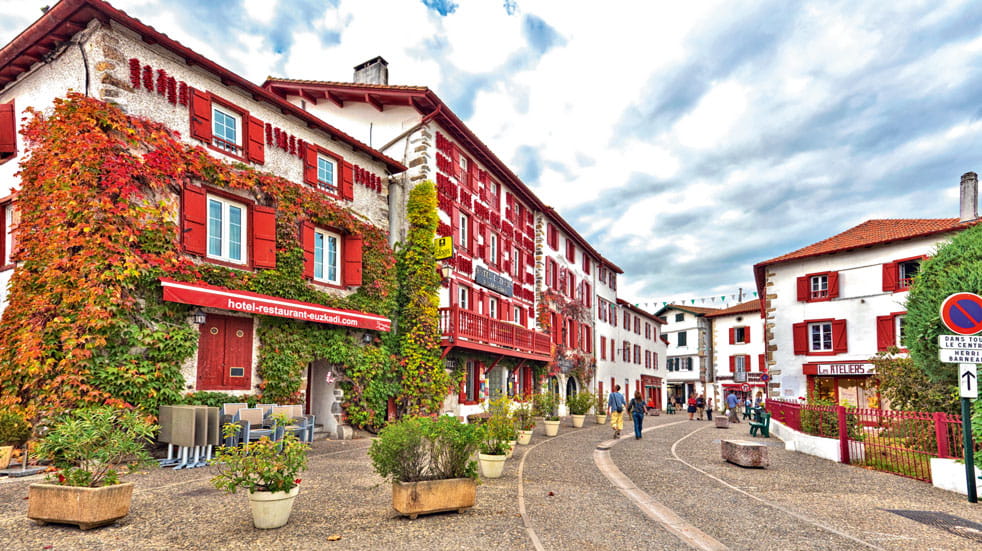 Espelette is one of the first stops on the Camino del Baztán.
Camino del Baztán: the road less travelled
On the list of reasons for choosing the Baztán, the fact that hardly anyone's heard of it is near the top. It offers an experience that would be more familiar to early pilgrims, whose only companions were donkeys. At the postcard-pretty hilltop town of Berroeta, just 455 pilgrims are listed in the hostel's guest book between January and September 2018. In comparison, at least 33,720 pilgrims who finished in Santiago in 2016 walked the Frances route.
Caroline says this is part of the reason she prefers the Baztán: "I like it because it's more natural and unspoiled. And it's quieter." The hostels, and to some extent the villages, along the Baztán sprang up to serve pilgrims – such as the 11th-century monastery at Urdax, which has always offered them shelter. Bunk beds aside, the impressive building, which we have to ourselves, provides grand lodgings for €6 a night. In smaller villages, you follow the signs to an albergue (pilgrim's hostel), ring a number on the door and wait for a friendly local to come and let you in.
Even small villages usually have a bar or restaurant for much-needed sustenance, although there is an element of uncertainty and the Baztán is particularly remote, so sometimes it's necessary to carry provisions. "What you usually eat goes out the window, you eat what's available – but it's usually pretty darn good," observes Jen, also a seasoned pilgrim. Even more so after a day's walking.
One thing that's certain on the Baztán, and the Camino in general, is that it's almost impossible to get lost. Everyone's going the same way, and there are yellow arrows – spray-painted onto trees, gateposts and pavements – pointing you along the route to Santiago, hundreds of kilometres away.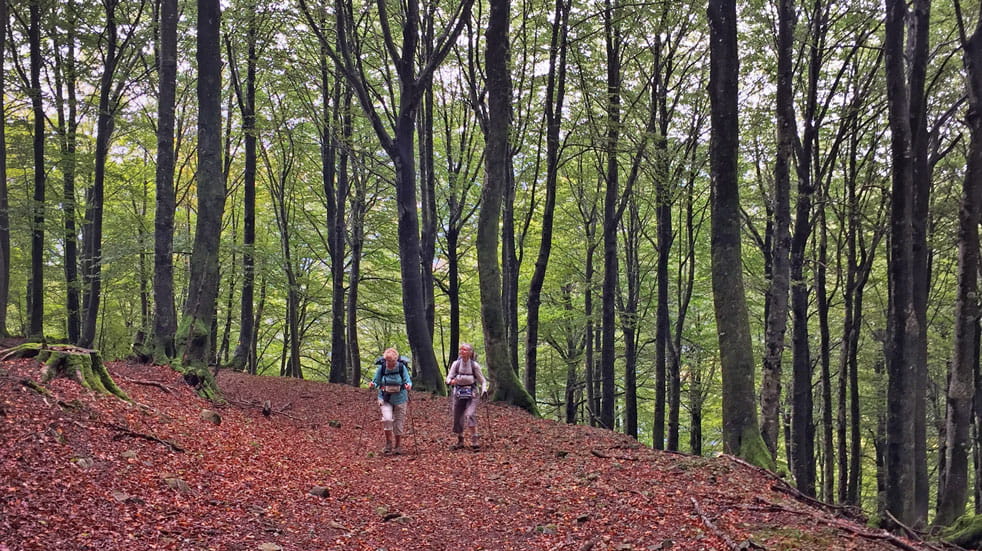 Traversing the woods between Berroeta and Lantz.
The changing landscape along the Camino del Baztán
If walking is not usually your primary holiday activity, it's no small feat to walk nine to 15 miles in a day, then get up and do it again, so some training is advisable. But all sorts of people hit the Camino – all walks of life and ages. Tired feet and achy shoulders are to be expected, and we all feel the burn, but after a few days your backpack becomes a part of you and you stop thinking about it.
Meanwhile, it's satisfying (and surprising) to track how far you've managed to walk, and to watch the landscape change. The rolling green hills of northern Spain's Basque Country give way to atmospheric forests and wooded hillsides, opening up to reveal the sweeping views and cloud-covered peaks of the Pyrenees. Nestled in the valleys below are clusters of old, solid-looking white houses with tiled roofs and balconies spilling over with geraniums. The peace and quiet is interrupted only by the sound of cowbells.
But it's not all bucolic countryside on the Camino, and we are running out of steam as we approach lively Pamplona, bursting with bars serving delicious pintxos, as tapas are known in these parts. This is where the Camino del Baztán ends, meeting up with the Camino Frances as it passes through here. We join the steady stream of pilgrims heading for the cathedral, to get their pilgrim passports stamped and find the hostel – but ending our walking holiday in a larger town means we can treat ourselves to an Airbnb for a few days of R&R.
In sandals and microfibres, the walkers are easy to spot and one emerges from the cathedral, weathered but smiling, a big sun hat tied under her chin. At 65, Tracy is finding the Camino challenging, despite two years of training at home in Arizona: "You learn quickly that you don't tell the Camino how far you're going each day," she says. "It tells you – and I'm listening very carefully!"
But, after a few days of walking, you get into a rhythm. Istva'n Hun, who moved to Pamplona from Hungary to open a shop for pilgrims, describes the experience in terms that could apply to any walking holiday: "There's nothing – no TV, no phone, no family. It's hot, there's no shade, but I find myself smiling anyway. Why? It's the simplicity of life on the Camino." Amen to that.
Life on the Camino del Baztán
The best schedule seems to be: leave at first light, stop for coffee and a crêpe at the next village, cover some ground before lunch, then get to where you're spending the night in early afternoon before it gets too hot. This also leaves time to shower, do some laundry and put your feet up with a cold beer and a view. Then it's a communal meal with your fellow pilgrims, resisting the temptation to stay up sharing tales late into the night over a few bottles of vino tinto.
---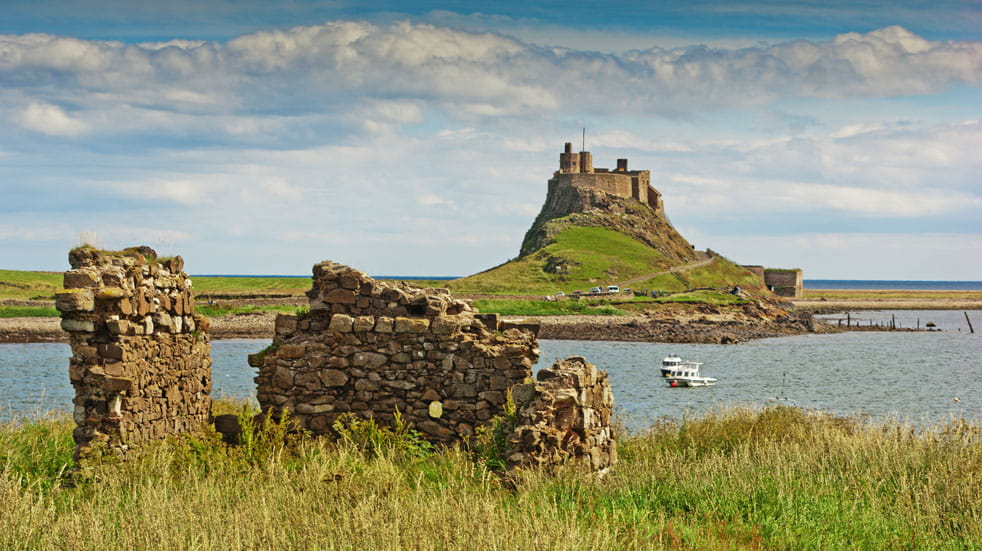 Lindisfarne, at the end of St Cuthbert's Way.
Walk this way
Fancy stretching your legs? Travel writer Sarah Baxter recommends five alternative routes:
1. Caminho Português, Portugal and Spain
Lisbon – Santiago, 380 miles (610km)
While the Baztán Camino makes its way through the Basque region, joining the famed Camino Frances in Pamplona to veer west to Santiago, the Portuguese Way of St James takes a different approach. Starting in Lisbon it heads north to the apostle's Galician tomb via Moorish-influenced Santarém, handsome Coimbra (home to one of Europe's oldest universities), Porto and the Roman bridge at Ponte de Lima, as well as swathes of lush countryside.
2. The Saints' Way, England
Padstow – Fowey, 30 miles (48km)
Following the likely route taken by Welsh and Irish pilgrims en route to Santiago de Compostela, The Saints' Way crosses crowd-free mid-Cornwall from north coast to south. Doable in two or three days, the trail – waymarked by Celtic cross signs – begins in Padstow and finishes at Fowey, from where pilgrims would have set sail for the continent. It's a picturesque route, taking in creeks, rivers, woods and moors while also linking a network of standing stones, shrines, churches and holy wells.
3. St Cuthbert's Way, England and Scotland
Melrose – Lindisfarne, 62 miles (100km)
This border-hopping trail links Melrose Abbey, where St Cuthbert began his religious life in AD 650, and Lindisfarne (Holy Island), where he was buried in AD 687 and which was home to his original shrine. It's a striking route, taking in the Eildon Hills, parts of Northumberland National Park, the Cheviots and St Cuthbert's Cave. The final steps are governed by the sea: only when the tide's out can pilgrims cross the sand, reach the island and explore the priory ruins.
4. St Kevin's Way, Ireland
Hollywood – Glendalough, 18 miles (30km)
At some point in the sixth century, St Kevin traversed the Wicklow Mountains and settled in Glendalough valley to live a hermit's life of prayer and privation. After his death, a large monastic settlement developed here, and pilgrims flocked to visit Kevin's tomb. Some still do, walking from the village of Hollywood (also known as Killinkeyvin, 'Kevin's little church') via the dramatic Wicklow Gap and the Glendasan River to reach the monastery remains, which include the superb Round Tower.
5. Via Francigena, England, France, Switzerland and Italy
Canterbury – Rome, 1050 miles (1700km)
This epic journey runs from the southern portico of Canterbury Cathedral to St Peter's Basilica, aping the tread of Archbishop Sigeric, who documented his AD 990 journey along the Francigena. Today, his route passes France's First World War battlefields and Champagne vineyards, Switzerland's Jura Mountains and Lake Geneva, and Italy's Apennines and Tuscan hills. The time-poor should focus on parts of the 620-mile Italian section, which uses mountain trails, mule tracks and well-worn cobblestones to get from the St Bernard Pass to Rome.
---
Pilgrim's tip
Paula Nuño, from Mexico
"Everyone is ready to tell you what to do. Take their advice, but do your own thing – it's your Camino."
---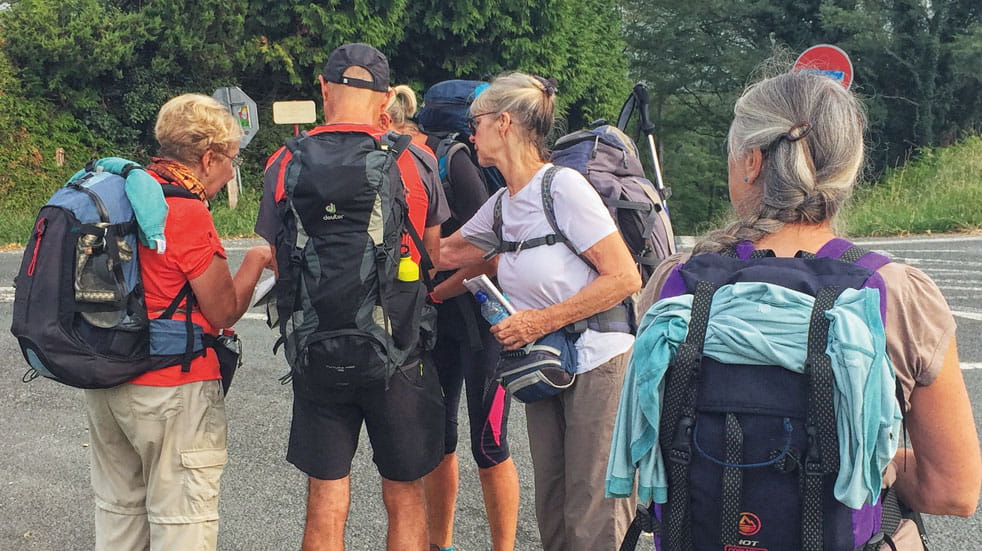 A group of hikers discuss the route.
Walking the Camino del Baztán: all you need to know
Getting there: Fly regionally to Biarritz or get a flight or ferry to Bilbao, take a bus to Bayonne, then a bus back from Pamplona (it's under four hours to Bilbao).
When to go: Many go in spring or autumn as it gets very hot in the summer. Early autumn was a great choice, when it's still warm but not sweltering, and there are fewer people walking so it's easier to find a bed at the hostels.
What to pack: As little as possible: one to wear, one to wash, one to change into is a good rule of thumb. Hostels have washing machines and blankets, so you just need a sleeping bag liner and towel. And earplugs.
Fitness: Daily walking distances vary between 15 – 25km and there are some steep climbs, so you need a relatively good level of physical fitness. Walking poles help to take the pressure off your feet and knees on the way down (but do bear in mind that you can't put them in carry-on luggage).
Information and advice: The community forum on the Camino de Santiago site /caminodesantiago.me/ is full of useful tips. The Buen Camino app shows maps, elevations and places to stay. The book, Walking Guide to the Camino del Baztan, by Gerald Kelly, is useful for knowing which places are without eateries.
Pilgrim's passport: Available from cathedrals at Camino starting points, these only cost a few euros but you'll need one to stay in the hostels to prove that you've walked that day. It will collect an attractive collection of stamps – most albergues and cafés have their own designs.
Where to stay: Along the route are albergues, some of which offer meals, or have facilities to cook your own. Some of the villages have small guest houses, which have special rates for peregrinos (pilgrims).
Closer to home: Find out about the art of pilgrimage in the UK and discover routes near you at the site of the British Pilgrimage Trust.
Do more with Boundless
Save 15% with Cotswold Outdoor
Get all your walking essentials in one place, where you can choose from more than 250 of the best brands.
Save up to 7% on your ferry crossing
Brittany Ferries offers a choice of routes to France and northern Spain. Sail by day or overnight, or choose high-speed to France.