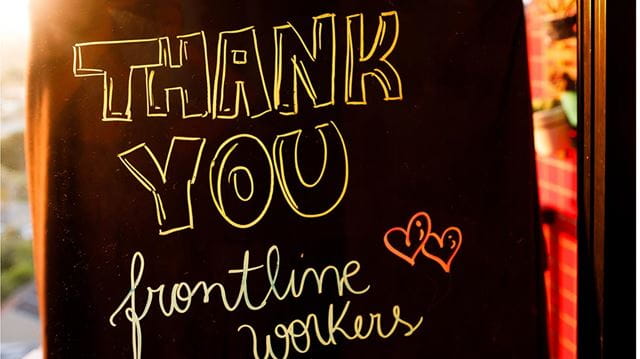 The past few months have represented an incredible challenge for public sector workers, who have worked tirelessly and selflessly to combat the threat of COVID-19.
So this year's Public Service Day – where the public is given the opportunity to express their gratitude for all that these heroes have achieved and will continue to achieve – could not have been more timely.
What is Public Service Day?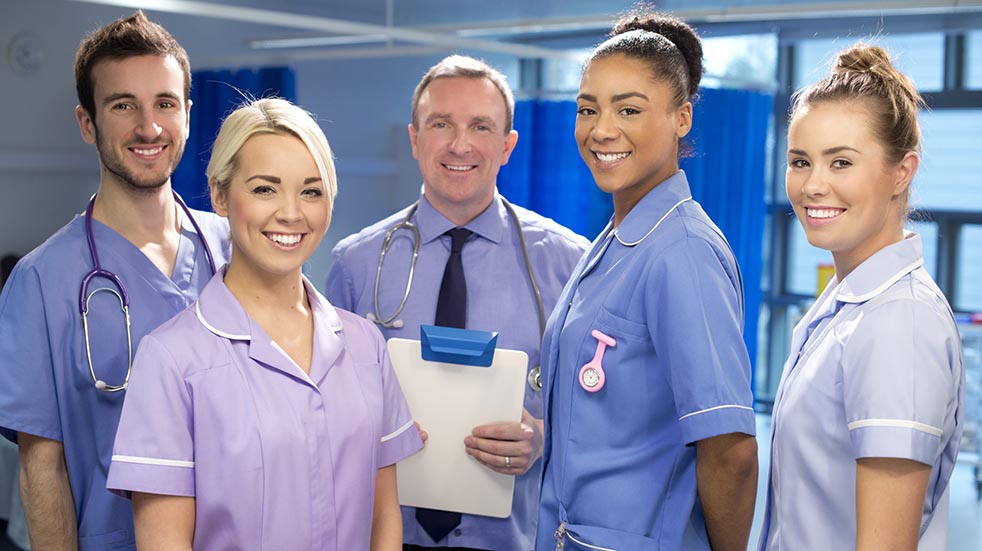 Public Service Day was launched internationally by the United Nations back in 2003, "to celebrate the value and virtue of public service to the community". With UK coverage of the event waning in recent years, Boundless has been campaigning to raise awareness of this noblest of causes by encouraging our members to give thanks to those working in healthcare, education, the emergency services, public transport and other vital sectors.
Your appreciation will certainly be well received. In a study carried out by Boundless in the lead-up to last year's Public Service Day, it was found that the average key worker in the UK had gone 57 days without receiving a thank you for their efforts.
Happily, when we repeated the study prior to this year's event, the figure had dropped to just nine days – a difference of 84 per cent. But, as Darren Milton, Boundless's head of Brand and Creative, explained, there's still work to be done.
"The figures coming back from our survey are hugely encouraging because they show that millions of people have been saying 'thank you,' and doing so far more often than a year ago," he said. "But we don't want that to stop when this pandemic is over.
"Now that public sector workers are in the spotlight, it's important that we show our appreciation on Public Service Day and keep the good work going."
How was Public Service Day marked this year?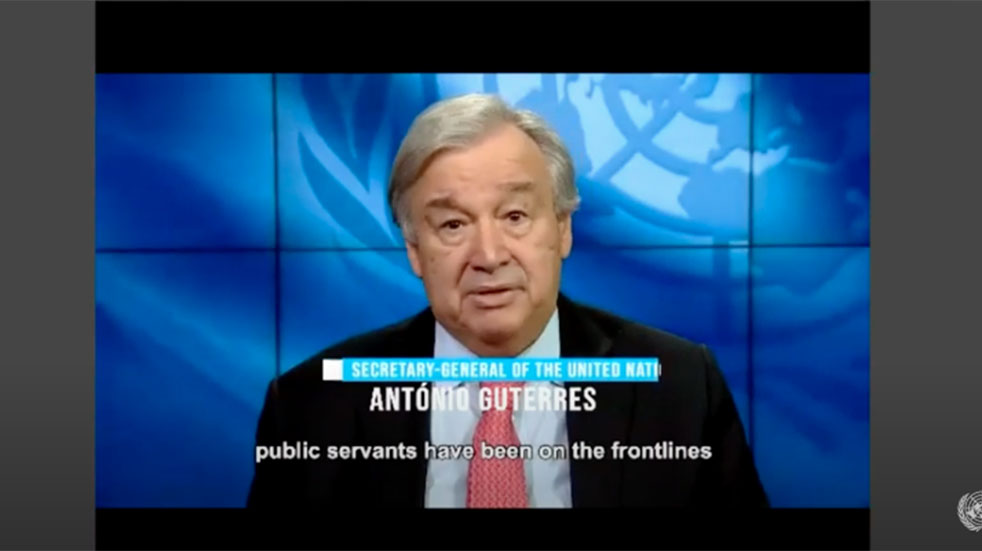 Due to the coronavirus pandemic, the UN was forced to celebrated the 18th anniversary of Public Service Day with a special video broadcast.
Among those who paid tribute to the public sector workers who've risked their lives on the front line of the coronavirus pandemic was António Guterres. The UN's secretary general said: "As the world continues to grapple with the deadly COVID-19 pandemic, public servants have been on the front lines of the crisis response.
"They are the nurses, doctors and paramedics who provide life-saving care; the sanitation workers who disinfect and clean public spaces; the transportation workers who keep buses and trains running; the teachers who educate our children both on and offline; and the public health officials, data managers and statisticians who provide vital and reliable information on the transmission and prevention of the disease.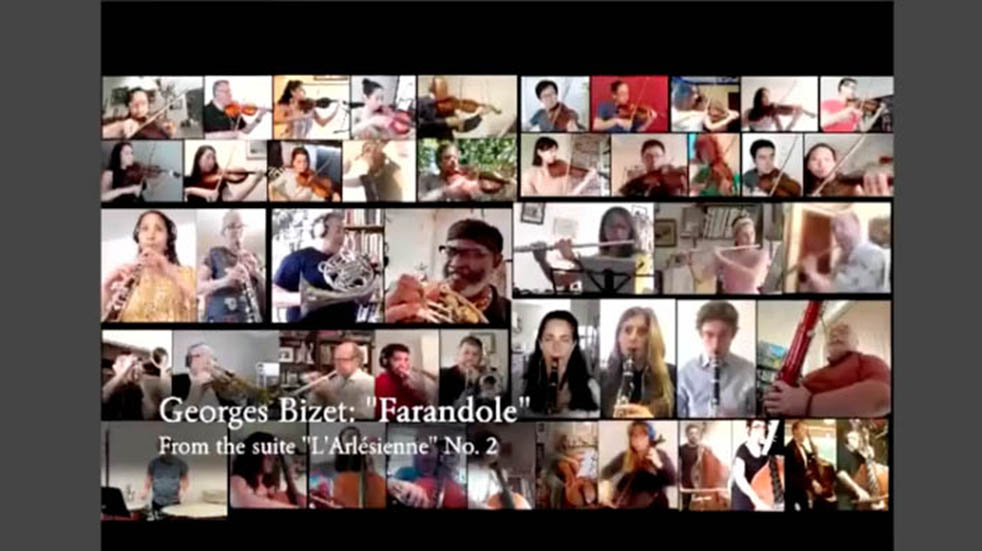 "Many of these dedicated individuals have carried out their work in dangerous conditions, with high human interaction and without access to personal protective equipment [PPE]. And some have lost their lives to COVID-19 in the process.
"Today, as we honour these essential workers and so many more, we must also reflect on how to better protect, recognise and invest in their wellbeing as we build back better together. And I say directly to those inspiring public servants: we are all deeply indebted to you for your remarkable acts of service to humankind."
In the same broadcast, Dr Tedros Adhanom Ghebreyesus, director general of the World Health Organisation (WHO), commented that Public Service Day "acknowledges the incredible role and value of public service, and applauds public sector workers globally".
And there was also a musical tribute from the United Nations Symphony Orchestra, who performed a remarkable socially distanced rendition of Georg Bizet's rousing 'Farandole'.
What has Boundless done to contribute?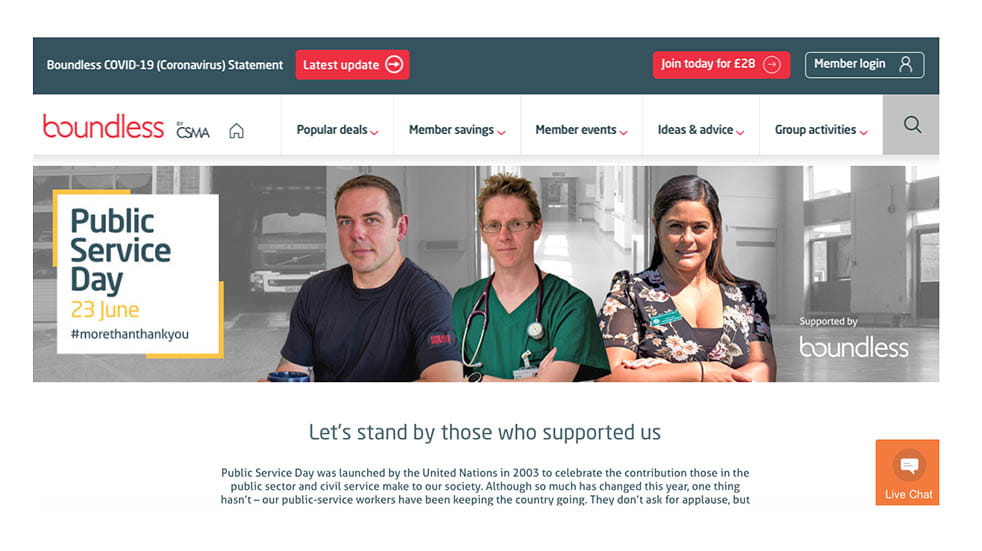 ---
Through our dedicated Public Service Day page, we have been asking our members to join us in "standing by those who supported us" during this pandemic. This can be done in a number of different ways: by showing appreciation to our heroic public sector workers using the hashtags #morethanthankyou and #publicserviceday on social media; signing petitions for better public sector pay and working conditions; donating to relevant charities and/or writing to your MP.
On top of this, Boundless has donated £1,000 to each of the five public sector charities we have chosen to support this year: Police Care UK, RCN Foundation, Education Support, The Charity for Civil Servants and The Fire Fighters Charity.
And over the past few months, we have partnered with the streaming platform CHILI to give away 10,000 film codes to public sector workers, worth £10 each.
Said Darren Milton: "Boundless originally formed as the Civil Service Motoring Association as far back as 1923, and ever since we've strived to help make the lives of our members better with exclusive events, deals and discounts for those working in public service.
"Never before in living memory has the hard work of our front line workers been so clear and appreciated by the entire nation than it has during this pandemic. These free film vouchers are a small gesture of thanks from everyone at Boundless to give them a couple of hours of rest and entertainment with their families."
How was Public Service Day celebrated on social media?
The likes of Twitter and Instagram have been awash with messages of goodwill aimed at our public service heroes, along with evidence of how members of the public are doing their bit to support key workers.
As you might expect, the UN posted a number of messages hailing public sector workers around the world, emphasising the fact that front line heroes are "risking their well-being" in the fight against the pandemic:
---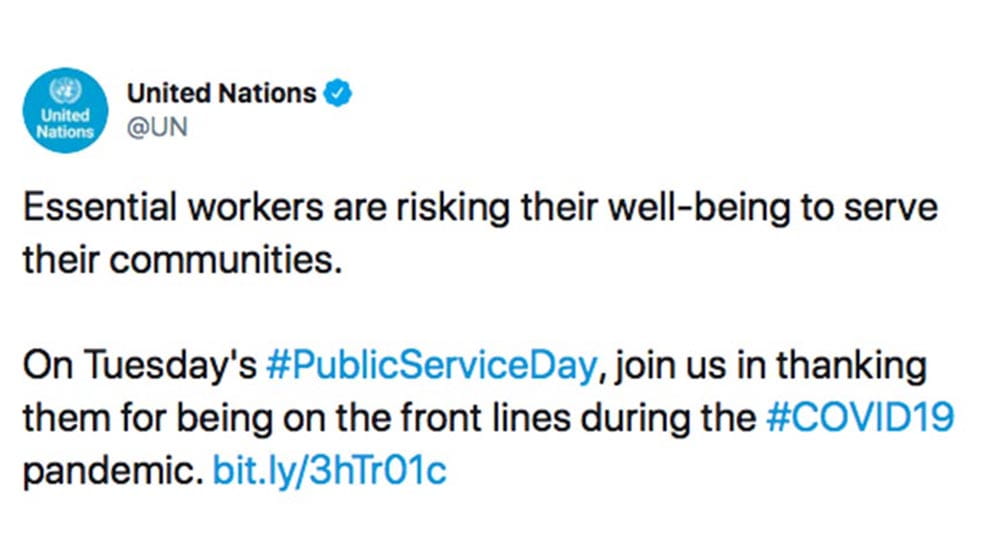 ---
Here at Boundless, we raised awareness of this special day and shared a video we've made about our amazing public sector workers: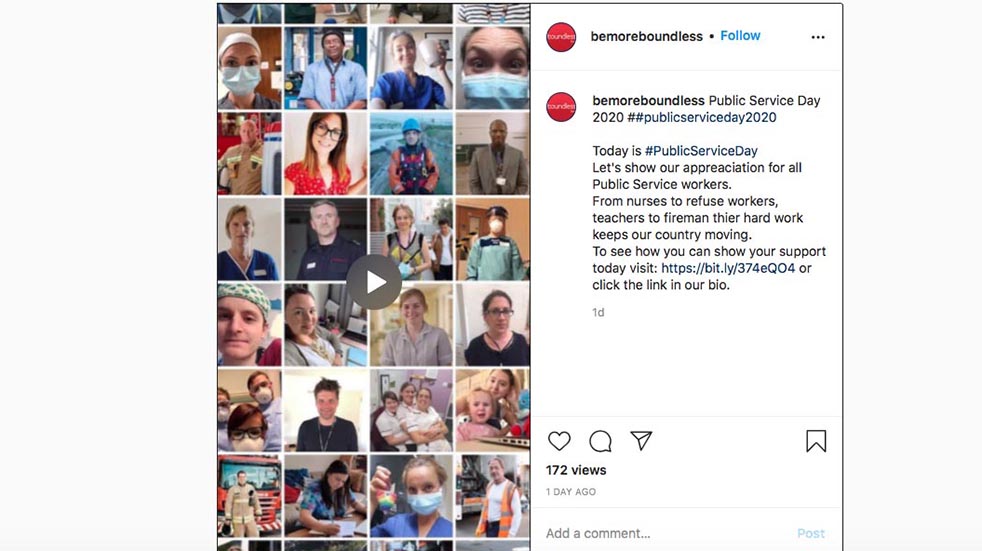 Magna Housing in Dorset shared a picture of a very happy key worker who recently received a portrait of herself as part of a thoughtful initiative by a local artist.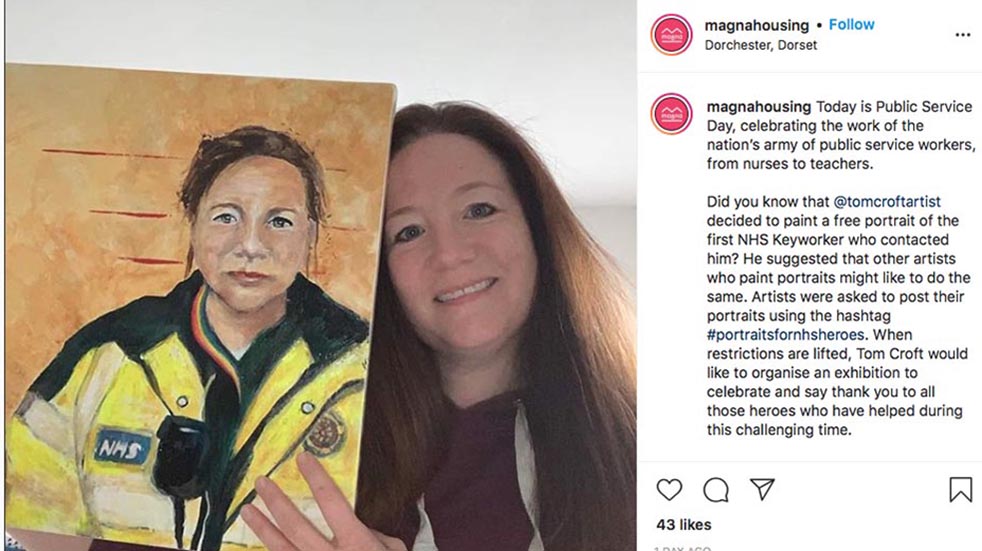 Edie Lush from London shared a picture of her conscientious daughter Tabby, who's been cleaning cars in her local area to raise money for NHS workers.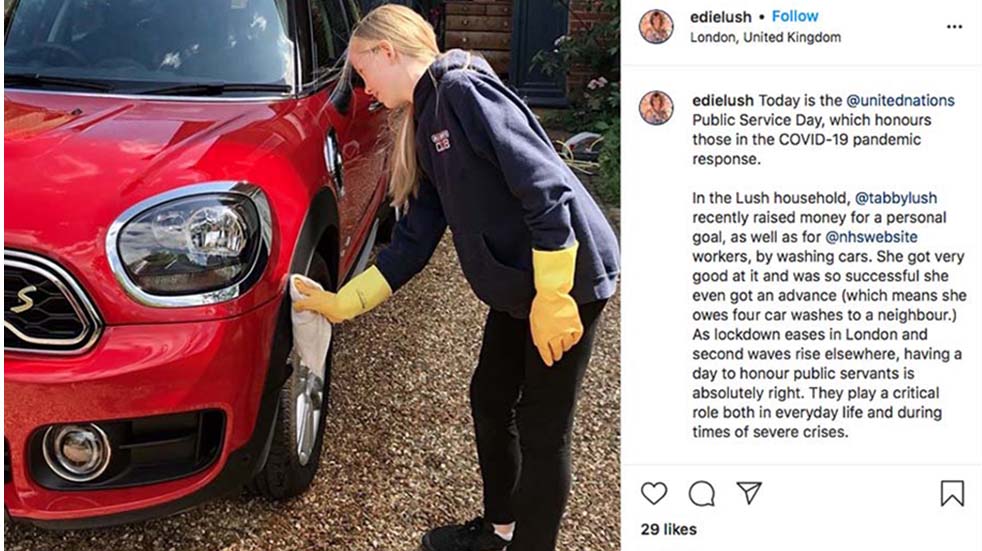 Gaming firm Playmisbits created a videogame-inspired message of thanks to our front line workers, telling them: "You are the reason we can keep fighting strong and have hope for the future."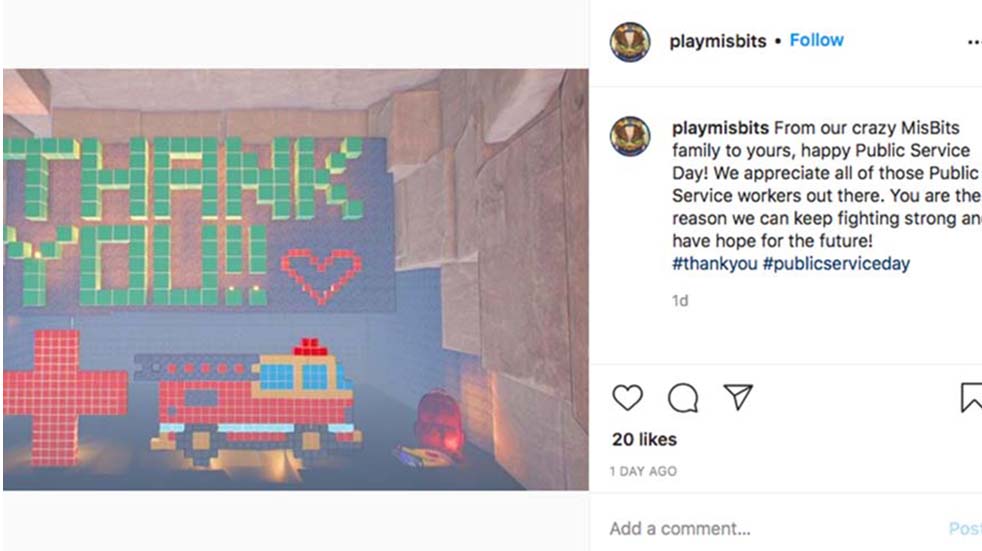 Further afield, a South African organisation called mothers2mothers shared this poignant message to "the men and women delivering our essential public services".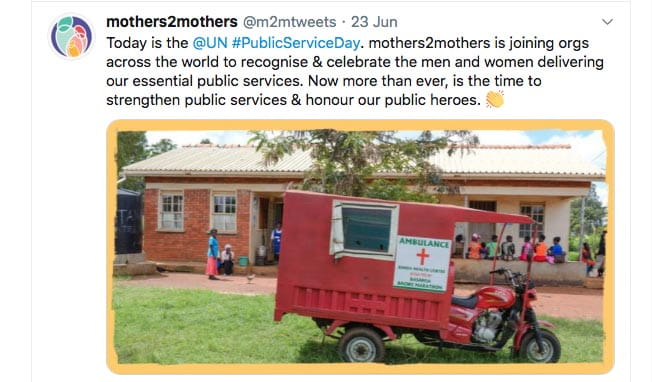 And it wasn't just humans giving thanks to public sector heroes. As this Instagram post from an organisation called Victim Services Toronto demonstrated, our canine friends are also keen to show their appreciation.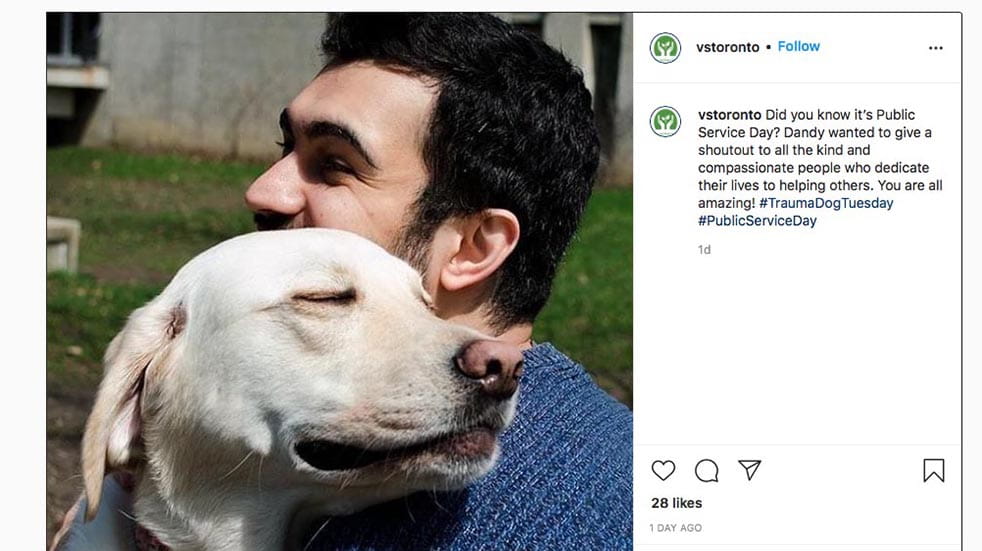 Let's continue to offer our thanks to these amazing people, both throughout the remainder of this COVID-19 pandemic and beyond.
Do you want to leave a message for our public sector heroes? Leave us a comment on Facebook or Twitter.