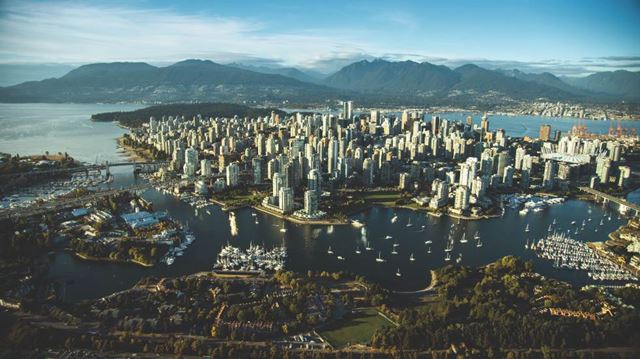 When it comes to topographical wow-factor, Western Canada doesn't do things by halves. From the mighty Rocky Mountains to the Okanagan Valley's glorious triptych of lakes, vineyards and woodlands, this is a land of dazzling diversity with beautiful trails to follow, wild waterfalls to seek out, glacier lakes to cruise, and soulstirring highways to tour – whether you're heading to the glorious waterfront of bustling Vancouver, or the lush peaks and valleys surrounding Whistler.
With a little help from Canadian Sky, it's easy to plan an immersive self-drive adventure through British Columbia and Alberta, the westernmost states on the Canada-US border. Its experts can design a bespoke itinerary, factoring in your ideal flights, hotels, car hire and activities according to your interests, budget and timescale. And thanks to their local know-how, you'll experience Canada in the utmost style: bathing in hot springs, feasting on fresh salmon and sipping crisp Sauvignon in the very vineyard it was grown. The options are endless – but these two itineraries are sure to spark your wanderlust...
---
British Columbia banquet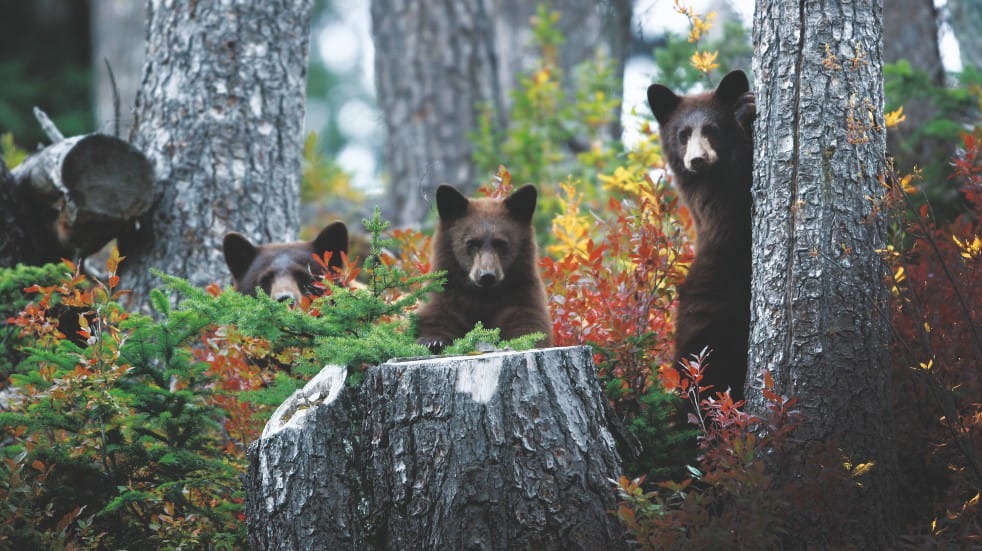 Combining British Columbia's epicurean pleasures with its most picturesque rambles, the 11-day 'Experience BC – Wineries and Walks' holiday begins in Vancouver – the region's gourmet capital. Here you can enjoy the best of 'Farm-toFork' cuisine, experience the city's famous Asian-fusion food and sample local wines and craft beers. A foodie tour of Granville Island Market is a must, where you can taste freshly baked donuts and sweet dessert pies, local cherries and berries, speciality sausages and charcuterie, plus marvel at the sight of myriad freshly caught fish and seafood.
Exploring Vancouver on foot is a real pleasure, with its beautiful waterfront and backdrop of mountains. Stroll the seawall, enjoying the bustle of the harbour and the iconic sight of floatplanes landing on the water. Then you'll reach beautiful Stanley Park, where you can rest your feet while on a guided trolley tour – or perhaps hire a bike. Continue your explorations through the different neighbourhoods of Vancouver, such as Gastown with its historic charm and independent spirit, vivid Chinatown and the coffee houses and bakeries of Commercial Drive.
After three days, it's time to pick up your hire car and head north. Before you leave the city completely, it's worth stopping off at the Capilano Suspension Bridge Park. Here you can walk the bridge itself, suspended 230 feet above the Capilano River, and the adventurous should experience the Cliffwalk – a series of cantilevered walkways jutting out from the granite cliff face.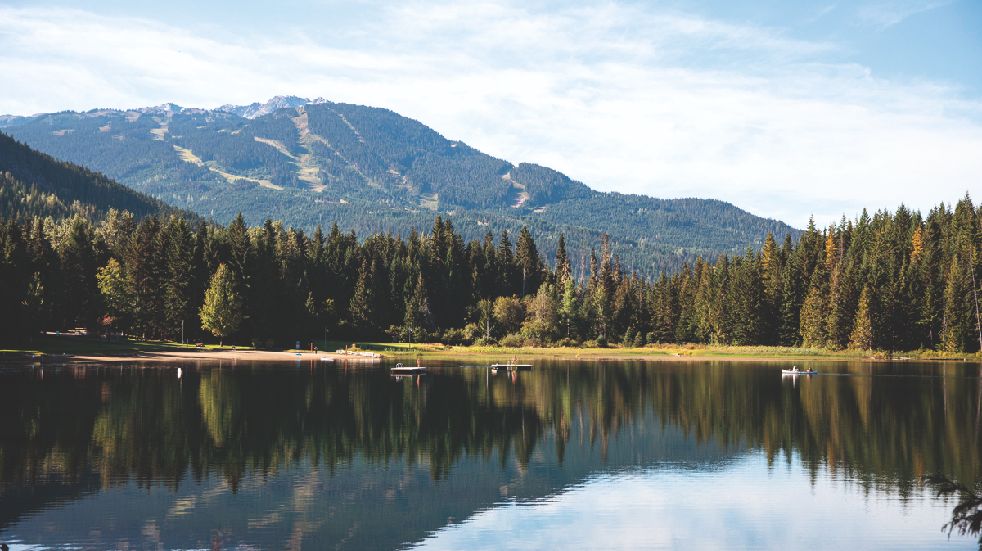 Then continue on to Whistler, your base for the next few nights. Though this mountain resort is famous for its winter sports, the warmer months reveal wildlife-rich woodlands, pristine lakes and wildflower pastures. There is also a small population of black bears and cubs in the area – with the option to be led by experienced guides to view them in their natural habitat. Or, maybe you'll spy birds and beavers on the Whistler Valley Trail, with its gentle terrain and minimal inclines. Either way, you'll work up an appetite for the 'Hidden Gems' food tour – venturing off the beaten track to the locals' best-loved restaurants.
Next, some culture, with a visit to Squamish Lil'Wat Cultural Centre, a fascinating museum of First Nation heritage. With its interactive exhibits, craft workshops, and galleries of art, costumes and carvings, the museum celebrates the customs and history of Canada's indigenous peoples, including the local Squamish and Lil'wat Nations.
No trip to Whistler would be complete without a trip on the Peak 2 Peak Gondola – giving you 360° views of mountains, lakes, glaciers and forest and access to beautiful hiking trails. Either take a relaxing stroll on one of the wide paths or venture further through the glorious alpine meadows, keeping your eyes open for chipmunks and marmots.
Heading eastwards through Kamloops the scenery softens into a patchwork of vineyards – the centrepiece of the Okanagan Valley, whose rich soils and temperate climes have made it a viticulture legend. With so many boutique, family-run labels to discover, it's best to book a guided tour (with transport) for wine-tastings galore. You can raise a final glass of Okanagan nectar to toast your adventure beneath a sky full of stars."
---
Into the Rocky Mountains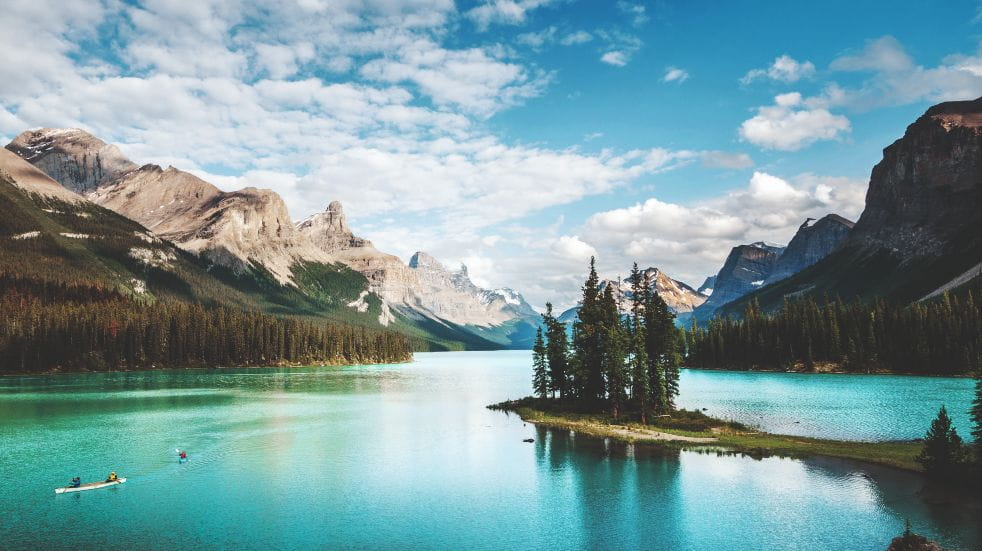 The Rockies – a towering border of snowdusted summits, alpine woodlands and turquoise-bright glacier lakes – divide the two states of BC and Alberta. Welcome to road-trip nirvana, where every curve of the highway reveals scenery to take your breath away. Canadian Sky's 13-night 'Self-Drive Western Wonders' tour begins in Alberta and heads west across the Rockies at a leisurely pace.
After a day's sightseeing in Calgary, you'll drive to the Kananaskis Valley – in the foothills of the range – where forests and waterways are ripe for exploring. This is rodeo territory, so maybe you'll take a horseback trip through the lowlands. The Kananaskis River is also renowned for its fishing and rafting, while the Kananaskis Country Golf Course offers 36 holes with incredible mountain views.
Next, to Banff: the highest town in Canada, surrounded by the saw-tooth heights of its eponymous national park. It's an outdoor lover's playground, offering river rafting and boat tours on Lake Minnewanka – plus countless walking trails leading to thundering waterfalls, larch forests, and edge-of-theworld viewpoints. There are some great foodie experiences here too: like riding the Sulphur Mountain Gondola to the Sky Bistro, for sunset cocktails against a 360° panorama of peaks, lakes and glaciers. Or joining a 'Cowboy Cookout' for a wagon ride along the Bow River before a barbecue of succulent steaks.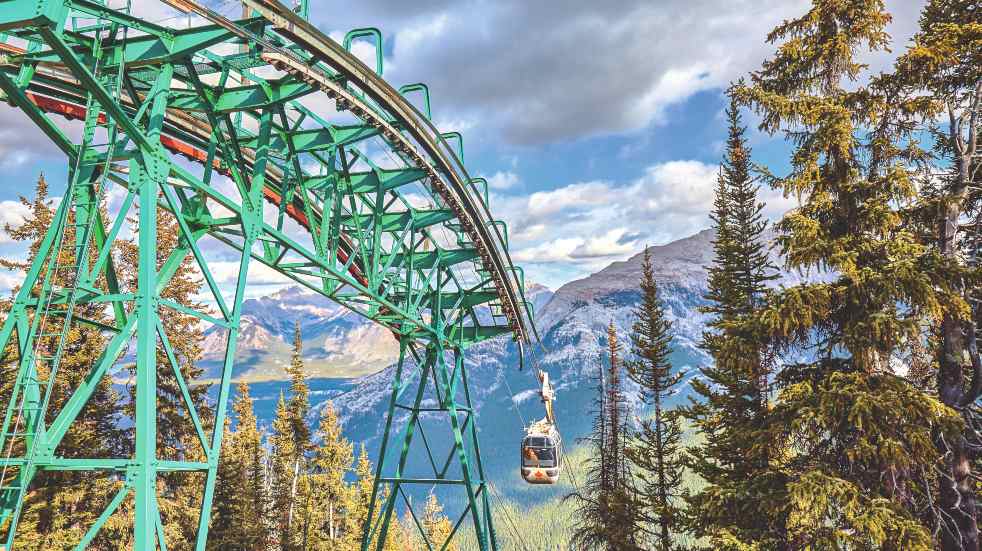 On the Icefields Parkway road to Jasper, the spectacular driving continues – with a stop-off at Lake Louise, one of the most photographed places in Canada; you can explore it for yourself on a kayaking trip or shoreline hike, with lunch at the quaint Lake Agnes tea house.
Jasper is Canada's largest national park, famed for its Herculean mountains and abundant wildlife – including caribou, grizzly bears, elk and porcupines. So, keep watch while you're soaring skyward on the Jasper Tramway cable car, or paddling your canoe down the Athabasca river. The experts also recommend a cruise to Spirit Island, a tiny tree-covered isle on Maligne Lake, with limestone cliffs of the Queen Elizabeth Range looming overhead.
Heading east into BC, the natural wonders continue with the plunging chasms of Fraser Canyon, wildflower meadows of Sun Peaks and rejuvenating waters of Harrison Hot Springs.
Finally, you'll arrive in Vancouver: a return to city life, for vibrant museums, restaurants and cool café culture. But there's one final adventure in store: an unforgettable day tour (or longer, if you prefer) to Vancouver Island – renowned for its botanical gardens, unspoilt beaches, and waterways full of wildlife. Just when you thought you'd experienced it all, you come face-to-fluke with a breaching humpback or spot a grizzly dipping its paw in pursuit of a salmon. What an end to this wildest of rides.
---
Explore Canada with Canadian Sky
Holidays include a free excursion such as a wildlife encounter, food tour or wine-tasting experience
Canadian Sky's 10-night self-drive tour 'Experience BC – Wineries and Walks' costs from £1,899pp, and its 13-night self-drive tour 'Western Wonders' costs from £2,199. Includes return flights from London, fully comprehensive car hire, an electronic roadbook, room-only accommodation and a free excursion worth up to £150pp, exclusive to Boundless members.
To book, or see the full range of tours, visit boundless.co.uk/CanadianSky or call 01342 332691 and quote 'BOUNDLESS'