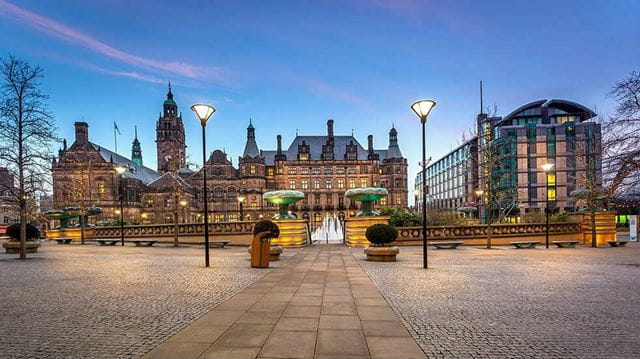 How long have you lived in Sheffield?
I was born and bred in Sheffield. After a few years abroad in my twenties I returned and couldn't imagine why I'd ever left. I'm proud to be from Sheffield, I brought up my three children here and work for the NHS locally, as a phlebotomist.
If you had a free day in the city, where would you go?
I would be out with my terrier walking through Endcliffe and Bingham parks which you can follow up the valley and into Derbyshire. There are a couple of good pubs on the way serving locally brewed beer, and great views of the moors.
If you were mayor for a day, what changes would you make?
I'd want to encourage a car-free city with everyone using public transport, or riding bikes, possibly with free bike hire available. Sheffield is very easy to get around on foot.
Do you have a piece of advice for visitors/tourists?
One piece of advice I would give to a visitor would be…ask a local! Sheffield is a very friendly, kind city, and if you ever need directions or have a question, Sheffielders will always help.
What's your favourite sight in the city?
I think the Winter Gardens (below) when they're filled with people sitting in the sun surrounded by the Town Hall, the stunning planting, the red brick architecture and the towering glasshouse of the Millennium Gallery, with the fountains dancing and rills running with water. There are more than 2500 plants from around the world in the building which is 70 metres long and 22 metres high – large enough to house 5000 domestic greenhouses!.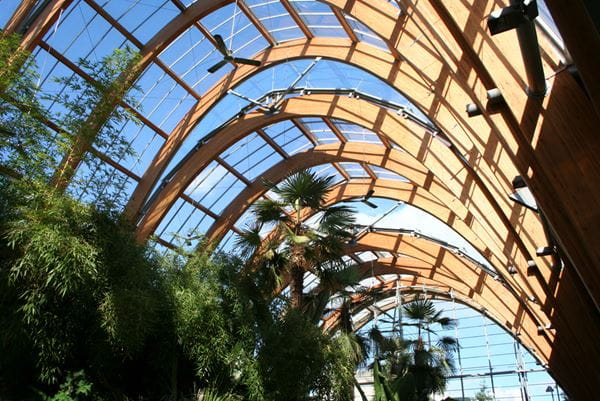 It's really popular with young people and tourists and a lovely place to take a moment during the working day. The whole area is lit up at night, too, and with bars and restaurants nestled into the old buildings you could stay all day.
What's your favourite day trip out of the city?
A trip out of the city would be to the Peak District National Park – the UK's first National Park – where families, climbers, cyclists, walkers take pleasure in the most beautiful peaks and valleys only 20 minutes outside of the city.
Chatsworth House, (below) home to the Duke of Devonshire, sits in parkland in the heart of Derbyshire with wonderful walks, sculpture, gardens, farm and restaurant so that's always a favourite.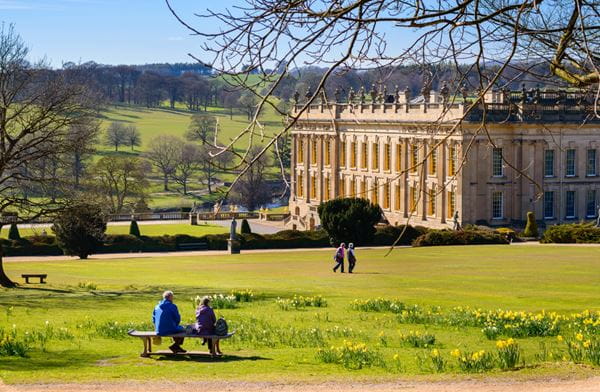 Where is the best view in the city?
My favourite is from Ringinglow Village where the whole of Sheffield is stretched out in front of you. The Norfolk Arms Hotel sits on the edge of the village and a bench out front gives you an amazing panorama of the city.
What local drink/dish should every visitor try before they leave?
Sheffield has an amazing number of micro breweries – remember the home brew of our youth? Well it's sort of like that… but not! There are some delicious, well rounded, flavoursome ales and if you don't drink too much (although I recommend you try them all) you can tour the city pint-by-pint in Sheffield's pubs.
Also try Sheffield's only 'village-produced' gin. Most bars have it on their menu and it's so smooth you can even drink it neat. The elderflower pressé that's made locally at this time of year goes well with it if you're a fan of cocktails.
Best place for lunch?
Thinking of my favourite place for lunch needs something of a list: Marmadukes off Fargate for the best salads and sandwiches; The Broadfield on Abbeydale Road for trad pie and chips; Sebastians on Sharrowvale for toasties and cake. Out in the Peaks the Packhorse Inn at Little Longstone, a short walk from the Monsal Trail has the best cheese board you'll find anywhere.
Best place for dinner?
One of the joys of living in Sheffield is the diversity of restaurants within walking distance which transport you to another place. VeroGusto in the centre is one of my favourites for something shmancy and smart but the back streets reign when it comes to world food. Try The Mexican Street Food Cantina, The Noodle Inn for authentic Korean, or Prithi Raj for great curry. Abbeydale Road also plays host to Lebanese, Malaysian, Polish, Italian, Greek restaurants and more.
Where would you take a friend from out of town to a place tourists wouldn't usually see?
Tourists wouldn't necessarily be found in Kelham Island unless on some arranged tour, but it's a place close to my heart. My father was an industrial engineer and worked in the area when I was growing up.
Kelham Island is a recently regenerated area built within the factories that produced the steel and cutlery that gave Sheffield its Steel City name. That grit and industry is apparent in the people who now own and run their business above the cobbled yards. There's a museum there but most people go for the restaurants and bars: The Millstone, Fat Cat, The Grind (my fave), Craft & Dough. There are vintage markets, artisan bakers and brewers, artists… it's a great creative space.
What is everyone talking about in bars/cafes right now?
Apart from the obvious topic at the moment (Brexit, political uncertainty) people are talking about music, upcycling, sharing and swapping creative ideas, new technology.
What is your favourite time of year in the city?
Definitely summer because have the Tramlines music festival, Open Up arts studios, the Sheffield Show, Peace in the Park, Pride. But autumn in Sheffield is also something special. We are the greenest city in, ahem, Europe so when the season changes, the sight of the trees glowing red and gold is stunning wherever you are in the city, particularly walking through its many parks, the Botanical Gardens, Whirlow Park, Norfolk Park etc.
How has Sheffield changed in the last 20 years?
When you live in one place for a long time you almost don't see the changes until after they've happened.
Sheffield has of course been changing right under my nose over the last 20 years but I've probably been too busy enjoying life here to notice. What I do know is it's still full of vibrant, talented, kind people with a passion for a good laugh and life; great food, beer, music dancing, fun, family – and it still will be 20 years from now.