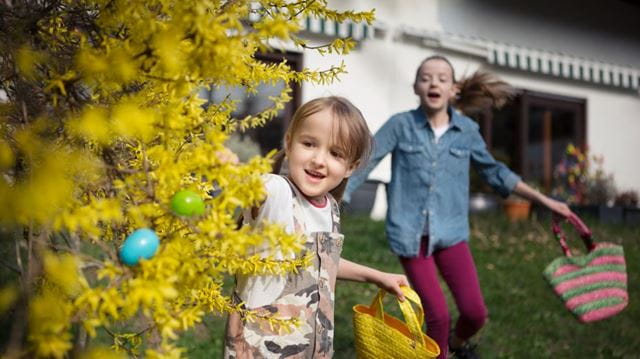 Easy to do and a great excuse to get everyone outdoors over the long weekend, hosting your own egg hunt will keep both kids and grownups entertained this Easter break. And if the weather isn't fine, simply transfer the fun indoors.
While there are some excellent Easter egg hunts taking place over the holidays to keep the family entertained (some of our favourites are organised by The National Trust, English Heritage and The Wildlife Trust), why not think about hosting your own this year?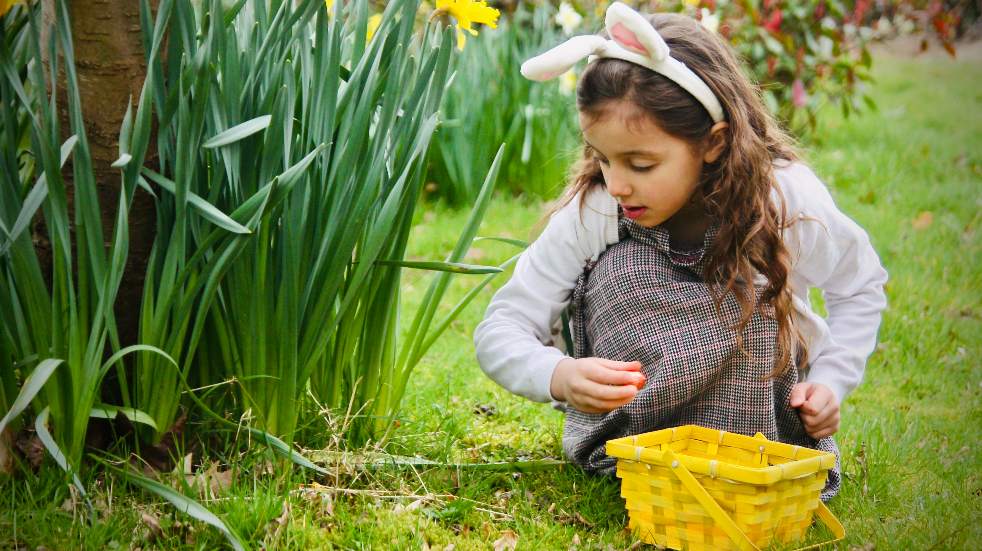 Some of us might remember the movie-perfect egg hunt in the 1989 film, Steel Magnolias, but you'll be pleased to know getting your hands on a life-size bunny costume isn't essential if you're putting on this fun-filled activity. Instead, simply follow our tips and egg recommendations to make sure this Easter Sunday is one they will remember...
---
Tips for the hunt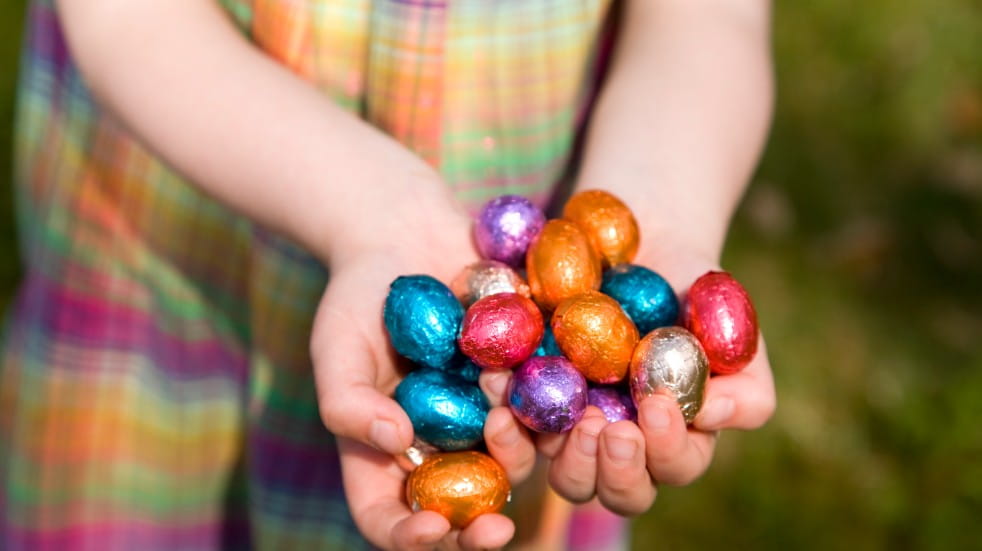 1. First, decide on the theme: are you going for a traditional egg hunt, where the aim of the game is to find as many eggs as possible? Hidden indoors or outside in the garden, you can label eggs with initials of each child, to keep things fair and make sure everyone retrieves the same-sized bounty at the end, or make it a colour-themed quest, so hunters are only looking for eggs in a particular shade. Of course, a bit of competition can be healthy, so it could be a straightforward race to see how can find the most. Alternatively, make it a scavenger hunt, where they must find and tick off a list of items to win an extravagant prize, or for something a bit different, take close-up photographs of eggs in their hiding place, and showing a little bit of their hiding place.
2. Once you've decided on a theme, it's time plan your route. Think carefully about where you're going to stash the eggs or clues for hunters to follow in their chocolatey quest making sure to account for all ages (and heights!). Try Party Delights for a glittery pack of props to decorate your easter egg hunt. Or, if you're stuck for clue ideas, Hobby Craft has a solution; a free download for you print out, in addition to packs of fillable eggs, which cost £4 for 30. Whether you're hiding chocolate eggs or using them as prizes, you'll need a generous supply of mini treats to keep the troops happy – find Easter egg hunt multi-packs in your local supermarket, or shop online at Amazon.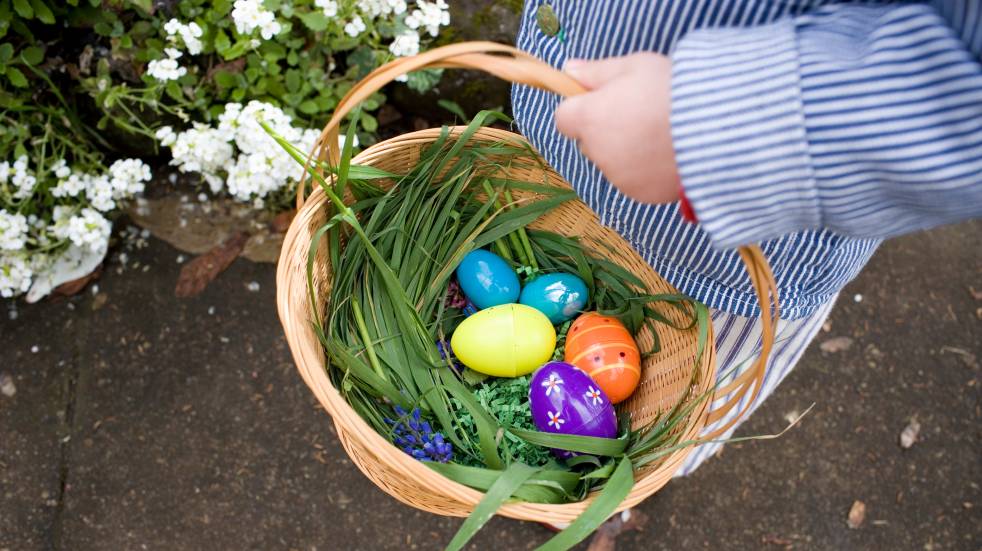 3. Finally, you'll need to provide your bounty hunters with a basket. If you have time and are feeling creative, why not make origami boxes – there are lots of tutorials on YouTube; or buy packs of pretty baskets at Party Delights. We've even spotted these lovely canvas bags from The Works, which will keep kids entertained for longer as they get to colour in the design, before filling them with treats.
---
Fun for all the family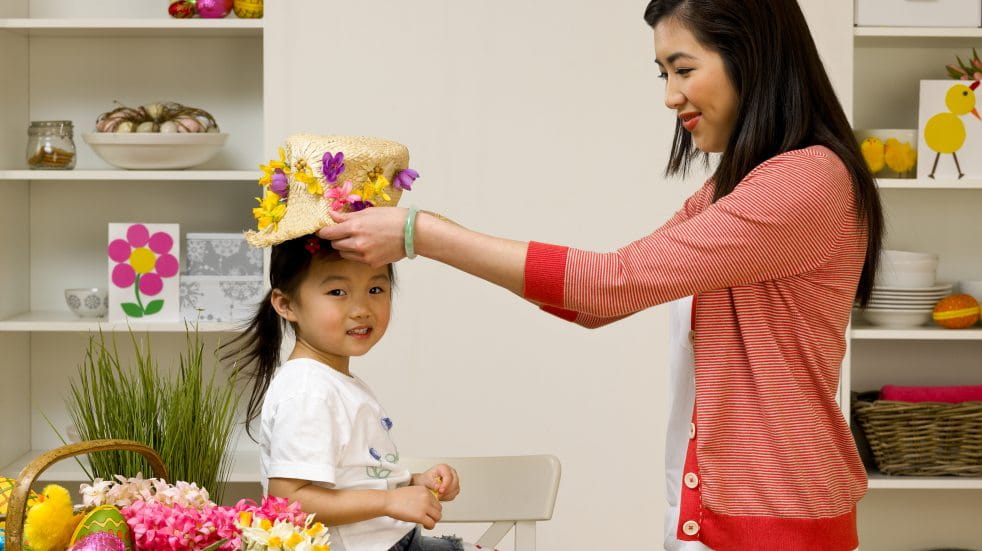 If you have friends and family staying over the holidays, why not make it an occasion to remember by organising some other fun easter-themed activities to fill out the weekend. We've come up with our top three traditional Easter games:
1. An Easter bonnet parade is a wonderful way to introduce a bit of glamour (and humour) to the proceedings. Encourage kids of all ages to create homemade headbands or decorate favourite hats to celebrate Easter and the coming spring. Once they're finished, gather everyone together to wear their creations in a parade before votes are cast to crown the winner.
2. Easter Egg rolling has become so popular, some even consider it a sport! Hard-boiled eggs are rolled down a hill, and the winner's egg may be the one that rolls the farthest, survives the most rolls, or is rolled between two pegs – you can decide.
3. Recreate the classic school sport's day egg-and-spoon race with family and friends. For obvious reason, it's probably best to use hard-boiled eggs, and while you're at it, why not encourage competitors to paint them before the race starts.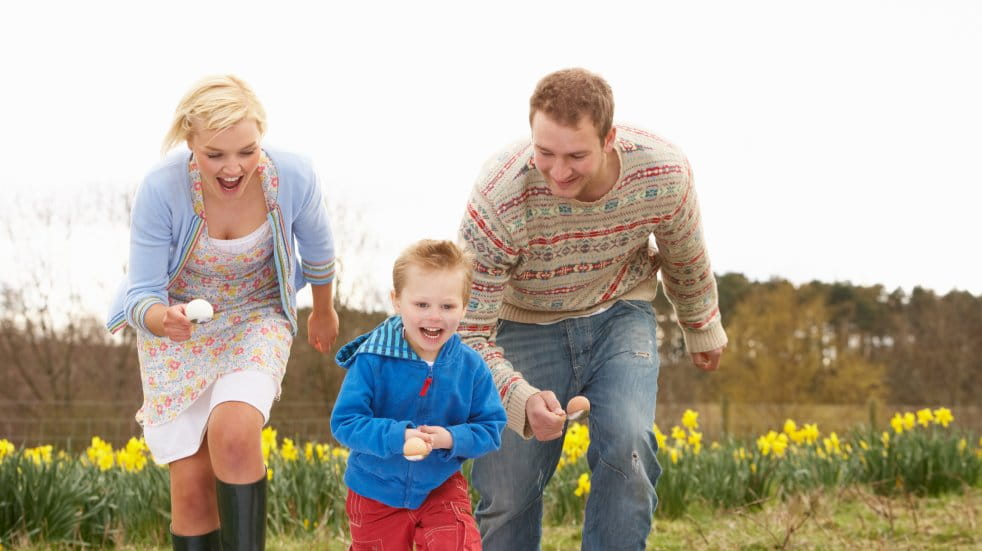 ---
Seven sensational chocolate Easter eggs new for 2022:
Celebrate this iconic Easter bunny's 70-year anniversary, with a new, super-sized version. Weighing in at 500g, it promises enough of Lindt's trademark smooth milk chocolate for the whole family.
2. M&S Harry Potter Golden Egg Tin, £16
Wizarding fans will be delighted to receive this Belgian white chocolate 'golden egg' and souvenir tin, which is a replica of the iconic magical snitch that features in JK Rowling's much-loved books.
3. Cadbury Twirl Orange Large Egg, £6
Cadbury's Twirl is the latest treat to inspire an Easter makeover – enjoy a deliciously zesty orange large chocolate hollow egg with two orange Twirls.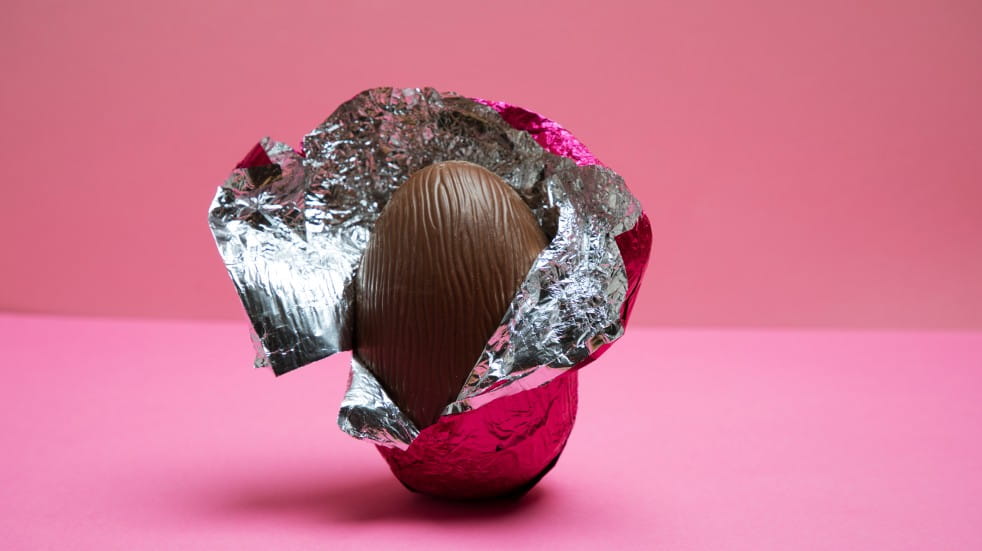 The legendary Tony's Chocoloney and Aldi have joined forces to create the complete package: a Fairtrade Easter egg that comes in two delectable flavours - Dark Chocolate or Milk Salted Caramel.
5. Little monsters egg and lolly, £3
For those looking for a vegan option, check out Nomo's offering for kids – Mo, Jo and Flo are three different eggs with an accompanying creamy chocolate lolly, as well as six activities that include colouring-in, puzzles and jokes.
6. KitKat Chunky Lotus Biscoff Giant Egg, £7.49
Don't miss Nestlé's new milk chocolate egg with three Kit Kat Chunky bars flavoured with this trendy new flavour – Lotus biscuits. Definitely one for kids of all ages.
7. Prodigy Salted Caramel Chocolate Egg, 6 x filled 40g eggs for £7.50
Eco-warriors will love this vegan egg, which has half the sugar of typical eggs and no refined sugar, despite the tasty Salted Caramel flavour. It's also palm oil free and 'plastic negative', which means for every egg sold, 10 plastic wrappers bound for the ocean are removed from the environment.
---
Do more with Boundless
Boundless members can get amazing discounts on a range of products, from motoring services and insurance to holidays and outdoor gear – and all for just £35 per year. To sign up, visit our membership page.