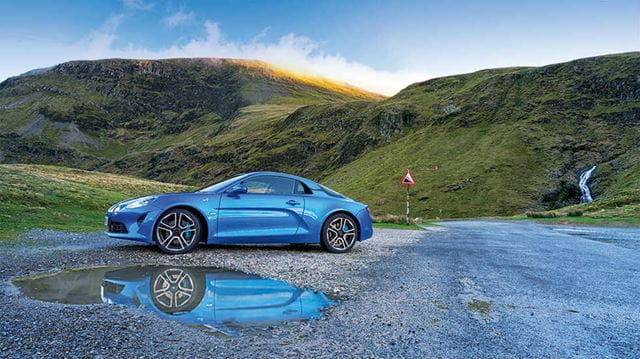 Our motoring editor takes the new Alpine A110 for a test drive around the hills of the Lake District, and weighs up its competition.
If you're going to name a car after a place, it might as well be somewhere with the greatest driving roads on Earth. That's what French racer Jean Rédélé thought, when in 1955 he started Alpine. Not only were his cars named after the mountains, they were made for the mountains, specifically the twisting passes where he'd made his name as a driver. Indeed, by the early '70s, Alpine had notched up two wins on the icy Monte Carlo Rally with the A110 Berlinette, thanks to its winning combo of lightness and sprightliness. When it came to sky-high hairpins, Alpine was the King of the Cols.
Lightweight but luxurious
Almost all of the A110, chassis and body, is aluminium. So it weighs just 1,100kg, the same as a Ford Fiesta. There are two seats and the engine's behind you. It's a 1.8-litre, four-cylinder turbo making 252hp. The gearbox is a seven-speed dual clutch affair with shift paddles on the steering column. It drives the rear wheels, as it should in a car like this. The result of all of that is a 0-62mph time of 4.5 seconds, but in reality it actually feels faster.
When the turbo kicks in, and it does take a moment or two to summon its strength, you get a real shove in the back. Yet it's not the outright speed that grabs you. It's the strange feeling of weightlessness, as if it's gliding through space. In many quick cars – even a medium-sized hot hatch – you're fully aware of the weight, and of the effort required to overcome it. Or more importantly, to stop it. But the Alpine slows down as quickly as it speeds up (though it does require a firm prod of the brakes, which feel almost unassisted).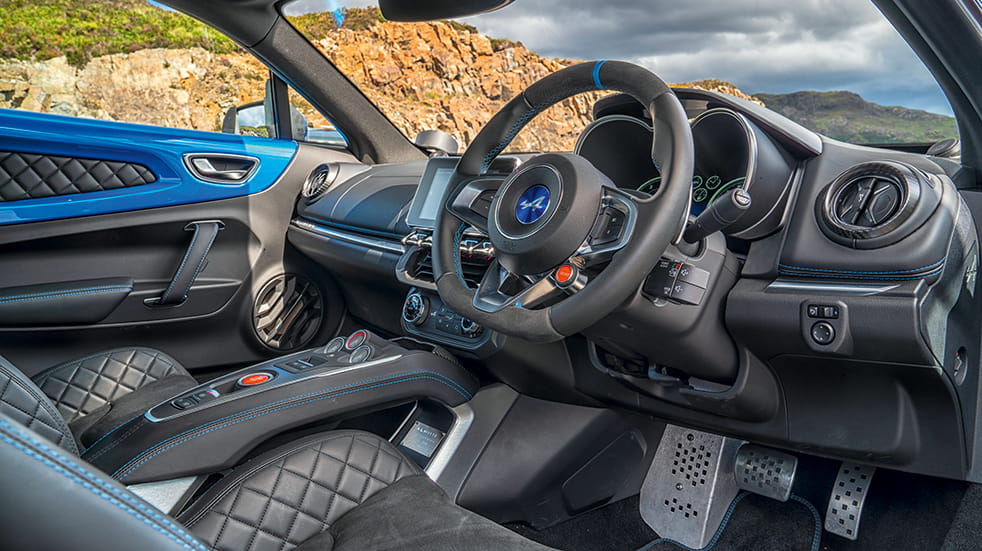 You sit low in the A110, just an inch or two off the tarmac. The engine is sealed away behind you, but you still hear the turbo breathing and hissing, as if you're trapped inside a huge scuba mask. There are only four cylinders at work, but judging by the slightly industrial noise they make you'd swear there were a couple more in there. Maybe it's the exhaust theatrics. With Sport mode engaged – and therefore with a valve opened for extra volume – it sounds like something between semi-automatic gunfire and a witch's cackle.
And while it might be lightweight, it's not stripped-out. A Lotus Exige weighs roughly the same, but it's like driving around in an empty biscuit tin. The Alpine, on the other hand, feels almost as posh as a Porsche Cayman, which weighs over 300kg – or two Sumo wrestlers – more. The A110 gives you the best of both worlds: slim and agile, but with carpet, leather and a good sound system. In three days and 800 miles, not once do we long for a cushion or earplugs. Our backs, and indeed our backsides, don't ache at all. Try doing that in any other little sports car with fixed seats.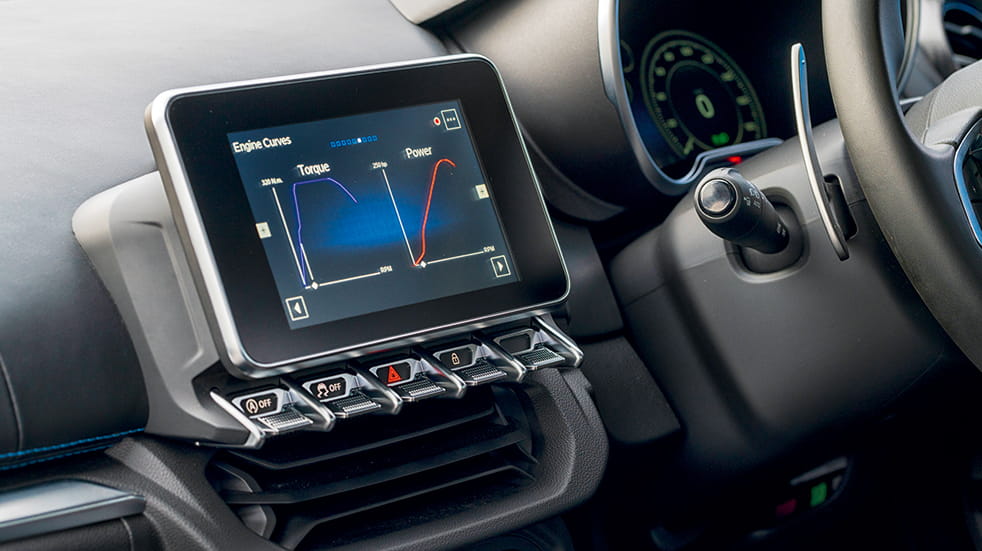 Bad bits? It's hard to think of many. The cup holder is so far back between the seats you'll need opposable elbows to reach it. And there's only one, so you'll have to share your coffee with your passenger. There's no glovebox. And the luggage compartments in the nose and in the rear are each the size of a sock drawer. But these are practical concerns, and you waive your rights to those when you buy a featherweight two-seater.
And here's another thing: many modern performance cars have more power and grip than you'll ever need on a public road. Why spend all that money when you can only use 60% of the product? The Alpine is way more playful, far more of the time. It's as fast as you want it to be – a regular driver will have just as much fun at 40mph as a racing driver will at 100.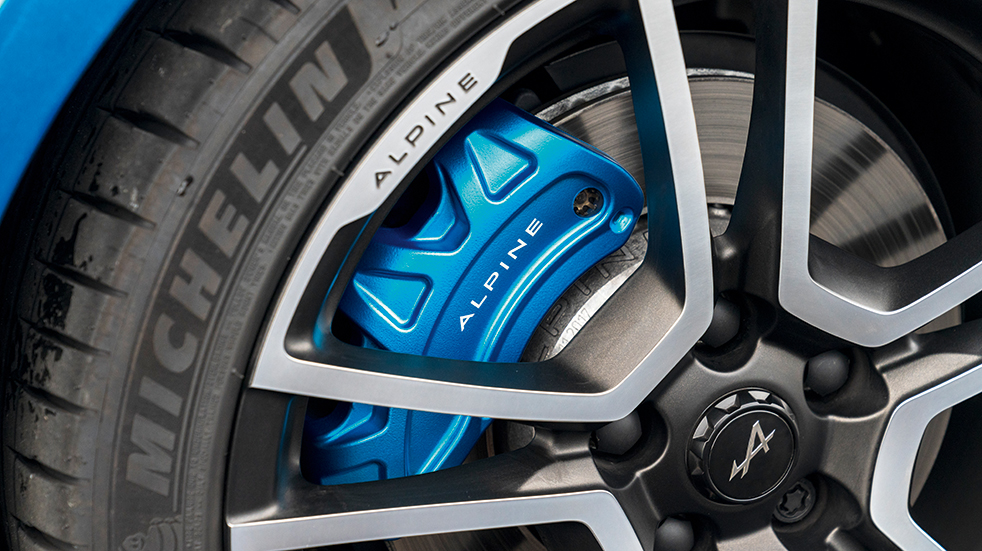 The Alpine A110: a brief history
Launched in 1961, the A110 coupé – like the few Alpine models before it – was essentially a reborn, re-bodied and revved-up Renault.
It started life with a 956cc engine from a Renault 8 and was gradually beefed up, both in terms of power and styling, before finally retiring in 1977 – after more than 7,500 had been sold – with a 1657cc engine from the Renault 16. But it was in the early '70s when the A110 really made a name for itself, with several victories on the Monte Carlo Rally, including a one-two-three finish in 1973.
Renault eventually bought Alpine in 1973. From then on, the company concentrated more on racing cars (producing both Le Mans winners and F1 cars), and the Dieppe factory became home to Renault Sport, makers of fast Clios and Meganes. Although, fittingly, it's also where the new A110 is made, under the very same roof as its ancestor.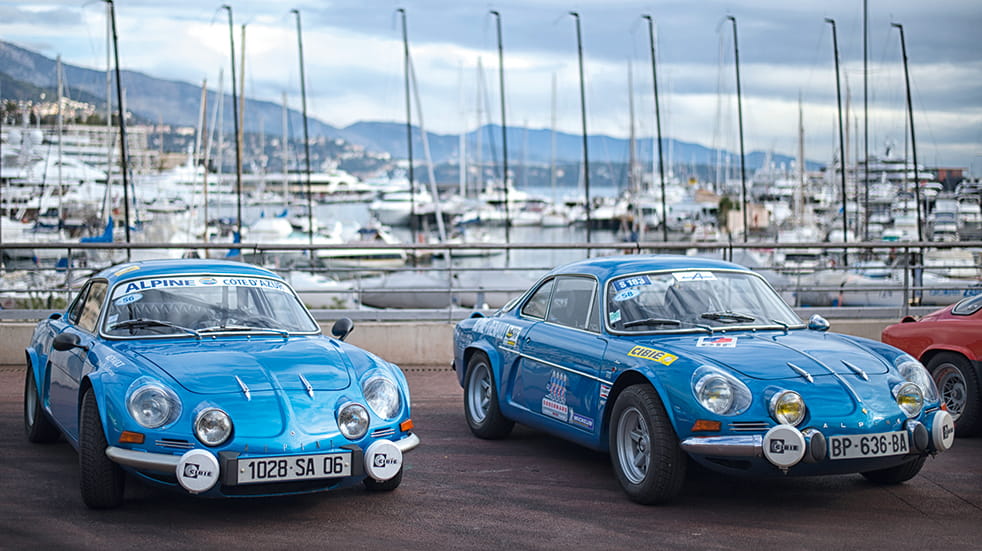 The Alpine A110: a buyer's guide
The spec: A110 Légende
Engine: 1998cc 4cyl petrol, RWD, 7spd twin-clutch
Power & torque: 252hp, 320Nm
0-62mph: 4.5 seconds
Top speed: 155mph
Fuel economy: 45.6mpg
CO2 emissions: 144g/km
Weight: 1123kg
Price: £50,805 (A110 range starts at £46,905)
Styling
With its twin headlights, low tail and wraparound rear screen, the A110 is a dead ringer for the original. The Légende edition's alloys even look like the old car's steel wheels.
Interior
It's cosy but not cramped, and nice nostalgic touches such as toggle switches and quilted leather are complemented by 21st-century home comforts such as the digital dashboard and central touchscreen.
Performance
From a standing start, the A110 will hit 62mph in 4.5 seconds. But what's more important is the handling, and the choreography between chassis, steering and suspension. There's something magic about the way the Alpine moves along a road.
Pricing
All 1,955 Première Editions, like the one we borrowed, are now sold out. Prices start from £46,905 for the Pure Edition, the lightest of the lot, thanks in part to the Sabelt bucket seats. The top-spec Légende edition costs £50,805 and includes a few more home comforts, such as six-way adjustable seats in black or brown leather.
Verdict
It's 30-odd years since Alpine last made a road car. Let's hope we don't have to wait as long for the next one, because the A110 is about as good as a mid-engined, two-seater sports car gets. Lightweight yet liveable, it's a worthy successor to the original and, should you be considering a Porsche Cayman, could well make you waver.
---
Read more of our latest car reviews
---
The alternatives
Porsche 718 Cayman (from £44,074)
The master of mid-engined sports cars has swapped six-cylinders for four and gained a turbocharger. But while it's lost a little personality in the process, it remains one of the finest driver's cars out there.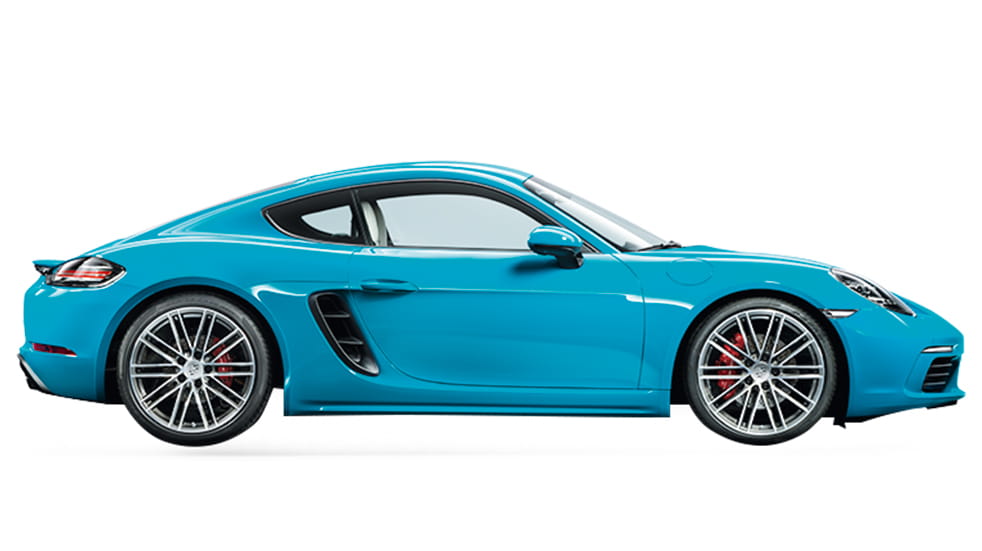 ---
Lotus Elise Cup 250 (£47,900)
The quickest version of the littlest Lotus is more extreme than the A110, and weighs even less at just 860kg, but the philosophy is the same: 1.8-litre engine in the middle, two seats up front.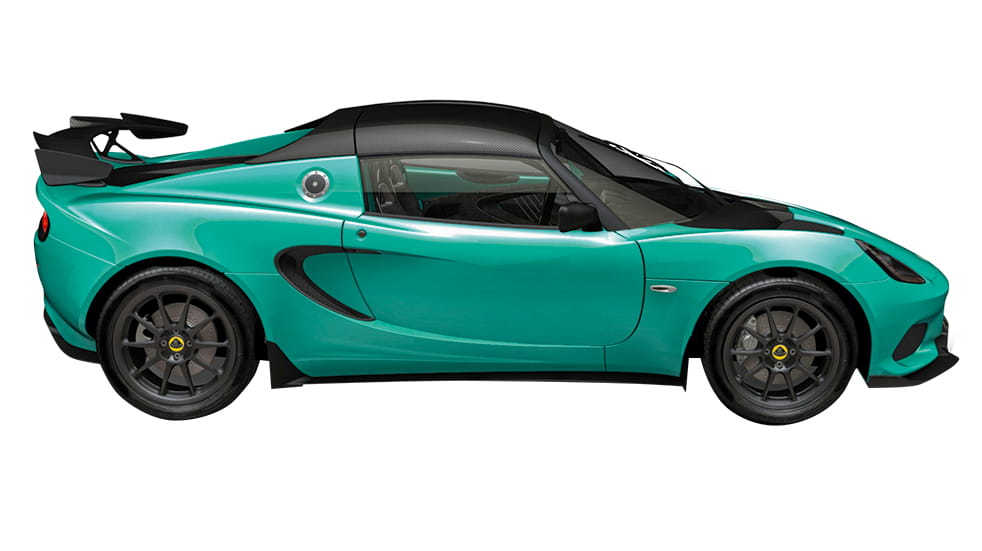 ---
Alfa Romeo 4C Spider (from £59,835)
The 4C is a mini Italian supercar, and quite a handful to drive (despite having the same power and layout as the A110). Its carbon fibre chassis might keep weight down to 980kg, but it bumps up the price.