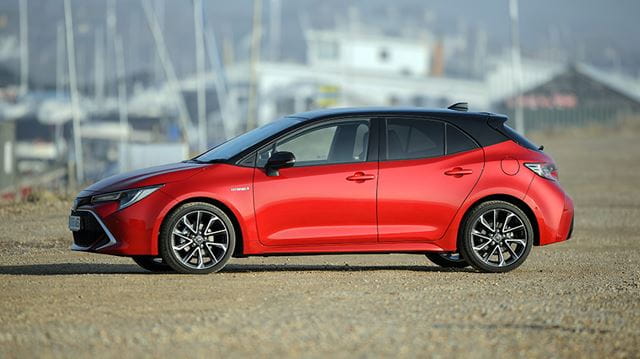 Discover six of the best new cars on sale now, reviewed on performance, ride, handling and emissions by our motoring expert, Paul Horrell from Top Gear.
Hatchback: Toyota Corolla
In 1973, my parents bought what was in Britain an almost unheard-of new car. It went on to become the world's best seller. It brought a huge innovation over our previous family cars, a Vauxhall Viva and an Austin Maxi: it never broke down.
Toyota has sold more than 45 million faithful Corollas worldwide, across 12 generations and multiple body styles. Many were dull, but not this new one. Its arrowhead styling and two-tone paint stand out among rivals. Inside, a sharp-looking modern dashboard and rich upholstery materials continue the story.
Under the hood, Toyota has entirely abandoned diesel. Instead there's a choice of a small but lively petrol engine with manual transmission, or two automatic hybrids. One is the 1.8-litre system from the company's saintly Prius, the other a more performance-oriented two-litre. That's the one we tested.
If buying a car for its style is anathema to your rational self, try these advantages. First, the hybrid system means this is a petrol car that can match an equivalent-power diesel for fuel economy, while bettering it for CO2. That means low VED cost, and very low benefit-in-kind tax if it's a company car. In town its local emissions are less toxic too. My test resulted in 45mpg. Not great, but I'm heavy-footed and many of my miles were on free-running motorways where hybrid isn't much advantage – its biggest fuel saving is in gentle suburban driving.
It's also smooth and mostly whisper-quiet unless you accelerate flat-out, and corners well. It has good seats and a huge suite of electronic safety aids that might save your skin, or someone else's.
Downsides: the two-litre has a tiny boot, and all Corollas have a cramped back seat. It couldn't supplant the Prius as a taxi. If you aren't on a company car scheme or don't tend to do all your mileage in cities, the cheaper 1.2-litre manual is the one to have.

The spec: Toyota Corolla Excel 5dr 2.0 Hybrid
Engine: 1987cc 4cyl petrol hybrid, FWD, electric CVT auto
Power & torque: 178hp (whole hybrid system), 190Nm (petrol engine)
0-62mph: 7.9 seconds
Top speed: 112mph
Fuel economy: 50.43-60.62mpg (WLTP)
CO2 emissions: 89g/km
Price: £29,075 (range starts at £21,305)
---
Read more of our expert car reviews
Six of the latest cars reviewed, from the Hyundai Nexo to the Peugeot Rifter adapted van
The Dacia Duster on test in Spain's Picos de Europa national park
The Hyundai i30N: a hot hatch with practical performance
---
Small Crossover: DS 3 Crossback
It's not just the outside that is striking. Inside, the DS 3 Crossback is like a luxury French handbag, all fancy stitching and glinting metal accents. As a bag, it's more clutch than tote, mind, as the back seat is cramped and dark.
For a compact crossover, it has a placid ride over bumps. It reacts pleasantly on corners too, provided you drive smoothly, but yank the wheel and there is a bit of a lean. Options include several handy driver assistance features. The petrol engine is small but plucky and willing.
An electric option arrives late this year. DS says total ownership costs will match the petrol one, its higher buy/lease price being offset by cheaper energy cost.

The spec: DS 3 Crossback Prestige with PureTech 130 automatic
Engine: 1119cc 3cyl turbo petrol, FWD, 8spd auto
Power & torque: 130hp, 230Nm
0-62mph: 9.2 seconds
Top speed: 124mph
Fuel economy: Combined drive cycle: 42.2-47.1mpg (WLTP)
CO2 emissions: 109-117g/km
Price: £27,955 (range starts at £21,550)
---
Family crossover: Seat Tarraco
Here's a family crossover adaptable enough to take five people sprawled out, six satisfactorily, or seven at a pinch, with little luggage. On-board tech meets modern family demands, the exterior design is stylish without being bullish, and you don't pay extra for metallic paint or LED headlights.It's a VW Group car and eerily similar, bar the styling, to the Skoda Kodiaq and VW Tiguan Allspace.
But be aware the Tarraco is the sportiest of the trio, meaning its suspension sends a lot of road roughness up to the seats. The payoff is taut cornering if you're going swiftly, taking advantage of the test car's lively two-litre petrol engine, where the AWD is useful in the wet.

The spec: Seat Tarraco Xcellence 2.0 TSi DSG 4-drive
Engine: 1984cc 4cyl turbo petrol, 4WD, 7spd auto
Power & torque: 190hp, 320Nm
0-62mph: 8 seconds
Top speed: 131mph
Fuel economy: 29.7-31mpg (WLTP)
CO2 emissions: 166g/km
Price: £34,845 (range starts at £28,335)
---
Small crossover: Volkswagen T-Cross
Small crossovers keep tumbling into the market, and this Volkswagen is a cheaper but more family-friendly choice than the DS. It's a roomy car given its easily parked overall shortness, and its versatile sliding rear seat means the big boot can be made even more pushchair-ready.
The engine, a one-litre job, feels like it's working hard but performance when empty is enough for anyone but the impatient. The gearshift isn't that pleasant, so for city use you might opt for the automatic. The suspension can get pretty lumpy, but it's a confident car in bends or roundabouts.
While VW's Golf is a paragon of plush cabin quality, the T-Cross's dash and door linings look and feel cheap. Ah well, good seats and connectivity make up for it.

The spec: Volkswagen T-Cross SEL 1.0 TSI 115
Engine: 999cc 3cyl turbo petrol, FWD, 6spd manual
Power & torque: 115hp, 200Nm
0-62mph: 10.2 seconds
Top speed: 120mph
Fuel economy: 48.2mpg (WLTP)
CO2 emissions: 112g/km
Price: £21,655 (range starts at £16,995)
---
Electric car: Mercedes-Benz EQC
Mercedes SUVs are in demand, but like its rivals, are heavy and unkind to the planet. The EQC, with its electric motors, is the guilt-reduced version. You can recognise it from its new lower-drag exterior shape.
EVs are quiet and smooth to drive, the EQC almost magically so, and it kicks up little tyre or wind noise, either. The suspension is eminently supple. This relaxed set-up helps electric range by discouraging lively driving, although it'll accelerate startlingly. Mercedes has paid its usual diligent attention to safety – both in a crash and to avoid one.
But the fact that this is an adapted 'normal' SUV does show through. Other big EVs have roomier, airier interiors, and more radical proportions outside.

The spec: Mercedes-Benz EQC EQC400 AMG Line Premium
Engine: Two electric motors, 4WD, single-speed auto
Power & torque: 408hp, 760Nm
0-62mph: 5.1 seconds
Top speed: 112mph
Electric range: 231-259 miles (WLTP)
CO2 emissions: 0g/km
Price: £72,280 (range starts at £65,640)
---
Hatchback: Mazda 3
Mazda has morphed a five-door hatchback's outline into a sassier simplicity, devoid of the usual creases, the windows a shallow swoosh. It looks great. One immediate hitch – to sit in the back is to feel a dark claustrophobia creeping in. But if you're driving, it's a happy car. Clear and straightforward controls and displays sit in a luxuriously padded dash. There's even a head-up display so you won't miss a junction or accidentally speed.
The petrol engine has clever economy tech, and a smooth hum as it works. Unusually, it eschews a turbocharger so to find decent shove you're kept busy shifting down. The steering has an engaging urgency. It loves corners, but the price is you do feel the bumps.

The spec: Mazda 3 Skyactiv-G GT Sport
Engine: 1998cc 4cyl petrol, FWD, 6spd manual
Power & torque: 122hp, 213Nm
0-62mph: 10.4 seconds
Top speed: 122mph
Fuel economy: 44.8mpg (WLTP)
CO2 emissions: 119g/km
Price: £24,595 (range starts at £20,595)