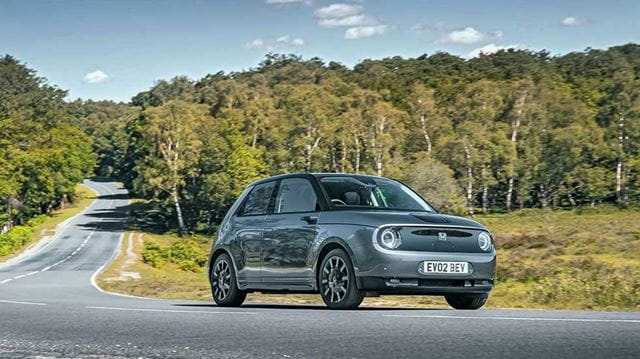 Our new car reviews are designed to keep you up to speed with the latest affordable cars in a number of different categories, from electric vehicles to SUVs.
Note that Boundless members can get special discounts on new cars through our partner Griffin, and also cheaper car insurance through another Boundless partner, LV=.
1. Best new electric car: Honda e
From £26,600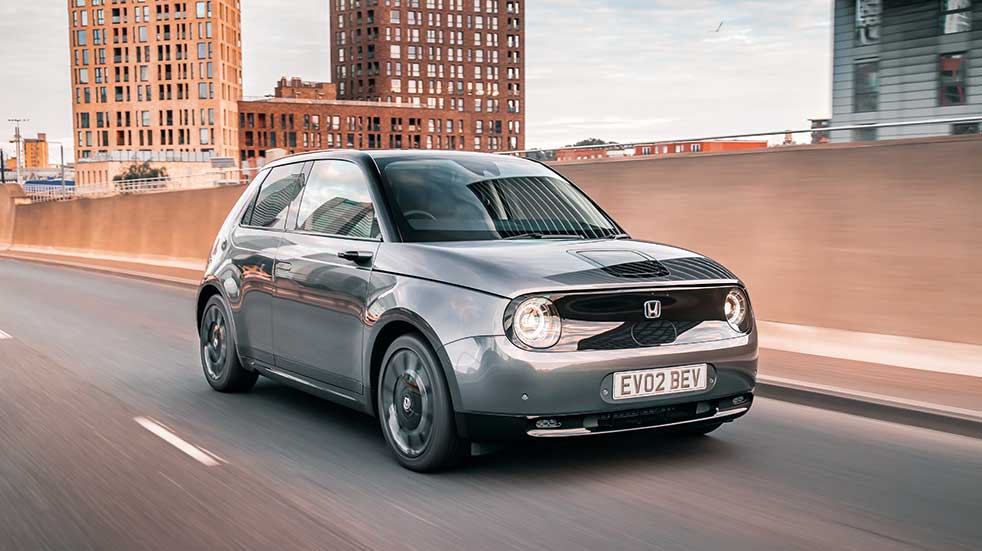 The Honda e is one of the best small cars you can buy right now
Cute as a button, eh? It's actually a very sophisticated feat to shape a car that is as apparently free of visual fuss as the Honda e. Inside, the furniture is equally minimalist and its vast bank of screens has a clear operating logic. The Honda e's mission is as ultra-modern as its looks. As you've no doubt gathered, it's electric – and a delight to drive in today's urban sprawl. The suspension is comfortable, the power zippy, the steering precise, the size ideal for nipping into gaps, the turning circle ultra-tight, the connected systems comprehensive.
The Honda e is great fun out of town, too. But its battery drains in little over 100 miles at motorway speed, versus an urban 130. The rationale: a bigger battery would've made the car too bulky and heavy for city life. A second car only, then. But a delightful one.
The car we tested:
Honda e Advance (£29,160 after grant)
Engine: Electric motor, RWD, single-speed
Power & torque: 113hp, 315Nm
0–62mph: 8.3 seconds
Top speed: 90mph
Range:* Up to 137 miles (17" alloys)
CO2: 0g/km
---
2. Best new supermini: Hyundai i20
From £TBC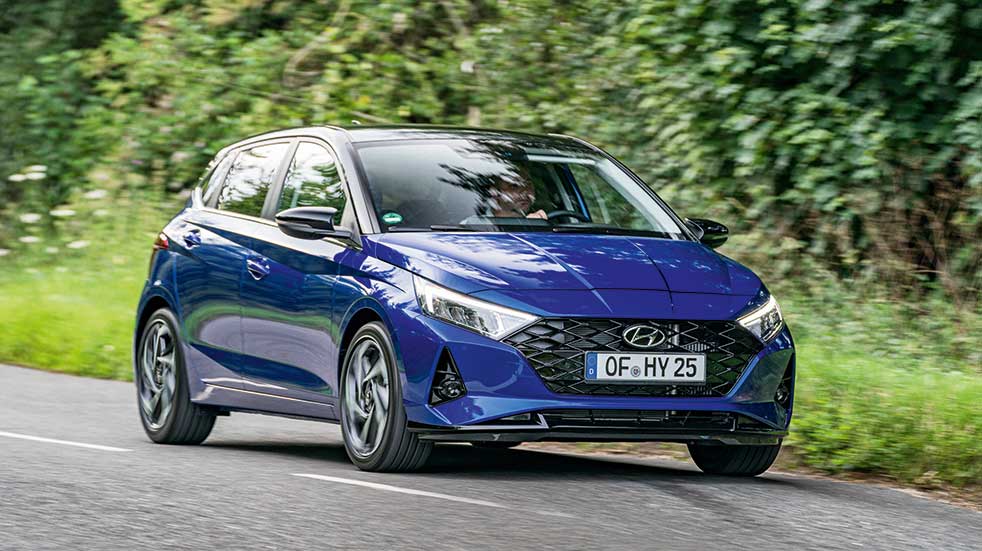 Slick and sporty, the new Hyundai i20 supermini is an undeniably attractive motor
The all-new Hyundai i20 is an attack at the heart of the supermini market. It's sharp-looking outside, and inside it's roomier than many rivals. The controls are easy to find and operate, which is just as well as there's lots of on-board technology.
I drove one with automatic transmission and a quiet one-litre engine, made more urgent by a small hybrid system that reclaims energy when you slow down and gives a little kick as you accelerate again. The slowing down wasn't ever-so smooth, but then I was driving a prototype. The Hyundai i20 feels perky in bends, too, reacting quickly to the steering and feeling manoeuvrable. In other words, it's not one of those little cars that always pretends to be a big one, despite the upmarket safety and driver assistance.
The car we tested:
Hyundai i20 Prototype (£TBC)
Engine: 998cc, 3cyl petrol, FWD, seven-speed DCT, 48V hybrid
Power & torque: 120hp, 200Nm
0–62mph: 10.3 seconds
Top speed: TBC
Fuel economy: TBC
CO2: TBC
---
3. Best new SUV: Mercedes-Benz GLA
From £31,460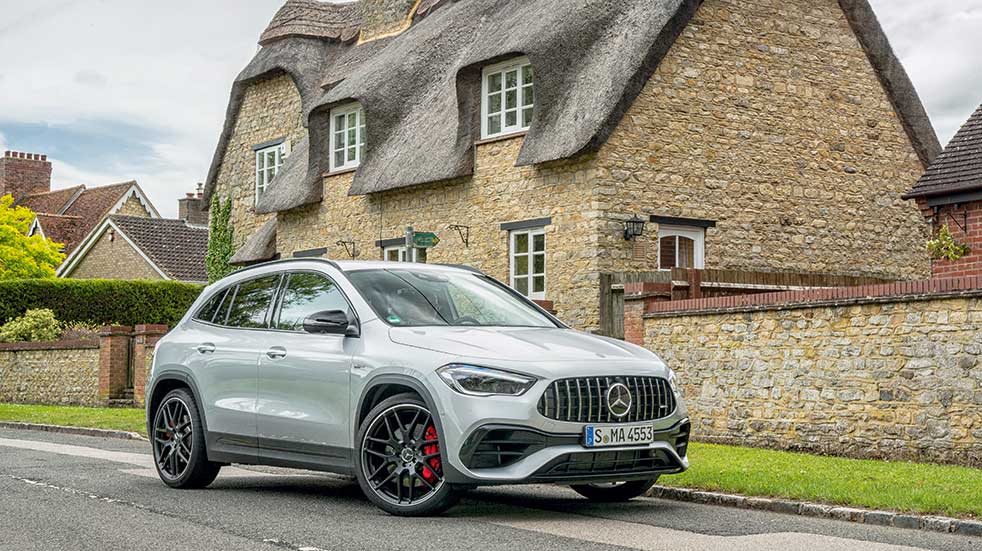 Our test vehicle married the performance of a sports car with the spaciousness of a family tourer
The second-generation Mercedes-Benz GLA is bulkier than the previous one, so it's got family-sized room inside. It also looks more like a crossover, to separate it from the A-Class Hatchback on which it's based, and you can take advantage of four-wheel drive. For Mercedes' usual highish prices, you get an interior of well-crafted materials and lots of technology. The lowest-power engine is a bit breathless but the mid-spec ones perform well, use little fuel and stay quiet.
The test car was the AMG GLA 45 S 4Matic+, a super-powerful version with performance-oriented four-wheel drive. It'll out-accelerate a two-seat Porsche of the same price, but with enough noise and bumpiness that'll annoy everyone except the driver, who'll be having too good a time to care.
The car we tested:
Mercedes-Benz GLA 45 S 4Matic+ (£64,775)
Engine: 1991cc 4cyl petrol, 4WD, eight-speed auto
Power & torque: 421hp, 500Nm
0–62mph: 4.3 seconds
Top speed: 155mph
Fuel economy*: 28.8–29.7mpg
CO2*: 215–224g/km
---
4. Best new compact crossover: Mazda CX-30
From £22,940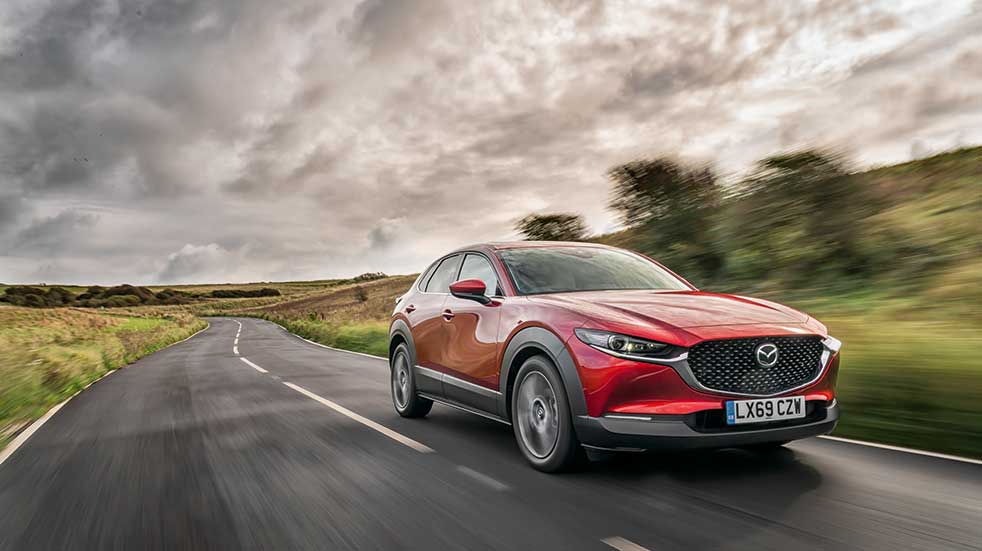 With contours in all the right places, the Mazda CX-30 is hard to ignore
The Mazda CX-30 wants you to look at it rather than measure it. Inside, the low roof means its rear-seat space is beaten by other smallish crossovers, but the shallow glazed area is stylish. It's also trimmed in high-quality materials. A likeably straightforward control logic runs through its climate, entertainment, navigation and safety systems.
The optional Skyactiv-X engine uses Mazda's revolutionary compression-ignition petrol technology. It's economical in suburban driving, although not so much when you drive quickly on curving or hilly roads, which is fun to do because it has Mazda's usual quick-witted feel when cornering and braking, and a nice snappy manual gearshift. Automatic and four-wheel-drive versions are also available.
The car we tested:
Mazda CX-30 2.0 180PS 2WD GT SPORT (£29,140)
Engine: 1998cc 4cyl petrol, FWD, six-speed auto
Power & torque: 180hp, 224Nm
0–62mph: 8.8 seconds
Top speed: 127mph
Fuel economy*: 43.5mpg
CO2*: 146g/km
---
5. Best new saloon: Skoda Octavia
From £20,965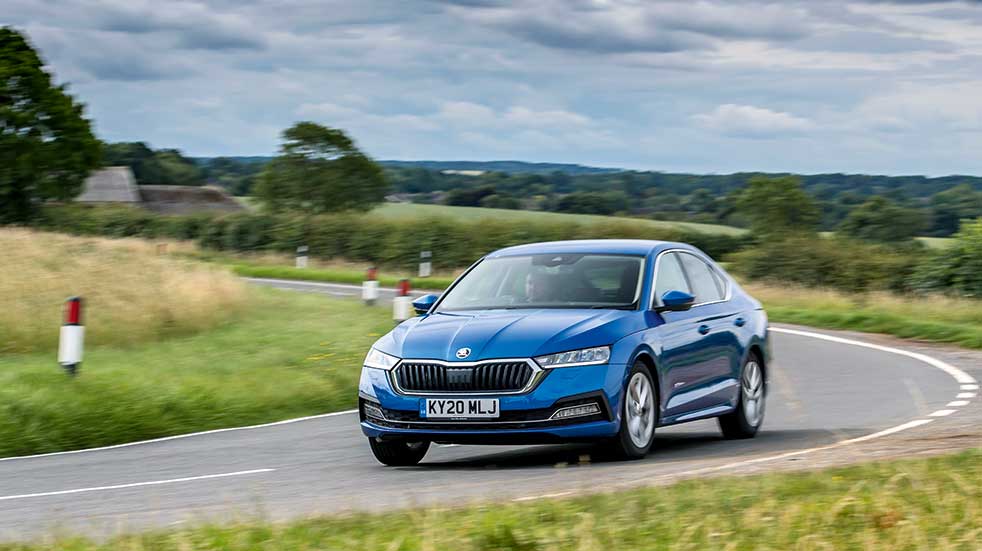 Spacious and elegant, the new Skoda Octavia is a classy saloon
Skoda wrote the book on sensible cars. The new Octavia follows that plot. It's great value, comfortable, roomy in the back and astoundingly so in the boot. Petrol and diesel engines are economical for their kind. The cabin is full of clever storage for travel accessories – which are sometimes included, too: an ice scraper concealed here, an umbrella there. But this Octavia goes beyond. It's abundant in parent VW Group's driver assistance, safety and connectivity features.
And it's also amazingly and fundamentally posh – not just because of the plush materials in the cabin and the finely chiselled styling, but also because it rolls along in solid quietness and rides bumps smoothly. It's not fun to drive, but the Octavia's sort of sensible is desirable in other ways.
The car we tested:
Skoda Octavia SE L 1.5TSI First Edition (£25,150)
Engine: 1498cc 4cyl petrol, FWD, six-speed manual
Power & torque: 150hp, 250Nm
0–62mph: 8.2 seconds
Top speed: 142mph
Fuel economy*: 42.2-50.4mpg
CO2*: 127–153g/km
---
6. Best new electric crossover: DS 3 Crossback E-Tense
From £30,990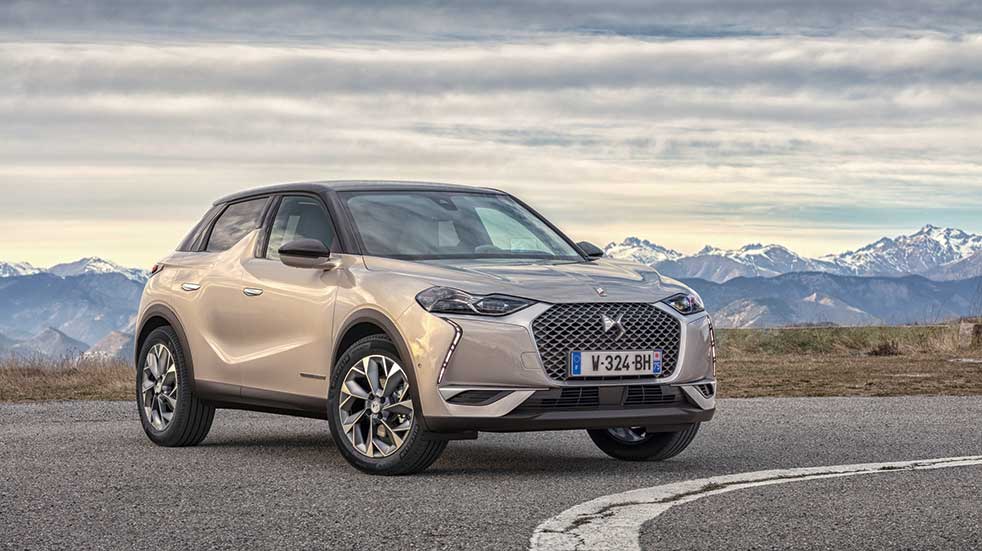 Roomy, relaxing and with a decent range, the Crossback E-Tense is ideal for road trips
Here's the electric version of the relatively recent DS 3 Crossback. You'd hardly spot the difference between it and the ones with engines, and there's no less room inside, but then there wasn't much to spare: this isn't a family hatchback. In the front it's distinctive and opulent, so you might forgive how it sometimes allows form to trump usability.
The Crossback E-Tense's electric power appears as a smooth surge rather than a show-off neck-snapping jolt, making it easy to drive smoothly. Pillowy suspension swallows bumps, especially at urban and suburban speeds. The battery range is comfortably 150 miles even in my brisk driving, and it'll recharge very quickly on a 100kW post. So, unlike some of the other 'premium' small EVs, you could use this one as an only car.
Read our round-up of the 50 best UK road trips, as voted for by you.
The car we tested:
DS 3 Crossback E-Tense Ultra Prestige (£35.990)
Engine: Electric motor, FWD, single-speed Power & torque 136hp, 260Nm
0–62mph: 8.7 seconds
Top speed: 93mph
Range*: 191–206 miles
CO2: 0g/km
Price: £35,990

*Measurememt is WLTP unless otherwise noted. For further details please click here.
The importance of winter tyres
Winter tyres aren't just for snow and ice. Below about 7°C they're also better in wet and mud – even in the dry, their grip barely lags normal tyres. The more aggressive tread pattern does a better job of clearing water, mud and snow and, crucially, they use a 'rubber' compound that has a lower proportion of natural rubber and higher of silica. This stays soft as the temperature falls.
They're better than a four-wheel-drive car that's using summer tyres. The 4WD will do nothing to help braking, whereas the winter tyres' improved grip means stronger acceleration, cornering and braking. But don't leave them on all year-round. In the warm they grip less well, make more noise and wear faster.
For more about driving in snow and ice, read our essential winter driving tips.
Plug-in car sales on the rise
As new-car sales came back from COVID, cars with a plug made up about one in 10 of sales, split pretty evenly between full-electric and PHEV. They're mainstream now. You can read more about plug-in car sales in this blog post by Motor1.com.
Look out for our next batch of new car reviews after Christmas.